Urban planning principles inspired this colourful workplace
The main goal behind Capital One's new office design was to create a modern campus environment for the growing 24/7 customer care team. The space needed to establish a true sense of place and support staff attraction and retention. The client was in need of a new location to build a workplace that would promote a healthy and ergonomic environment.
Interior Designer: Jane Juranek, ARIDO
Design Team: Mahsa Saeedi, ARIDO;
Design Firm: IBI Group Architects (Canada) Inc.
Photographer: Alan Chakota
By studying urban planning strategy on the benefits of mixed use design, the design team was able to develop a new planning model that could be scalable to Capital One's vast new space.
Planning principles were based on the theme of a harmonized urban community that thrives through environmental vitality and diversity. The floor was broken down into a series of boulevards and streets, with "city hall" and "business hubs" also known as amenity spaces, at the core. "Neighbourhoods" (staff workstations) flank the perimeter with all amenities located in the central civic areas for ease of access.
The main destinations of choice within the 45,000 square foot office space are Capital One Lounge, University, and Plaza. These amenities extend the urban narrative along wide boulevards with defined sightlines.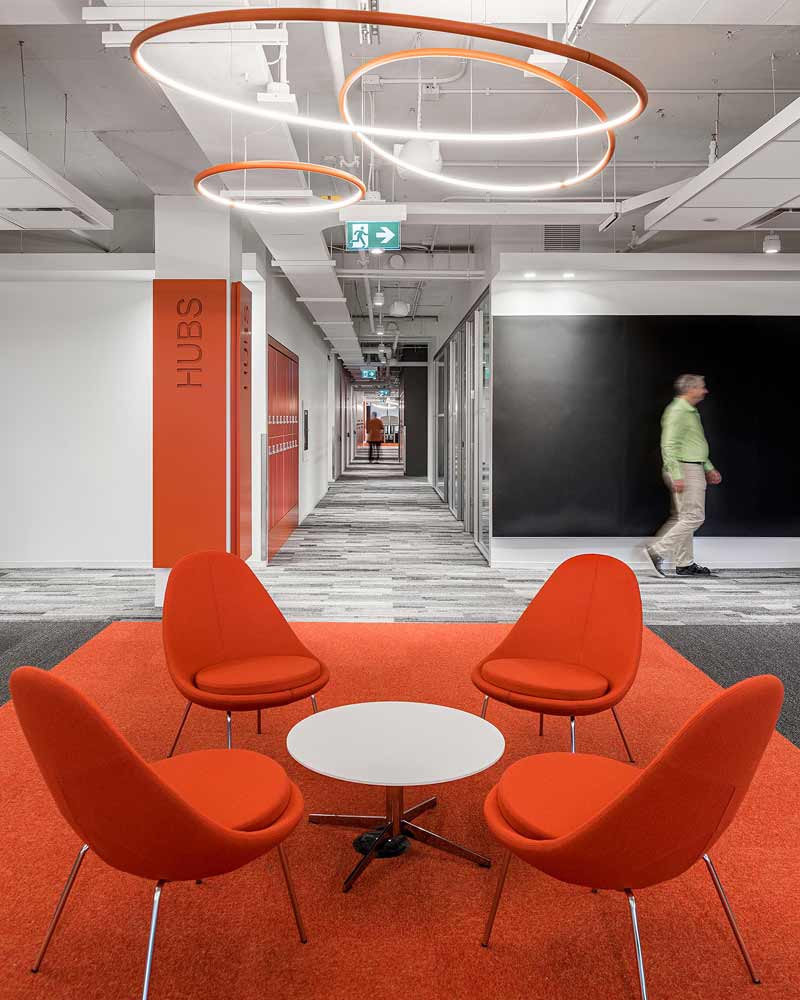 The expansive interior was broken down via colour coding of individual neighbourhoods with the building columns supporting the implied wayfinding throughout. This project successfully demonstrates that social spaces in the public realm promote greater interaction and potential knowledge transfer between staff, as well as a clear brand identity.
The health and wellbeing of staff was paramount with standardized sit to stand workstations for all. Each of the five neighbourhoods are located for optimal views and even distribution of natural light. These perimeter zones all have access to adjacent work hubs, breakout zones, and all other shared amenities. Outdoor seasonal access is maximized with an extensive terrace off of the main plaza space.
"Internal streets", or corridors, became animated with both colourful sequenced storage lockers and built in seating alcoves. These zones promote accessibility, organize identity/wayfinding and support all adjacent teams.
Related