The materials palette is as lush as the menu at this Toronto restaurant
Our design team was contacted by David Chang, eight years after he launched Momofuku in Toronto. The brand has matured in new directions and experienced significant growth, so Chang called on DesignAgency to work with Momofuku once again to reinvent their signature Toronto restaurant. Kōjin, Momofuku's take on a steakhouse, is all about treating guests to the sensations of an open flame grill.
Interior Designer: Allen Chan, ARIDO
Design Firm: DesignAgency
Project Photographer: Bob Gundu
As the first Momofuku restaurant to be led by an Executive Chef instead of Chang, the design needed to remain true to the brand while also conveying a slightly unique flavour – inspired by Chef Paula Navarette's Colombian heritage.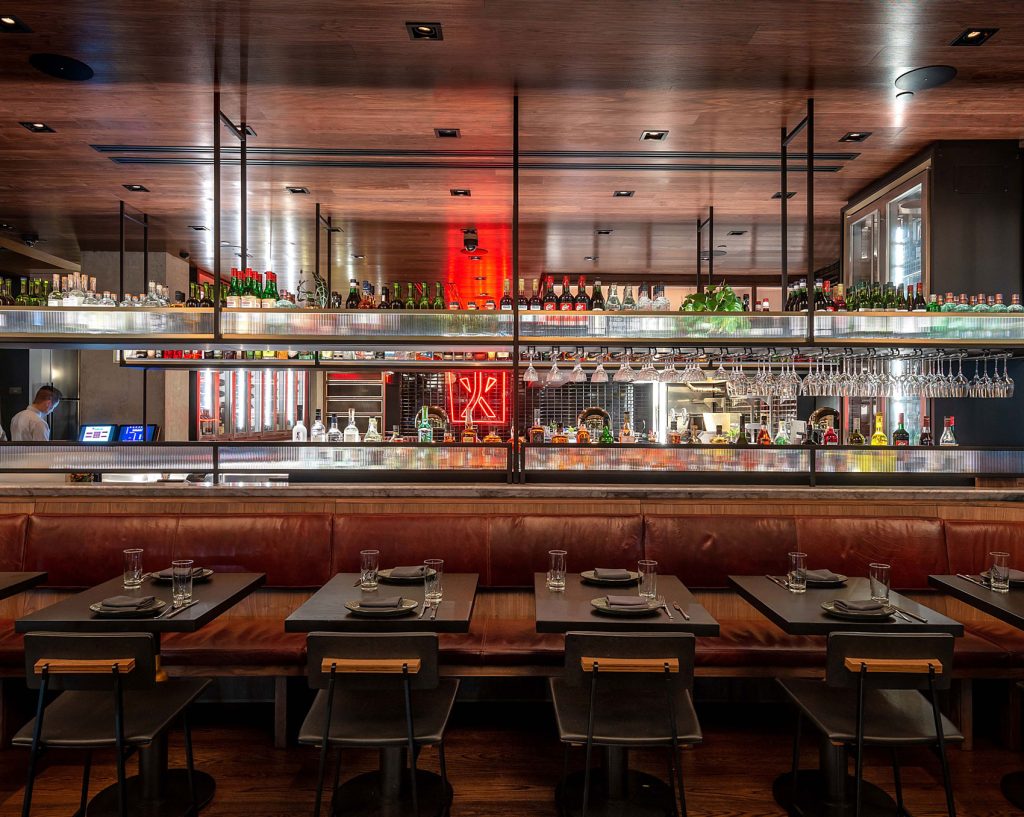 Our design team began working with Momofuku's core palette of wood and blackened steel, as well as its signature Token stools and Roll and Hill chandeliers. At the same time, we shifted the palette from white oak to dark walnut and added luxurious and sensual materials such as luminous hand-glazed terracotta tiles, oxblood leather, and touches of glittering brass. A Momofuku peach element at the entrance maintains consistency with other locations.
The interior complements the restaurant's Columbian influenced menu with an earthiness that further reflects the multicultural influences of the Momofuku brand. For example, the open layout was inspired by the buzz found in izakayas (informal Japanese pubs) that comes from an open kitchen, as well as the energy of parrillas (open flame grills from South America). Blackened steel shelves display tchotchkes against wood panels inspired by shou-sugi ban, the Japanese method of preserving wood with fire. This layering instills a sense of playfulness and curiosity.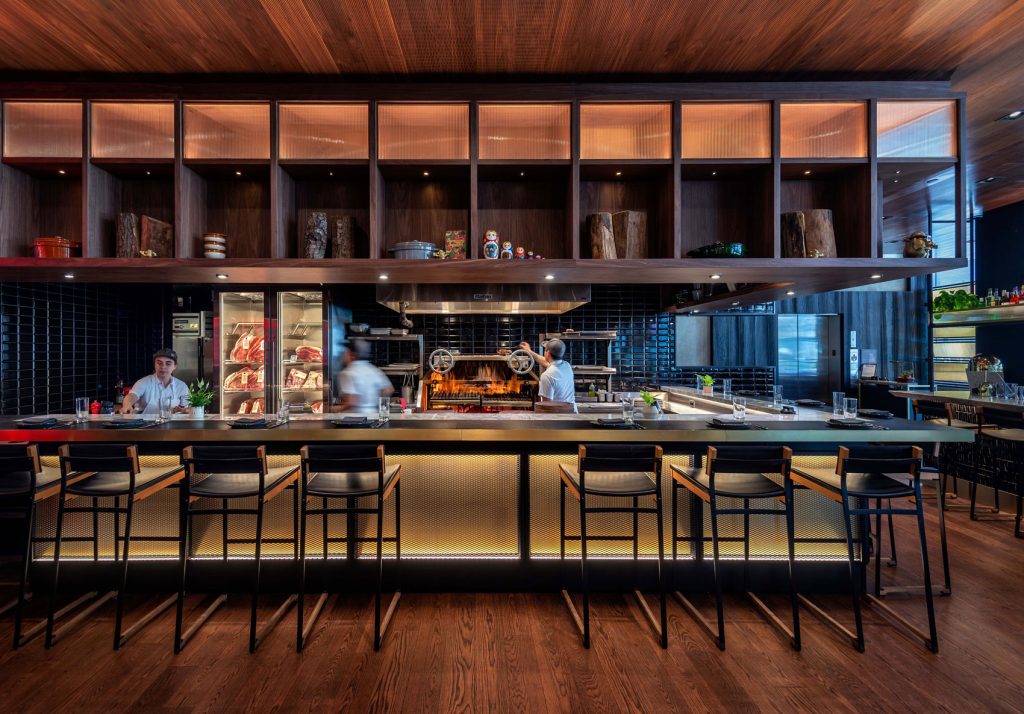 The client wanted a flexible main dining room, so we selected seating that can be easily repositioned or removed: stools for kitchen or bar-side dining, small tables, and large booths for groups. We also calibrated sight lines for high visibility, making it easy for staff to navigate the restaurant, while also ensuring that guests enjoy an intimate relationship with the goings on in the kitchen and bar.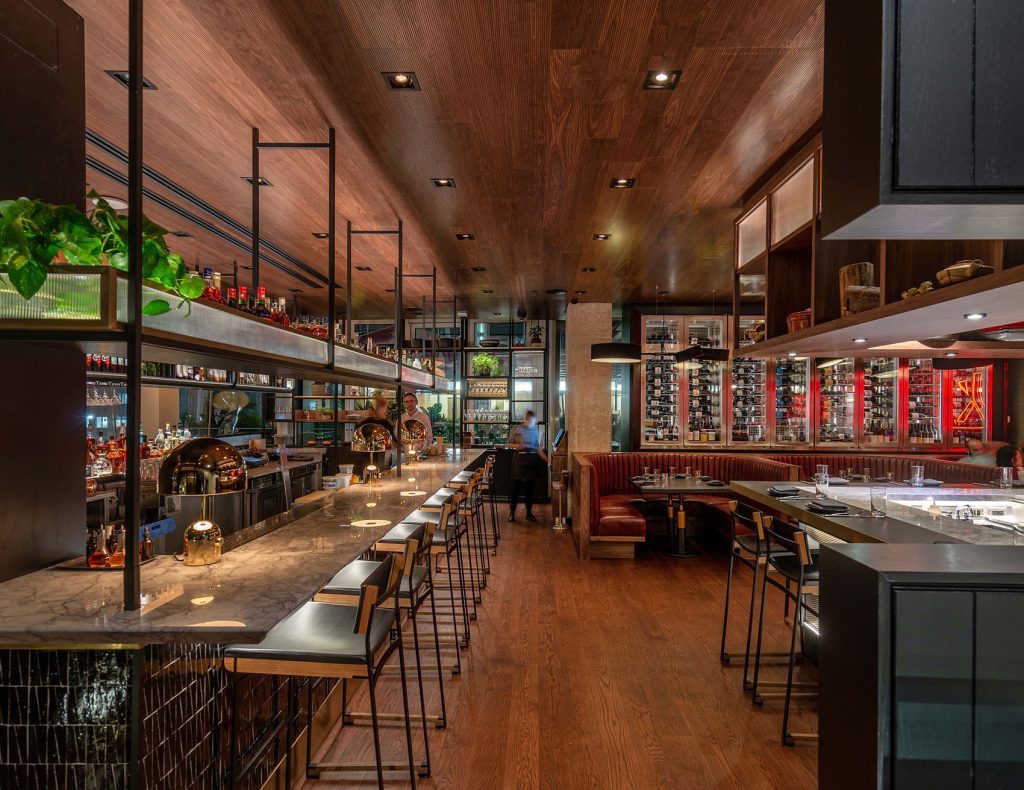 An open layout ensures that every diner has a view both inwards into the kitchen and open fire grill, and outwards with 180-degree views of Toronto's University Avenue, taking advantage of Kōjin's prime location.
Interior lighting consisted of carefully selected luminaires that inspired the mood and unique sense of place. Custom light fixtures float at the edge of the dining room, adding levity and announcing Kōjin from the street. Each pendant's hand-folded triple linen shades are threaded like totem poles, softly illuminating the room at night.
Throughout the bar and the kitchen, backlit textured glass adds a warm glow against a black porcelain tile wall, and a red neon sign glows with the kanji symbol for fire.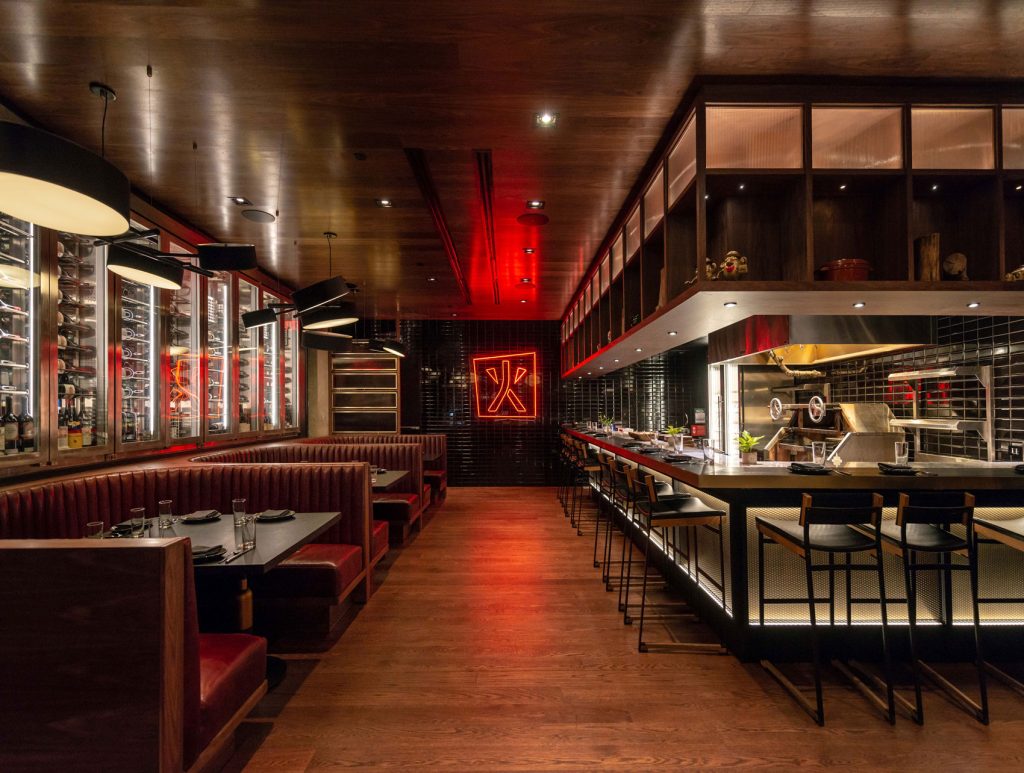 The intrinsically unique Kōjin, offers a range of different environments – from grand to intimate. Our design team worked to create Kōjin as a completely new atmosphere for Momofuku Toronto. The range of textures and features bond together the past and present for an exclusive restaurant experience.

This project was awarded an ARIDO Award in 2019.
Related
ARIDO Award: Elevator Cabs

The challenge of this elevator cab redesign was to create a mobile portal between a well-aged ground floor lobby that would seamlessly integrate with each of the floors above. Category: DISTINCT Inter ...

ARIDO Award: The Hive

The first of its kind in Canada, this 3D printed masonry wall is the result of a collaboration between design professionals, students, and faculty at an Ontario university. Category: CRAFT Interior De ...

ARIDO Award: Florette Restaurant + Bar

While interior designers traditionally aim for perfection in their projects, this design team chose to highlight the imperfect, comforting aspects of this new restaurant space on Toronto's Queen Str ...