Student Housing is reinvented at this former hotel
Campus 1 MTL is a restoration and adaptive reuse project of a former hotel in Montreal. This project presented a new model of post-secondary living in Canada. It involved a transformation of a former 19-storey hotel into student residences, where the goal was to create environments for optimal interaction as opposed to the privacy model employed by hotels. Our design team took on the extensive 436,000 square feet of project space, which makes this project's transformation all the more astonishing.
Interior Designer: Bryan Chartier, ARIDO
Design Firm: Diamond Schmitt Architects
Project Photographer: James Brittain
The design objective was to provide a Residence Education Model where the lines are blurred between living and learning, strike a balance between transparency and privacy, while also considering issues such as acoustics and safety. This model of new residence for students would bring a cohesive environment that promotes social interaction.
Our client privately operates the facility and wanted to address both a need for improved living standards, affordable housing for students, and ultimately, remove the burden from post-secondary institutions of managing their operation. Thus, our client's intent was to attract students away from their digitally enabled rooms to form their own community. The community was built to support development of one's social self for a student typically living away from home for the first time.
The design integrates programmed and unprogrammed space, which allows students to make the residence their own. The programmed spaces include a study space and a range of recreational facilities (basketball court, weight and cardio room, yoga studio, etc.) that sets the stage for work and play. Furnishings were selected to provide choice between collaboration and more focused individual study time in an open environment.
Given the extensive nature of the project, it was not without many challenges. A key challenge of this hotel conversion was to create greater opportunities for students to interact with each other and to foster a closer sense of community in ways a hotel does not. This also included strong emphasis on providing a secure environment that had to be balanced with making the space feel inviting and accessible. As part of the planning exercise, the student services office and 24-hour desk were positioned opposite the elevator banks to ensure students always have access to services when needed.
Successfully converting hotel rooms into student accommodation provides a variety of living configurations. The typical configuration includes: two private bedrooms, a living room and a shared washroom. There were also double bedroom options; a single bedroom; and single barrier-free configurations to meet the different needs of the student users. In addition, each floor incorporated different amenity rooms to encourage inter-floor socialization.

The former main floor of the hotel was shifted by moving the restaurant from the entrance to become a dining hall further into the space which would anchor social interaction by pulling students from the entrance, lounges, and tower elevators. A lounge now occupies the front of the building, enlivening the connection with the street. Two main circulation routes were created to tie all the ground floor program elements together in a clean and clear manner. This promoted flow and balance to the project.
Finally, the main security desk is integrated into a wall with a seating niche opposite to balance the function of this space. Casual "touch down" areas were implemented to reinforce serendipitous exchange. Just beyond the main desk is an open, unexpected feature to support collegiality: a multi-tiered "mountain" that acts as a place to casually hang out. The inspiration is Mount Royal, which rises above the downtown campus.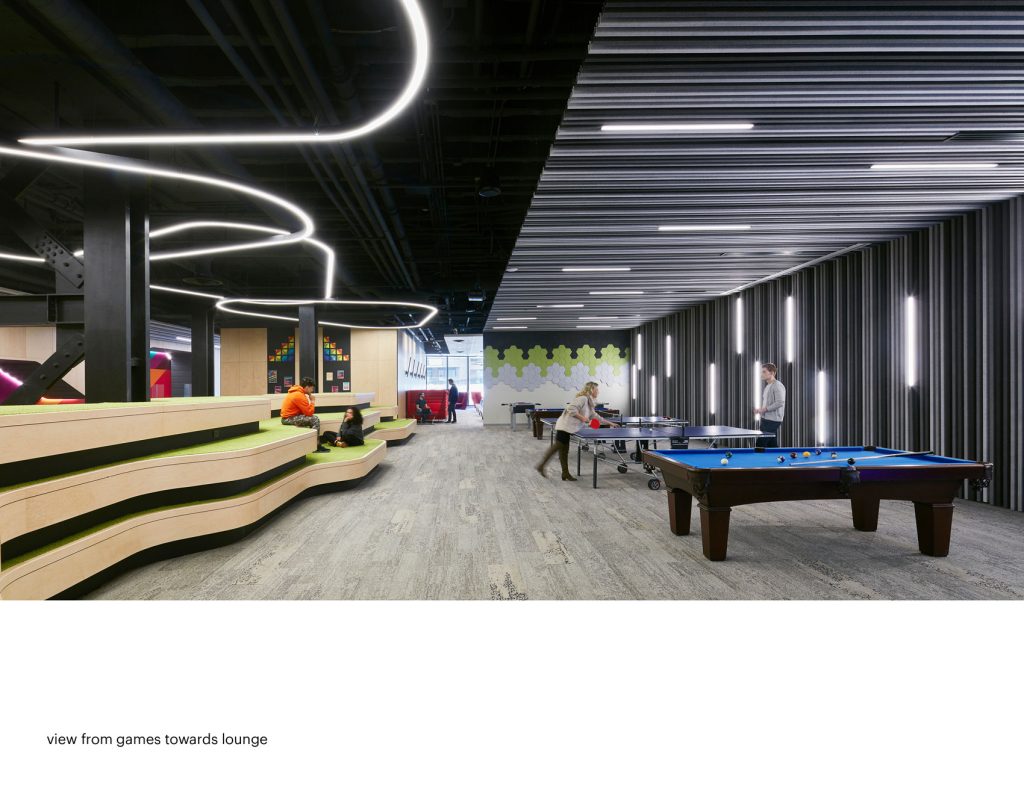 A reinvention of student housing was accomplished in this project, and this would bring balance to student life by providing spaces that promote social interaction, and the opportunity to live in a "home" away from home.
This project also received an ARIDO Award of Merit in 2019.
Related
ARIDO Award: Elevator Cabs

The challenge of this elevator cab redesign was to create a mobile portal between a well-aged ground floor lobby that would seamlessly integrate with each of the floors above. Category: DISTINCT Inter ...

ARIDO Award: The Hive

The first of its kind in Canada, this 3D printed masonry wall is the result of a collaboration between design professionals, students, and faculty at an Ontario university. Category: CRAFT Interior De ...

ARIDO Award: Florette Restaurant + Bar

While interior designers traditionally aim for perfection in their projects, this design team chose to highlight the imperfect, comforting aspects of this new restaurant space on Toronto's Queen Str ...