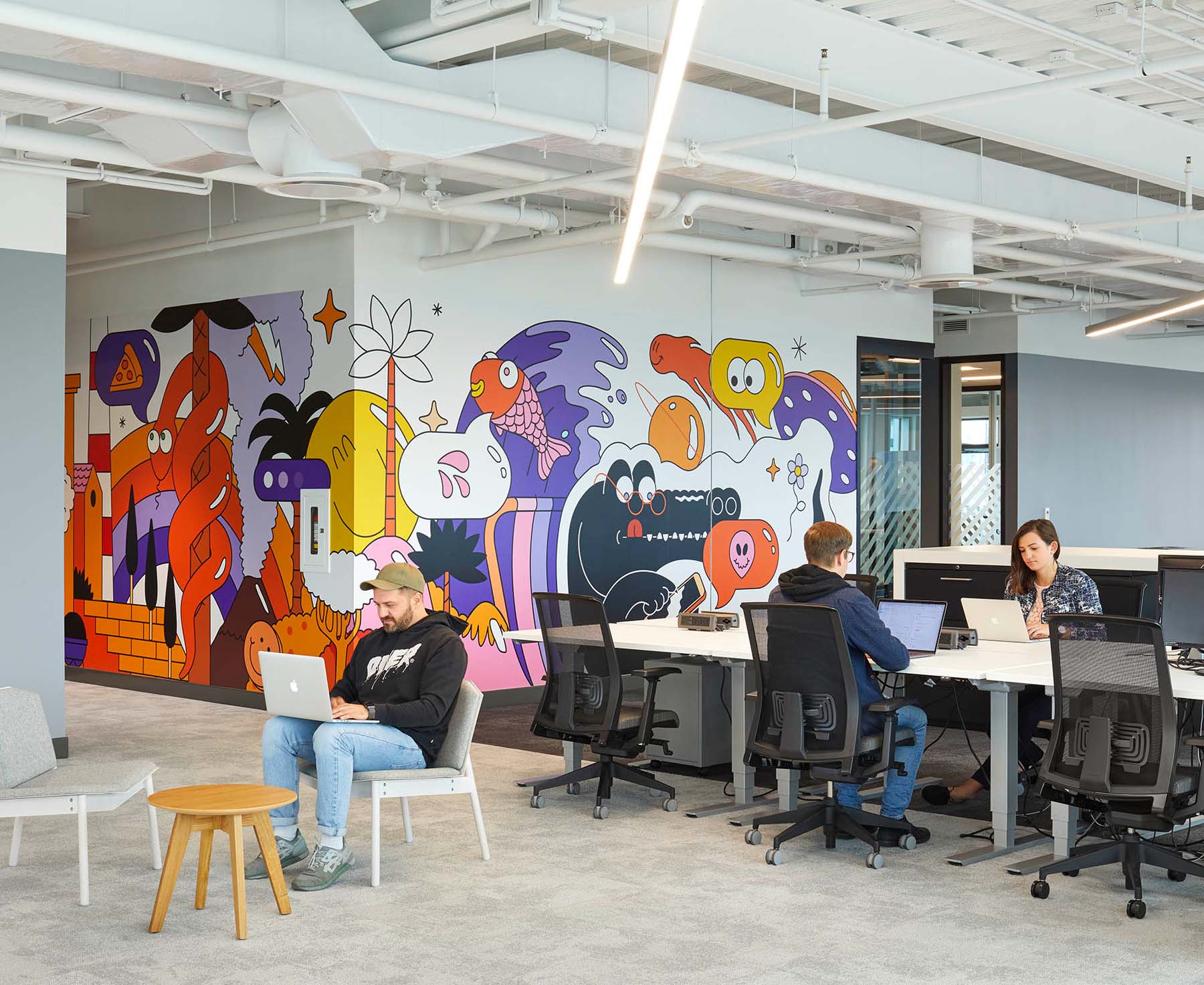 TextNow! A workspace that embodies its vibrant culture
TextNow is a young, creative, and collaborative company undergoing rapid growth. They moved to Waterloo's Idea Quarter and sought to create a workplace that embodied its vibrant culture. The new headquarters is situated within the highly sustainable David Johnston Research & Technology Park, on the University of Waterloo's North Campus. 
Interior Designer: Jessica Baird, ARIDO
Design Team: Annie Bergeron, ARIDO; Willem Berends, ARIDO; Filo Costa, ARIDO;
Design Firm: Gensler
Photographer: Tom Arban
TextNow approached our team with three specific goals:
Support a tech-savvy culture
Integrate health, wellness and sustainability into the design
Stay on budget and schedule. 
Our design solutions employed the following strategies: the first included an office ecosystem that offered a design concept centered around choice, balance and focus. Individual work settings consisted of focus rooms and pods, phone rooms, height-adjustable workstations, window high tops, and booths.
Group work settings included small and large enclosed meeting rooms and collaborative areas. Community spaces comprised a communal café, a pub, a central stadium, and a gym. The technology interface is universal throughout the project.
From individual workstations to large meeting rooms, the plug-and-play style is simple and consistent, and employed at every work setting. This strategy remained consistent throughout the design and supported the client's goal of a tech-savvy culture. 
The second strategy focused on movement. Movement throughout the day is encouraged with different work settings and enhanced vertical circulation down to the gym and yoga studio. Daylight and optimal views were provided to all occupied spaces, as well as ample fresh air. Healthy food and mindfulness space further round out the applied wellness criteria. This would have the project well on track for LEED Certification.
The final strategy had the design team successfully deliver a beautiful space on time and on a shoe-string budget thanks to the clever use of wall and floor graphics to create impact at minimal cost.
TextNow's exclusive design features included complementing existing base building elements. Such as a large green wall and bright yellow staircase. This specific colour palette evokes their youthful culture with deep blue, purple, and bright yellow. Concrete and wood floors balanced a raw, inviting feel.
TextNow's communal pub found adjacent to reception, demonstrates to visitors that this company works hard but plays hard too! Anchored with a deep blue wall, the pub contains a warm space with lounge and bar seating, book shelves, and bespoke chandeliers.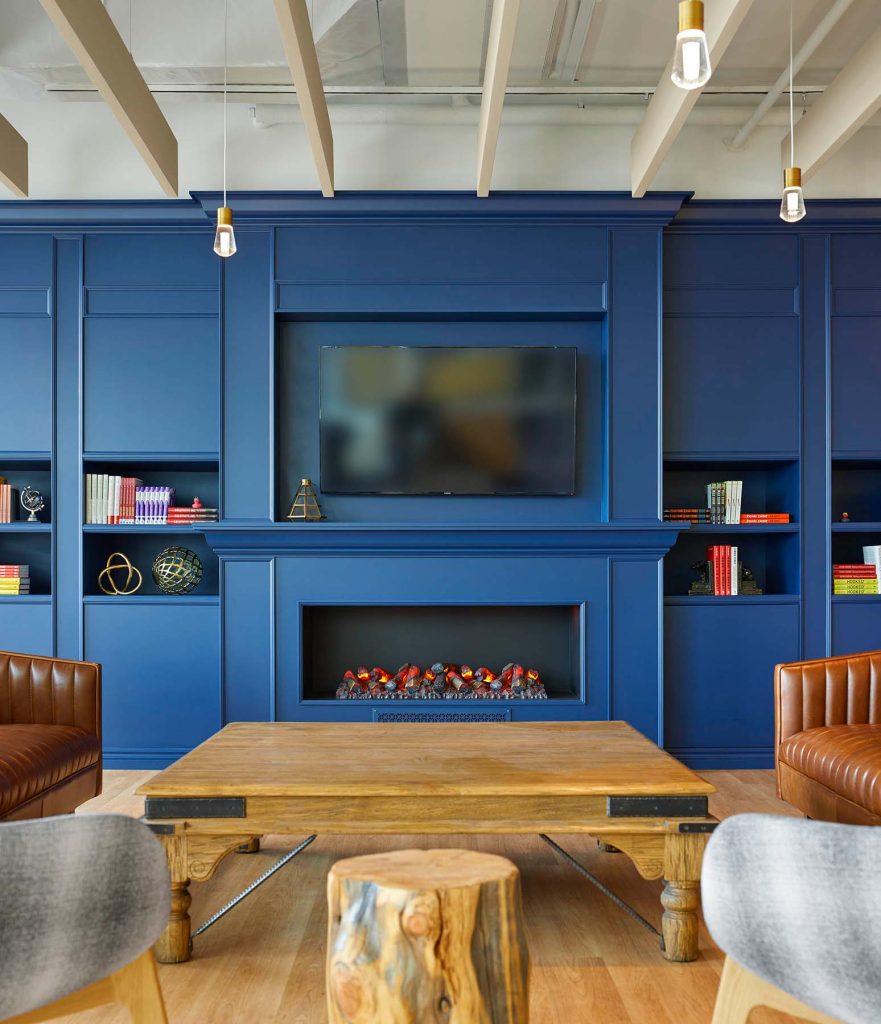 The café, essential to TextNow's culture, serves lunch daily for the entire staff. This required diverse seating options, geometric floor graphics, and wood accents.
100% of employees benefit from daylighting throughout the space, even meeting spaces, which comprise 50% of the work areas. Lounges with noise reducing felt fixtures and moveable, writable walls are situated throughout.
The central stadium-seating is a casual and open setting. TextNow's custom graphics are showcased, allowing for self-expression. A small fitness center was created on the level below, supporting TextNow's work/life balance initiatives.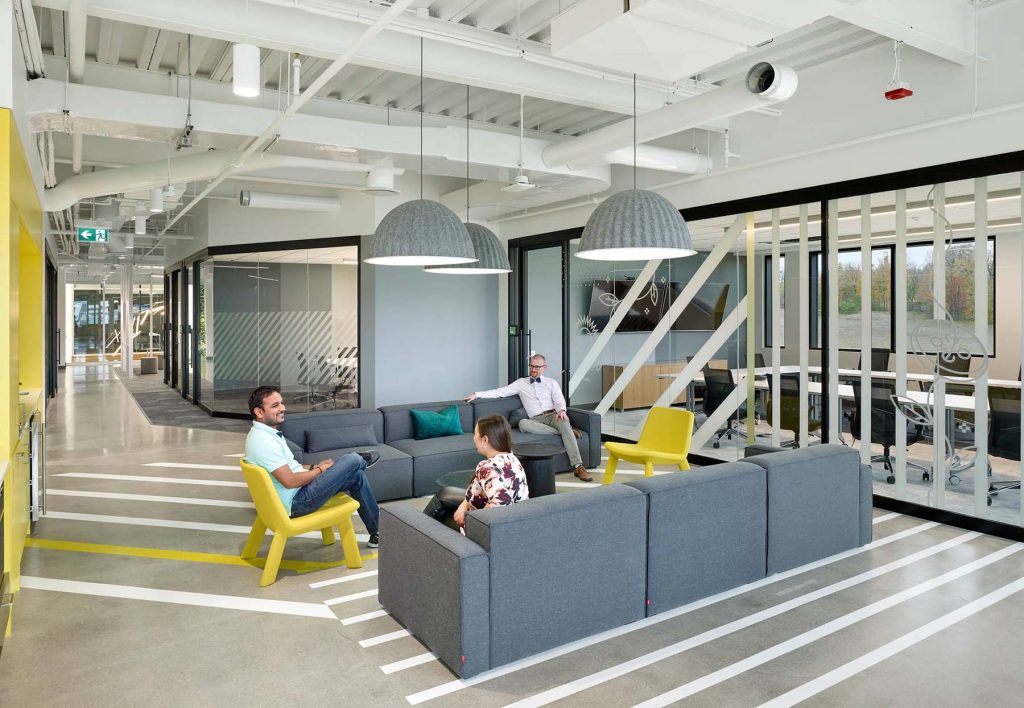 TextNow's budget-conscious LEED-pending design fosters identity, connection, and creativity to support its lively workforce and attract top talent. All of these design features contain elements that our team worked to include to provide the client with the strongest possible design solution.
The results speak for themselves. Attraction and retention metrics are at historic highs, and employees report being more fully engaged with the company's mission. We successfully produced a design that satisfied the clients specific goals and embodied their company's vibrant culture. 
Related
ARIDO Award: The Hive

The first of its kind in Canada, this 3D printed masonry wall is the result of a collaboration between design professionals, students, and faculty at an Ontario university. Category: CRAFT Interior De ...

ARIDO Award: Spadina Workplace

Designing for human behavior and fostering innovation were the two key strategies for this workplace redesign. The design team aimed to inspire a return to the office not from necessity, but a genuine ...