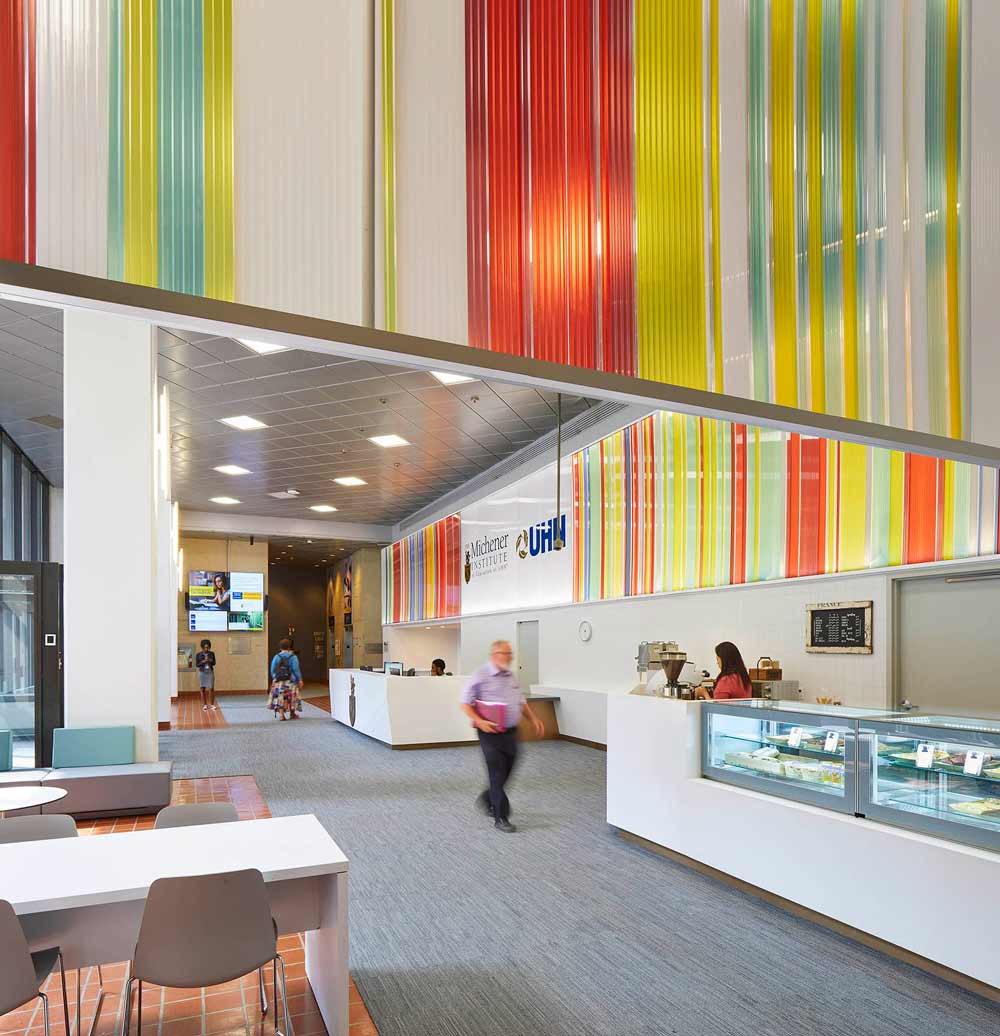 Interior Designers sequenced someone's DNA for this vibrant lobby design
Toronto's Michener Institute of Education is the only institute in Canada devoted exclusively to applied health science education. The transformation of the Michener Institute lobby was necessary to provide a vibrant, welcoming entryway for students, staff, and medical professionals that would reflect the core values and history of the Institute.
Interior Designer: Valerie Gow, ARIDO
Design Firm: Gow Hastings Architects
Photographer: Tom Arban
The new design solutions for this interior needed to be bright, fresh, and modern to contrast the heavier outdated base building elements which needed to remain. The design strategy included transforming the space into a vibrant gateway, while incorporating the institution's values into the design in creative, yet meaningful ways. The end result features a multi-coloured polycarbonate panel DNA sequence "ribbon" that extends down from the ceiling and runs around the perimeter of the space.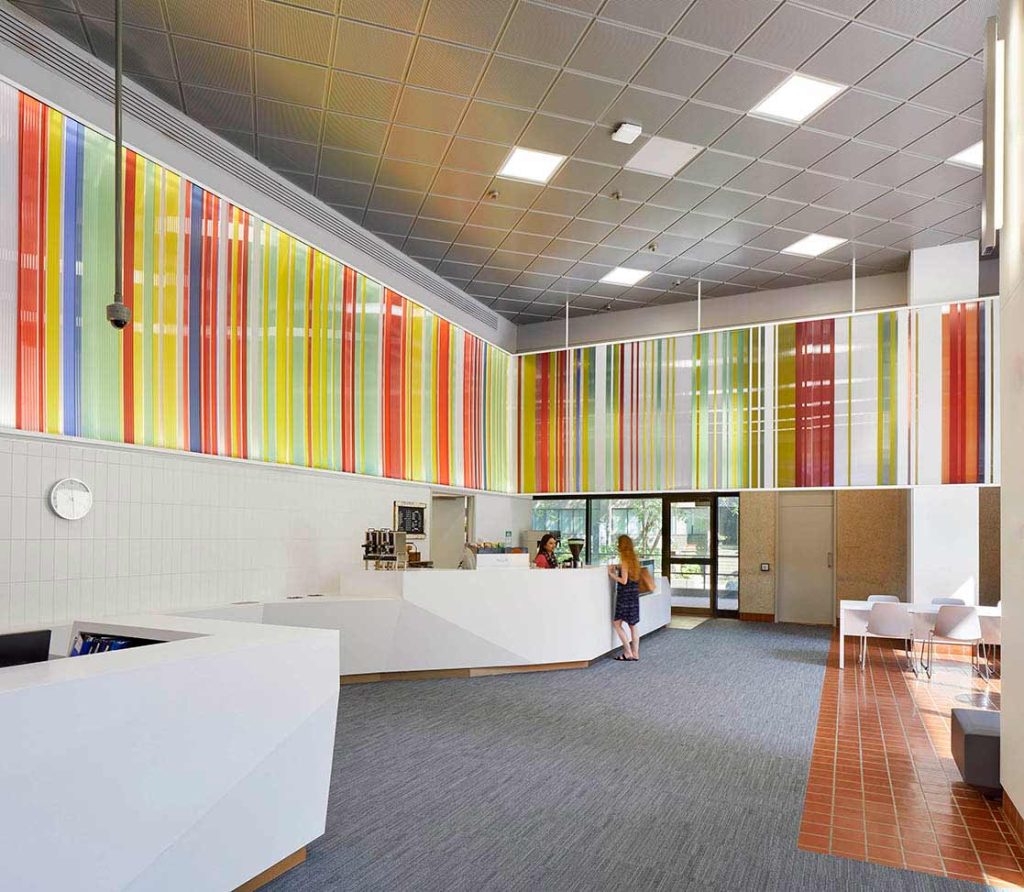 This key design feature modernizes an outdated lobby and establishes a new brand for the Institute. The vibrant "ribbon" was crafted by graphically extracting the DNA of Dr. Diana Schatz, founder of The Michener Institute. The DNA sample was analyzed at Michener genetics lab and turned into a digital image.
To create a welcoming, energizing locale for healthcare education, the lobby interior was refreshed with modern design features including new lighting and a clean, white reception desk emblazoned with the Michener crest. These creative solutions have reinvigorated The Michener Institute, positioning it as a lively entryway to healthcare innovation and education.
The design team ensured that this lobby design met current standards for barrier-free design. The reception desk has an accessible counter which was not present in the original design, and this was also carried through to the new kiosk desk.
The interior design team was asked to design a new Kiosk/Cafe to liven up the lobby. The Café and lounge area were situated to allow for the efficient high traffic flow throughout the space.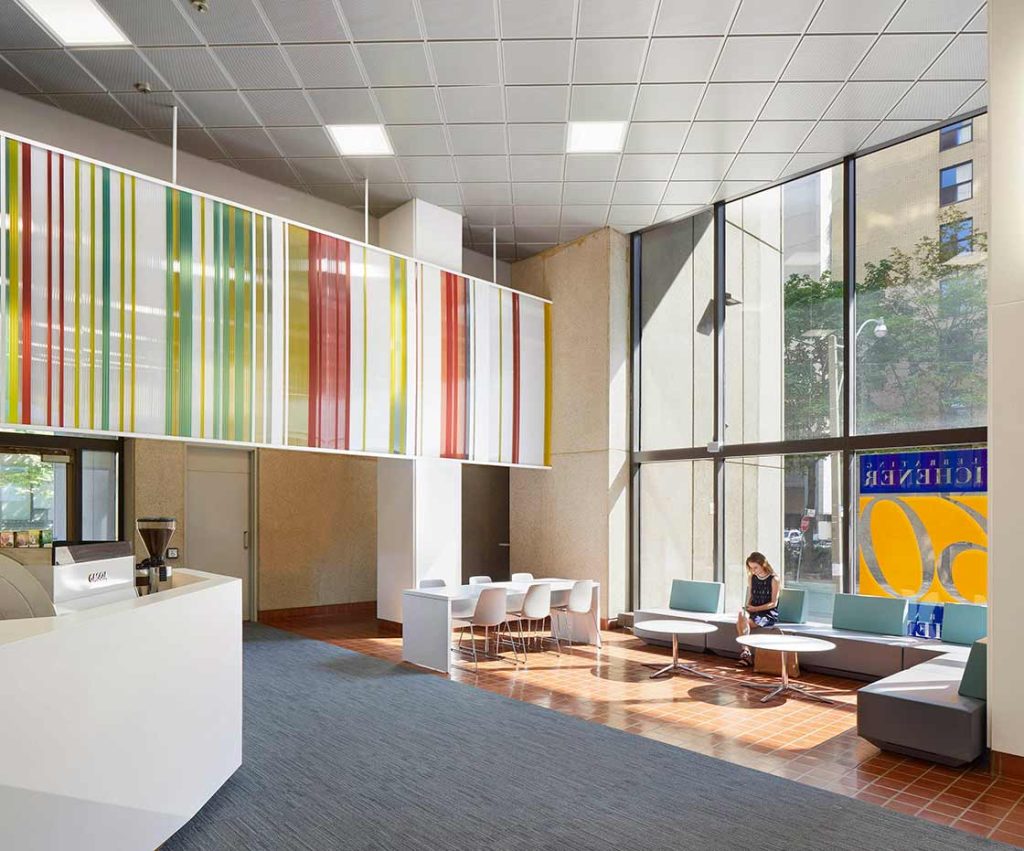 A comfortable and collaborative lounge area was incorporated into the space, positioned in front of bright double-height windows allowing maximum daylight in, and beautiful views outside, making this a perfect spot to wait, study or converse with a colleague or classmate.
Flexible and adaptable furniture, including soft lounge seating and a wide meeting table provide space for waiting, study, and informal gathering. The furniture can be easily reconfigured or cleared out for special events with the flexibility to respond to future changes in use.
Related
ARIDO Award: School of Continuing Studies

Interior and exterior are in dialogue at York University's new School of Continuing Studies building. The interiors respond to and compliment the unique exterior geometry of the building. This strat ...

ARIDO Award: CIBC Conference and Learning Centre

A people focused approach was the starting point for this new three floor conference and learning centre in Toronto. The client needed a space where they could host executive and employee training, as ...