News
It's time to renew your ARIDO membership
Published on: Jan 05, 2022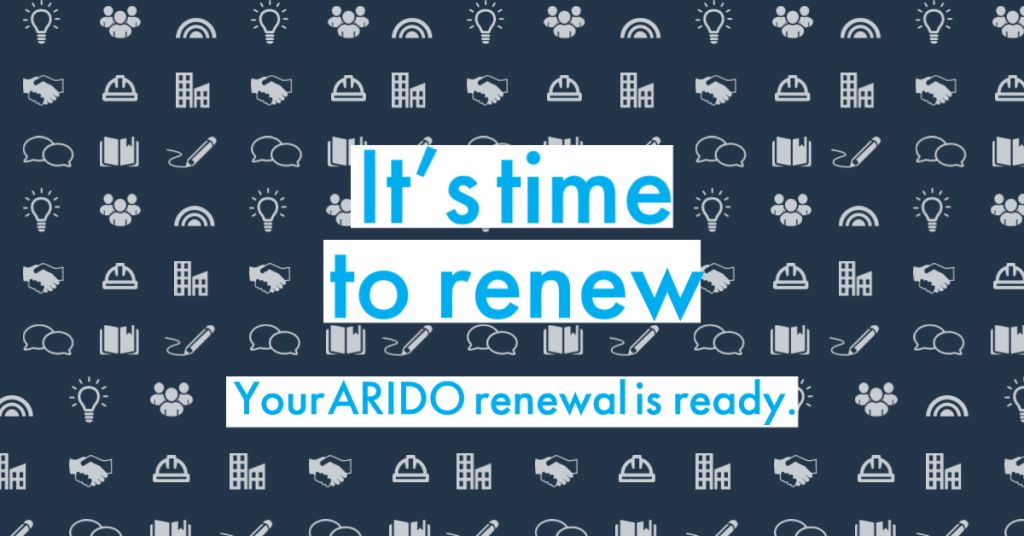 We have arrived at the end of another year. December is a time to reflect on the months that have passed and envision where we are heading with a new year on the horizon. This month is also the start of ARIDO's renewal period, before the new membership year begins in January.
During the pandemic, we have all felt the uncertainty of constant change and challenges, both personally and professionally. Our ability to gather together in person has left our community feeling out of touch with one another.
Simultaneously, ARIDO began its equity, diversity, inclusion, and accessibility work. The foundation work over the past year has led us on a path of unlearning and relearning. It has enabled us to look beyond past strategies and approaches, while internally connecting the Board, staff, and members of the equity, diversity, and inclusion committee together through human-centred principles.
This foundation work has been essential in shifting the culture of the organization from a membership organization to one that is led with empathy by human beings for human beings. We have been reminded that while many of our priorities and initiatives are intended to further the profession as a whole, there are human needs and values that, when integrated, can become a unifying core.
ARIDO knows human connection is essential in the work you do. As a designer of space for humans, you understand how others will use and feel in the spaces you create. This human-centred approach provides a way for everyone to access and belong in interior spaces.
Now that our foundational work has progressed, ARIDO's next steps will focus on a roadmap to real change and impact for our community. Our journey continues by creating a path for our members and other community members to join us, engage in the work ahead, and continue to belong. Our journey together is just beginning.
If you have not had a chance to review the DIV.e.IN Survey Results or the Chandy Principle Phase One Report the documents are always available via ARIDOaccess on the Equity, Diversity, Accessibility, and Advancement page.
As the pandemic continues, the ARIDO Board of Management recently discussed the dues for 2022. We recognize that, in addition to the challenges the pandemic has had on our design firms and partner organizations, the cost of living and doing business has also increased. As a result, there is no increase for ARIDO membership dues for 2022 and ARIDO will continue to prepare for a conservative cost-effective budget for 2022 while finding innovative ways to continue and expand our ongoing programming and events.
The ARIDO Board of Management is currently finalizing its strategic plan for 2022 with a focus on equity, diversity, inclusion, and advancement work to date. A release of the 2022 plan will be finalized and released to the membership in March 2022.
Between now and the AGM, we will be providing space for individuals like you to share what the association means to them, and the ways ARIDO has provided a space, support or something else when they needed it.
Join us in this journey forward.