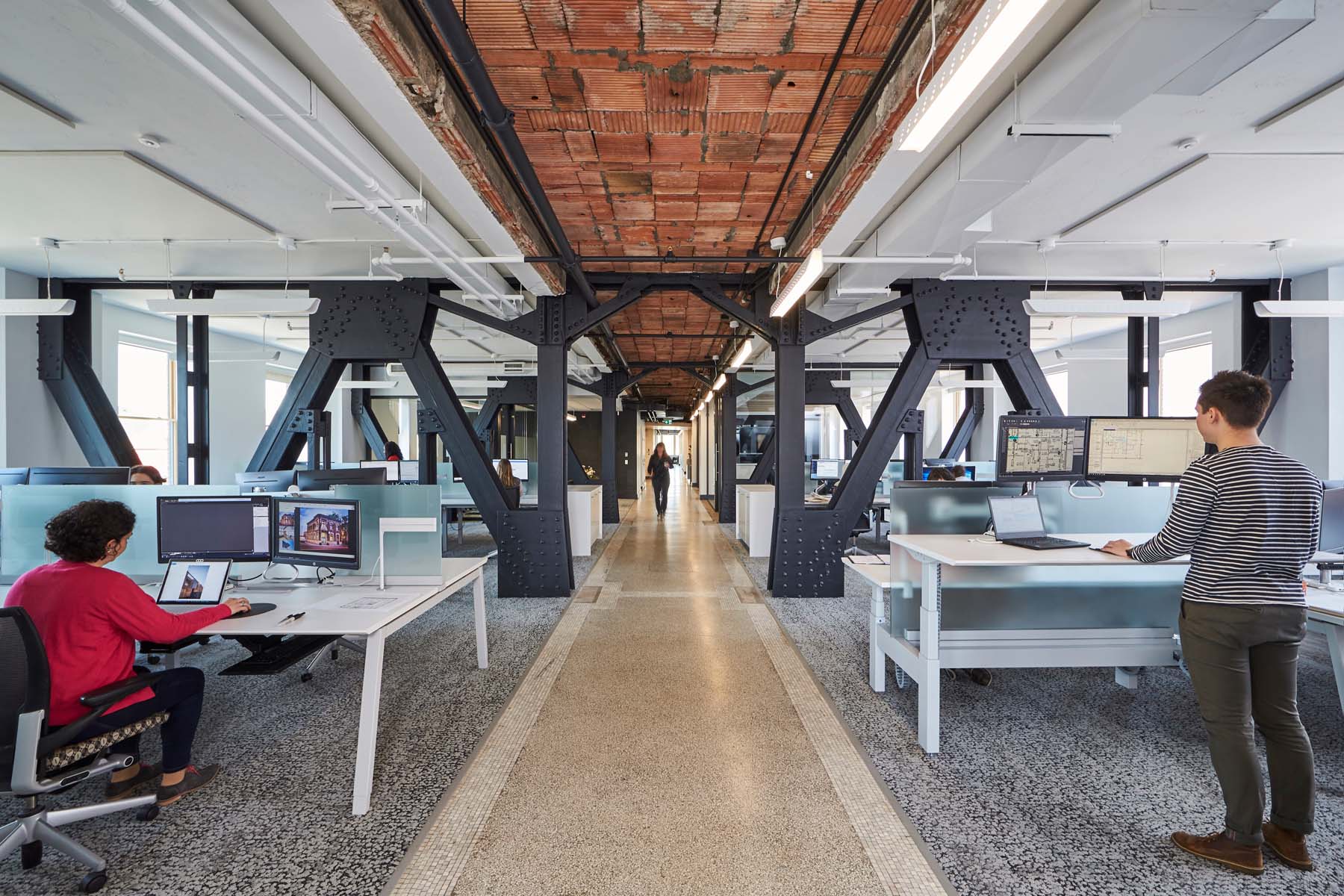 Good bones? This updated office space is a sustainable and beautiful upgrade
Our team worked with stakeholders and staff of this 50-person sustainable design firm to transform how their work environment promotes interaction and collaboration with clients, employees and consultants. The workspace environment reflects the company's entrepreneurial spirit, sustainability goals, and collaborative process. 
Interior Designer: Dora Lomax, ARIDO
Design Firm: McCallumSather
Photographer: Banko Media
This project was an astounding 10,000 square feet of a 1917 heritage building which had been abandoned for three decades. The design team spent six months studying integrated teams to create a modern, sustainable workplace that reflects the ways in which productivity and teamwork has evolved.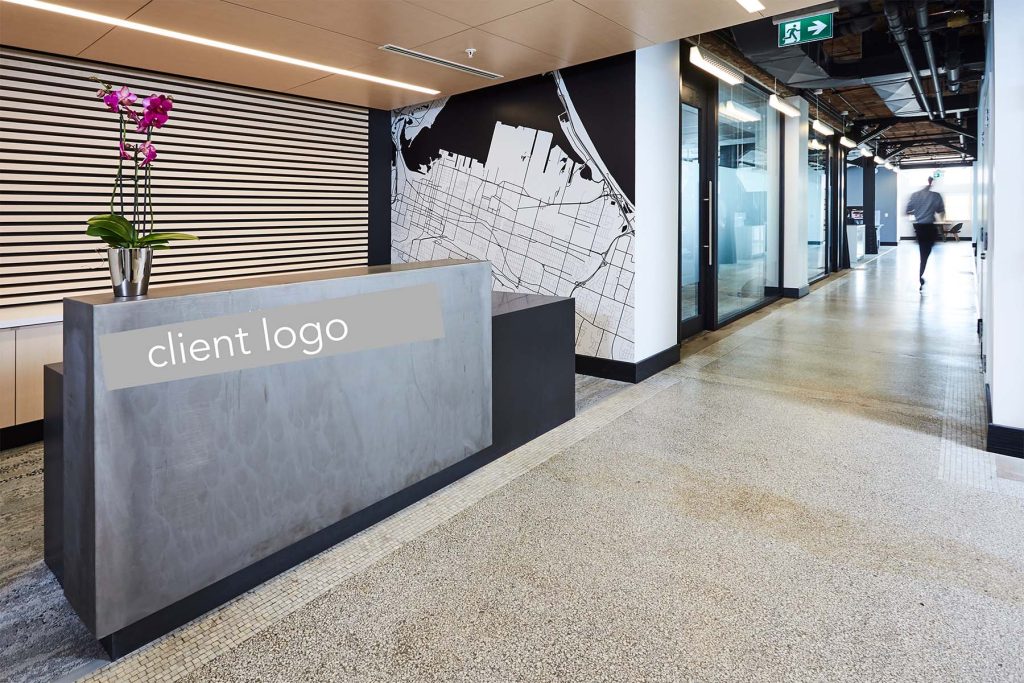 Extensive research was conducted, and an in-depth change management plan was executed by the Interiors team. The collaboration zones are located along a clear circulation "street," connecting individuals who may not typically work together. Spaces are filled with back painted glass writable walls, encouraging collaboration, with adequate sound attenuation and seating choices. High steel tables inspire debate, design, and creativity.
There were many challenges faced with a project of this size and nature. These included:
Considering the needs of three disciplines (architectural, mechanical and interior design) to facilitate the integrated design process. 
Utilizing the building's existing architectural, mechanical and electrical constraints. This would help to showcase the talents of the firm. 
Working with the existing heritage infrastructure including archaic materials, fire and life safety, heritage conservation.
Coordinating the move, phased and vertical construction, acoustical controls and AODA challenges.
Balancing historic patina with modern renewal.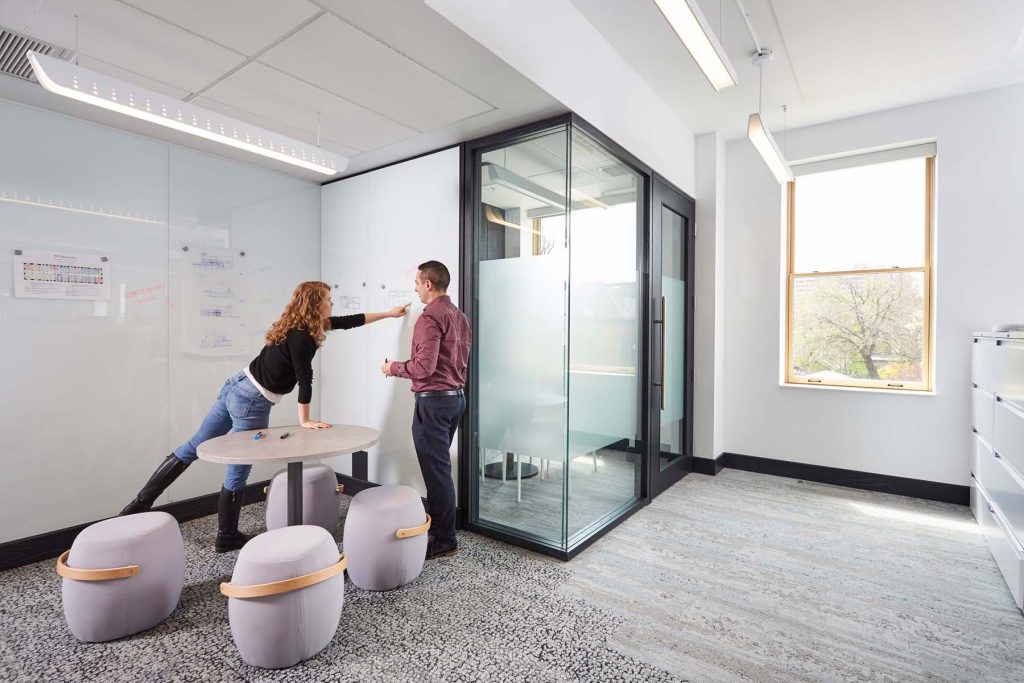 With no assigned seating, the floor plan is split into zones – focused, residential, collaborative. Each zone is equipped with a variety of workstations and touchdown areas to accommodate accessibility, ergonomics, and different working styles. In the centre of the space are the original, exposed steel trusses.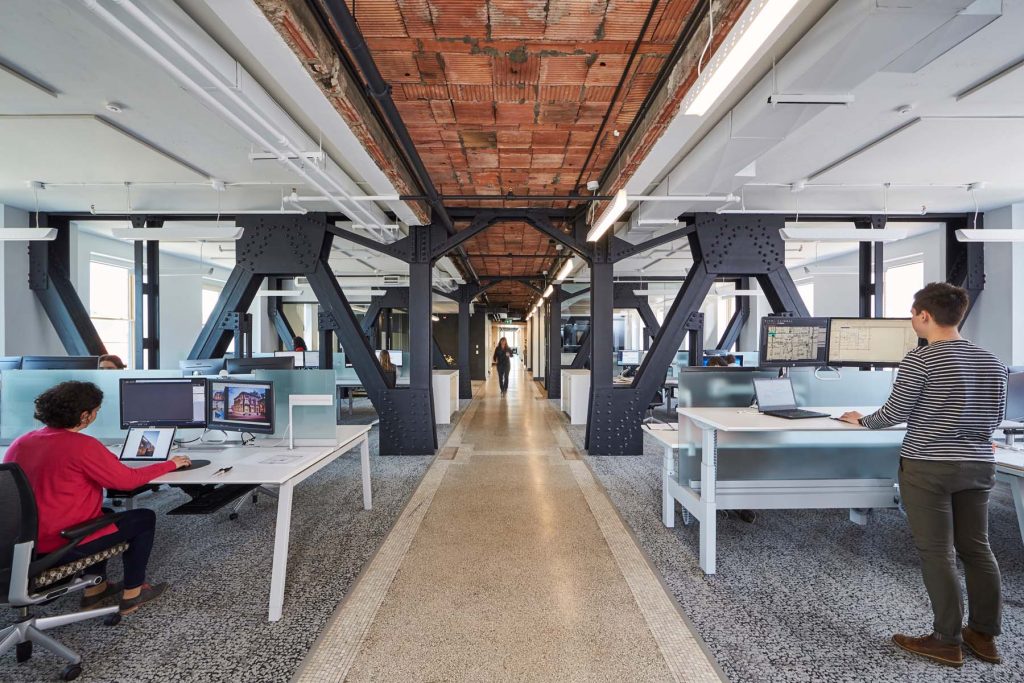 Specialized coatings were applied to meet life safety requirements, this allowed us to showcase this incredible feature. The original details are celebrated throughout the space. Original marble mosaic, terrazzo floors, exquisite plaster ceiling mouldings, and speed tile have been salvaged and restored where possible. The project succeeds by balancing heritage renewal and sustainable design into a meaningful interactive workspace.
Without assigned desks, users have lockers to store personal items, resulting in printing reduction of over 80% plus improved coordination of materials. The focus zone sees a library, resource area, and soundproof phone booths.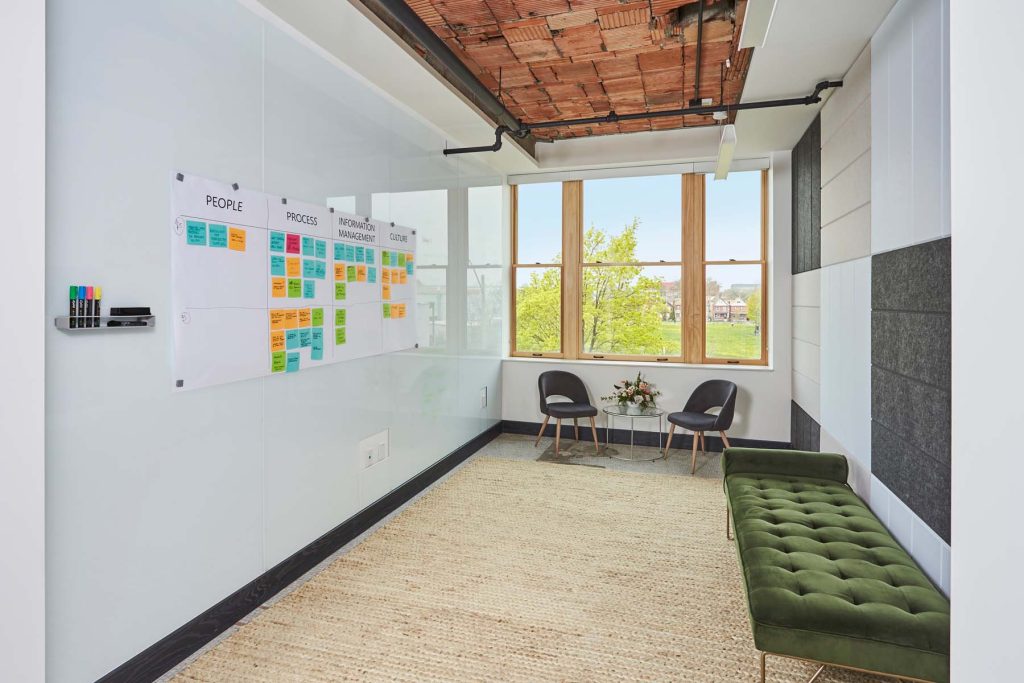 Budget constraints lead the team to design a bespoke sound attenuated glazing system, exceeding sound performance, cost, and schedule.
Enhancing natural light was key. Large, operable wood windows reduce heat and energy loss, reinforced with daylight-sensor LED lights. The design has resulted in projected energy savings of over 50% and energy cost savings of over 30%, compared to a more traditional office environment.
Special features include a vinyl wall graphic of a map of the city, designed and printed locally with no off-gassing during application; original marble mosaic floors, terracotta ceilings; and signature trusses uncovered during the renovation coated with intumescent paint. 
The reuse and re-upholstering of most of the furniture from their previous office, re-purposed furniture sourced from the original building, enhances sustainability, and budget goals.
The result is a fresh, modern office which respects the building's historic bones and adds updated details to provide employees with everything they need.
This project was awarded an ARIDO Award of Merit in 2019.
Related
ARIDO Award: Elevator Cabs

The challenge of this elevator cab redesign was to create a mobile portal between a well-aged ground floor lobby that would seamlessly integrate with each of the floors above. Category: DISTINCT Inter ...

ARIDO Award: The Hive

The first of its kind in Canada, this 3D printed masonry wall is the result of a collaboration between design professionals, students, and faculty at an Ontario university. Category: CRAFT Interior De ...