This vibrant co-working space inspires openness and flexibility
As the destination for emerging startups and established down-sizers located along the QEW in Oakville, Alternawork breaks the mold to what we characterize the typical cooperative workplace should look and feel like. This renovation and addition emphasizes how a diverse group of users, across various disciplines, can harmoniously make use of one location.
Interior Designer: Taylor Roth, ARIDO
Design Firm: RAW Design
Photographer: Carel Maeda
The aim of the overall design was to create a vibrant space that promotes creativity and innovation for the tech driven community Alternawork seeks to attract. Another consideration during the design process was creating a balance between flexibility and structure as well as the health and wellness of the occupants.
The design team also had to use a non-conventional floor assembly to add a 2,500 square-foot addition to the second floor. Lastly, it was crucial to incorporate Alternawork's branding methodology and have the space uphold the brand's identity.
The design had to create interest for those not familiar with the co-working model. This office space had to offer more than just a series of offices, its design needed to permit presentation, events, and the preparation of food and coffee. It had to be flexible enough that the "work" aspect of the Alternawork business could still function seamlessly with social initiatives.
The conversion from warehouse to office meant that hard surfaces dominated the existing space. In the effort to warm up and soften the expanse of steel, concrete, and glass finishes, a large multi-story preserved living wall was added to connect all work and communal spaces.
The large feature wall can be seen from all corners of the office, providing office occupants a connection with nature through biophilic design and promoting health and wellness, something that should be at the forefront of all interior design thinking.
Much of the existing finishes and materials from the building's previous life were preserved and given a modern refresh. The specification of new materials were minimal and limited to products that embodied sustainable design qualities and features. From selecting carpet tile made of recycled fish nets and fully recycled backings, to specifying WaterSense efficient plumbing fixtures, this project's life-cycle costs and environmental impacts were at the forefront of the specification process.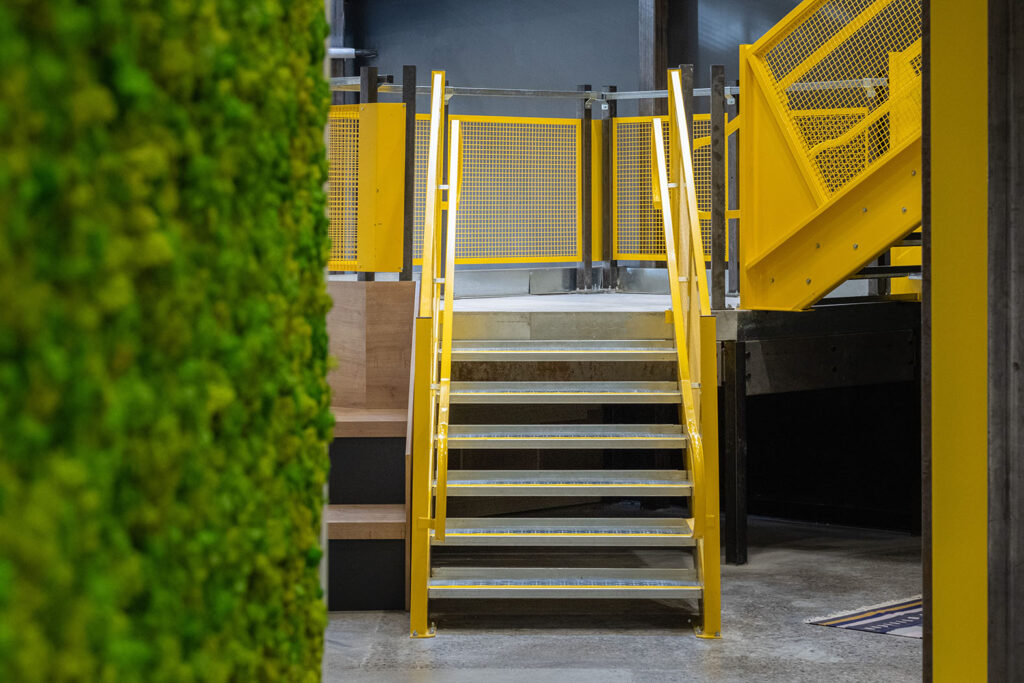 Creating an environment that allows tenants to use the space the way they want is ultimately what makes this design special. The organization of spaces and use of materials with strong visual identity expresses the client's values and shared office culture.
After all, what drives tenants to invest in the collaborative model of cooperative work space is the community and social aspect of this environment. When the space can foster these values too, everyone wins.
Related