A Contemporary Country Home Made for Entertaining
This 10,000 square foot newly built country home was designed with a contemporary yet warm design aesthetic full of nature-inspired finishes, materials, and colour palettes. Set on a beautiful rural property, it's a perfect family home with the ground level meant for private daily family living and the lower level serving as a stunning entertainment hub.
Interior Designer(s): Neil Jonsohn, ARIDO; Kelly Cray, ARIDO
Design Team: Noelle Lekkas, ARIDO
Design Firm: U31
Photographer: Gillian Jackson
Situated in a rural area, the interior design team behind this contemporary custom home was inspired by surrounding farmland and nearby conservation area, and tried to bring the outdoors in through their design. The colour palette reflects the summer landscape with touches of muted green, blue and plum tones, while the use of natural materials throughout the house provides a link to the outdoors.
The connection of interior with exterior is further articulated with the use of rustic flagstone in the lower level's fireplace surround and bar's feature wall. Material selections range from durable porcelain, stone, marble, woods to soft textural mid-century inspired forms.
By dedicating the main level of the house primarily for daily living and the lower level for larger social activities, the clients' desire for private and public areas were achieved. Plenty of windows at the back of the home facilitate constant views of the outdoors, while the overall pale backgrounds in the ground level accentuate a light, airy, and livable feel.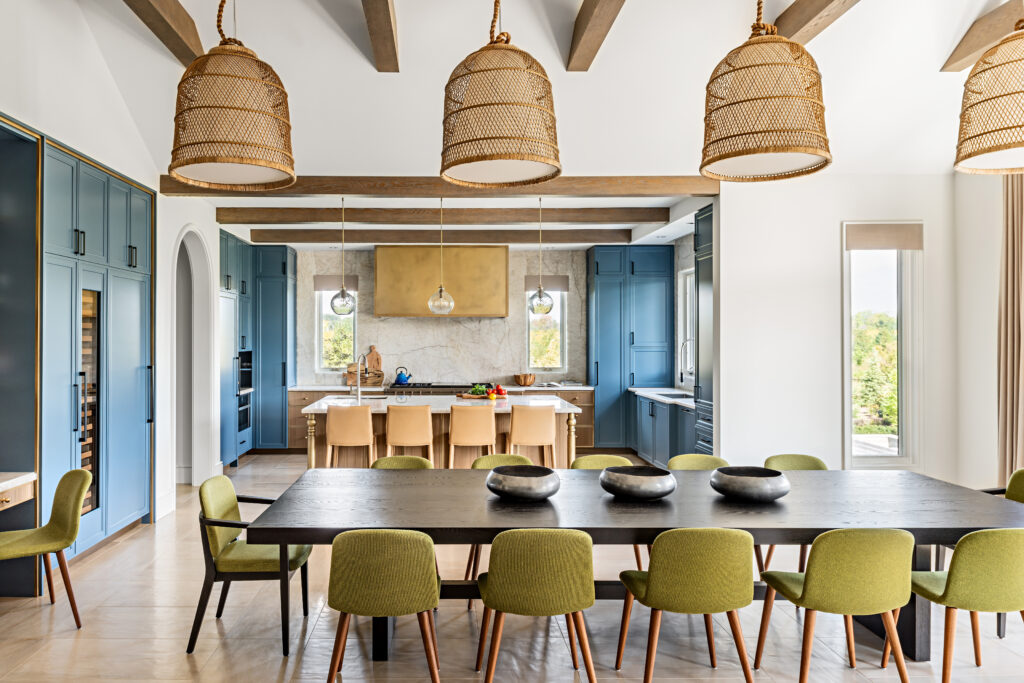 Darker walls introduced in specific areas create a moodier vibe. For instance, the walls of the ground level dining room are covered in a dramatic charcoal, botanical motif that relates to the outdoor landscape, while exuding a casual sophistication.
The clients wanted the lower level of the home to feel like a getaway for them and their guests, so it also functions as a pool cabana, as they opted to have an outdoor pool rather than travel to a cottage every weekend. The lower level provides a separate entrance for guests, along with an open concept lounge, multi-purpose dining area and a bar.
A playful mix of contemporary and vintage inspired touches in the cabana area sets the tone for the party atmosphere: 60's Italian beach scene printed on glass functions as sliding doors to the custom catering kitchen, contemporary club-like gold cove lighting in the ceiling, flagstone bar and fire-place surround recalls a 60's cottage 'rec room', while porcelain floor, mimicking wood, easily handles the comings and going of wet swimmers.
Ultimately, the home was designed to anticipate a growing family who cherish entertaining at home. The clients report the space has begun a new chapter in their lives with the addition of this 'dream home'.
Related
ARIDO Award: Cavana Ridge Spa

Cavana Ridge Spa is a lofty hospitality project that presents a beautiful balance of design challenges and inspiring potential. Our team's mandate was to transform a run down, vacant water testing f ...

ARIDO Award: York Condos

York Condos is a three-building complex in Markham, Ontario. The buildings line an above-grade parking structure crowned by an extensive landscape and amenity terrace providing a shared community spac ...