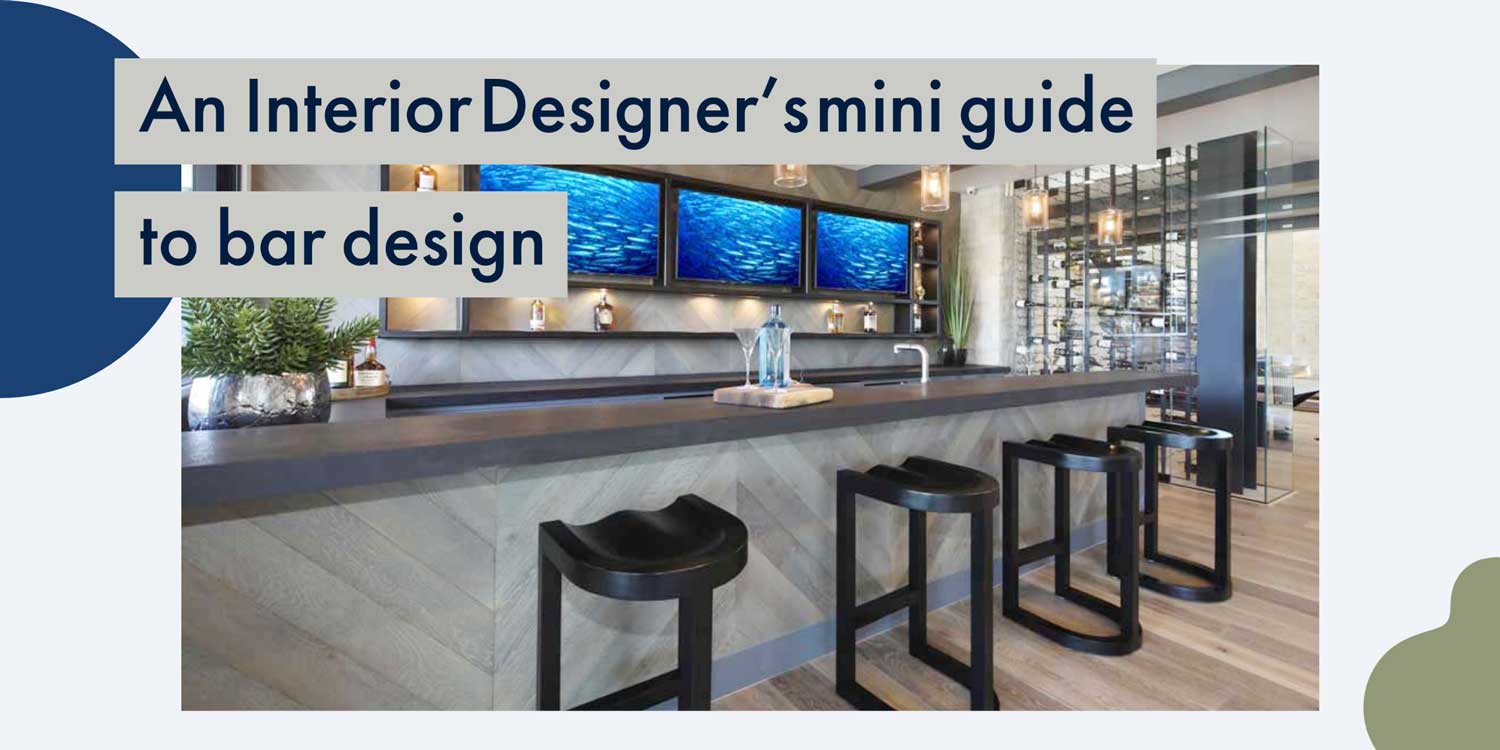 An Interior Designer's Mini Guide To Bar Design
A bar by any other name is still a bar. It can be an espresso bar, a wine bar, or maybe a sports bar. Stand-alone or as part of a kitchen. It can be dry or wet. Which one would you prefer?
Dry Bar – No Plumbing Involved
A dry bar is simple to set up, especially where space is an issue. It can be a bar cart or a dedicated nook with a cabinet and counter (below right). Bar accessories are a definite must.
Wet Bar – H2O Required
You can modify an open-plan kitchen where the island becomes the bar (below left).  Or, you can construct one in the basement as part of your very own entertainment complex, or a spa bathroom, or bring it outside to create your own mini-resort, where you can mix a batch of frozen margaritas while you're flipping steaks.
Anatomy Of A Bar – The Basics
Put all your ideas on paper and just like the pros, let's use ergonomic standards and proper measurements for optimum bar design.
Bar Height: 42 inches to 45 inches high. Great for sitting or standing.
Sitting At The Bar: 8in. deep for your knees. The more the better.
A special touch? Include a small hook for hanging a jacket or a purse.
Body Width: 24 inches per seat. 30 inches is better and feels less crowded. Stand-up or sit down, a bar stool is a great prop. Bonus points for stools that go up and down.
Foot Rail: 7 inches to 9 inches off the floor. A classy touch and appreciated by people with back problems.
Bar Top: 16 inches to 20 inches wide. Materials should be sturdy and waterproof. Add panache through colour and pattern.
Behind The Bar: Install a 36 inch high counter to mix cocktails, slice lemons, set bottles or install a sink. Under this counter make sure you have a waste receptacle, a microwave oven and mini fridge for snacks and ice.
Back Of The Bar: The highest reachable shelf should be 69 inches to 72 inches high. Above that is storage.
Other important items:
Back Bar Shelves: Needs to fit the tallest and widest bottles you stock.
Flooring: A wet bar gets messy, so a resilient floor is necessary.
Electrical, Light Switches And A Sound System: Party central needs power, ambience and great music.
Building Codes: Check them. Safety comes first.
The Extras – The Ultimate Pro Details
Beer Taps: Keep in mind that flushing the system is mandatory. Too much work? Stick to bottled beer.
Wine Fridge: For chilling any bottled liquid beverage.
Ice Maker: Never run out of ice!
Espresso Machine: Caffeine is always required.
The Wow Factor
Here are a few tips and trends to impress:
Vary Your Lighting: Add style through statement sconces or titillate with LED backlighting to shelving (see below), a foot rest and bar front lip. Provide recessed general lighting overhead and add pendants to enhance your theme. Don't forget dimmer switches for a signature mood.
Mix-up Your Finishes: Here's where you can use fanciful woods, metallics and statement tiles. Think textures, patterns and colour.
Use Glassware and Bottles As Decor: A wine wall with fancy labels can show off your sophistication. Lots of glasses of different shapes and sizes can sparkle with strategic lighting placement.
Floating Shelves: Display your favourite spirits or memorabilia.
Television: Root for your home team in style.
And, remember no matter what age, shape, size, or planet – sitting or standing – let's make sure your bar can accommodate everyone who wants to join in the festivities.
So use this Interior Designer's Guide wisely and let's make very merry fun.
All project images from Dolores Pian.
Related