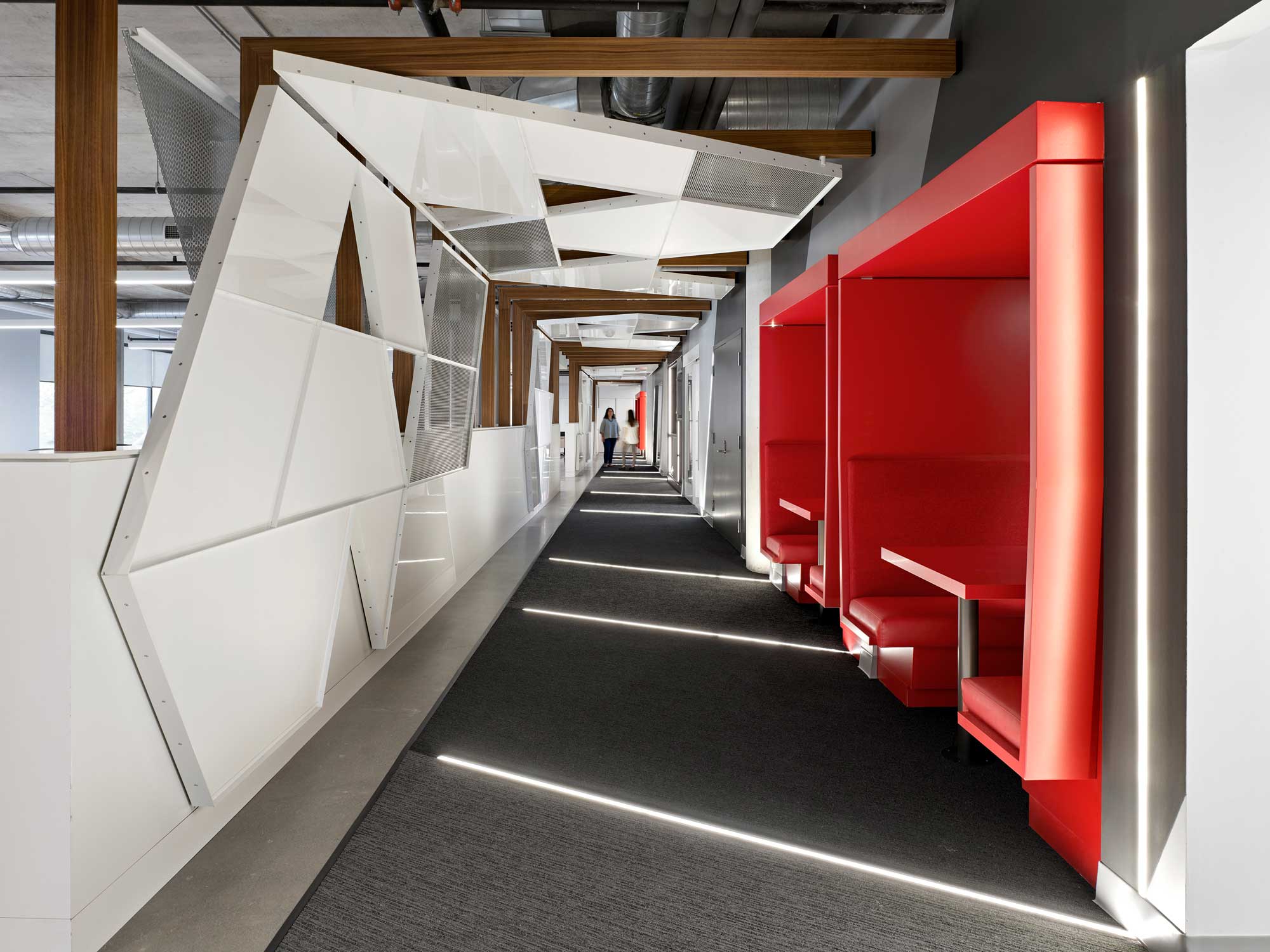 ARIDO Award Winner: Red Bull Canada
Creating a space that uniquely brings to life what a brand represents – energy, pushing boundaries, and going beyond the ordinary - without explicit over-branding was our latest challenge with a new workspace in Liberty Village.
Category: WORK
Interior Designers: Guy Painchaud, ARIDO; Heidi Painchaud, ARIDO
Design Firm: iN STUDIO
Design Team: Carl Jo, Intern, ARIDO
Photographer: Ben Rahn / A-Frame Inc.
The central concept became a simple path – the journey, dubbed "the vortex," a reciprocal effect of a kinetic movement or action. This concept was fitting to the essence of the brand, representing energy and thinking big, beyond the ordinary. The vortex was to be the connection point to all the various program elements – a spine to which all other members were connected. A place of movement and interaction. An ever-changing and evolving experience like a journey. This key feature envelopes the user in a three-dimensional experience through the movement of floor, wall, and ceiling elements.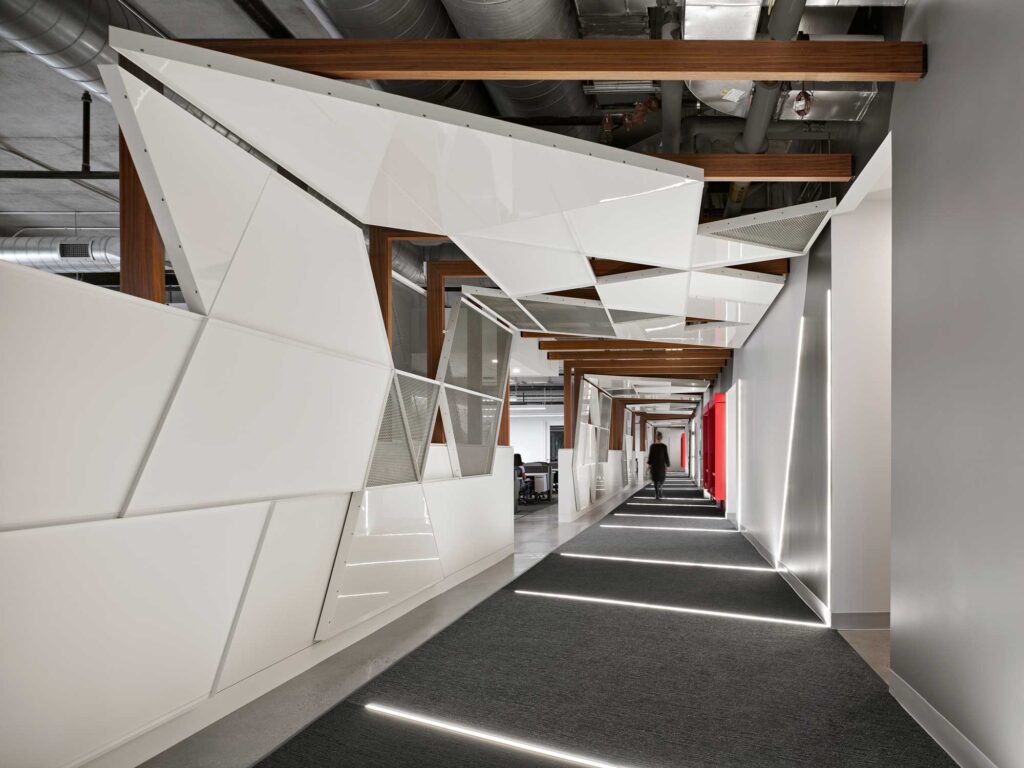 The elevator lobby greets guests with a modest, almost raw environment with a key feature perforated metal wall inclusive of a simple brand message, and content screens. Directly adjacent, the ceiling and flooring guide visitors onwards to reception. A dynamic reception desk gives way to the adjacent guest pantry area. Mixtures of raw metal, butcher black wood, and lacquer surfaces create a contrast of finishes that speak to both a refined palette as well as the necessity to maintain the raw element.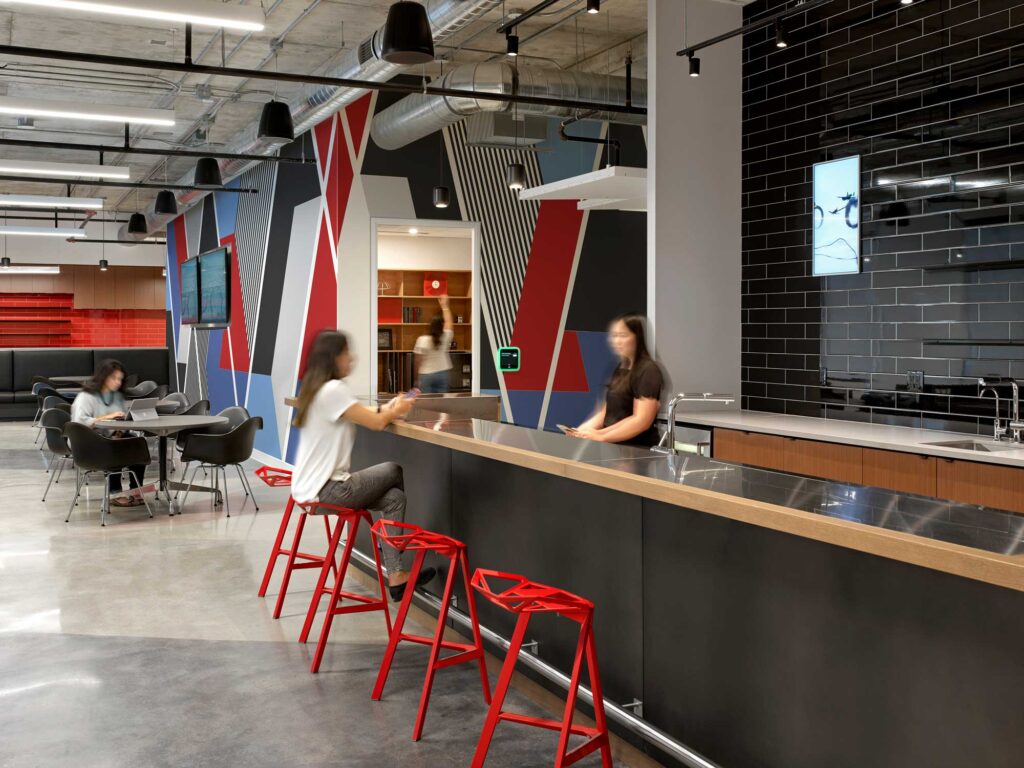 Along the vortex, one can engage with the open office environment, wellness, multi-purpose and conference spaces, as well as informal booths and access water/pantry stations. The team created a unique lighting solution for the articulated space. There was not a typical ceiling area to host a patterned array of lighting, so LED channels were incorporated into the dynamic, angled moves of both the wall and floor – creating a side light / uplight to the entire corridor.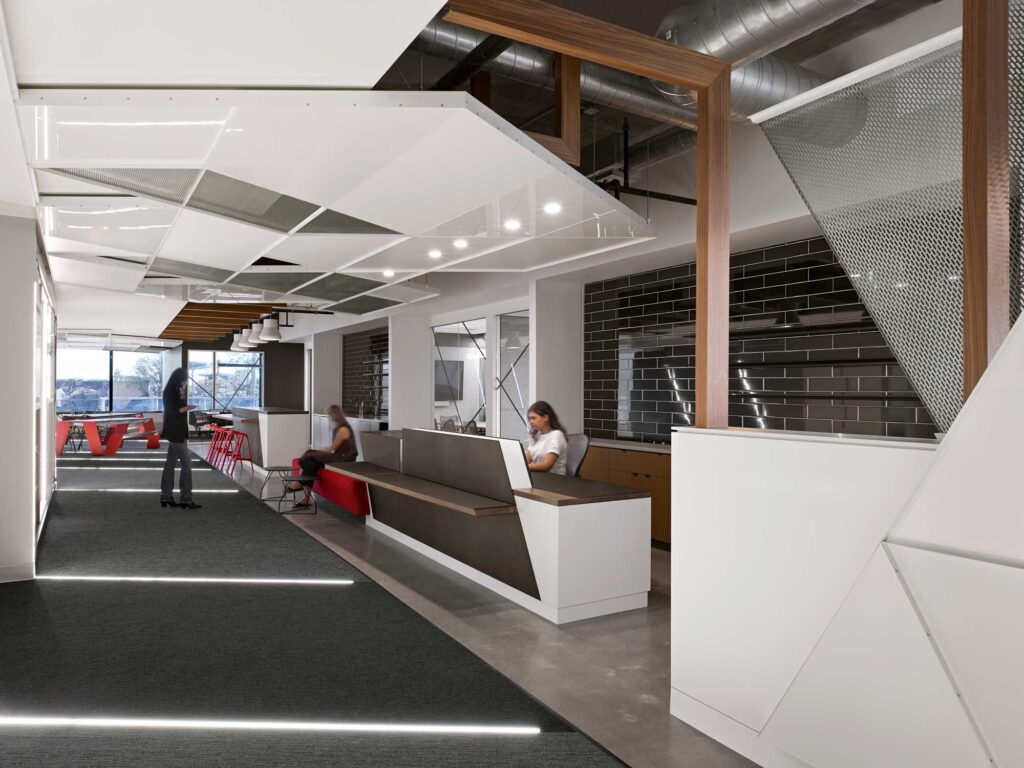 Conference spaces are self walled smaller components that are adjacent to the vortex. All contain technology that is future adaptable and is designed to be optimal to the requirement of the various team sets, along with complementary smaller meeting rooms and phone rooms.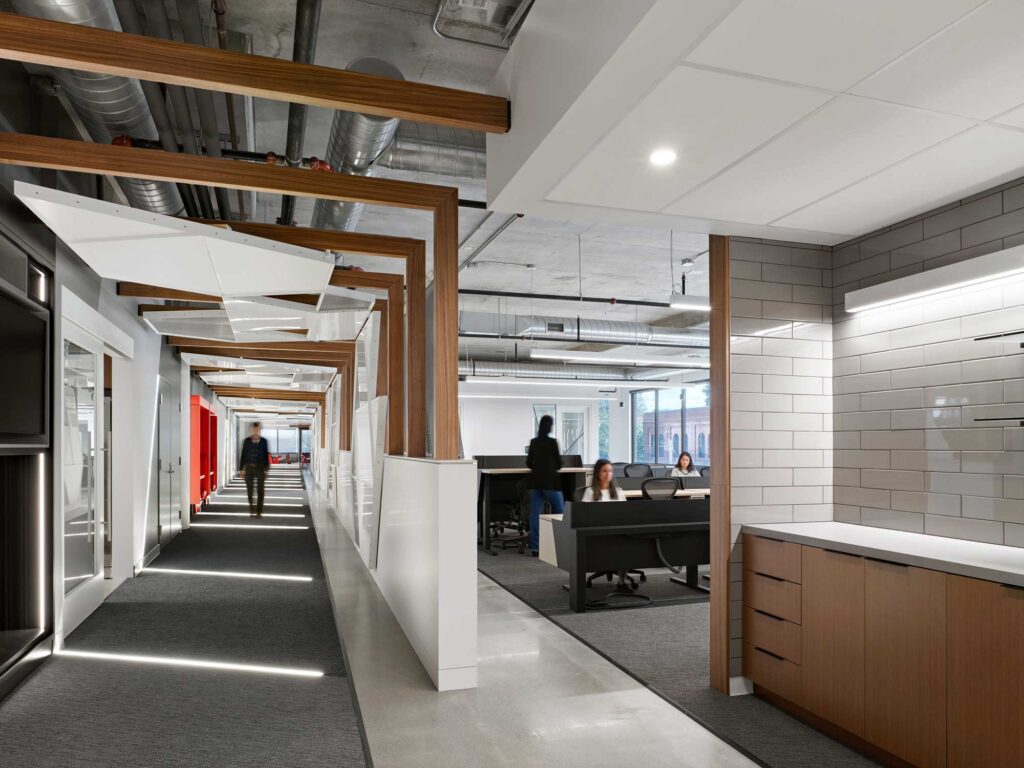 The main staff pantry is a galley-style kitchen with links to the vortex and the main staff lounge area. It can also support events. In fact, a black box venue can house various signature events, small concerts, performances, festivities, or simple staff gatherings. A purpose-designed beverage bar with all required equipment and services is directly connected to the terrace to allow for additional festivity outdoors.
Dynamic finishes created in the vortex area continue in the open office area and ripple through the entire environment. The project was given a healthy workplace audit given the recent pandemic impact, and material cleanability, as well as hygiene-focused resources, was adapted into the work environment via inherent materiality as selected.
The brand for this client is high performance. The designer's solution needed to exceed that bar aesthetically, functionally, financially, and creatively. All expectations were exceeded and a new bar has been set.
Project Details:
Project Location: Toronto, ON
Project Completion Date: July 2020
Project Square Footage: 14,000 square feet
Related
ARIDO Award Winner: Smart City Sandbox

The Sandbox was a result of firm-wide technology pivot that focused on developing new technology platforms to embrace the creation of the Smart City of the Future. This transformation required a rethi ...

ARIDO Award Winner: The Co-operators Regina

By moving away from the traditional office environment to a nimbler workplace, The Co-operators started their move westward Canadian headquarters in Regina. They endeavoured to create a healthy and hu ...