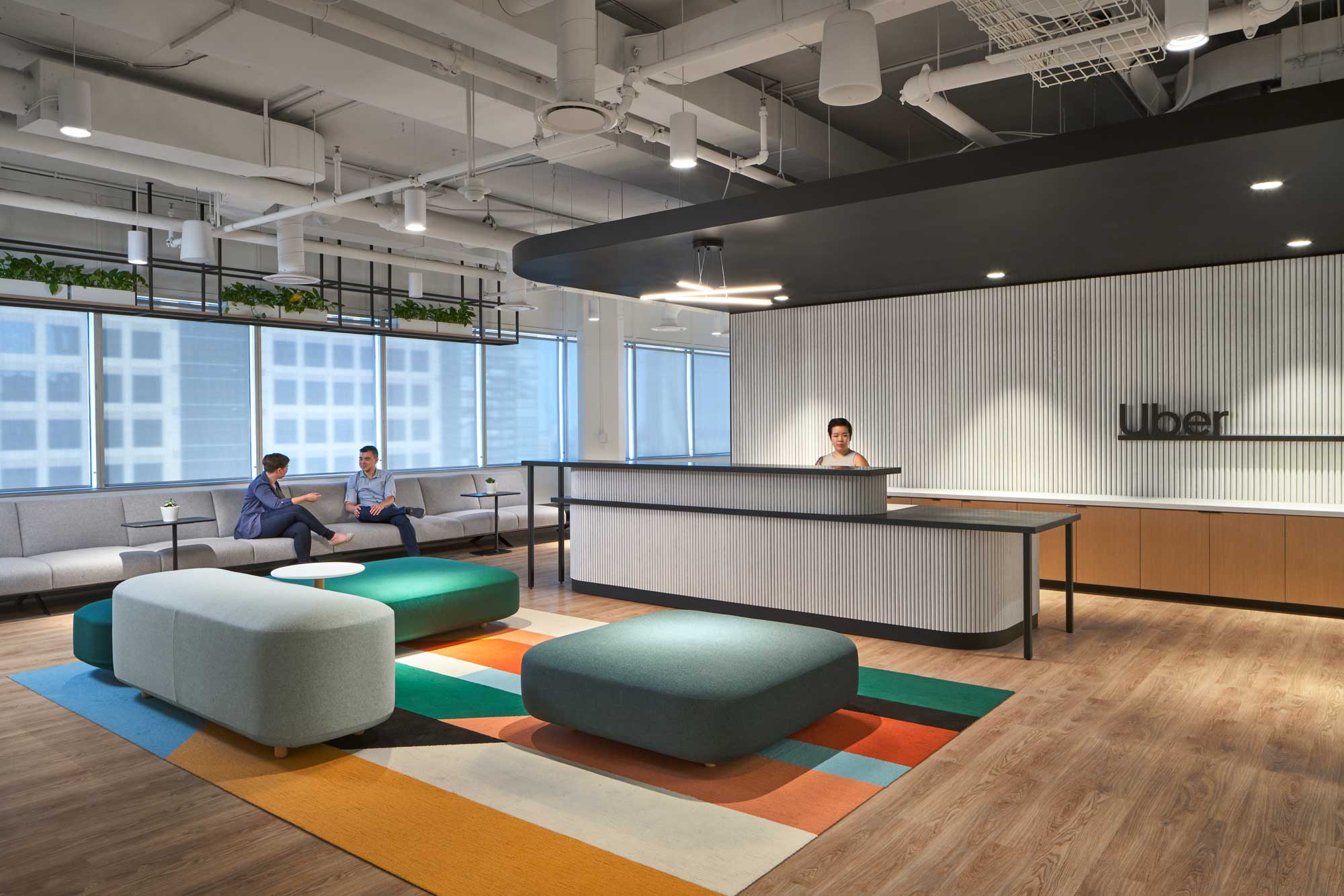 ARIDO Award Winner: Uber Canada Headquarters
Inspired by the theme of movement, both literally and figuratively, the interior design for the new corporate headquarters of Uber Canada evokes a sense of forward momentum. The elements of rhythm, repetition, bold lines, and contrasting details converge to reflect both Uber's global growth and trajectory as a world-leading technology enterprise, and its drive to get people where they want to go.
Category: WORK
Interior Designers: Peter Heys, ARIDO; Leslie Tuttle, ARIDO
Design Firm: B+H
Design Team: David Zhou, ARIDO; Marianna Ng, ARIDO; Inga Kantor, ARIDO; Abi Kim, Intern, ARIDO
Photographer: Doublespace Photography
In 2018, Uber sought to create a cutting-edge workspace for their new Canadian head office, located on the top five floors of a downtown Toronto office tower. Concurrently, the company was in the process of revitalizing their branding guidelines which included the development of a new 'Playbook' that outlined Uber's general workplace requirements, including accessibility standards.
This blank canvas provided the opportunity to envision a new type of workplace for Uber, one that would align with the company's refreshed brand, vision, and values, facilitate a seamless transition its staff to working in a larger, multi-floor office space, and enhance the elements stipulated in Uber's playbook.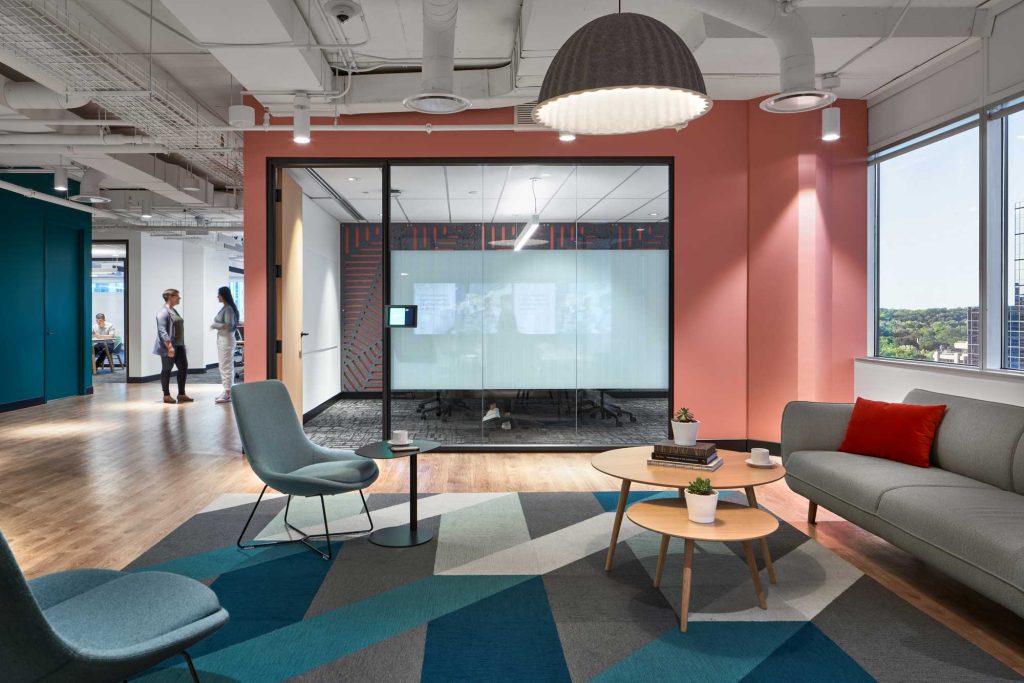 A key component was a robust environmental graphic design (EGD) strategy. Inspired by Uber's culture, the interior design team selected five key values as inspiration for the space: connect, explore, surprise, play, and pause. With those values as a jumping-off point, the interior design team assigned associated colours and developed a visual language – with each level of the five floors occupied by Uber uniquely reflecting one of the values.
The majority of the EGD program takes advantage of natural places of connection: common areas, corridors, the library, the cafe, gaming spaces, etc. A key part of our design strategy was to infuse the vibrant culture of the city as an additional layer of conceptual richness. On one floor we installed a custom-illustrated wall covering that celebrates Toronto's popular Kensington Market neighbourhood. Another celebrates the famed Distillery District.
When connection was not the primary driver, we focused on improving user experience. In dark, narrow corridors we strategically placed a vibrant, textured wall covered with bright, hand-lettered, neon LED typography to transform a dim, transient space into a playful, engaging portal.
Uber's offices encompass floors 12-17, yet reception is smack in the middle on the 16th floor, which had the potential to confuse first time visitors. When a visitor steps off the elevator on the 16th floor, a motion sensor catches their movement and triggers multi-stage lighting, which guides them to the reception desk. This reassures any new visitor that they are in the right place.
Not only is the lighting an efficient wayfinding tool, this installation can be programmed for special events and observances, which could include Pride Month, Indigenous Heritage Month, Black History Month, etc.
The design also features a multipurpose wellness room, envisioned to be used by Uber employees for a broad range of wellness-oriented activities which may include exercise/yoga classes or individual sessions, meditation, prayer, or simply as an area to rest and recharge. The design also incorporates a mother's nursing room, providing Uber staff with a private, comfortable, and dignified setting for nursing mothers.
Biophilic strategies and elements are woven throughout the design to imbue the office with a sense of connection to nature and greenery – highlighting the project's unique proximity to Toronto's picturesque Don Valley. Various plant species were incorporated throughout the office floors through the custom shelving as well as through terrace plantings which are visible from the office interiors.
Folding partition systems embed flexibility into the space, allowing for specific rooms to be opened to adjacent space for enlarged team meetings and events, or closed for privacy as required. Writeable surfaces within the walls so that natural light and function is present. This wall is also able to incorporate technology including power, sound and display directly into the folding wall, should this be a consideration for Uber in the future.
Project Details:
Project Location: Toronto, ON
Project Completion Date: August 2019
Project Square Footage: 80, 000 square feet
Related
ARIDO Award: Elevator Cabs

The challenge of this elevator cab redesign was to create a mobile portal between a well-aged ground floor lobby that would seamlessly integrate with each of the floors above. Category: DISTINCT Inter ...

ARIDO Award: The Hive

The first of its kind in Canada, this 3D printed masonry wall is the result of a collaboration between design professionals, students, and faculty at an Ontario university. Category: CRAFT Interior De ...