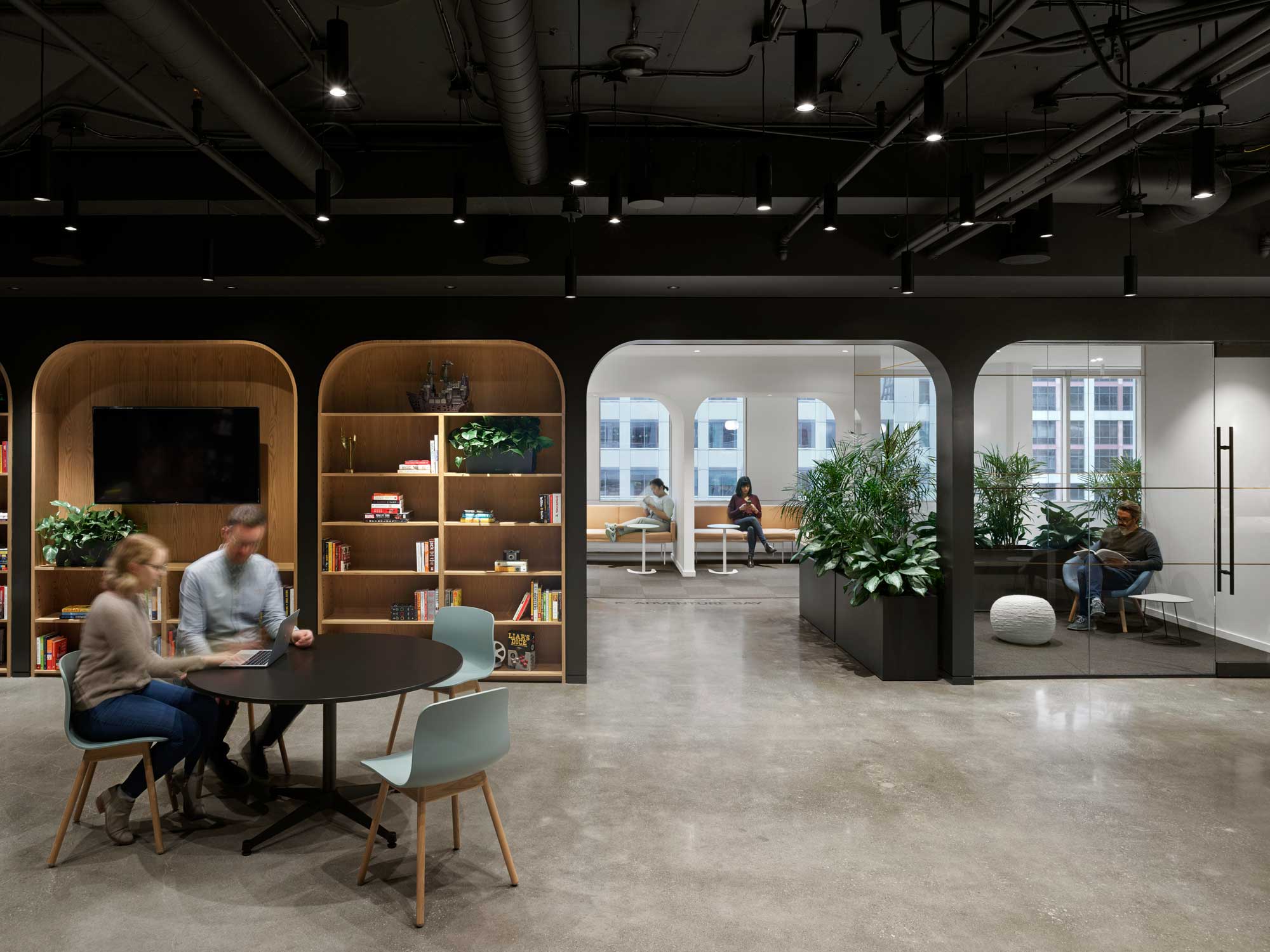 ARIDO Award Winner: Spin Master (7th Floor)
As a business unit within a large Canadian toy company, the client wanted a space to attract top talent and convey refined talent of the artists, writers, actors, and producers that their business employs. The design strategy consisted of using a co-create process to evolve the design in an iterative manner, ensuring team diversity, input equity, and an inclusive approach to all stakeholders regardless of rank and file.
Category: WORK
Interior Designers: Annie Bergeron, ARIDO; Jessica Baird, ARIDO
Design Firm: Gensler
Design Team: Filo Costa, ARIDO; Nichola Chan, ARIDO; Sarah Taylor, Intern ARIDO
Photographer: Ben Rahn
Weekly brainstorm sessions between the client and design teams let everyone involved have a voice in the process ensuring their brand and work to shine.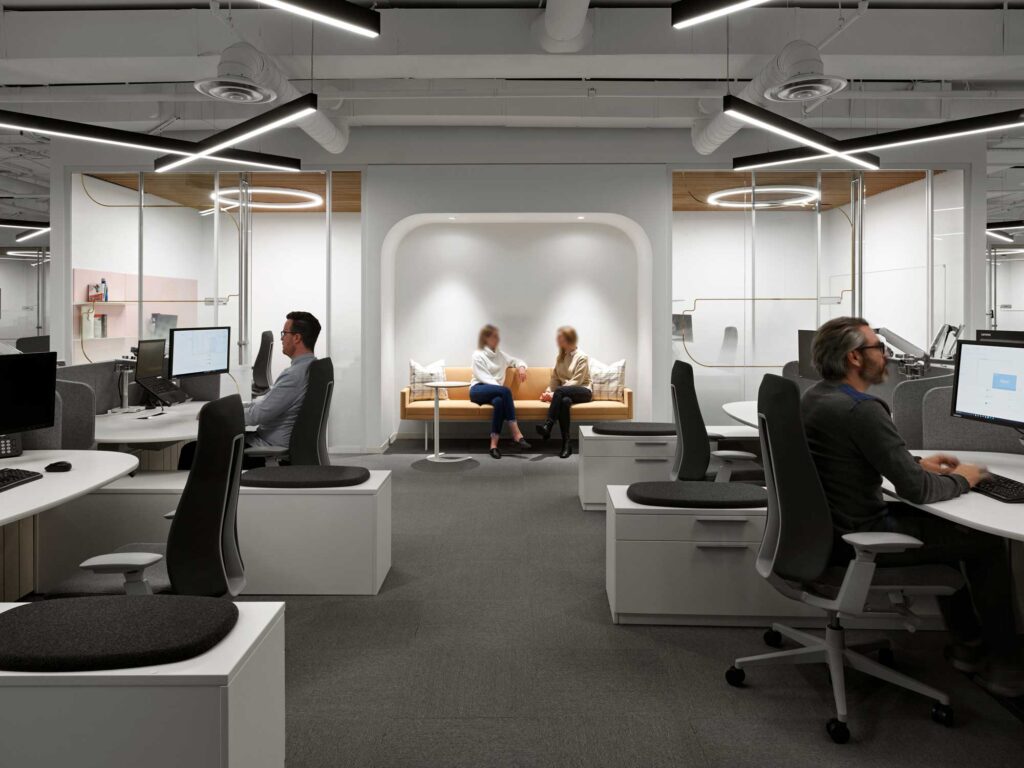 The new space unfolds like a story narrative – reflecting the work processes of the end-user. An Art Deco inspired wood trimmed lobby, entry marquee, burgundy "red" carpet, and gold vitrine decal signage hint that creatives live here. Going from dark to light through space, the art studio itself is flooded with daylight and accented with soft finishes: the artwork pops and remains centre stage. X's and O's lighting harken back to simple childhood games and offer a reminder of the studio's target audience.
The design team leveraged our world-class research and data gathering tools (vision session, surveys, and interviews), to identify the right ratio of work settings. A thoughtful mix of meeting spaces – varying sizes, casual to formal, enclosed to semi-private to open, stand-up or sit-down – combined with individual work settings ensure individuals can get down to work. Common areas strategically placed directly off reception and away from focused work allow for uproarious laughter and casual collaboration.
Every part of the office design provides the tools needed to collaborate across disciplines: digital technology, whiteboards, blackboards, pin-up space, inspirational content library (like books, magazines, and toys), blank canvases, gallery walls, brainstorm and audio production studios, and p-board storage.
The production studio for voice talent was a key component that needed to be placed strategically and noisy base building systems were re-routed to ensure sound quality. The design team engaged audio acoustic specialists to deliver this component.
Open ceilings were strategically located to help conceal the Class B building air distribution system revealing a flawless open effect. Exposed columns we kept clear of visually distracting services distribution. Staggered tendering, pre-ordering, and strategic reuse were used to meet the budget and even tighter schedule.
Appropriate separation between heads-down focus work and collaborative work ensures the employees' productive capital can be maximized, along with their enjoyment of the space. The entry sequence progresses from active zones, transitioning into the quieter design studios where creative concentrated work occurs.
Staff have many options when they want to engage with others, and an on-floor café provides ample opportunity for impromptu conversations. The children's book library offers creators an area to disconnect from the digital world and get inspired by illustrated adventures. Digital content is also available through the space for visitors to preview new animated shows – and old classics – when the need to be transported away to another world strikes.
The space meets LEED Certified standards wellness was carefully considered, with access to daylight, quiet reflection spaces, and the inclusion of a lush plant program that was the top employee-requested feature. Greenery throughout provides a soft biophilic element.
Project Details:
Project Location: Toronto, ON
Project Completion Date: July 2019
Project Square Footage: 19,605 square feet
Related
ARIDO Award: Elevator Cabs

The challenge of this elevator cab redesign was to create a mobile portal between a well-aged ground floor lobby that would seamlessly integrate with each of the floors above. Category: DISTINCT Inter ...

ARIDO Award: The Hive

The first of its kind in Canada, this 3D printed masonry wall is the result of a collaboration between design professionals, students, and faculty at an Ontario university. Category: CRAFT Interior De ...