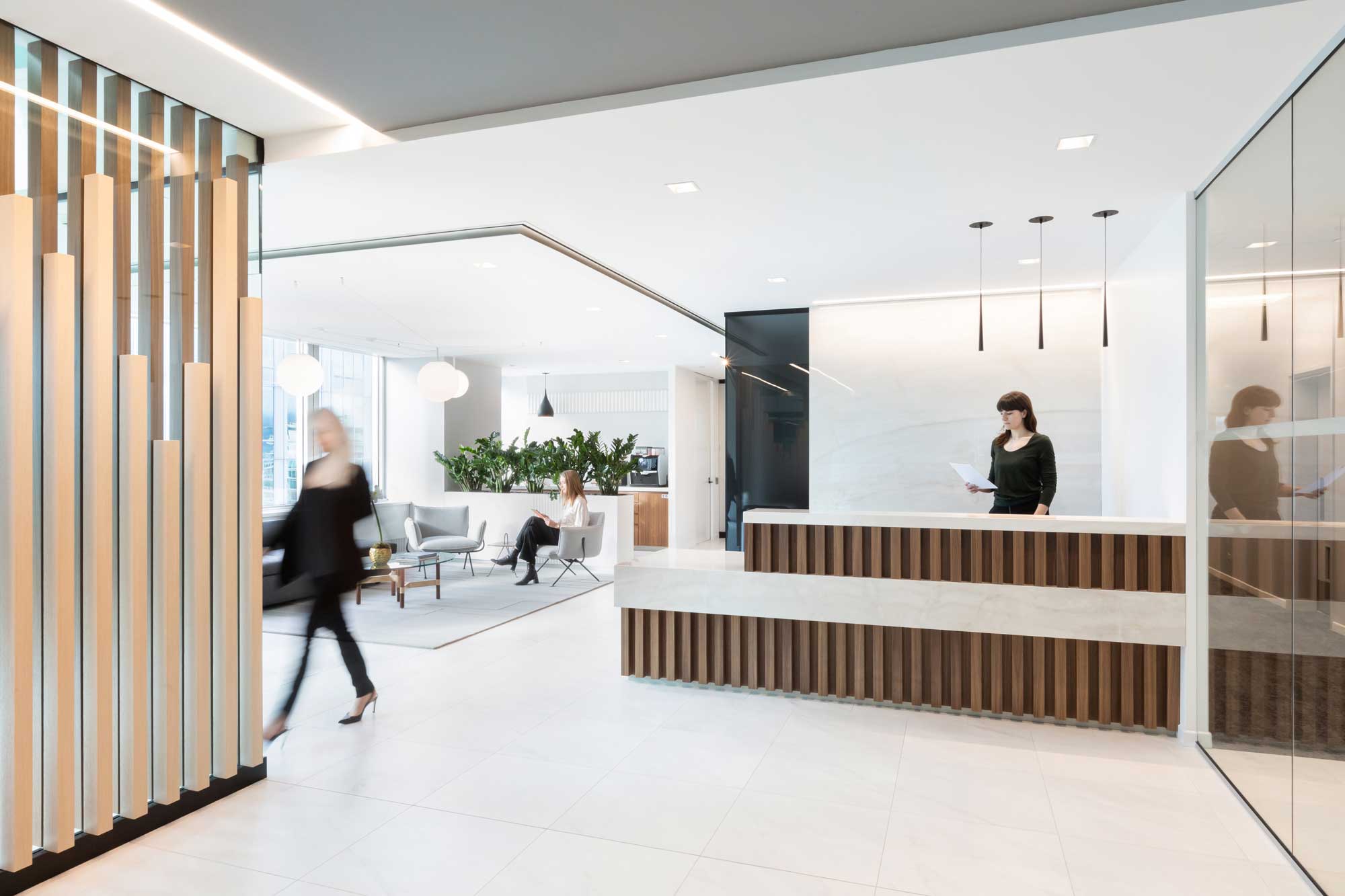 ARIDO Award Winner: Richardson Wealth
We were approached by Richardson Wealth to help with the fit-up of their new space during a business and cultural shift within their organization. The wealth management firm sought a space that could support employees while being a sophisticated milieu for hosting clients.
Category: WORK
Interior Designer: Jessica Gozdzierski, ARIDO
Design Firm: IBI Group Architects (Canada) Inc.
Design Team: Roxanne Van Dam, Intern, ARIDO; Daniel Brandley, Intern, ARIDO
Photographer: Ema Peter Photography
The new space is efficient and adaptable, and suit the ever-changing needs of technology and the business. Overall, the project achieved the client's vision of a space that would allow collaboration amongst teams, address the evolving advisor-client relationship and provide an enhanced employee experience.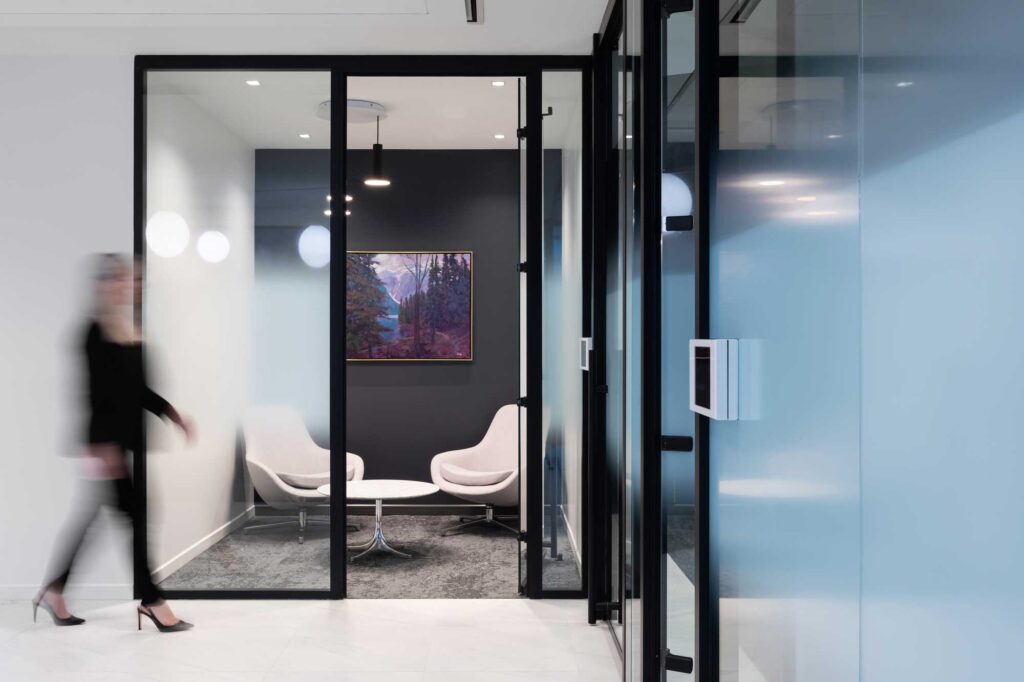 The need for a designated client meeting space became a high priority item for the team. We recognized that if designed properly it would launch Richardson Wealth into the forefront of their industry by providing a unique experience for clients and employees alike.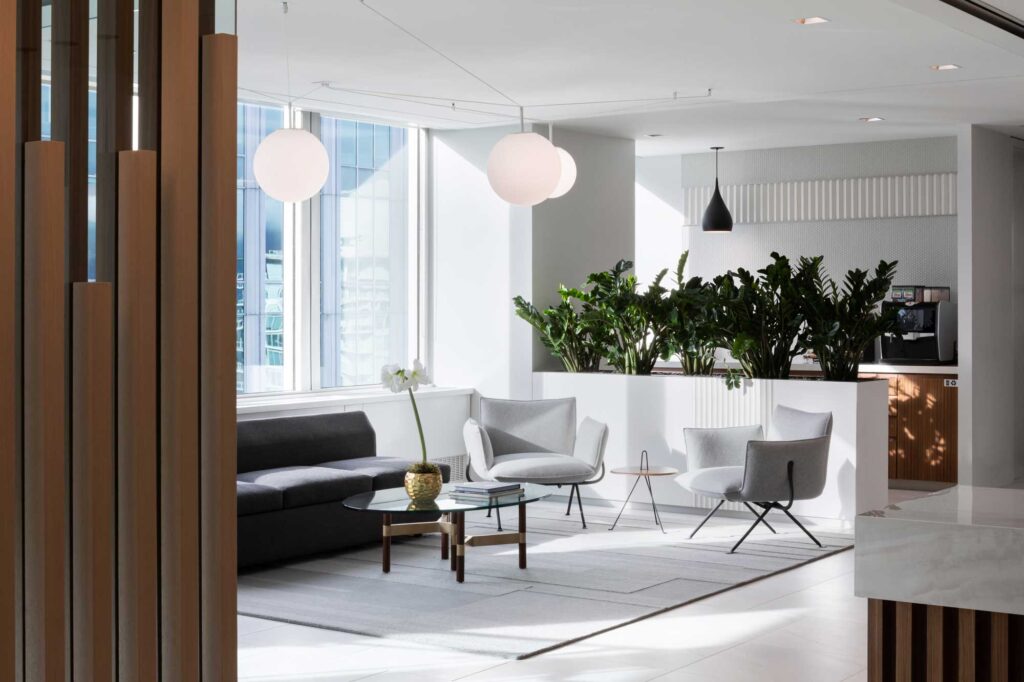 We set out to incorporate a client centre that would encompass Richardson Wealth's brand along with the ideal number of varying types of meeting spaces, with technology seamlessly integrated.
With the client relationship and experience in mind, it also became important to us to provide an entertainment space within the Client Centre. To achieve this, we incorporated a multi-purpose meeting room that opens up to the reception space to allow for larger client events and employee town halls. The incorporation of different types of multi-purpose areas was pivotal in achieving the most efficient use of space throughout.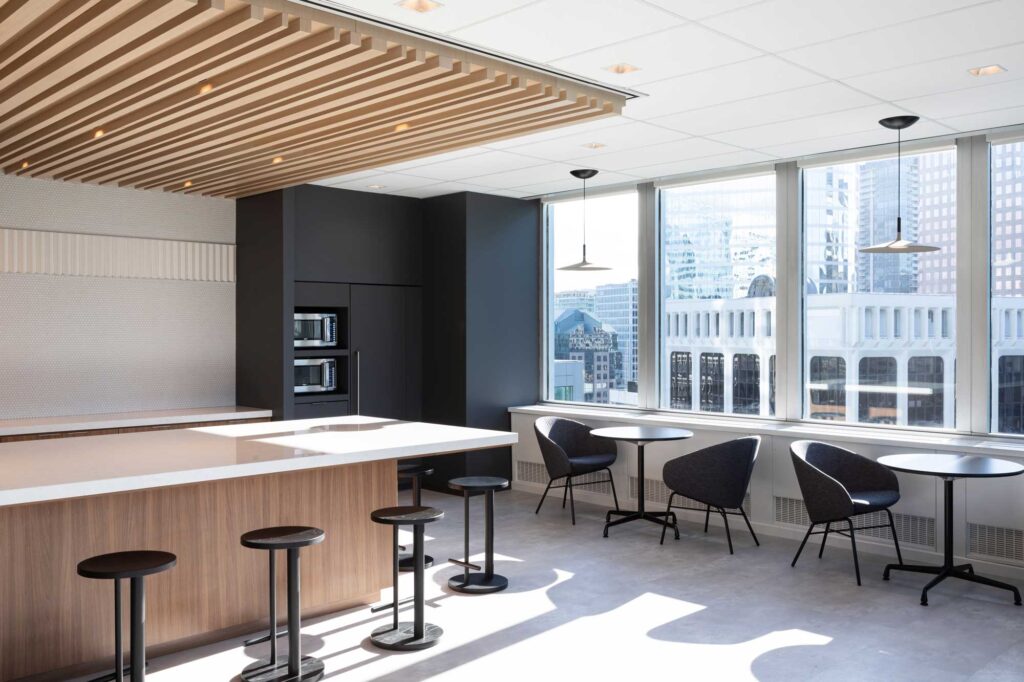 The client centre is welcoming, easily navigated, and provides all fundamental amenities including a designated client coffee bar, client washroom, and a catering kitchen to aid large events.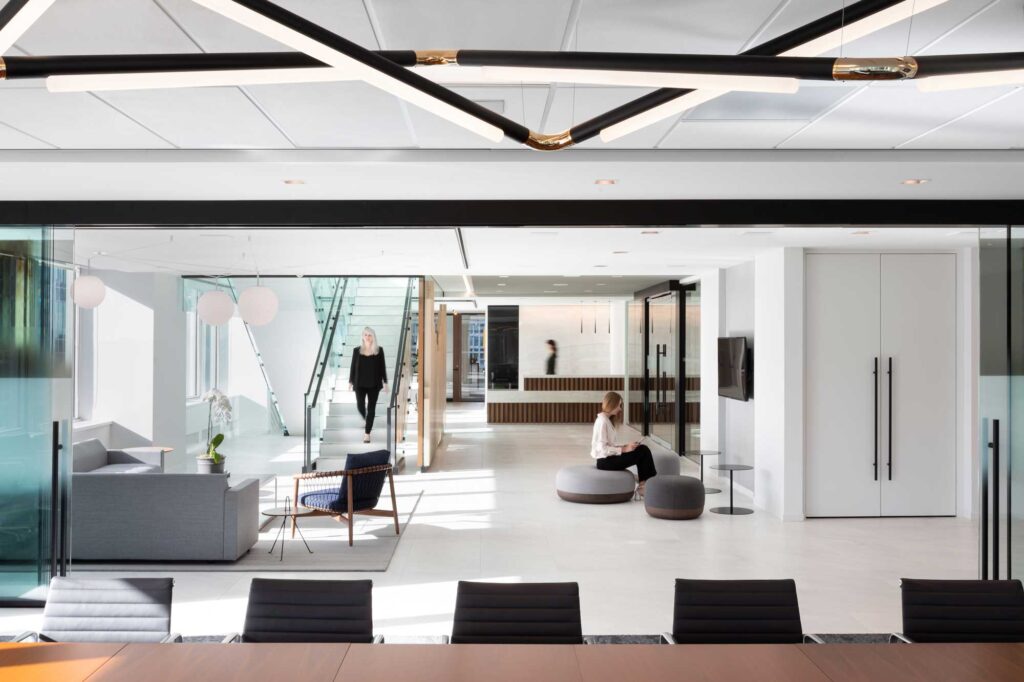 The open space also boasts several seating vignettes to ensure visitors immediately feel welcome and can meet with their financial advisor in the open area or within one of multiple meeting rooms. The largest boardroom is adjacent to the open waiting area so the moveable glass partition which separates these spaces can be raised to create an even larger event space.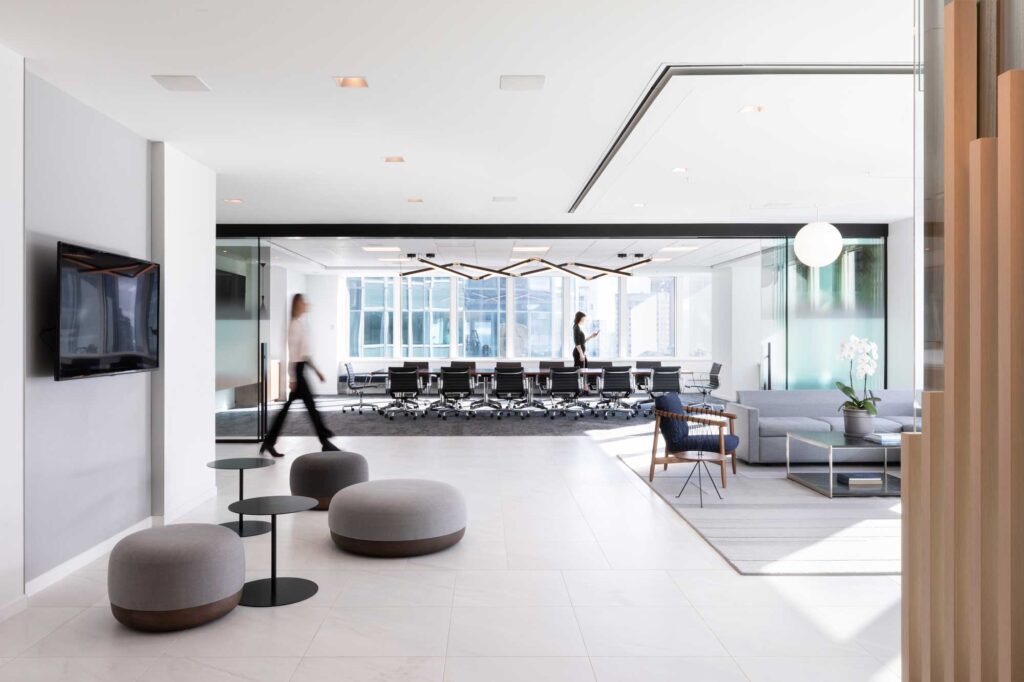 With employee wellness being a top priority for Richardson Wealth, we were sure to implement various design strategies throughout the office space to capture this need. We made certain that the employee lounge/servery was placed in a very desirable spot of the floor plate. It offers employees the best views of the cityscape while also offering them various collaborative settings within to ensure communication and team building remain ongoing.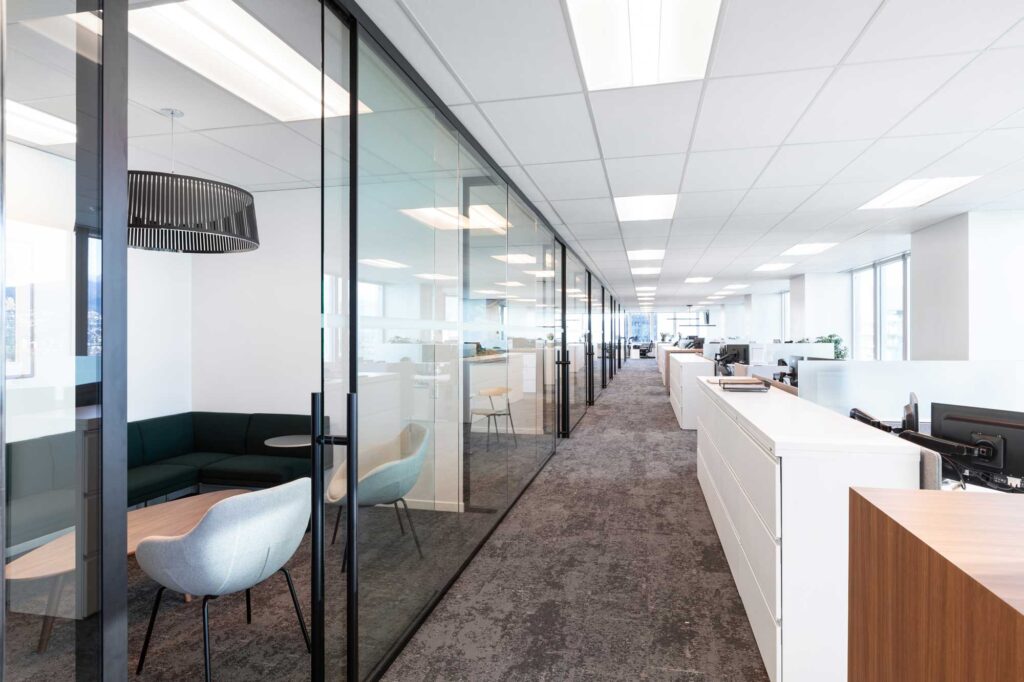 A member of the leadership team at Richardson Wealth praised the new space, saying, "We now have a modern, functional office space that is the envy of our industry in Vancouver. Staff are thrilled with our new space even though we've had limit capacity during the pandemic. Can't wait to be full time in the office again."
Project Details:
Project Location: Vancouver, BC
Project Completion Date: September 2019
Project Square Footage: 20,000 square feet
Related
ARIDO Award: Elevator Cabs

The challenge of this elevator cab redesign was to create a mobile portal between a well-aged ground floor lobby that would seamlessly integrate with each of the floors above. Category: DISTINCT Inter ...

ARIDO Award: The Hive

The first of its kind in Canada, this 3D printed masonry wall is the result of a collaboration between design professionals, students, and faculty at an Ontario university. Category: CRAFT Interior De ...