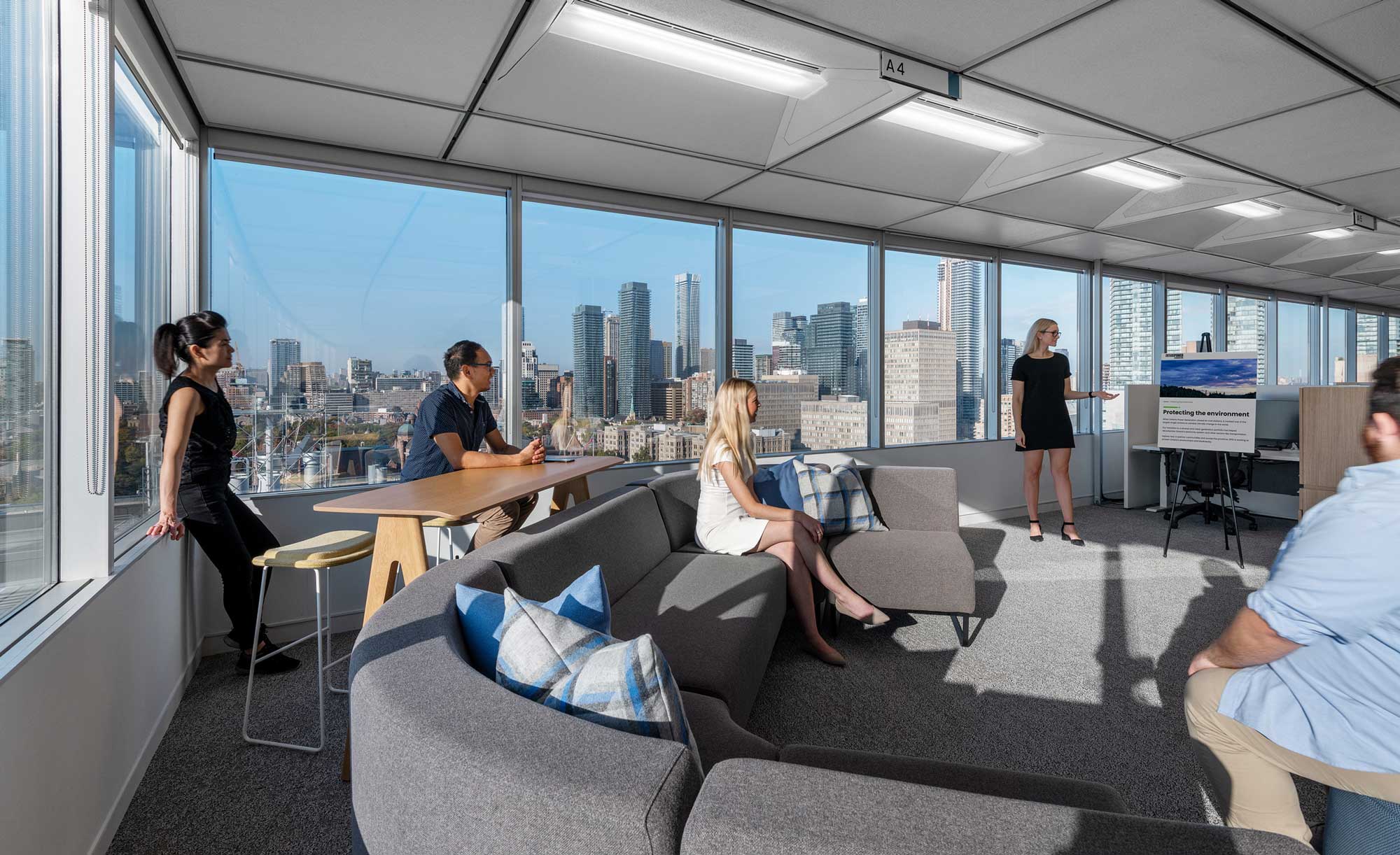 ARIDO Award Winner: OPG Workplace Transformation
In 2017 Ontario Power Generation created their new One OPG mandate of refined business practices and a culture more closely connected to their purpose and values. They were committed to redefining the organization and had a bold vision for their future.
Category: WORK
Interior Designers: Michelle Berry, ARIDO; Jillian Warren, ARIDO; Daniel Norwood, ARIDO
Design Firm: Figure3
Design Team: Michela Kochanski, ARIDO
Photographer: Steve Tsai Photography
Having worked out of their existing office since the 1970's (450 employees across seven floors and approx. 200K square feet), it no longer represented OPG as a progressive organization. Their four different energy sectors worked in silos, and much of the space was inefficient and underutilized. Staff also felt isolated by high partitions restricting sight lines to fellow coworkers.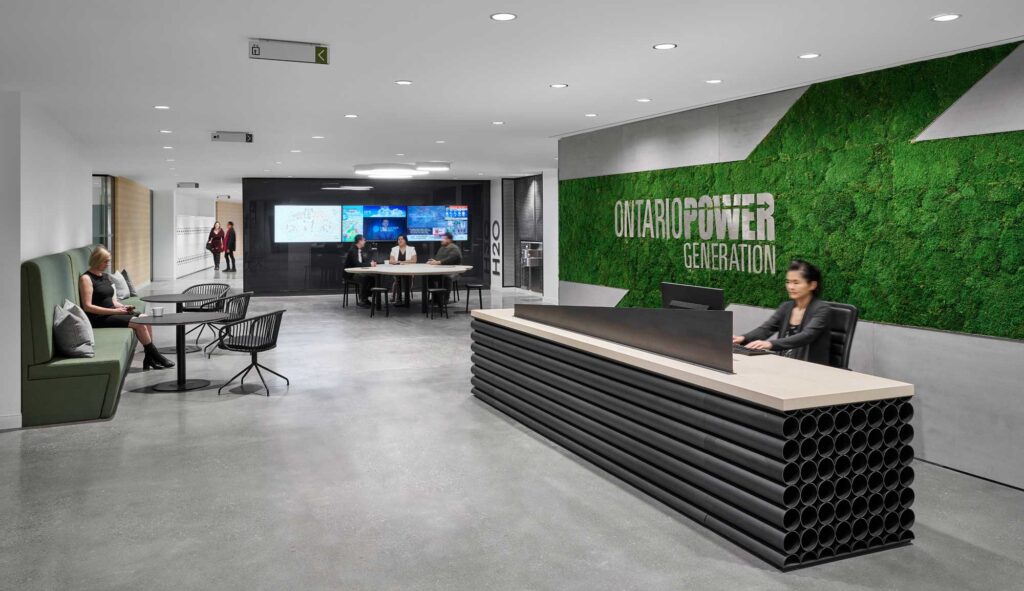 A workplace transformation was needed to support and align with this culture shift, resulting in the need for a redesign from the ground up. Their physical work environment needed to reflect and support how OPG planned to streamline their business practices and systems.
The new space promotes a greater sense of ownership among staff, allowing the organization to be more performance-oriented, collaborative and demonstrate industry leadership. The new workspace is modern, beautiful and open. Natural light now shines in throughout the space like it couldn't before, allowing more connection to the outside world.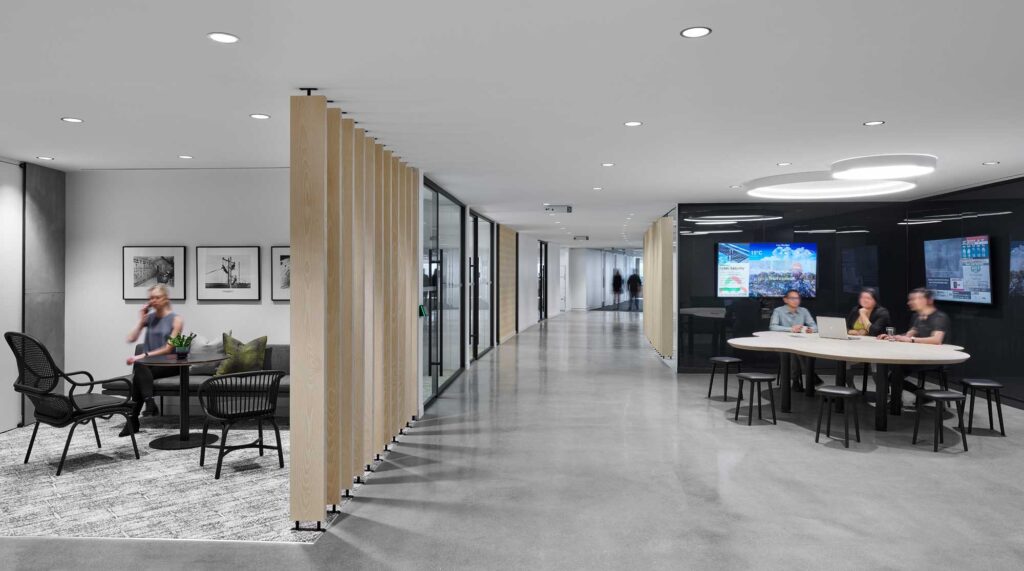 The design language throughout connects to the progressive values of OPG and the purpose of their business, namely power, science, technology, and natural resources. The reception desk is made of steel tubes to mimic the nuclear calandria cooling tubes, The Boardwalk (an open environment along the window spanning the length of the floor) is fashioned with outdoor furniture as would be seen in a park, a feature wall includes hard hats from their power plants and partnering organizations, display shelving features artifacts and historical pieces from OPG's history, and artwork by Indigenous artists adorns the walls. Environmental graphics in meeting rooms depict stylized, abstract images of earth elements as well as their other facilities.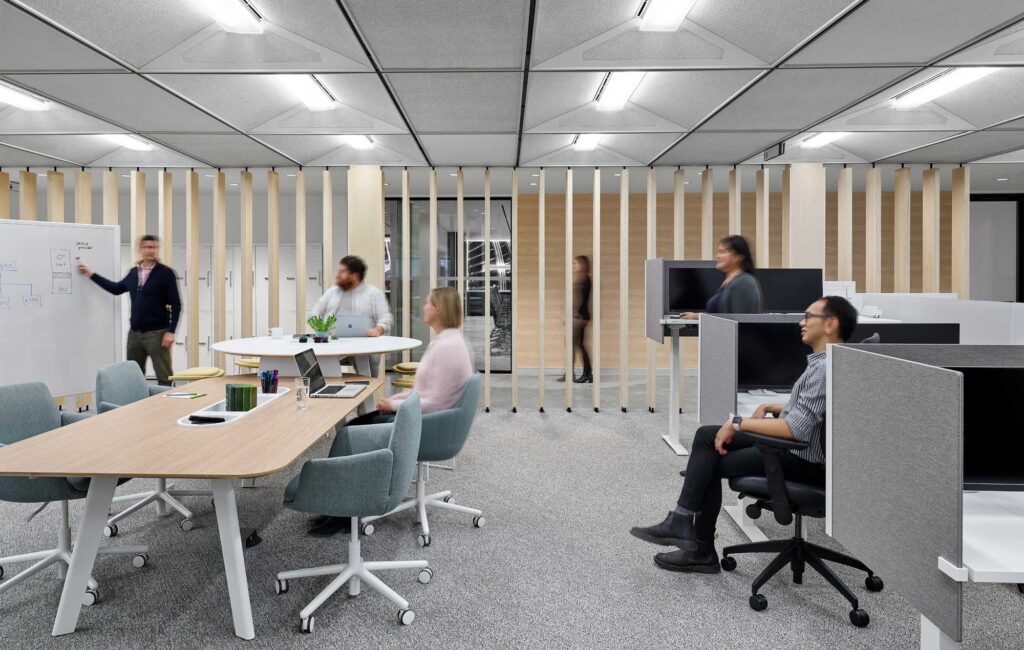 With such a major transformation, the design team employed its proprietary intensive research process to peel back the layers and uncover OPG's needs and wants in order to deliver a strategic approach to support a reimagined workplace.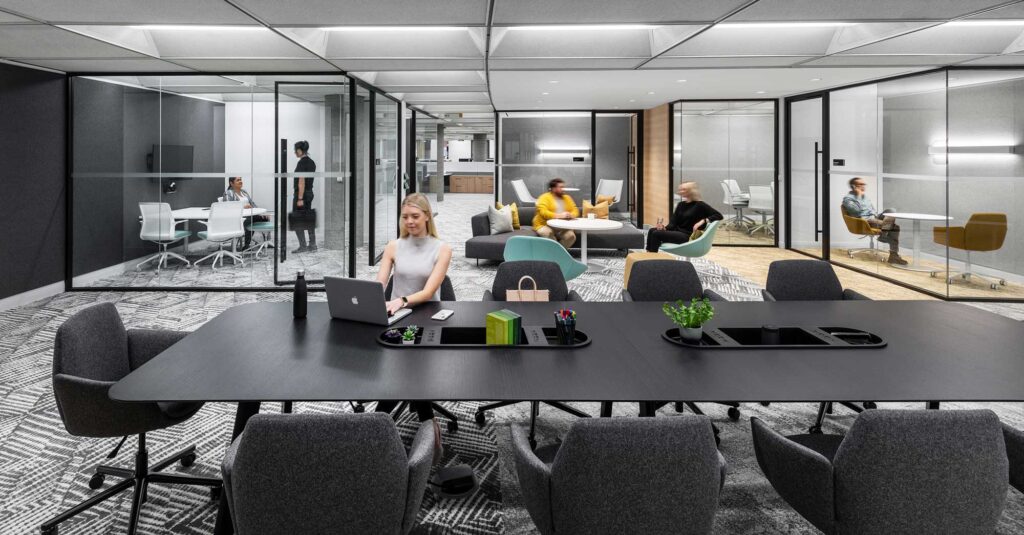 Over three months of study, the design team completed an extensive strategy report which would serve as the design blueprint for OPG's new space. Feedback from staff indicated they wanted to experience more empowerment, more connection, more support, and more pride in their workplace. Feedback from the leadership team indicated they wanted their staff to be more stimulated, engaged, nimble, and for the workplace to be unified with a feeling of trust.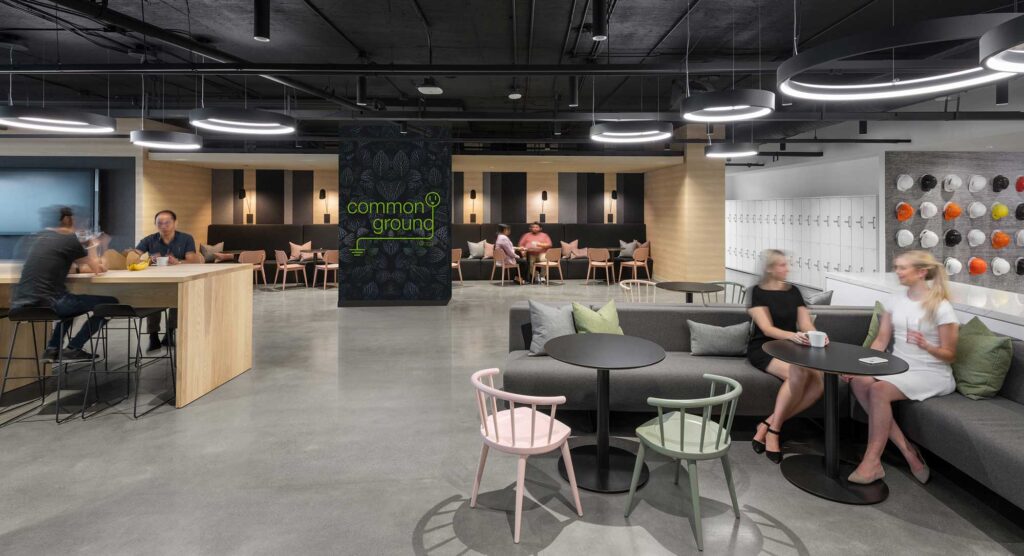 A major shift for OPG was the decision to go with unassigned seating. This gave staff more choice about where they work, allowing for more opportunity for their departments to collaborate, individual brand growth, and exposure to more knowledge sharing and leadership. This supported their vision of Facilitated Leadership and growth potential across the organization, and staff now feel like their skills and talent are more recognized and valued.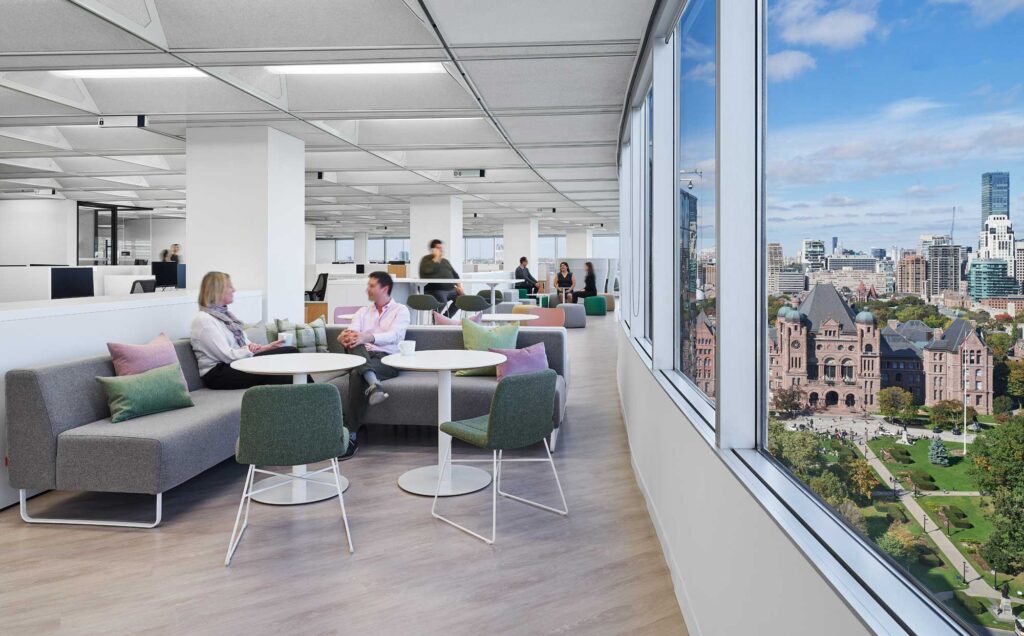 The strategy report will continue to be a useful tool, serving as a template for all future workplace transformation projects throughout their real estate portfolio.
The model recognizes how energy radiates from certain key spaces, and informed the organization of the primary, secondary and community spaces. This plan protects access to daylight and views from all primary workspaces. Primary spaces are visible and connected, configurable to personal needs, and offer a level of focus and protection. Secondary spaces cater to an array of energy levels and facilitate ease of connection and sharing of information. Community spaces offer a balance between quiet and communal, and are welcoming and flexible, offering the ability to connect with each other and re-energize. Support spaces let staff move between areas and generate and absorb the organization's buzz.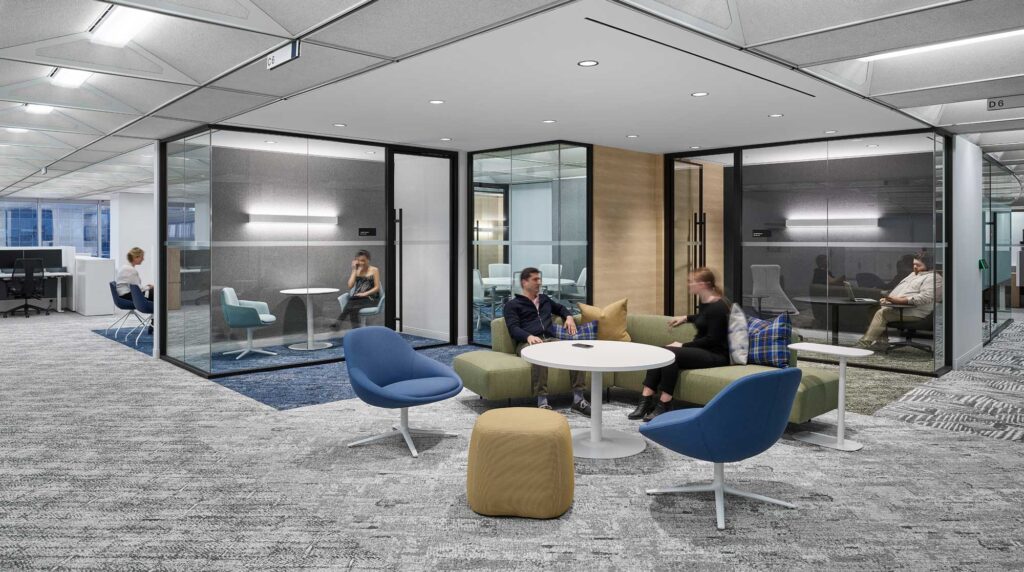 Imagery, brand, graphics, and natural resources are incorporated into OPG's new workplace to embody the societal impacts that the organization has on the lives and livelihoods of Ontarians. The decommissioning of OPG's no longer needed furniture was accomplished in a socially and environmentally meaningful way through a re-use buy-back program. In the process, they recycled more than 380 workstations, 500 chairs, 28 meeting tables, and 350 file cabinets. These assets (the equivalent of 133.40 metric tonnes) were donated, recycled, or diverted from landfill with an aim to result in a Zero Carbon Impact.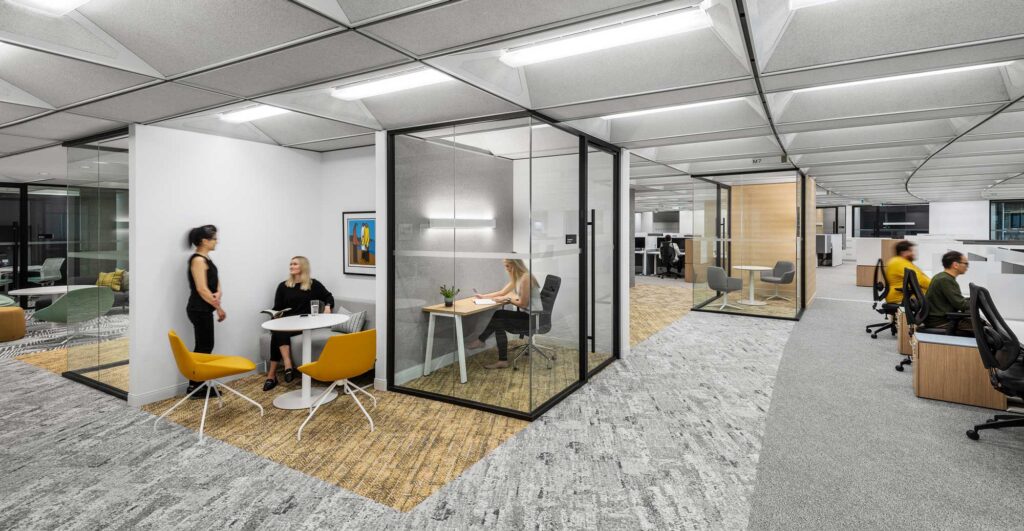 OPG shifted from 7 floors to 2, from 246 private offices to 0, while doubling community space from 14% to 28%. They sacrificed much space with the new design, but the resulting space was designed much more effectively, to influence employee behaviours much more positively, and to finally align with their goals.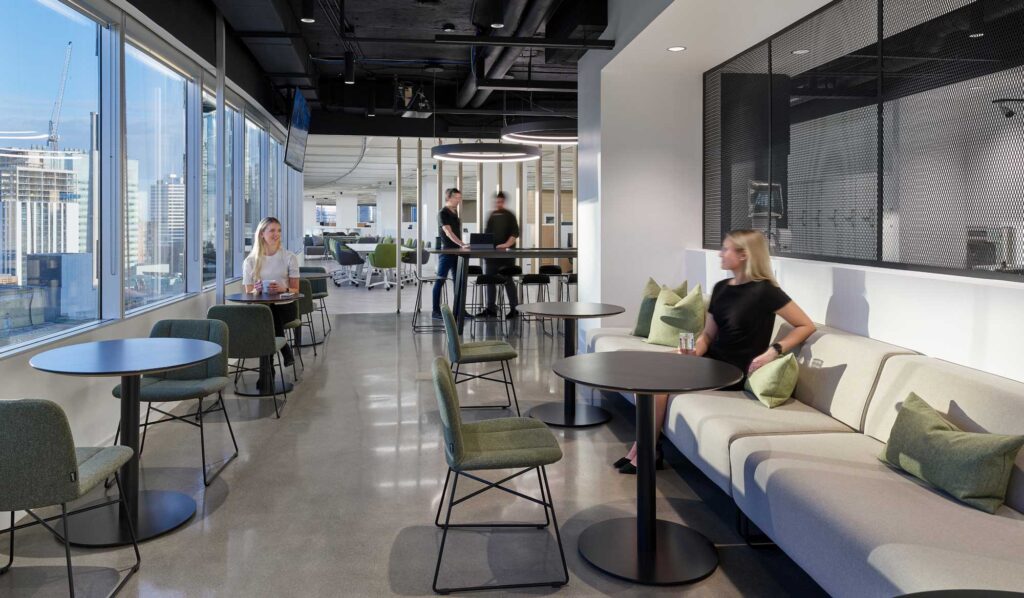 OPG is working to dismantle the ingrained hierarchy by creating a sense of community and environment where connections and information can be freely shared between employees. This facilitated leadership approach is humanized and unified. OPG's leadership transitioned from siloed and process oriented, to a human-centric, result driven organization.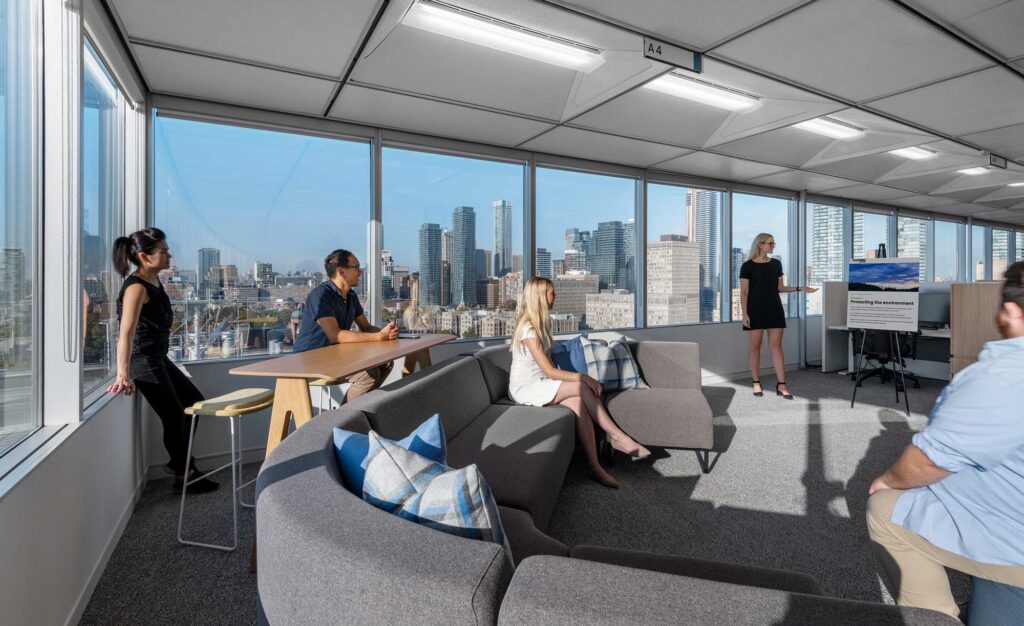 It has been a true workplace transformation and the impact was felt immediately, with first impressions from their returning staff including exclamations such as, "I feel like I'm working at a different company." "This transformation also supports their larger initiative to reduce their real estate footprint and reduce the use of commercial leased space, thus reducing costs that will benefit the Ontario ratepayers. It's a new era for OPG, and they are thrilled with their new workplace which is now finally aligned with their values and vision for the future.
Project Details:
Project Location: Toronto, ON
Project Completion Date: 2019
Project Square Footage: 110,000 square feet
Related
ARIDO Award: Elevator Cabs

The challenge of this elevator cab redesign was to create a mobile portal between a well-aged ground floor lobby that would seamlessly integrate with each of the floors above. Category: DISTINCT Inter ...

ARIDO Award: The Hive

The first of its kind in Canada, this 3D printed masonry wall is the result of a collaboration between design professionals, students, and faculty at an Ontario university. Category: CRAFT Interior De ...