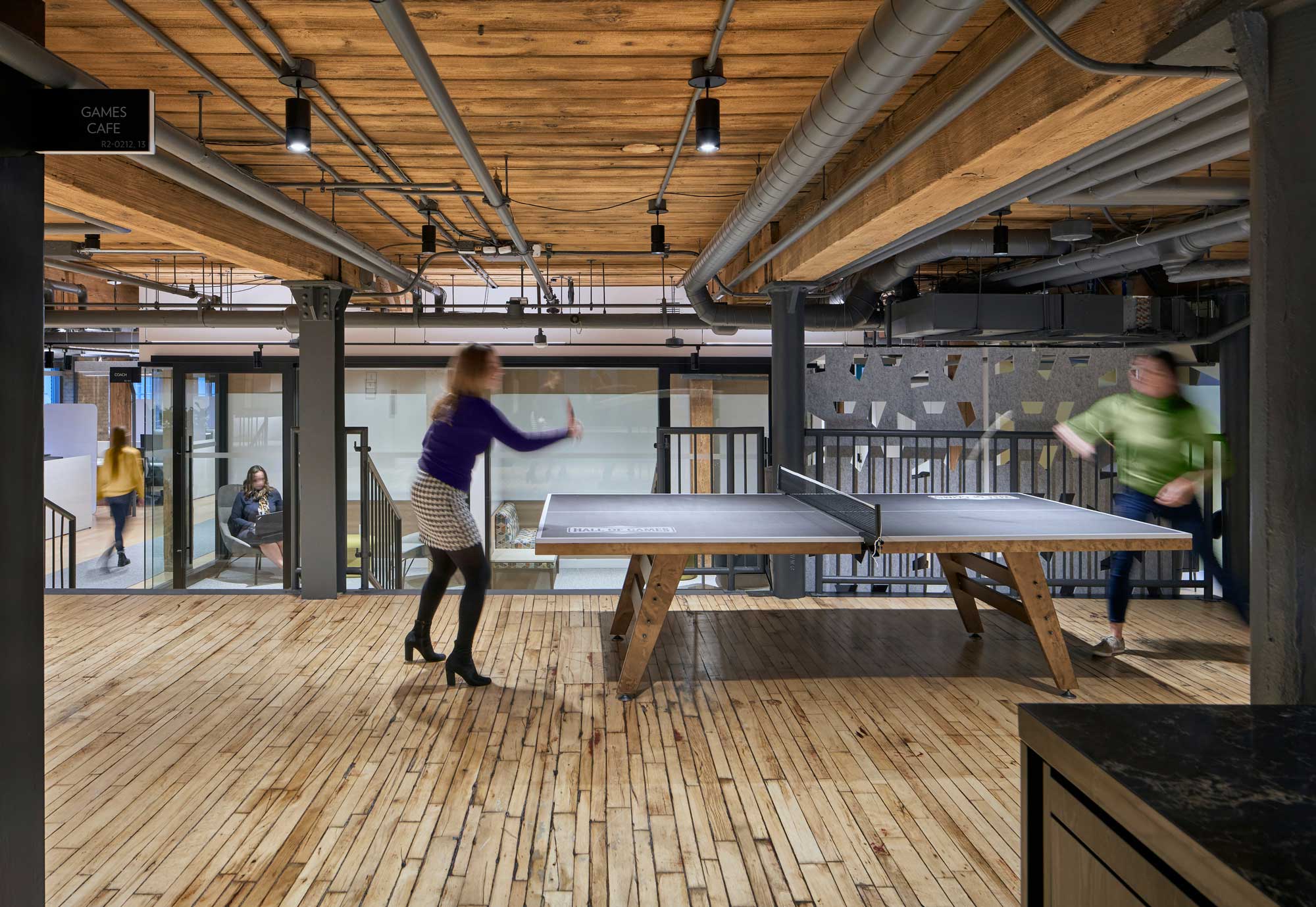 ARIDO Award Winner: Innovation Hub
The project was a renovation to an existing brick and beam building in downtown Toronto. Sobeys was looking to move their team to a space that would allow employees to collaborate in an agile and mobile work setting.
The objective was to create a highly functional space to support the innovative thinking critical to Sobeys' future, keep current with today's trends, and anticipate the future needs of Sobeys customers. The location was specifically chosen to attract the area's burgeoning tech community that expects all its digital needs to be met to do its best work.
Category: WORK
Interior Designers: Beverly Horii, ARIDO; Angelique Lucas-Witte, ARIDO
Design Firm: IA Interior Architects
Design Team: Vera Gisarov, ARIDO; Suzanne Campbell, ARIDO; Jayme Rideout, ARIDO; Regan Harder, Intern, ARIDO
Photographer: Doublespace Photography (Amanda Large & Younes Bounher)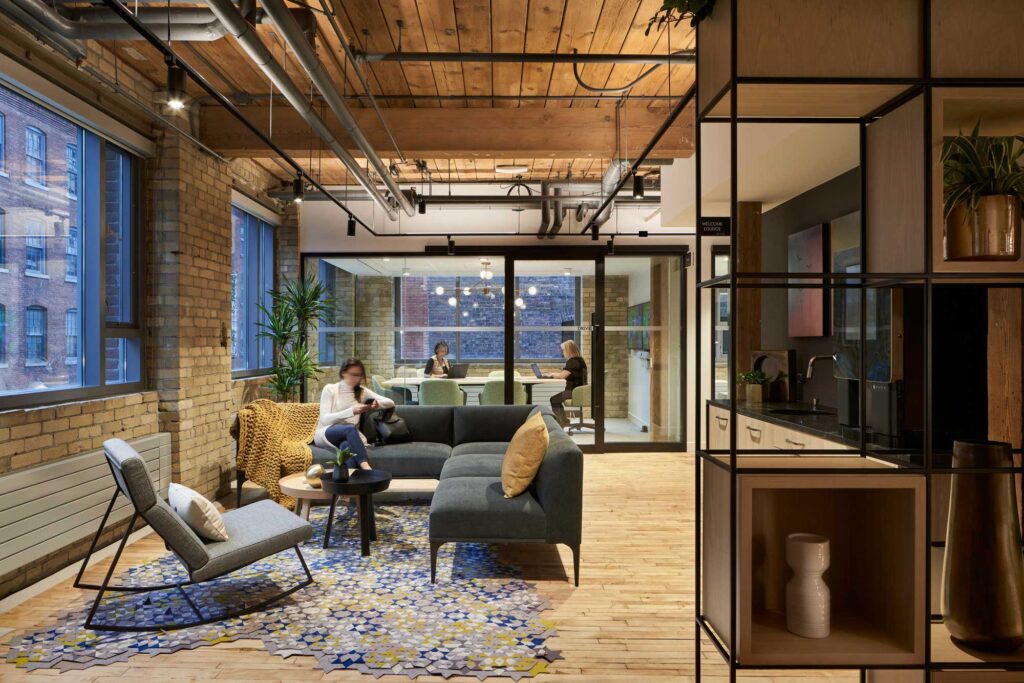 There are three floors in total that make up the Sobeys' Innovation Hub. Two floors of the space can combine to create a town hall meeting space with screens for graphic content. The inner portion of the floorplate is dedicated to enclosed collaboration areas that can flex to accommodate larger or smaller groups. This area also is the only space that has a dropped acoustic tile ceiling to mitigate the group acoustic level. The enclosure around the central portion is clear glass with a minimal frame to open the central block to perimeter areas when acoustic privacy is not an issue. By placing enclosed areas towards the centre of the floorplate, natural light and views are enjoyed by all.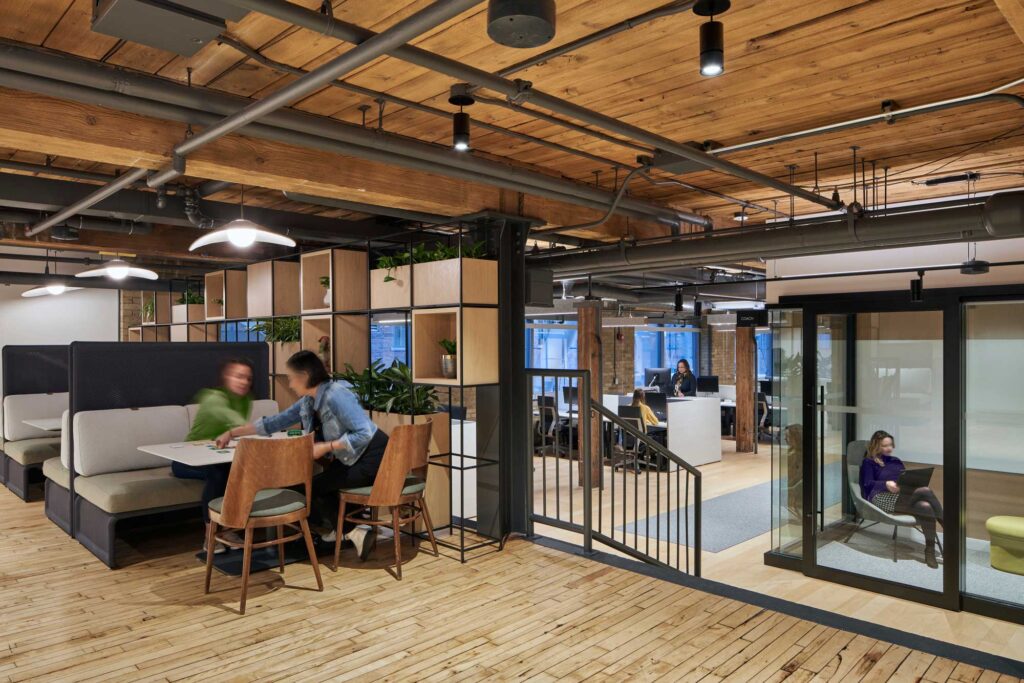 Original building materials of brick and wood were mixed with warm textiles and dark metal details to celebrate the existing architecture and create a warm and inviting space. By wrapping the main circulation path around centralized glass enclosed meeting rooms, teams are visible to their peers and enable natural light can permeate the entire floor.
An activity based, free address environment accommodates the different needs of staff and customers. The workspace includes work points, project rooms, quiet and open collaboration zones to support introvert/extrovert behaviours, and a work café.
A big effort was made to connect the open mezzanine level to the main space to offer an "outdoor terrace" type of area to the facility. Views that look back to the brick and beam building as well as overlook the main atrium space make this area truly unique.
In collaboration with Sobeys, a user guide was developed in both a digital and print publication format as a "how to use tip sheet" for staff, visitors, and leadership to communicate the expected behaviours and practical uses of the space. Three stand-alone washrooms were added: one universal and two gender neutral. The space includes a wellness room and a prayer room with mediation pillows and mats where employees can retreat for quiet time, privacy, and respite. Lockers of various sizes priovde space for staff to keep their belongings in the office.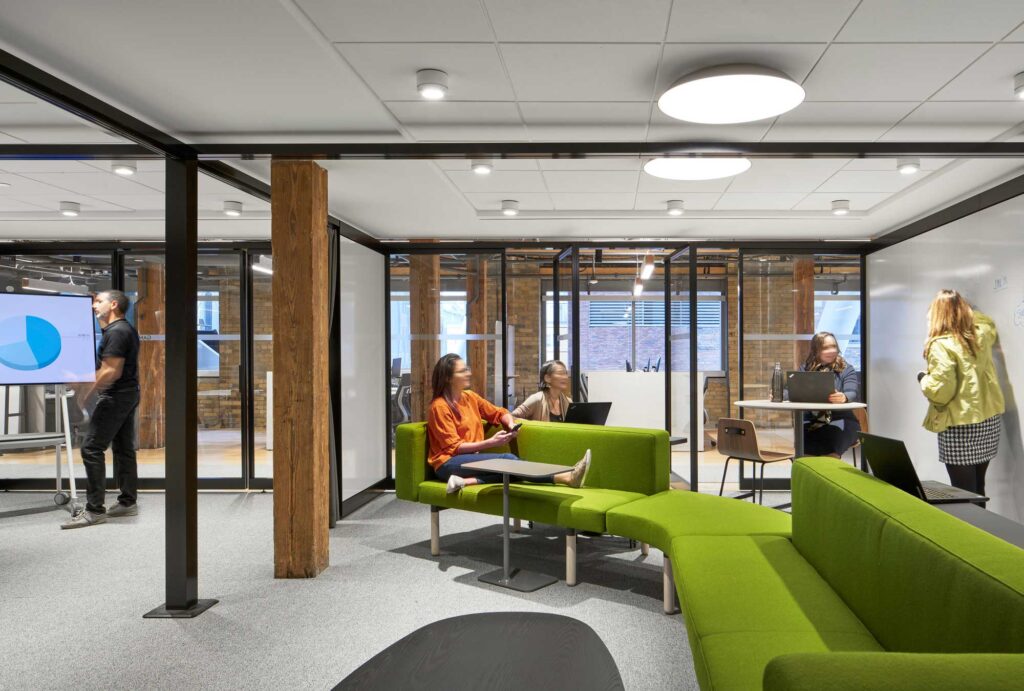 Furniture is adaptable and moveable, including writeable surfaces, to support collaboration and teamwork. The post and beam room system allows for future flexibility and integrates hackable components. Acoustics in collaboration areas are sensitively designed for privacy and audibility.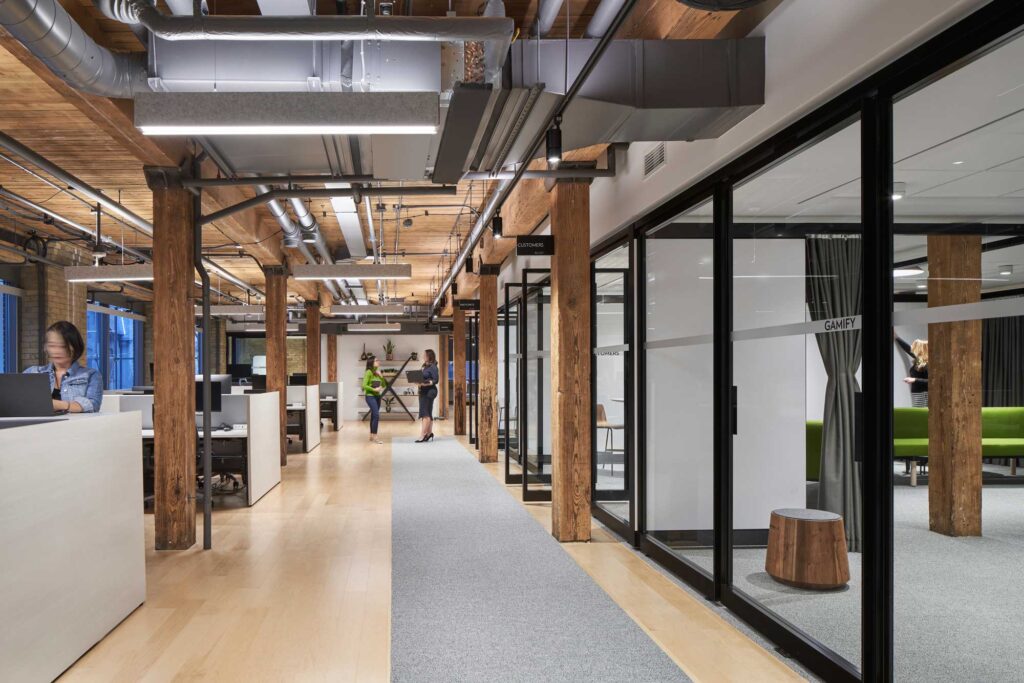 Sobeys is a proudly Canadian business and the design team leveraged local vendors, artist, and artisans from Toronto's local downtown scene to add components to the space. Work of local artists, craftspeople, designers, and manufacturers was integrated into the design of the space. Custom built furniture such as a harvest table, live edge benches, a bookshelf for the prayer room, and a television console for the gaming area were designed and produced by OCAD (Ontario College of Art & Design) students. Custom graphics were provided by local artists and digital artwork at the front entry was provided by Alex McCloud. Lastly, vintage furniture and light fixtures were provided by Philz 20th Century, a local vintage store in the Junction.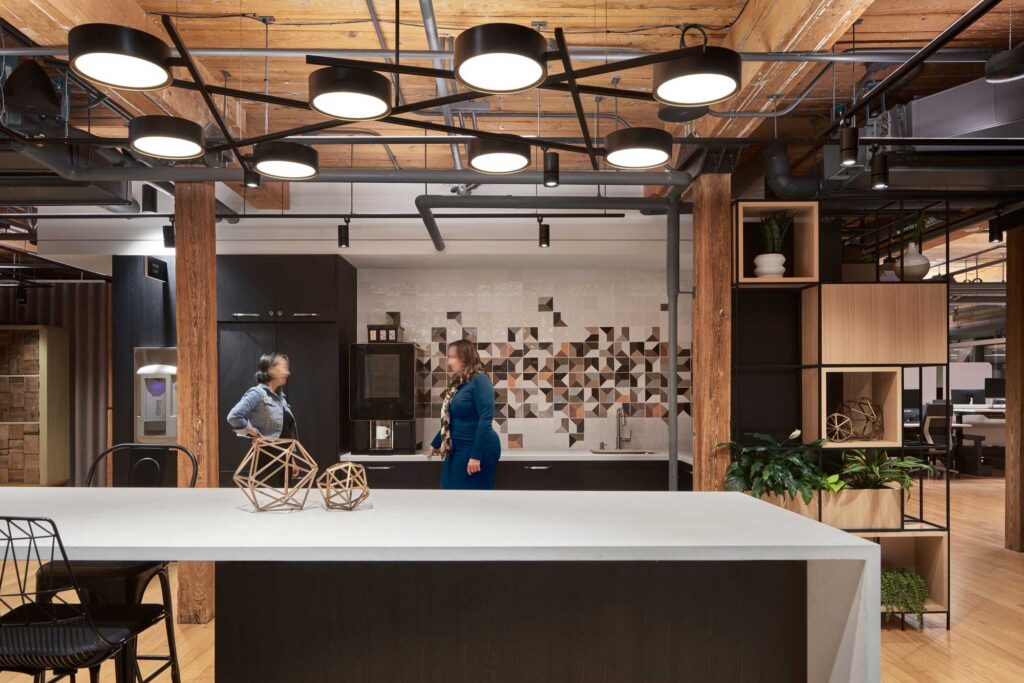 The final design is a true celebration of national and regional talent coming together to create a space that fosters innovation, complements culture, and will inspire talent for years to come.
Project Details:
Project Location: Toronto, ON
Project Completion Date: Fall 2020
Project Square Footage: 19.750 square feet
Related