ARIDO Award Winner: St. Francis Xavier University – Brian Mulroney Institute of Government
The new Brian Mulroney Institute of Government is a dynamic nexus of academic and social life on the highly picturesque St. Francis Xavier University campus. The 88,460 SF building features flexible and modern learning spaces, large tiered classrooms, a 300-person auditorium, administrative offices and meeting spaces, exhibition spaces, and an open atrium fondly named "The Forum".
Category: LEARN
Interior Designers: Chen Cohen, ARIDO; Kayley Mullings, ARIDO
Design Firm: Moriyama & Teshima Architects
Joint Venture: Barrie and Langille Architects Ltd.
Photographer: Riley Snelling
The grand, warm, and inviting Lobby space provides direct access to the main artery of the building, aptly named "Scholar's Walk". A truly unique aspect of this academic building is the incorporation of exhibition spaces, including a replica of Mr. Mulroney's Office during his tenure as Prime Minister, as well as various exhibit spaces highlighting the former Prime Minister's career.
St. Francis Xavier University, founded 1853, is located in the beautiful and historic town of Antigonish, Nova Scotia and is one of Canada's oldest universities. The setting is a picturesque hillside site with historic academic buildings forming the heart of the campus. Through the vision and aspirations of both the University and former Prime Minister Brian Mulroney, $52 million dollars were raised to help establish this dynamic epicentre of academic and social life.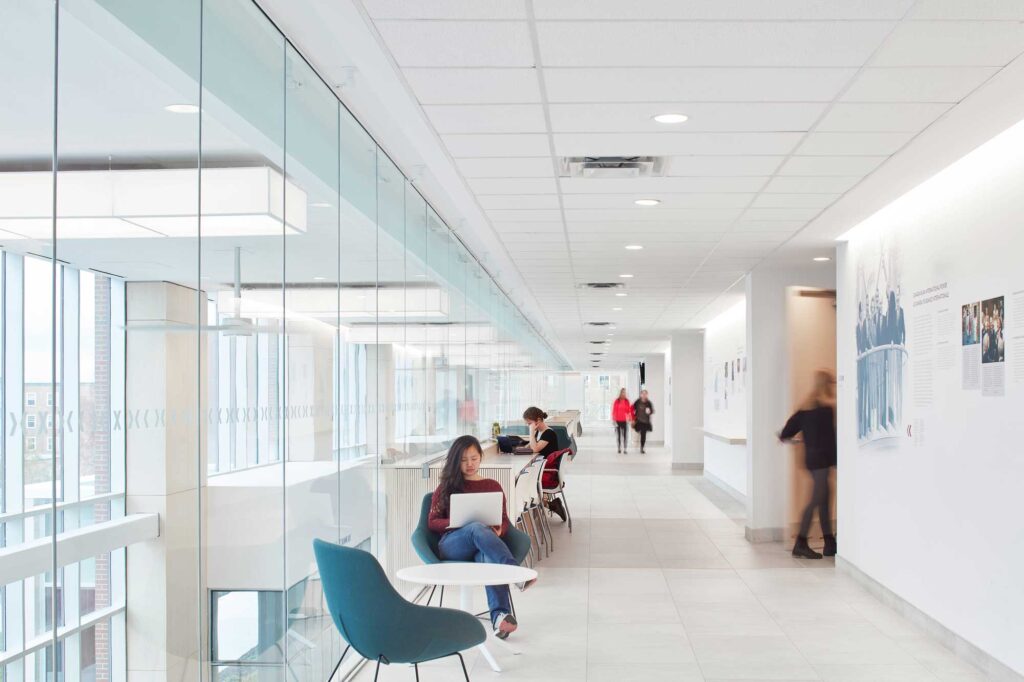 With Mulroney Hall - Brian Mulroney Institute of Government aims to cultivate the next generation of leaders in Canadian policy, politics, social and planetary leadership, and to establish a tangible relation between the study and practice of government. The newly established Institute combines and augments existing programs and departments on campus into a synergistic academic and research body.
The first challenge that presented itself was the need for a new approach to academic learning environments. Most of the University's buildings were quite dated and lacked flexible, agile learning spaces that would support the diverse needs of students, faculty, and staff. Additionally, and perhaps the most unique challenge to the project, was the need to design and incorporate exhibit spaces that would highlight the former Prime Minister's career in a cohesive and thoughtful manner throughout the building.
The new building integrates itself into the existing topography and establishes a strong relationship with the campus' adjacent main library. Endowed with wonderful, elevated vantage points across the Lower Campus, the Western edge of the building is assigned the most prominent public/social programmed space in the Institute, named "the Forum".
As a major new student destination on campus, the Forum acts as a "campus living room" linking the school's Upper and Lower Campus zones. The dynamic, double-height space benefits from beautiful views, natural light, and acts as the hub for the University. The space provides various settings for both socializing and learning through the use of modular flexible soft-seating arrangements, large communal tables that support technology, and quiet student touch-down spaces that allow for contemplative work. The Forum also has the ability to entirely transform into a large town hall space for important events and functions.
Overall, the planning for the building results in a very simple and intuitive layout that allows users to easily navigate the various spaces within the facility. The north lobby connects users through a main circulation artery and was specifically designed to showcase exhibition pods so that users of the building or individuals that traverse through Mulroney Hall on their way to an adjacent building have opportunities to access the exhibition spaces.
Bright and varied learning spaces include lecture halls, labs, active learning classrooms, and most importantly, informal social spaces that support collaboration and synergy. Given the rapid pace of change in learning environments, future proofing strategies such as standardization, modularity, flexibility, and generous circulation routes that can allow spaces to be reconfigured both in short and long term as pedagogy, programs, and technology change shaped the approach to all of the classrooms. Technology was also introduced in strategic ways so that students have ample access to power and content sharing which also contributed to the success of the University supporting online and hybrid learning during the pandemic.
Beyond introducing technology support within the classrooms, the building incorporated inclusive strategies for both students and faculty. Height adjustable tables and teaching lecterns are present in each classroom, faculty offices were designed for ease of movement with height adjustable desks and common serveries are accessible. Universal washrooms and lactation rooms are located throughout the building. To support the culturally and diverse needs of the university body, a multi-faith prayer room with fully accessible ablution room is located near the Forum - the main hub of the building.
Lastly, the incorporation of the exhibit spaces were key in guiding users throughout the building while highlighting an important narrative and history of the former Prime Minister's story from early childhood, to his time at St. Francis Xavier University, and through his political life. The exhibition spaces are dispersed throughout Mulroney Hall which allows for visitors to immerse themselves in stories, artifacts, images and speeches related to Mr. Mulroney's early years at St. Francis Xavier University and his career as Prime Minister. These exhibits are located on all four levels and are a mix of traditional and technological installations. The second floor showcases a replica Prime Minister's office of oak paneled walls, and donated furnishings from the 1980s to allow students and visitors a glimpse of a space seldom seen first-hand.
St. Francis Xavier University recognizes that they are stronger as an academic institution when they honour everyone's differences. Valuing and promoting equity, diversity and inclusion creates a campus community and supports the needs and aspirations of their students, faculty and staff. Honouring the differences that are both visible (e.g., physical ability, gender expression, age) and less visible (e.g., cognitive, culture, ancestry) and include different world views and experiences is key in creating an inclusive, welcoming, and safe learning environment.
An understanding of the needs of all users – equitable access to various student touch-down and collaboration areas, universal and barrier-free washrooms, lactation rooms, quiet rooms for users needing respite, a multi-faith room with ablution spaces for cultural and religious practices, and accessible classrooms that enhance the learning and teaching environment for both students and faculty.
Continuous dialogue between the interior design and architecture teams, along with the mechanical and electrical engineers resulted in a cohesive design that was developed and optimized through the energy modelling for the building in targeting LEED Gold energy efficiency targets. The interior materials and finishes were also strategically selected to help reduce the building's environmental impact through the selection of low-emitting and local materials.
Careful planning and design yielded a learning environment that equally supports the diversity, safety, accessibility, health, and future needs of the University.
Project Location: Antigonish, NS
Project Completion Date: September 2019
Project Square Footage: 88,460 square feet
Related