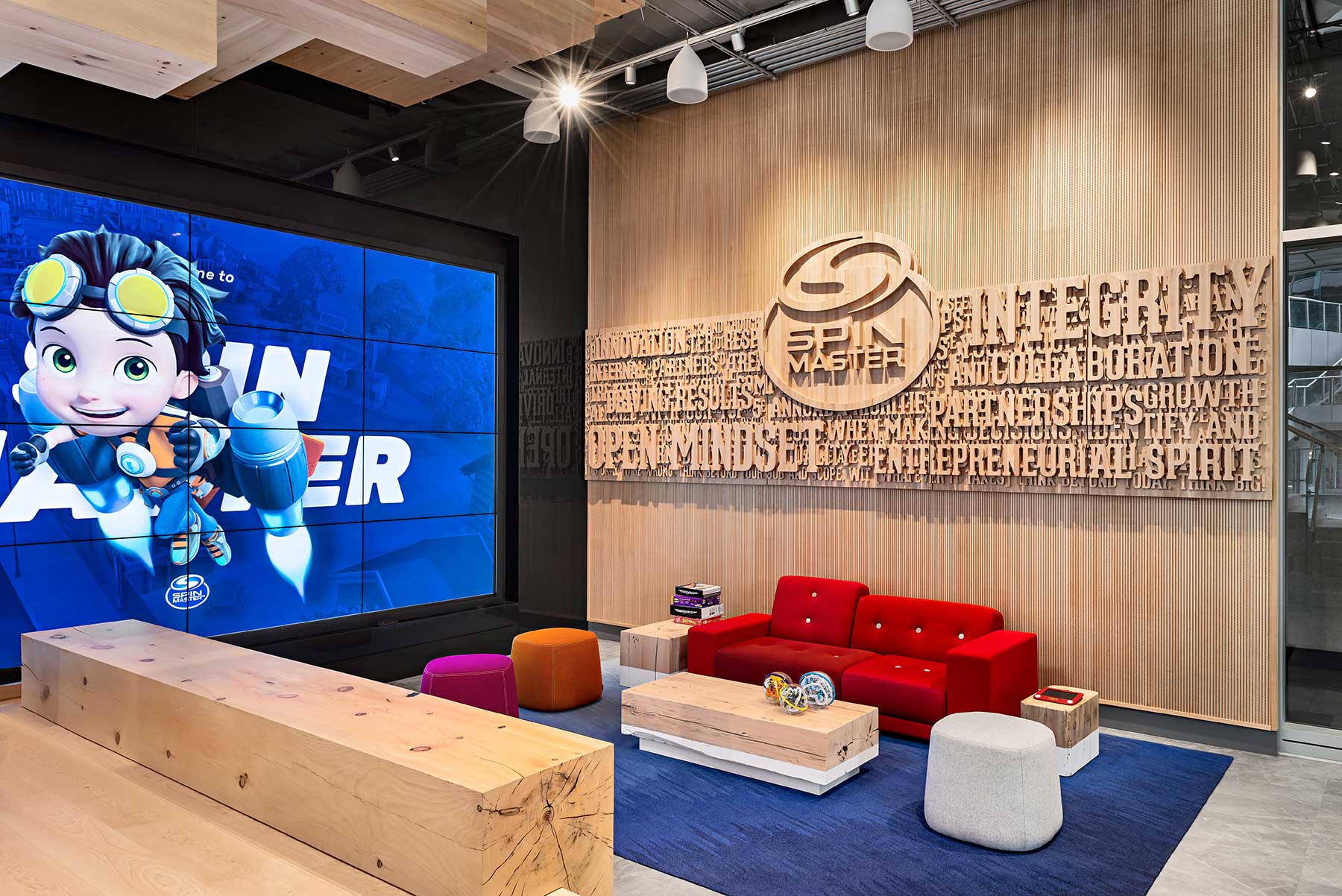 ARIDO Award Winner: Spin Master (Floor 1-6)
In order to create a customized home for Spin Master that is a reflection their brand and culture, our strategy began by chiseling away as much of this corporate office tower interior as possible. The shell of the "Uncorporate Headquarters" was hollowed out to reveal a rough concrete box with all of the patina of years gone by. The ground floor reception draws guests in, leading them up a stack of toy blocks into a five-floor factory of innovation.
Category: WORK
Interior Designer: Anthony Orasi, ARIDO
Design Firm: iN STUDIO
Design Team: Guy Painchaud, ARIDO; Heidi Painchaud, ARIDO; Rosemary Ratkaj, ARIDO; Vince Zhao, Intern, ARIDO
Photographer: Gillian Jackson
We linked all floors through a new central interconnected stair, forging a path of vertical circulation directly adjacent to the workspace. The open work studios are in turn located next to collaborative hubs and meeting rooms. The bright day-lit spaces, ubiquitous biophilia, and playfulness of the brand's portrayal throughout create an energetic incubator of ideas.
Spin Master's brand permeates every part of the six-floor space, showcasing their innovation and the fun that they create everyday. It begins with the larger-than-life Block Stack stair leading up from the ground floor into the workshop above. From there, a vibrant ribbon of graphics, interactive signage and installations winds its way through the floors.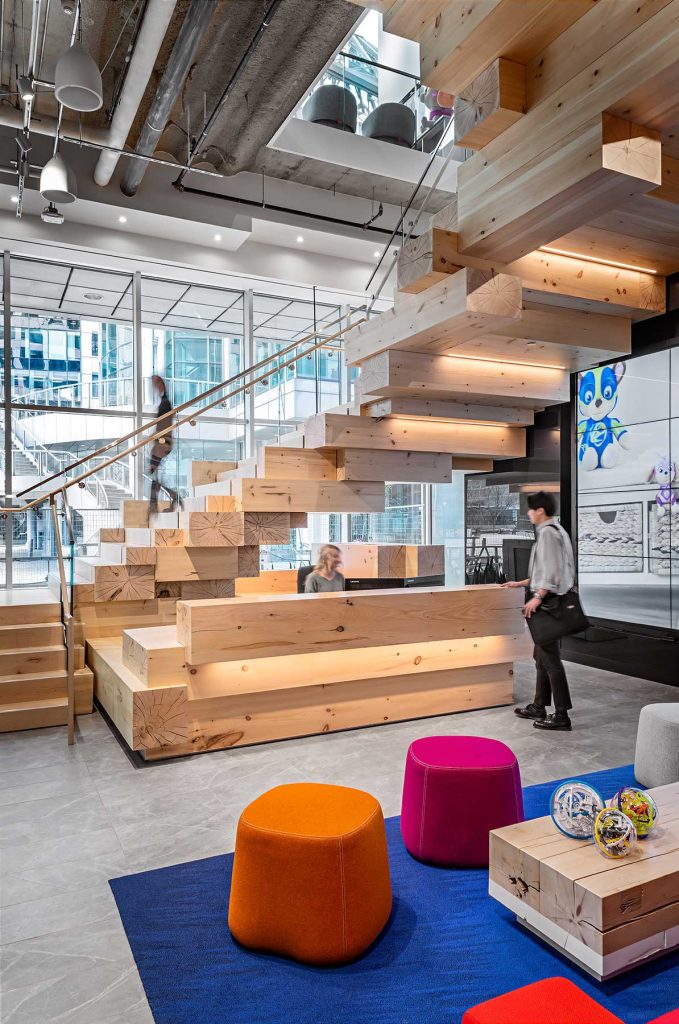 The guest journey begins by climbing the Block Stack, to a landing where a giant 3-dimensional interactive installation tells the story of Spin Master's past and hints at their future. Guests can engage with the exhibit and follow the timeline that showcases their successes, as well as the many lessons learned along the way. The tour continues past the innovation labs and through the expansive town hall space and on to various touchpoints throughout the five upper levels. A hall of awards and cinema-quality screening room rounds out the tour on the sixth floor.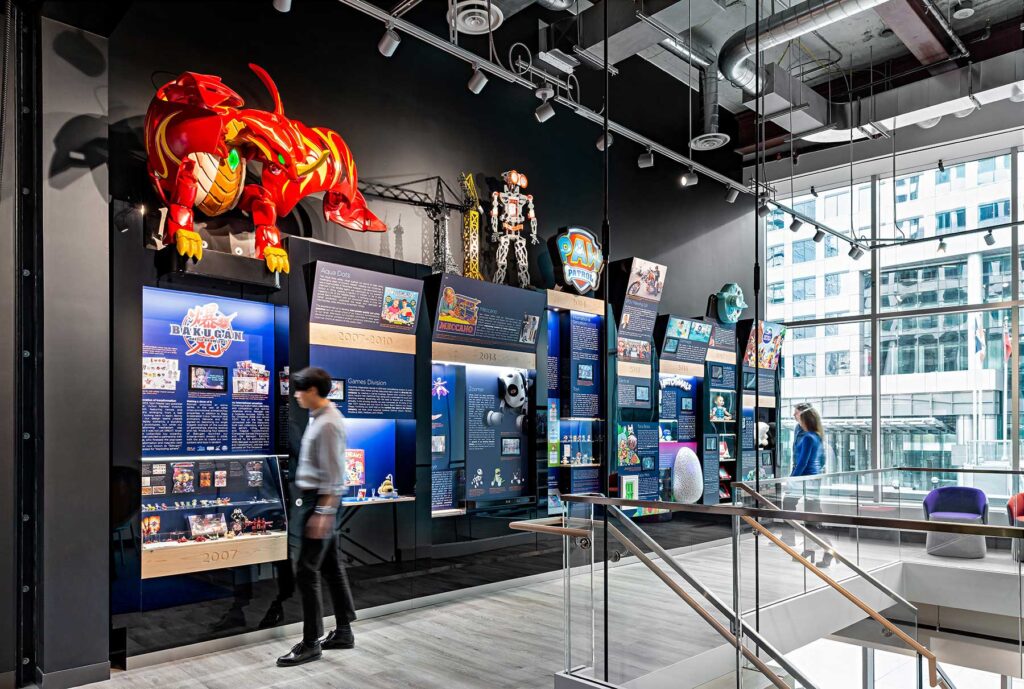 As Spin Master's focus is as much about tactile toys as it is digital entertainment, technology is front and centre in their new space. The twenty foot high interactive video wall that greets guests upon entry celebrates the company's status as a digital entertainment leader. While the various digital showpieces showcase the future-forward embodiment of children's entertainment, the much quieter, but cutting-edge AV infrastructure inject Spin Master's home with a much needed way to connect with their hubs and partners around the world.
As much as technology was to have a large, visible part in the new environment, the look and feel of Spin Master's space was to be distinctly tied to their "Start-Up" and Maker roots. This led to the idea of creating a more industrial backdrop with rough textured concrete, industrial light fixtures and less polished finishes giving the feeling of a garage or warehouse. Over top of this rougher texture, we layered the warmth of a Maker's Workshop through the light wood flooring, wall cladding and furnishings. Ensuring the development labs were front and centre peaks the curiosity of individuals who visit the space, giving a glimpse into the inner-workings of a storied manufacturer and re-enforcing that this is where ideas come to life.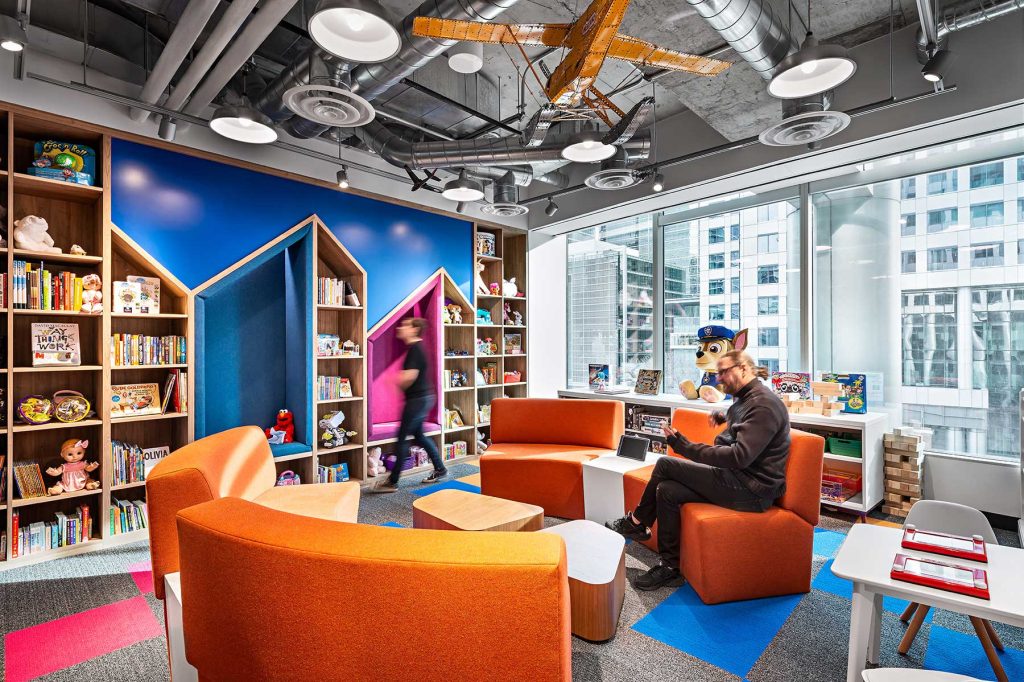 With its interesting patina the concrete shell of the space became a key part of the overall aesthetic. A weathered backdrop for the layers, creating the look and feel of an industrial space meets maker's workshop.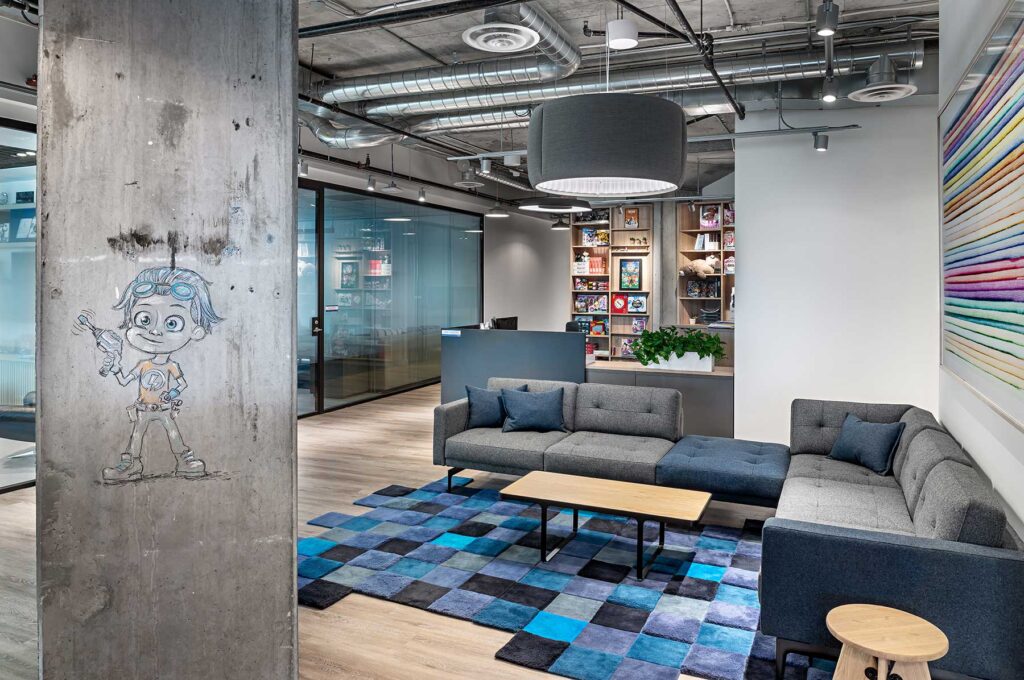 Both the main and second floors of the building are double height spaces, allowing the design team to think big – as well as to locate specialized spaces that required additional height. On the main floor, the leased space was small, but it provided the perfect highly visible arrival space to attract attention and promote the brand.
Taking advantage of the height, the 2nd floor also houses a large town hall with two-story bleachers, and expansive training room, multiple development labs as well as a photo studio. On the north end of the 2nd floor is where the main interconnecting stair begins – rising through floors 2-6, connecting the work studios and providing a central circulation spine. Elevator Lobbies were transformed into showcases of Spin Master's Entertainment Products and offer a sneak peek into the unique spaces such as the 4th floor 3D Development Lab.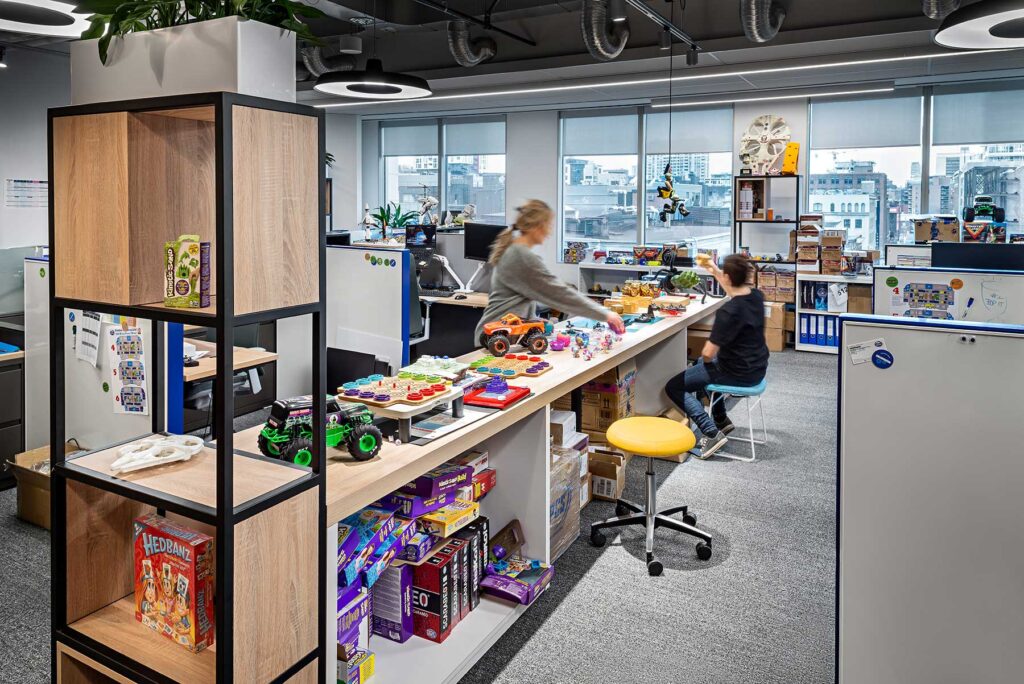 Floors 3 through 5 are divided into pods or studios of open workstations, all directly adjacent to the exterior glazing. All workspaces feature height adjustable tables and personal whiteboards while the design and product studios also feature expansive layout and storage space to suit their individual needs. Closed meeting space creates a break between the studios while collaborative zones interrupt runs of small leadership office/meeting spaces that run the length of the corridors.
Long corridors that encircle the core of the building are brought to life with "Spin Master Moments", digital stops, colourful graphics and three dimensional installations. This often overlooked circulation space, devoid of natural light became a showcase of brand. No longer a back hallway, now a fun place to stop and chat, or to perch and take a call. Support spaces are clustered down these corridors, toward the core of the building.
Although similar to floors 3-5, the 6th floor is flanked by Executive offices on the east and west building perimeter and features an Awards Gallery and a Cinema-style Screening Room near the core.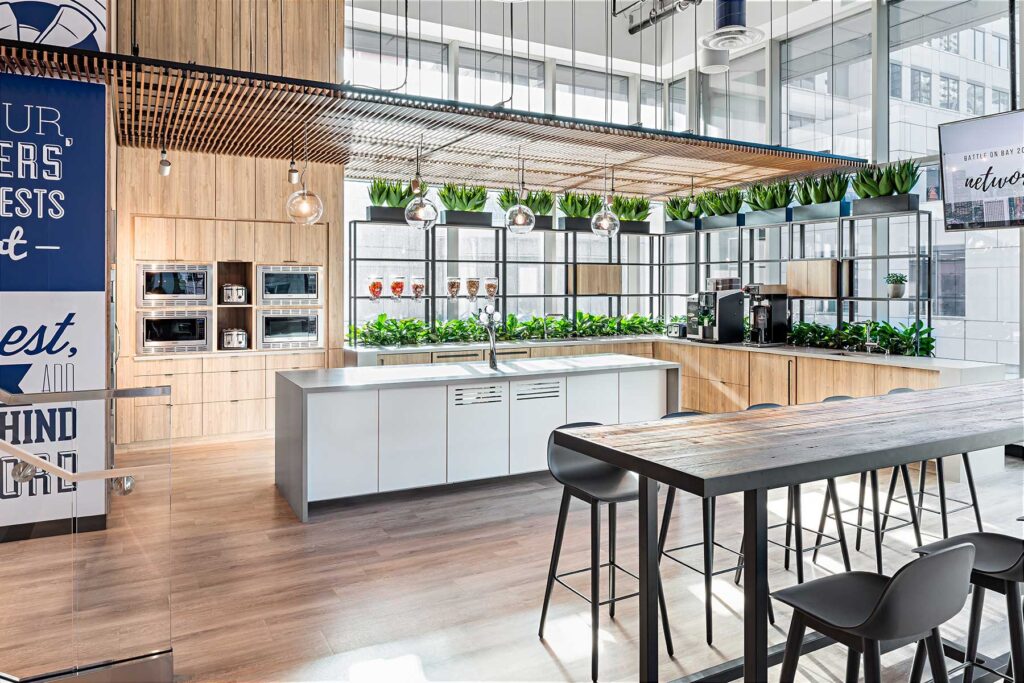 Barrier free access is provided throughout and all built spaces are conducive to the use by individuals of all sizes and abilities. Although connecting staircases are the one exception to this rule, great efforts were made to ensure the elevator experience was in-line with that of the rest of the facility – giving every individual easy and efficient communication between levels.
All spaces, including all telephone rooms allow for barrier-free access. All counters are installed at barrier-free height or include a barrier free section which allows for full functionality. Door operators were installed at all doors within the circulation path including elevator lobbies. Although not every single seat in shared spaces can accommodate every type of individual, there is a consistent assortment of seating types that will accommodate everyone.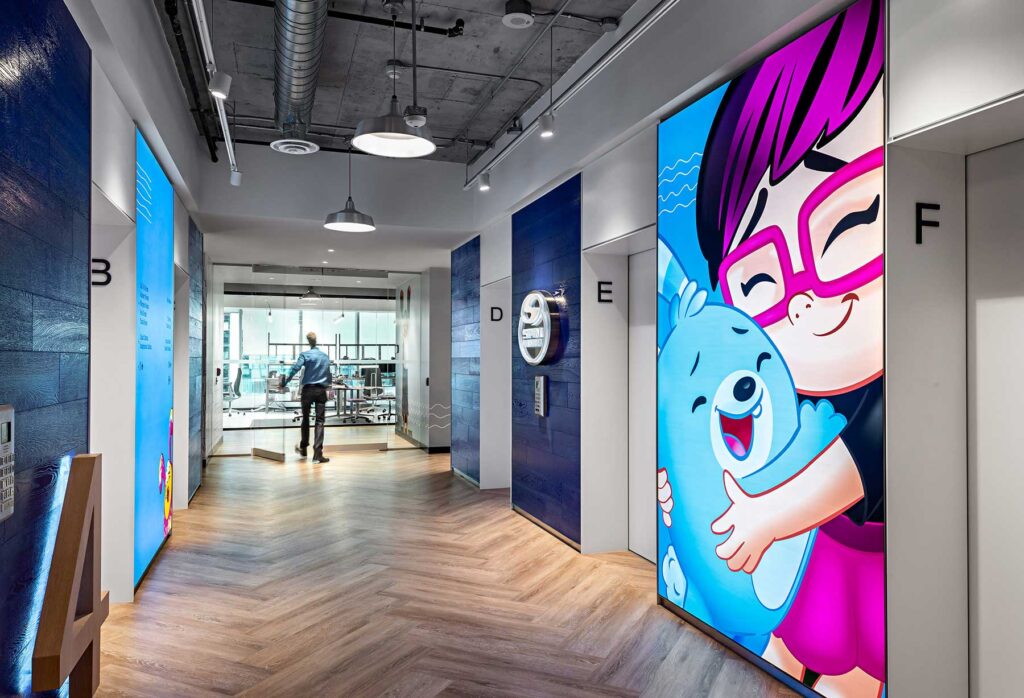 An interior that promotes sustainability, heath, and wellness and supports universal design was a project mandate. The space fonforms to LEED guidelines around healthy materials, as well as electrical and mechanical parameters. All interior finishes were low-emitting, recycled, recyclable or both. Interior systems (mechanical, electrical) were all designed with sustainability at the forefront. All lighting is LED and low consumption, coupled with control systems that reduce energy use. All areas are controlled by occupancy sensors.
On the wellness front, extensive biophilia was included in the design, particularly within the workspace, which coupled with direct views to the exterior and an abundance of natural light support a sense of comfort and well being. All closed interior office spaces feature glazed fronts and directly face the exterior glazing. Workspace lighting is indirect and is 90 CRI or greater – reducing strain on the eyes over prolonged periods.
To support a healthy lifestyle, chilled filtered water spigots were installed on every floor – giving all occupants access to the best hydration. Additionally, two "working" treadmill rooms were included, allowing exercise while working.
Project Details:
Project Location: Toronto, ON
Project Completion Date: June 2018
Project Square Footage: 100,000 square feet
Related