ARIDO Award Winner: Nando's Woodmore Towne Centre
Located in an endcap of a busy shopping centre in Lanham, Maryland the Nando's Woodmore location was a great location to place what would become a busy restaurant and takeout spot. The design brief was to create an intimate environment and sense of place; a celebration of South African colour and craft. The existing space was devoid of character.
Category: EAT+STAY
Interior Designer: Sarah Stafford, ARIDO
Design Firm: stré studio
Photographer: Greg Powers
The space feels like a jaunt to Johannesburg, with a constant play between raw textural finishes and saturated hits of colour and pattern. Taking inspiration from the raw earthiness found in the South African landscape and the rich colour and pattern of local fashion and design trends.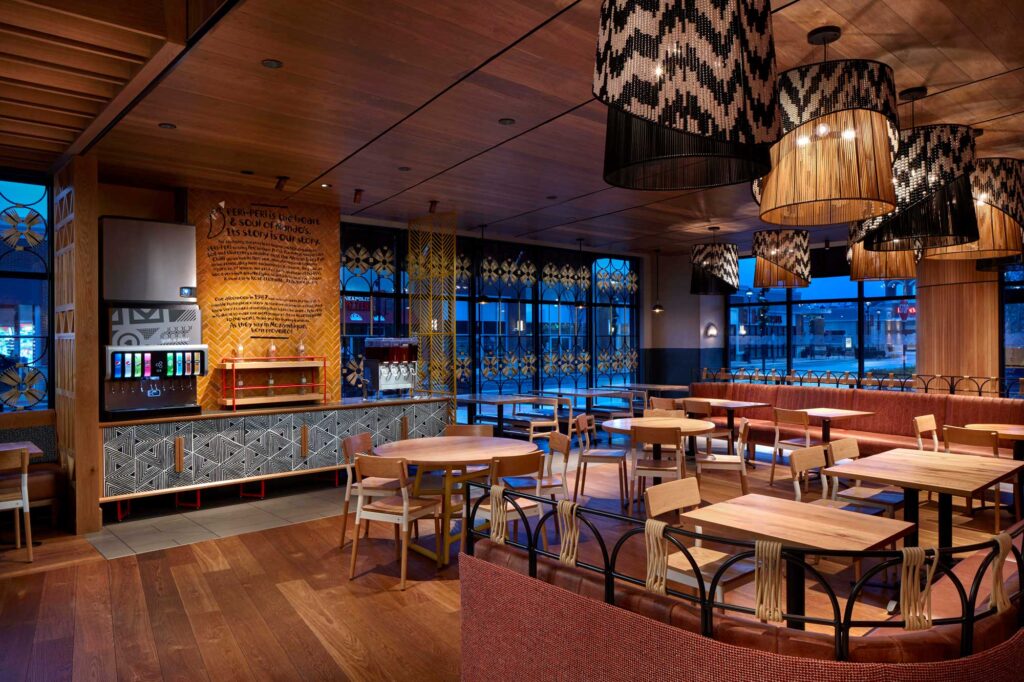 The client was clear that the eclectic and vibrant brand was front and centre, provide ample room for circulation as well as 90 seats for in-person dining. With over a thousand locations in 35 countries, we needed to create a one-of-a-kind identity while still maintaining the Nando's soul and brand. It also needed to attract shoppers from the adjacent mall, drawing the attention from the outside without impacting the view for customers sitting inside – all while adhering to strict tenant guidelines.
In order to complete all this, while respecting a firm budget, the interior design team selected a few feature elements to maximize their impact. Custom window screens, a custom patterned brick layout on the walls, and custom beaded light fixtures overhead draw the eye while in a carefully planned restaurant space.
The intimate sit-down setting is integrated with the potential capacity of a busy take-out location. Seating areas are located along the windows to showcase the energetic dining experience and encourage patrons to come inside.
The interior design team created a deliberate arrival path and lineup area along the rear of the main dining area banquette which leads to an open takeout waiting area and bench. Take-out patrons can exit through the secondary exit door or, if dining in, can access the main dining areas from the order counter area. As much as possible, the main circulation does not flow through dining zones, but remains integrated with the restaurant experience.
The condiments counter and hand wash areas are visible and easily accessible, without creating too much traffic through the dining areas. To avoid congestion at the main order counter, we also introduced an online order pickup shelf at the secondary access point for delivery companies to gain access quickly.
Playful African-inspired textiles, colours, and textures were layered over these three elements to celebrate the richness found in South African design. These finishes were offset against the exposed brick, natural leathers, contemporary styled furnishings and bespoke details and accents.
Supporting and promoting the work of designers and fabricators from South Africa is extremely important to Nando's. An online portal of artisans and artists provides eases the sourcing process and utilize their specialties as much as possible given the distance constraints.
Alongside the materiality, collaborations with these fabricators enabled us to create a space with authenticity at the forefront. Handmade screens line the windows, a fresh take on traditional African weaving and referencing the decorative metalwork found in the streetscapes of Mozambique. It was the reinterpretation of this craft and pattern, by using modern scale and materials, that drove the concept; reinterpreting rather than reproducing was key. A collaboration between the interior design team and fabricators The Urbanative from South Africa yielded this eye-catching element.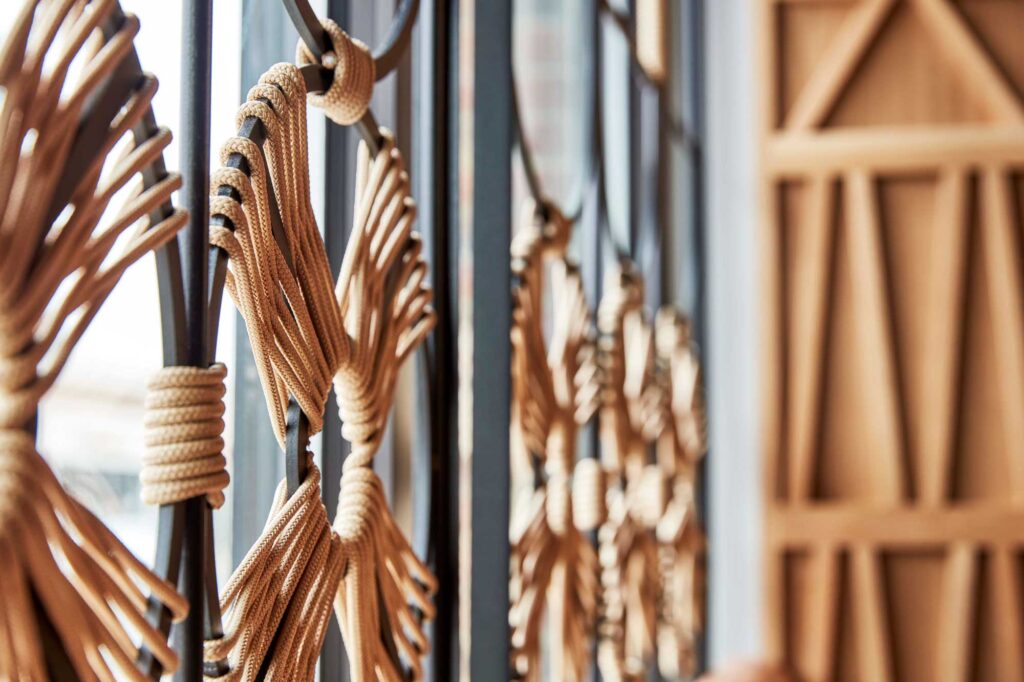 The custom beaded light fixtures were a design collaboration with mashT design studio, based in South Africa. This studio supports a network of artisans, and the owner of the studio is a previous winner of a Nando's design contest held every year which helps expose up and coming designers. Each lampshade is handmade by one of the studio's artisans, this method of manufacturing introduces the artisan's hand making each shade slightly unique.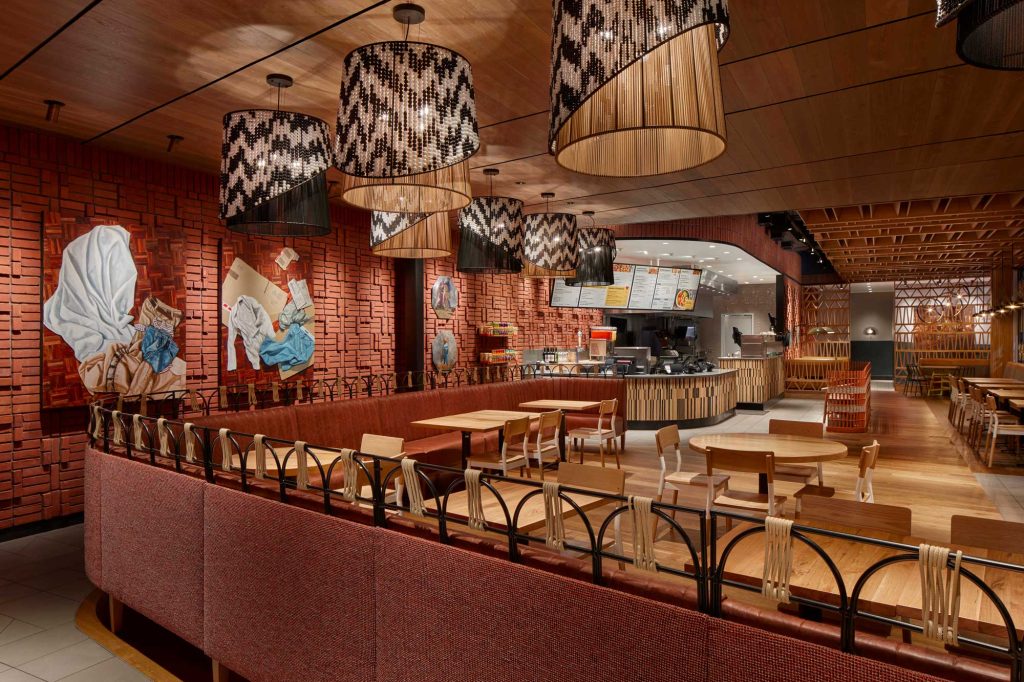 In addition to the online sourcing portal, Nando's has an extensive inventory of furniture and lighting from project relocations, renovations, and closures. It is mandated to access this inventory before specifying anything new for furniture and lighting, which promotes reusing these resource-intensive elements before purchasing new.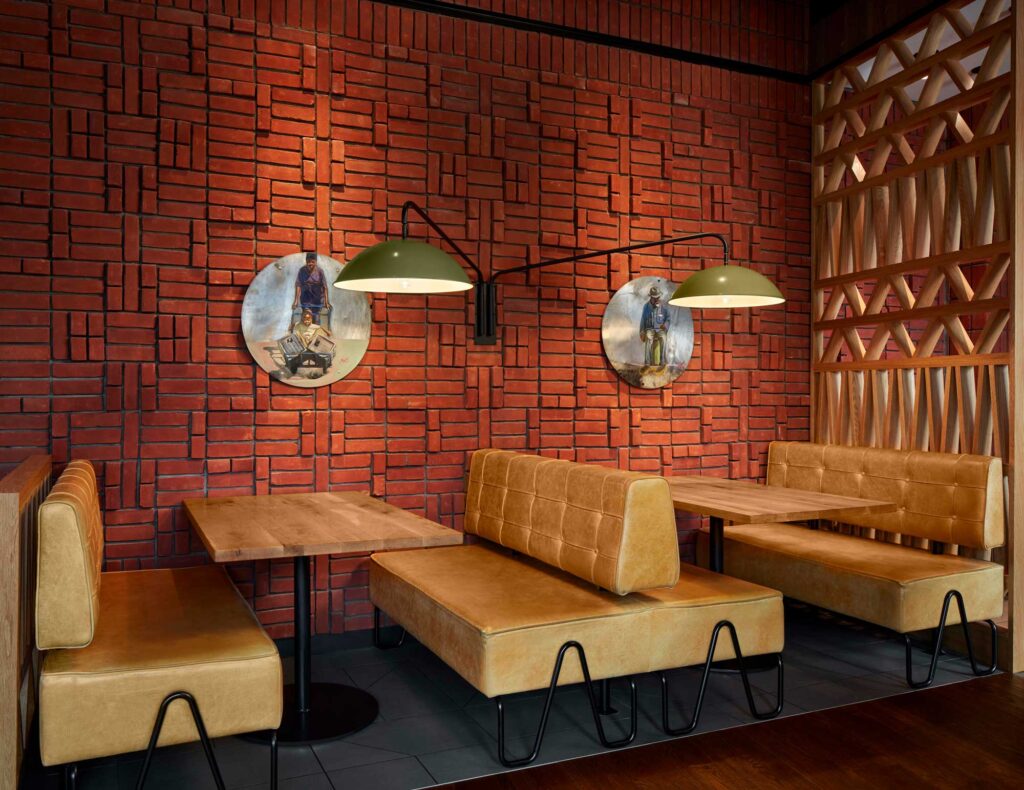 Creating this Nando's experience was not about achieving one uniform story. Instead, the challenge was to create multiple experiences in the space through unique dining zones defined by furniture, lighting and subtle finish changes.
Project Details:
Project Location: Lanham, MD
Project Completion Date: September 2020
Project Square Footage: 3,180 square feet
Related
ARIDO Award: Elevator Cabs

The challenge of this elevator cab redesign was to create a mobile portal between a well-aged ground floor lobby that would seamlessly integrate with each of the floors above. Category: DISTINCT Inter ...

ARIDO Award: The Hive

The first of its kind in Canada, this 3D printed masonry wall is the result of a collaboration between design professionals, students, and faculty at an Ontario university. Category: CRAFT Interior De ...

ARIDO Award: Florette Restaurant + Bar

While interior designers traditionally aim for perfection in their projects, this design team chose to highlight the imperfect, comforting aspects of this new restaurant space on Toronto's Queen Str ...