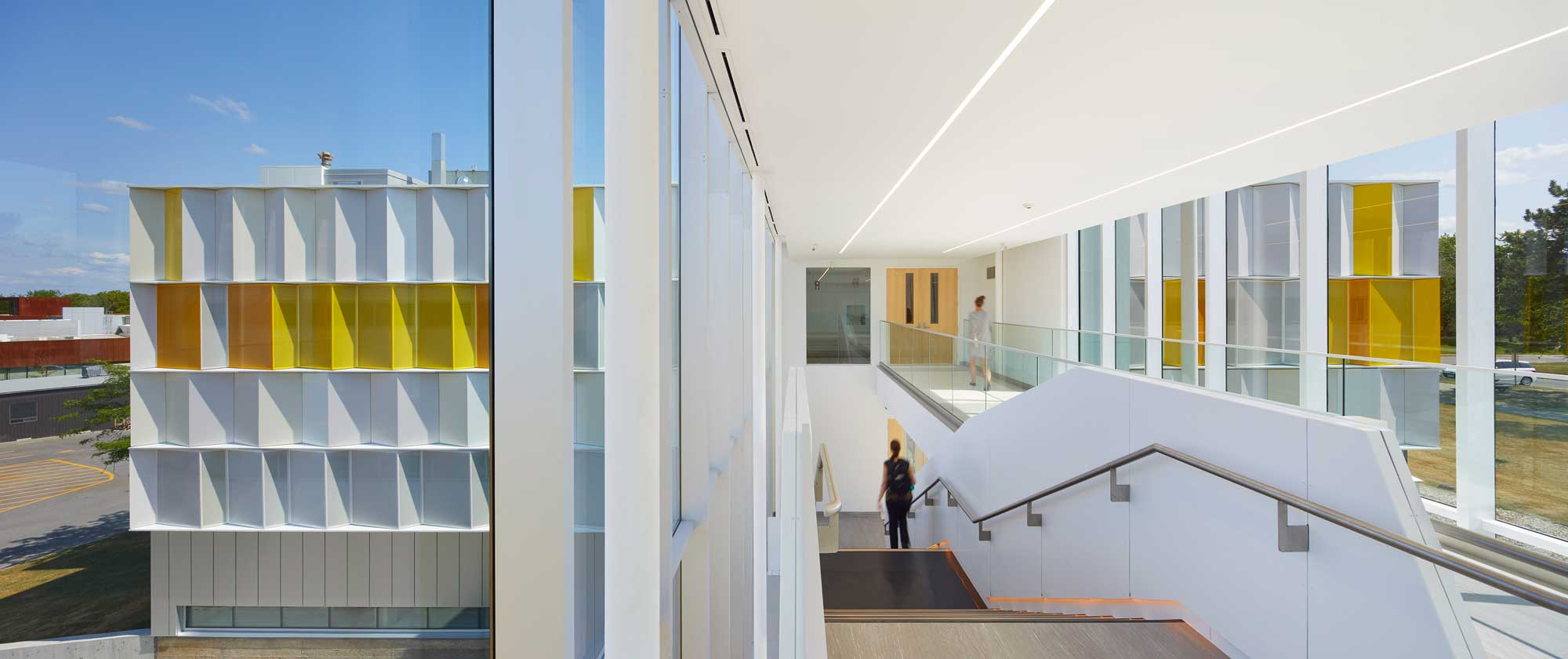 ARIDO Award Winner: Fleming College A-Wing, Sutherland Campus
On the western edge of Peterborough, an hour and a half east of Toronto, Fleming College's Sutherland Campus was established in 1973 with a collection of buildings designed by Ron Thom in collaboration with Thompson Berwick and Pratt and Partners within a 200-acre, terraced, park-like setting. Almost 50 years later, the college commissioned our team to revitalize the outdated 76,000 sf A-Wing, which serves as a campus gateway and classroom facility.
Category: LEARN
Interior Designer: Valerie Gow, ARIDO
Design Firm: Gow Hastings Architects
Photographer: Tom Arban Photography
The design strategy was to transform the dark, heavy, and inefficient building into a contemporary one that meets the standards of 21st century learning, sustainability and accessibility. This all needed to be delivered without demolishing and rebuilding at the same time as it was fully occupied.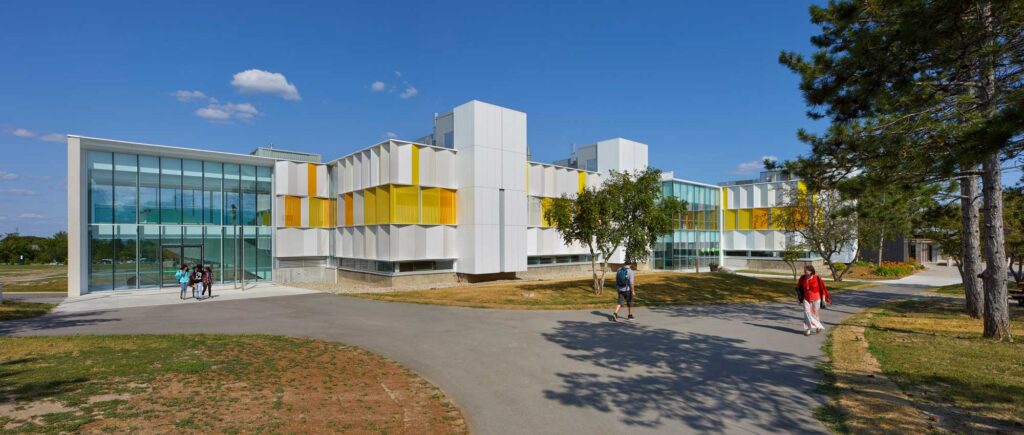 We began by shedding the building's dark brown aluminum envelope back to its steel frame, and recladding it with alpolic aluminum panels(LINK) – a readily available and lightweight material conventionally found on gas stations that instantly gives the building a modern, clean and luminous appearance. Arranging bright coloured panels in one of the College's brand colours at various angles captured natural light in different conditions, giving the illusion of a deeper colour palette. The colour palette continues inside the building, with interior finishes carefully selected to complement the exterior of the building. Lighting, furniture, and fixtures enhance the modern expression of the A-Wing.
The white and yellow panels that transform the existing facade were carefully chosen to integrate the space with the original brown campus buildings and a new Corten-clad neighbour. To break down the A-Wing's solidity, we re-crafted the building's form by applying some panels with "accordion folds", and adding perforated versions over the windows. The overall effect is uplifting and playful.
Each entrance and key circulation space is demarcated with a glass pavilion and a transparent central hub that serves as a meeting space for socializing and informal learning. This node also includes a skylight that draws light downwards over multiple storeys.
A new roof, energy efficient glazing, LED light fixtures with occupancy sensors, and building components made of recycled materials provided a much needed updated to the building. Several accessibility upgrades helped establish a more inclusive space. In particular, barrier-free washrooms feature wall-mounted, floating sinks for wheelchair access, sensor operated dispensers and hand dryers as well as the appropriate spacing turning space in stalls and enclosures. We also introduced gender-neutral washrooms that can be used by all students, regardless of identity.
As a design team with extensive experience in hands-on learning environments we introduced several upgrades to the classrooms for the Health and Wellness, and Justice and Community Development programs which simulate contemporary hospitals, ambulances, and courtrooms. Replacing solid classroom and office walls with glazing, the design invites light to further permeate the interior, while also treating passersby to glimpses of the learning taking place within.
Renovations to the A-Wing took place while the building was fully occupied. We worked closely with Fleming College to design the project to phase construction in a sequence that would allow continuous delivery of some programs with minimal disruption. A portion of the construction work such as sprinkler work, took place after hours, the remaining renovations were delivered in two phases by area.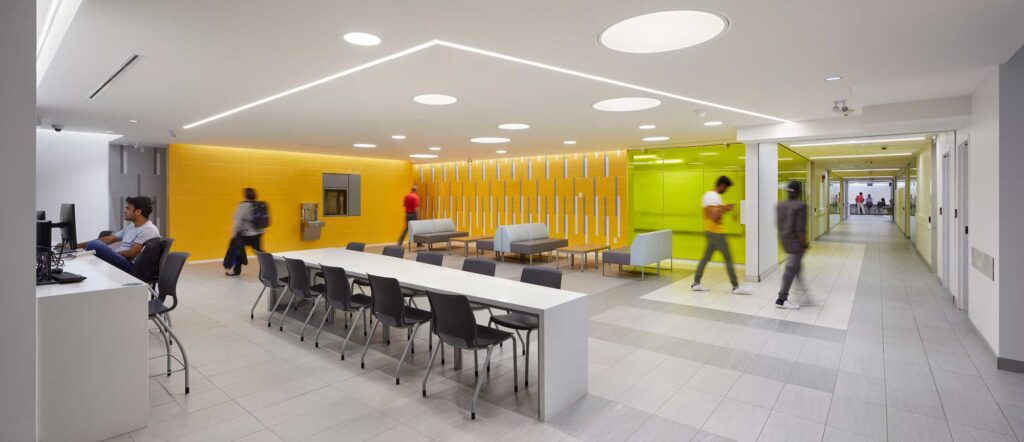 The original bold, 1970s graphics which denote each building wing has been retained as a tribute to the building's original architect, Ron Thom – who was influential in shaping the design of Canadian post-secondary buildings. Our appreciation for this bold branding inspired us to select tile in complementary yellow and orange colours, which are used throughout the A-Wing for additional passive wayfinding. Bold colours, dynamic geometric shapes, and oversize typography animate the space, creating progressive differentiation between various areas of use.
Design features include flexibly patterned wall and floor tiles that create abstract wayfinding within public corridors. The tiles were used to cleverly and intuitively define zones separating student lounge areas from the corridors without the use of wall. Elongated wall tiles were patterned to form a bright mosaic featuring warm yellow, grey and white tones. The tile mosaic creates an uplifting look – brightening a space that was deep in the building floorplate, with relatively low ceilings and limited natural light.
One change we facilitated was the move to shared faculty offices. The design team developed a strategy for the layout and planning of this space to meet the client's objectives. Over the course of several presentations the design team was able to underscore the virtues of minimizing private space and optimizing shared space. The solution is completely unique to this College and the Faculty were pleased with the results.
The project is a continuation of the energy conscious revitalization of Fleming College's Sutherland Campus. By inventively working within the building's original steel frame – breathing new life into the A-Wing, instead of rebuilding – we were able to achieve a modern building for a fraction of the cost to the College, and a lower environmental footprint. This adaptive reuse approach was a sustainable choice as it minimizes the adverse environmental effects of new construction, by reducing waste and energy consumption from demolition, and resources used during construction.
We also performed life-cycle costing to measure the lifetime costs of operating the A-Wing. This analysis allowed us to identify necessary performance upgrades that would sustainably extend the building's life cycle. Supporting Fleming College's goal of improving its energy efficiency, the design team outfitted the A-Wing with performance upgrades including new roofing, energy efficient glazing, LED light fixtures with occupancy sensors, low-flush plumbing fixtures, and building components with low environmental impact and recycled content.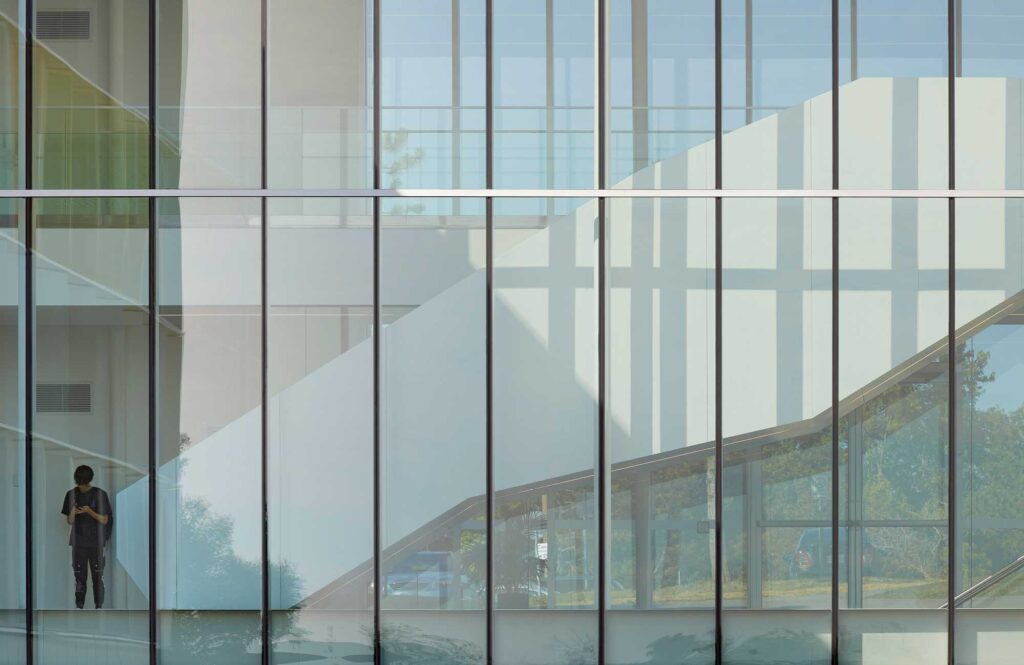 Equity, diversity and inclusion was incorporated into the project as both a directive from the client and an expression of our firm's core values. Fleming College promotes a welcoming and inclusive environment for students, staff and guests from the community. The A-Wing revitalization demonstrates commitment on an on-going basis to removing barriers and actively evolving a culture of respect, recognition, accommodation and celebration of each other's unique contributions to Fleming's learning and working environment.
Project Details:
Project Location: Peterborough, ON
Project Completion Date: November 2018
Project Square Footage: 56,000 square feet
Related
ARIDO Award: Elevator Cabs

The challenge of this elevator cab redesign was to create a mobile portal between a well-aged ground floor lobby that would seamlessly integrate with each of the floors above. Category: DISTINCT Inter ...

ARIDO Award: The Hive

The first of its kind in Canada, this 3D printed masonry wall is the result of a collaboration between design professionals, students, and faculty at an Ontario university. Category: CRAFT Interior De ...

ARIDO Award: Florette Restaurant + Bar

While interior designers traditionally aim for perfection in their projects, this design team chose to highlight the imperfect, comforting aspects of this new restaurant space on Toronto's Queen Str ...