ARIDO Award Winner: Centre for Innovation, Technology, and Entrepreneurship
Centre for Innovation, Technology and Entrepreneurship (CITE) showcases Seneca's commitment to entrepreneurial innovation as well as a sustainable vision for the future inspired by an Indigenous worldview. The design, which evolved through extensive consultation with Seneca's executive leadership, academic stakeholders, and The Aboriginal College Council, brings together applied research, commercialization, specialized training, and an entrepreneurial incubator for both students and industry leaders.
Category: LEARN
Interior Designer: Janine Grossmann, ARIDO
Design Firm: Perkins&Will
Design Team: Tsvetelina Rabashki, ARIDO; Martha del Junco, ARIDO
Photographer: Doublespace Photography
The schedule for this project was accelerated with programming, design, and construction completed in just 30 months. However, the inteirior design team needed to develop a nimble concept that would support hi-tech labs and workshops as well as softer spaces to support collaboration and ideation. Adaptability was key for the future as well as for inevitable changes during a fast-tracked design and construction project.
Students, faculty, the Indigenous council and community, college leadership and industry partners were all involved with the planning process. This close collaboration yielded an interdisciplinary interpretive program, "The Manifesto for Making" that employs architectural elements, integrated artwork, and large-scale graphics to communicate the importance of an Indigenous worldview to shape a sustainable future.
The building's focus on academic STEAM (Science, Technology, Engineering, Arts, and Math) programs is balanced with expression of Seneca's commitment to recognizing Indigenous history and vibrant living culture in Canada. Two clear zones were established, a forward facing gallery that features complex finishes and details, which could be delivered later if necessary, and second, a highly modular and rational planning container for the core program spaces. The modular bays of the building feature exposed services, demountable partitions, and simple robust finishes that support adaptation and heavy use.
As the design evolved, senior administration began to realize the prominence of the site and the opportunities it presented. The mandate for the project expanded to include event space and event support to be integrated into what would be known as the Innovation Gallery.
The Innovation Gallery, an animated atrium space supporting collaboration, displays, and events, creates a new, vibrant presence for the College on Toronto's busy Finch Avenue corridor. Connecting a set of flexible, modular spaces that house digital fabrication suites, high-tech labs, and flexible classrooms, CITE also offers a state-of-the-art workplace for Seneca's administrative departments.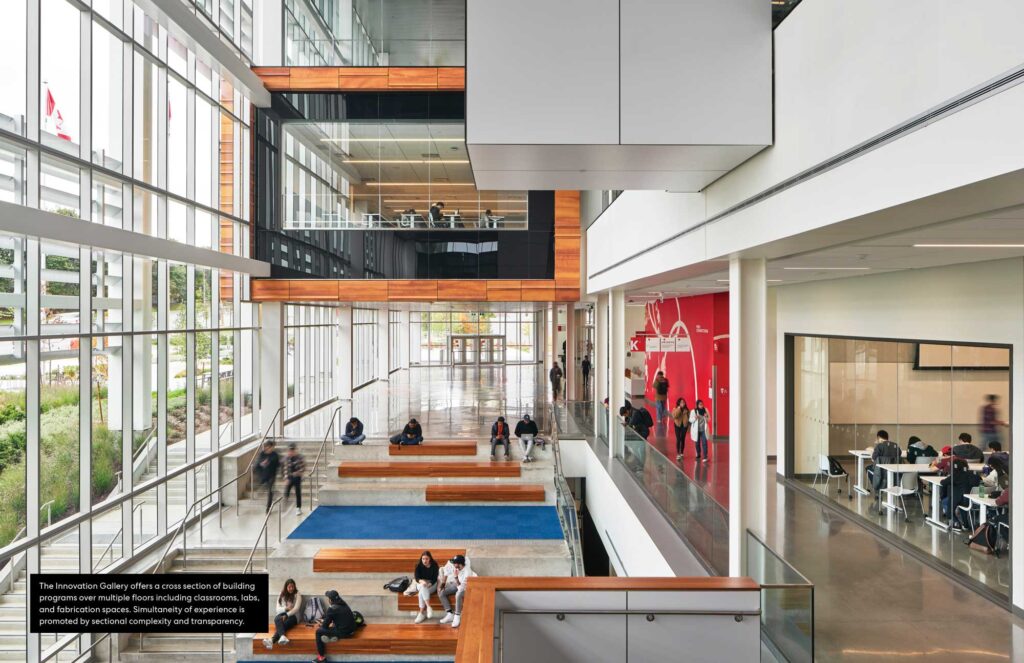 The Innovation Gallery engages the sloping topography of the site with a gently terracing ground floor that provides accessible platforms at three levels for day-to-day student lounge and study space, and convert to display platforms or events spaces as needed. It also provides a display and event space, from which industry sponsored high-tech fabrication spaces can be viewed.
The site also includes Seneca's incubator, Helix, bringing industry, community, and students together to develop and launch new business ventures. The lab and classroom wing is adjacent to a series of light filled student lounges that facilitate breakout sessions and group work between classes and which organize CITE into a series of collaborative neighbourhoods.
The building is conceived as a universal container of modular space for teaching, learning, and making that are connected by a linear atrium on the building's south edge—the Innovation Gallery. The modular bays of the building feature exposed services, demountable partitions, and simple, robust finishes that support adaptation and heavy use. The relatively large footprint of the lab and classroom wing is relieved by a series of light-filled student lounges that facilitate breakouts sessions and group work between classes.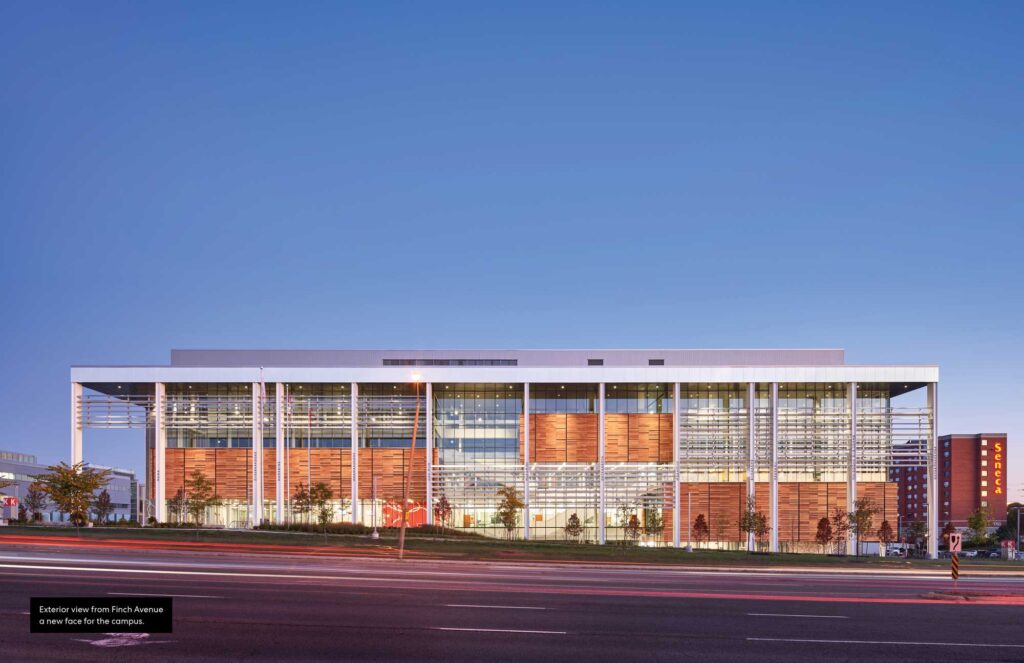 Spaces for gathering, socializing, and food distribution throughout the building creates a welcoming environment, with warmth and team spirit. Clear and logical organization of wayfinding assists students and visitors find spaces with ease throughout the building. Robust natural light in learning and collaboration environments throughout the building create an uplifting spirit with strong use of colour, art, graphics, and visibility. Gender neutral washrooms, integration of Indigenous culture into the experience of building, clear pathways and ramps embed accessible, inclusive design into the building.
Under guidance from the school's Indigenous Education Council (IEC) several architectural elements were designed to tell Indigenous stories within a contemporary architectural framework. 13 columns reflect the Anishnabe lunar cycle, three program containers evoke birchbark "memory chests", and a series of integrated artworks feature the living culture of Seneca's Indigenous community including the award-winning terrazzo medallion called the "Circle of Indigenous Knowledge" designed by Indigenous artist Joseph Sagaj.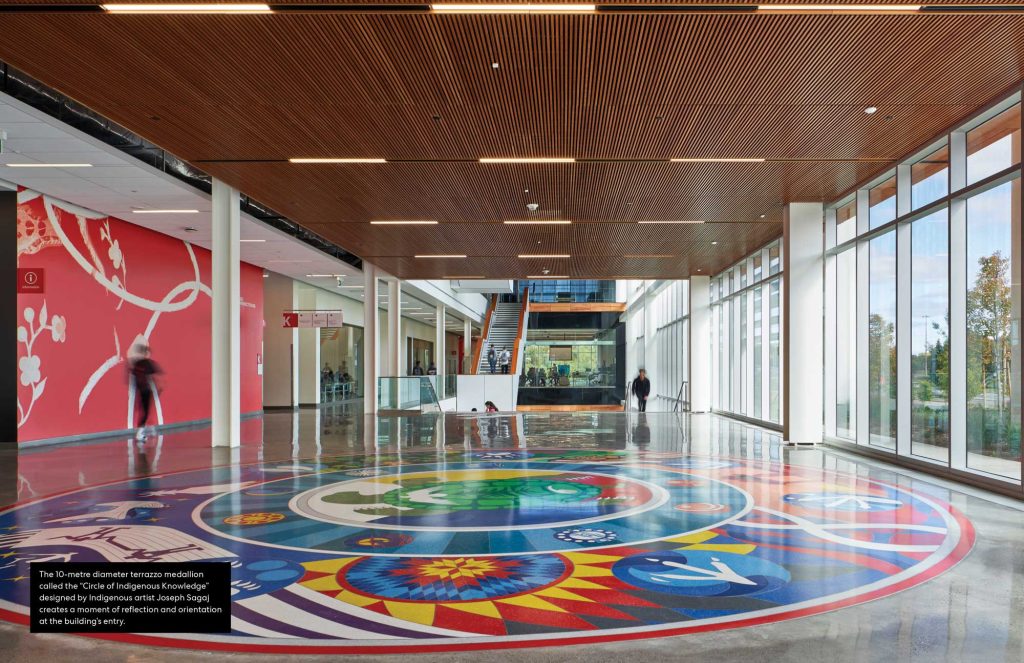 The project's sustainability strategies include an advanced selection process of materials for innovative levels of regional and recycled content, with a focus on health and wellness of occupants that considered use of low emitting materials, ample access to daylight, increased use of FSC wood finishes to lower embodied carbon, and design phase parametric analysis to optimize design and lower energy use. Low flow and flush fixtures are installed, achieving a potable water savings of 40%.
Outdoors, native and adaptive plants are utilized for the landscaping, drastically reducing any potential need for potable water. A cistern collects rainwater which is then used as cooling tower make up and the balance for landscape irrigation when needed. Seneca is pursuing LEED Gold certification for the CITE project with a focus on conservation, waste reduction, energy and climate change, transportation, water, and green building practices and operations.
Project Details:
Project Location: Toronto, ON
Project Completion Date: December 2018
Project Square Footage: 275,230 square feet
Related