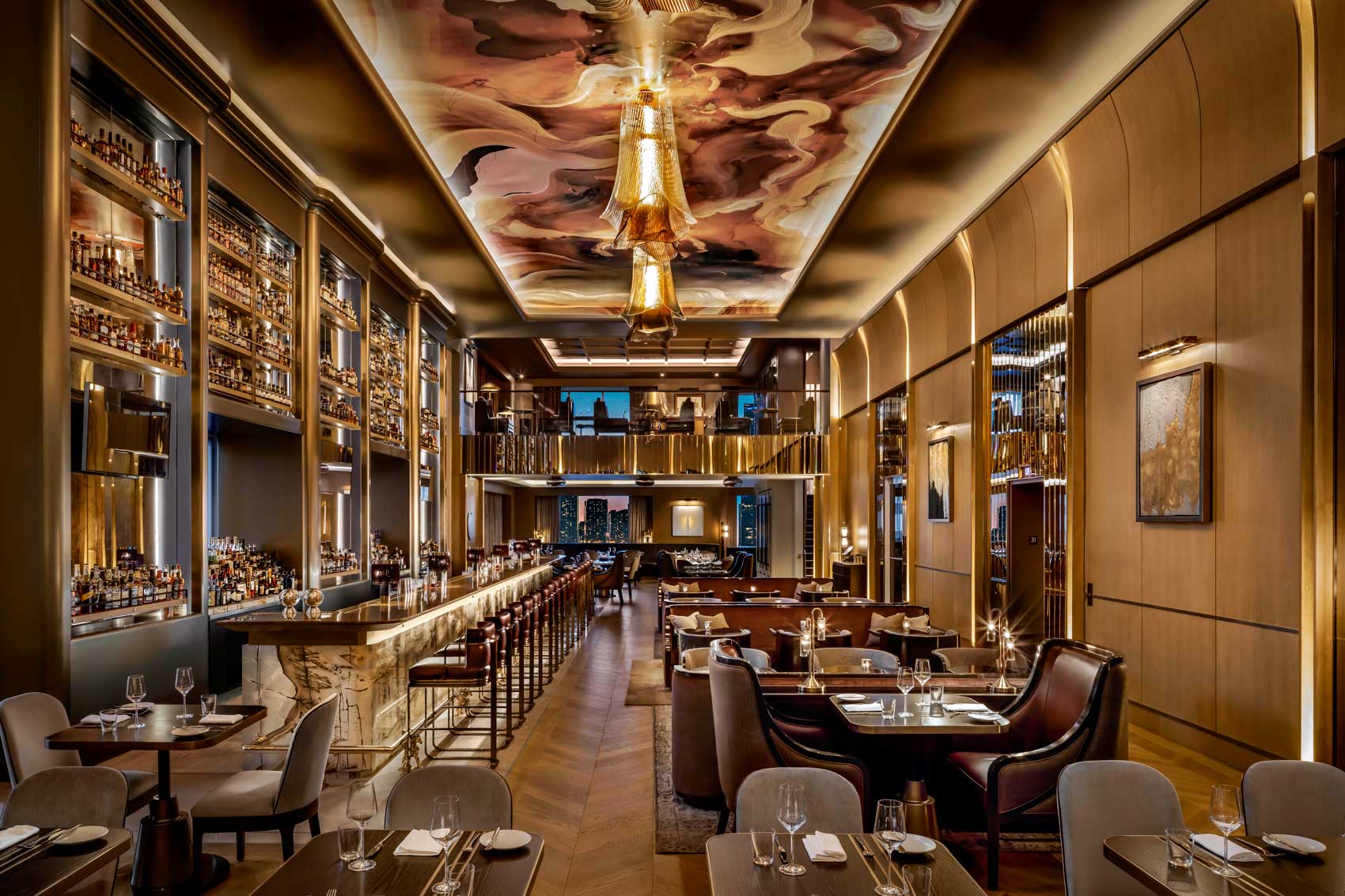 Whisky and whimsy reform luxury hospitality design
Situated in the former Trump Hotel in the heart of Toronto's business district, the design team was tasked with removing associations with past ownership, while introducing Canadians to the historic St. Regis brand. Inspired by Toronto's vibrant cultural heritage, the redesigned lobby, lounge, and restaurant express an enduring quality, setting a new standard for luxury hospitality in the dynamic city.
Interior Designer(s): Allen Chan, ARIDO
Design Firm: DesignAgency
Photographer: Brandon Barre
Aligning the design with the elegant spirit of the St. Regis, we carefully selected materials in the lobby and Astor Lounge that exude artistry and craftsmanship featuring authentic woods, leather, and brass. An array of custom elements convey a sense of quiet excellence, while abstractly paying homage to a myriad of inspirations from the region's geology, history, mapping, and urban architecture. The bronze fireplace in the lounge was inspired by the brick character of Queen Street West, while bespoke furniture pieces throughout echo the unique colours and textures of the Ontario landscape.
The lobby and Astor Lounge are defined by a soft, earthy colour palette, customized furnishings and lighting, and authentic materials and textures which inspire a sense of calm by balancing the energy of the inherently urban location. A key challenge presented to the team was to establish a new environment while retaining character-defining elements like the floors and alabaster walls in the lobby, which were too valuable to remove. By adding elements that worked to shift emphasis away from the floor and walls we were able to redefine the space. A gilded topographical ceiling mural, oak reception cabinet, and an impressive totemic sculpture enhance vertical sightlines, prompt curiosity, and act to draw guests deeper into the hotel.
The 31st-floor bar and restaurant are established as the jewel of the hotel, setting a tone of quality and luxury that draws guests to the restaurant as an inspiring new dining destination for the city. Prior to the redesign, the hotel restaurant was dark, intense, and dated. As a contemporary homage to historic precedents, the new signature restaurant feels transformed, elegant, and enduring.
Drawing inspiration from Canada's history as manufacturers of distilled whisky and spirits, the design evokes the warm amber tones of whisky, and sparkle of refracted light through the cut crystal glass of a tumbler. The restaurant shimmers and glows as light bounces off the oak walls inlaid with golden beveled mirror detailing.
A 30-foot long marble bar, inspired by France and America's grand hotel bars sets the stage for a dramatic yet intimate design, as sculpted bronze and smoked mirrored shelving displays backlit liquor bottles. Tailor-made furniture and fixtures such as soft leather stools, playful fringed lamps, bespoke billowing crystal chandeliers, and a custom ceiling mural in a whimsical combination of metallics and golds — the artist's interpretation of whisky swirling in a tumbler — create a visually rich environment, bringing together culture, architecture, ecology and landscape in single space.
Related