This office space is "Always Fresh"
Relocating from Oakville to their new headquarters in downtown Toronto, Tim Hortons' new workplace design successfully rejuvenates their iconically Canadian cultural identity. Aligning with contemporary sensibilities, the fresh design works to retain and attract new talent by creating engaging and compelling experiences within an innovative environment where employees thrive. The design celebrates Tim Hortons' community-focused mission, their humble culture yet ambitious goals, and their authentically Canadian spirit.
Interior Designer(s): Filo Costa
Design Firm: Gensler
Design Team: Willem Berends, Nichola Chan, Kathy Winfield, Steven Burgos, Norma Galella
Photographer: Ben Rahn, A-Frame
Upon entry, visitors and employees are introduced to the Tim Hortons brand, as the classic Tim Hortons neon signage illuminates a brick wall at the reception desk and area.  The dramatic entry sequence immediately welcomes staff and guests into a convivial environment that embodies the brand identity. High-top tables, a lounge area, and archival brand moments make the journey as meaningful as the destination itself. Herringbone wood floors, wood slat walls, wool upholstery, and plaid carpets evoke a warm yet elevated environment. A central stair with a bench seating area is accented by exposed bulb pendant lighting which connects the office's two floors. Centralizing the design as a core element to the office, the innovation lab serves at the heart of research and development, and product training, maintaining Tim Horton's ever-fresh and bold brand.
A planning approach inspired by the hockey rink puts the innovation lab at 'center ice', the literal and metaphorical heart of the workplace, the space acts as a bold signifier of the importance of innovation to Tim Hortons. A variety of meeting rooms, lounge spaces, and cafes provide opportunities to experience the brand's dynamic and iconic culture. The designer's intentional application of the same dining furniture allows the main dining area to act as an extension of the Tim Hortons restaurants. Accented by custom signage filled with coffee beans and framed in red reads "Brewing Something Bold" and "Always Fresh".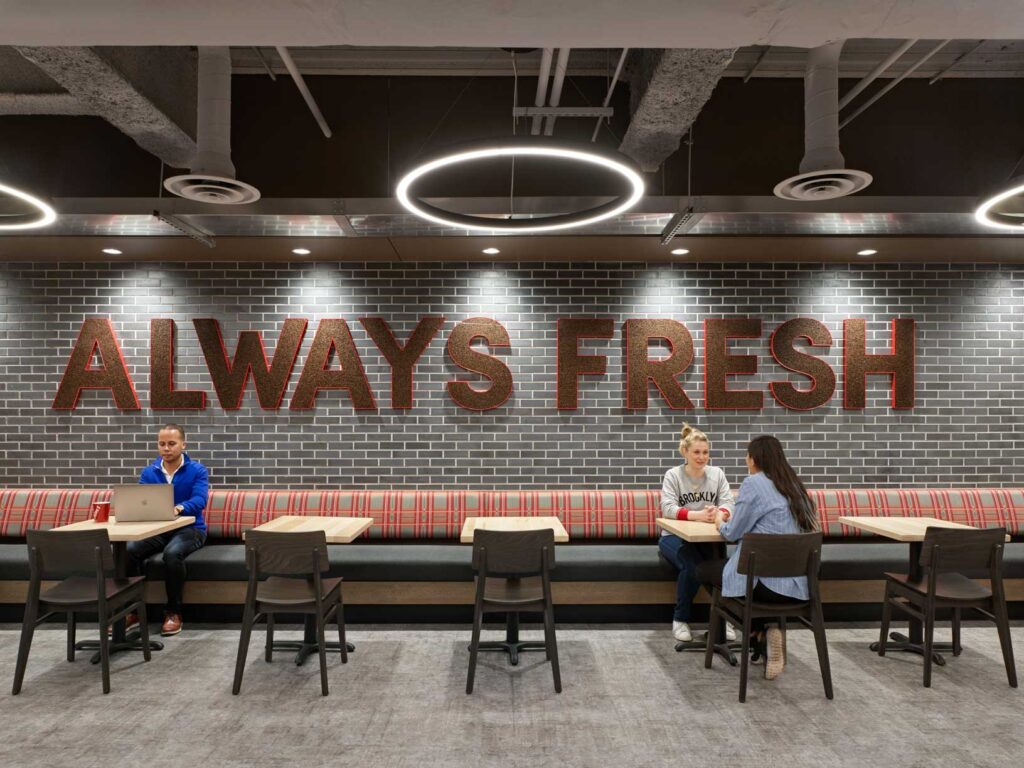 Entirely open plan, the workplace design introduces neighborhood layouts, strategic adjacencies, and sensible flexibility to improve collaboration and efficiency. A variety of workspaces, including independent focus rooms, small group huddle rooms, and team rooms create balance and choice as they facilitate collaboration. These distributed collaborative spaces supplement the larger meeting areas provided by the central café and a seasonal patio. While adaptable training rooms can accommodate up to 120 trainees, allowing the organization to better cultivate its culture and programs on site. Within the open and private meeting spaces, the design integrates technology and audiovisual systems that align with the demands of a digital age.
Providing employees with an engaging and compelling experience, the new design has created an environment to attract top talent. Tim Hortons' new headquarters rejuvenates and strengthens its brand through a forward-thinking and inspiring workplace that is emblematic of the company's iconic brand. 
Related