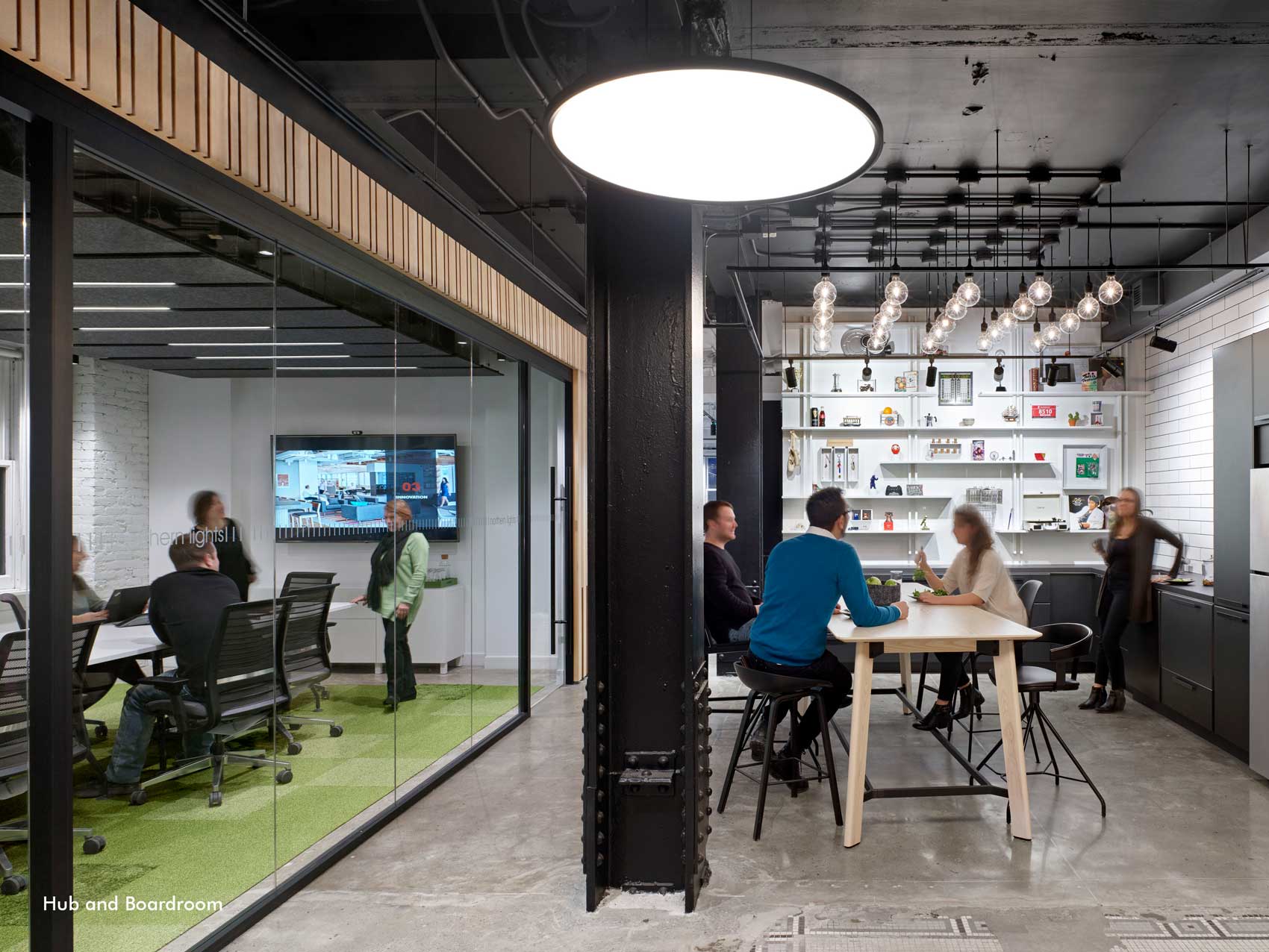 Global thinking was central to this architectural design firm's new Toronto office
Designed for wellness, flexibility, and inclusion, IA Interior Architects' new Toronto office is an urban hub with a global outlook.
The new office space is located in the Royal Bank of Canada's original headquarters on King Street. As our design team began the remodel, we uncovered the historic building's many unique architectural elements, most notably including cast-iron columns and a mosaic floor. We were immediately captivated by the rich history of these features so we worked them into our design as a nod to the building's heritage. We stripped the drywall off of the exterior walls to expose the original brick and painted the brick white for a fresh take on the 100-year-old walls. The view out the boardroom's original windows was blocked by a neighbouring building so we applied a historical graphic of the view east on King Street to the glass for another apt reference to the building's roots.
Interior Designer(s): Beverly Horii, ARIDO
Design Team: Jayme Rideout, ARIDO
Design Firm: IA Interior Architects
Photographer: Ben Rahn, A-Frame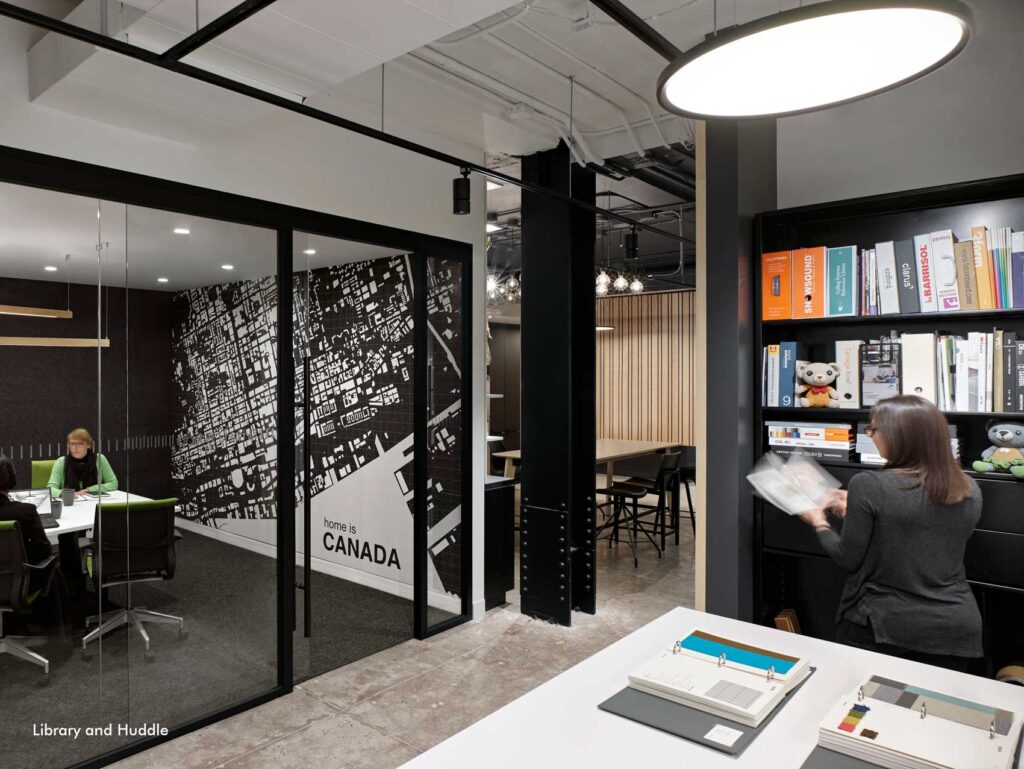 With locations around the world, it was important to us to bring a global mentality to our Toronto headquarters. We infused the space with allusions to location as a way to express our firm's identity in visual terms. Since we are often collaborating with our fellow studios, we had five custom clocks made for the space, which we set to the time zones of other IA offices. We even had the clocks constructed so when viewed from the side, the hour notches display the names of cities we are in. For a more local reference, we had a map of Toronto printed on acoustic felt panels in one of our meeting rooms. The feature wall doubles in purpose: it acts as a cool backdrop for teleconferencing and is used to located current project sites across the city.
With climbing lease rates in Toronto, our space planning solution had to be thoughtful and efficient. We relied on the principles of feng shui, arguably the oldest systematic approach to evidence-based design, to achieve the optimum flow of nature's energy within the skyscraper-surrounded space. Through the use of colour, shape, and materials we employed feng shui in our design solution with the goal of enhancing the relationship between occupants and the natural environment.
Flexible use was also at the core of our design so we included a variety of workstations to accommodate different employee preferences and work scenarios. The office contains everything from enclosed meeting rooms to open-concept desking; it even has in-between zones like semi-enclosed hubs for quick collaboration. All workstations are sit/stand for maximum adaptability and have been paired with sleek ergonomic chairs for employee comfort. We took the user experience into account at every point of the design which ultimately prompted us to install black-out drapes in a phone room for an employee who suffers from migraines.
With a new office that reflects our identity as a practice, we are thrilled to have clients experience the space and discover who we are as IA Interior Architects.
Related
ARIDO Award: The Hive

The first of its kind in Canada, this 3D printed masonry wall is the result of a collaboration between design professionals, students, and faculty at an Ontario university. Category: CRAFT Interior De ...

ARIDO Award: Spadina Workplace

Designing for human behavior and fostering innovation were the two key strategies for this workplace redesign. The design team aimed to inspire a return to the office not from necessity, but a genuine ...