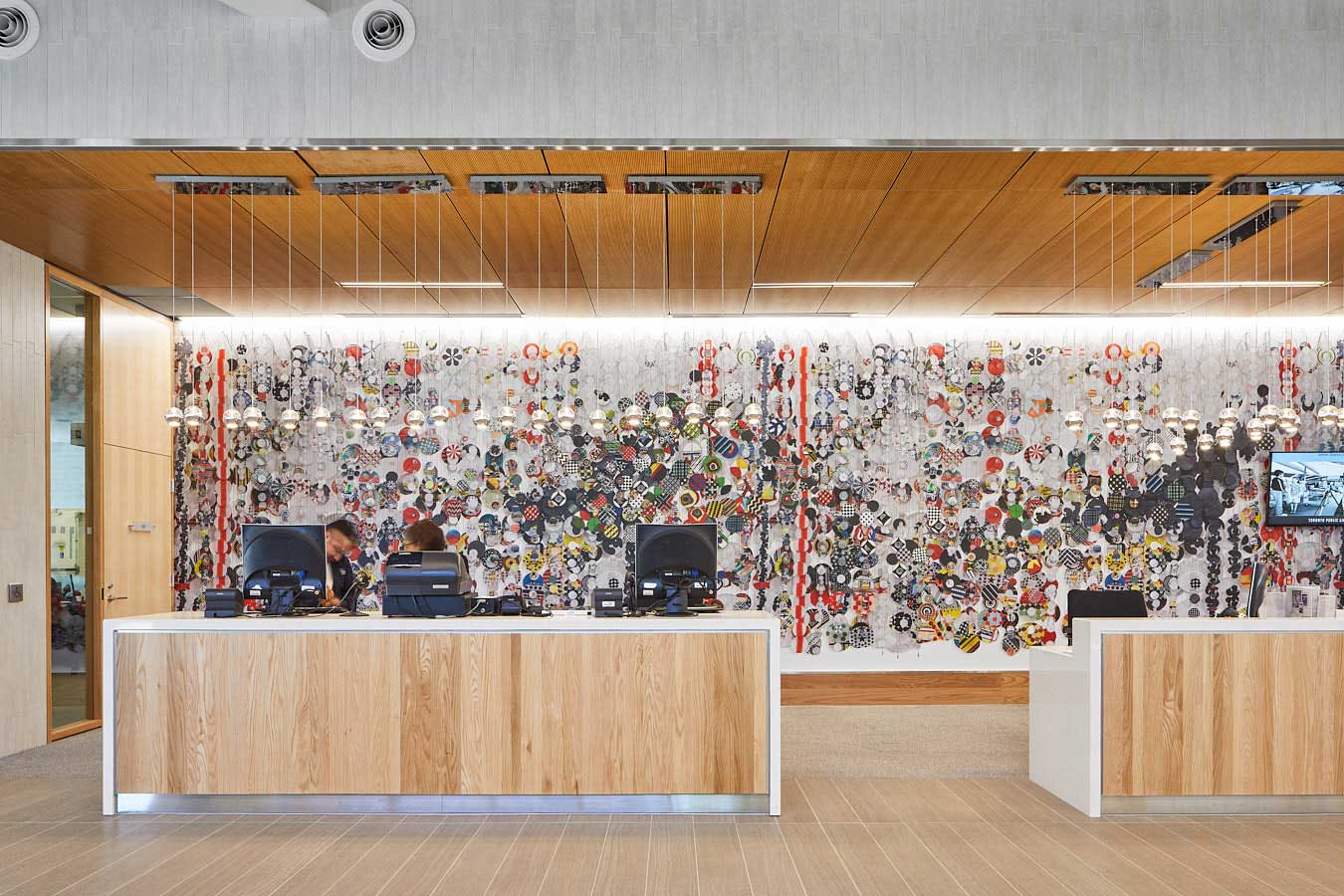 Toronto's Albion Library turns the page on dated institutional design
With a vibrant façade and a warm, light-filled interior, this revitalized Toronto Public Library branch is one for the books. Albion Library is much more than a place to house reading material. Located in Toronto's Rexdale neighbourhood, the library functions as a social epicentre for the surrounding community. Albion Library provides a broad range of services for a diverse demographic, including many recent immigrants, in one of Toronto's Neighbourhood Improvement Areas. 
Interior Designer(s): Joanne D'Silva
Design Firm: Perkins and Will
Photographer: Doublespace; Rodrigo Chavez; Toronto Public Library Staff
When we took on the project, it was apparent that the branch required a major upgrade. The ageing building (which dated back to 1971) was run-down and far from meeting the community's growing needs. Our design solution needed to address deficiencies in the existing building and the community's concerns around inclusivity, accessibility, wayfinding, public safety, and access to light and nature.
While our initial plan called for an addition to the existing branch, community consultation quickly revealed that the proposed two-year closure would negatively impact the Rexdale community. In response, our design team worked with Toronto Public Library to develop a different approach. Designing a new library on the adjacent, underutilized parking lot allowed the existing facility to remain open during construction. When the new library opened, the pre-existing library was demolished and a multipurpose urban plaza for community events, markets, and visitor parking was created in its place.
Programmatically, Albion offers neighbours and patrons a wide range of services that go far beyond lending books. The library serves the surrounding area by facilitating programs related to cultural orientation, social integration, and employment skills (as well as providing access to technology and knowledge). For the Toronto Public Library, success is measured by the degree to which they can meet and respond to the changing and unique needs of their communities while innovating their services. As a space that puts users first, Albion Library has become a place of transition for newcomers and a haven for the community at large.
Inspired by the aspirations of the community, we used the concept of a walled garden to address the need for a safe space and respite from the car-dominated context. A coloured scrim of terracotta ribs wraps the building, evoking a garden in bloom and mirroring the diversity of the community. The scrim lifts to articulate the entry, creating a colourful and dynamic form that ushers visitors inside the cheerful space. The building also includes three landscaped courtyards which subdivide the large 2,694 square meter plan into distinct program zones, providing acoustic separation and the programming of different activities.
Internally, the library is dominated by a folding timber roof that slopes towards the courtyards. The warmth of the wood structure plays off the lush texture of the courtyards—which are visible from every corner of the building. The neutral backdrop (cultivated, in part, by dark carpet and white oak millwork) highlights colourful and playful furniture items, light fixtures, and a striking mural by Jacob Hashimoto at the front service desk. High-level sustainable design features include a rooftop photovoltaic array, sloping green roof, daylight harvesting, and the selection of healthy materials. Occupant well-being is supported by proximity to nature and abundant access to light and views.
We can't wait to see what's in store for the Rexdale community as they venture into this new chapter at Albion Library. 
Related
What We Really Do: Drawings Edition

Sure, you need drawings for a renovation (or maybe you didn't know that?), but what are they really? Ok, so I'm going to risk telling you the secret in the beginning, but here ...

Turning a Garage into Gallery

Established in 2004, the Nicholas Metivier Gallery has become one of Canada's most distinguished contemporary art vendors. With business growth, the Gallery required a significantly larger display s ...

A space for creative ideas to thrive

Artscape Daniels Launchpad is a not-for-profit space for creatives, a marketplace of ideas, and resources where members may build connections, and launch their practices in an inspiring and dynamic en ...