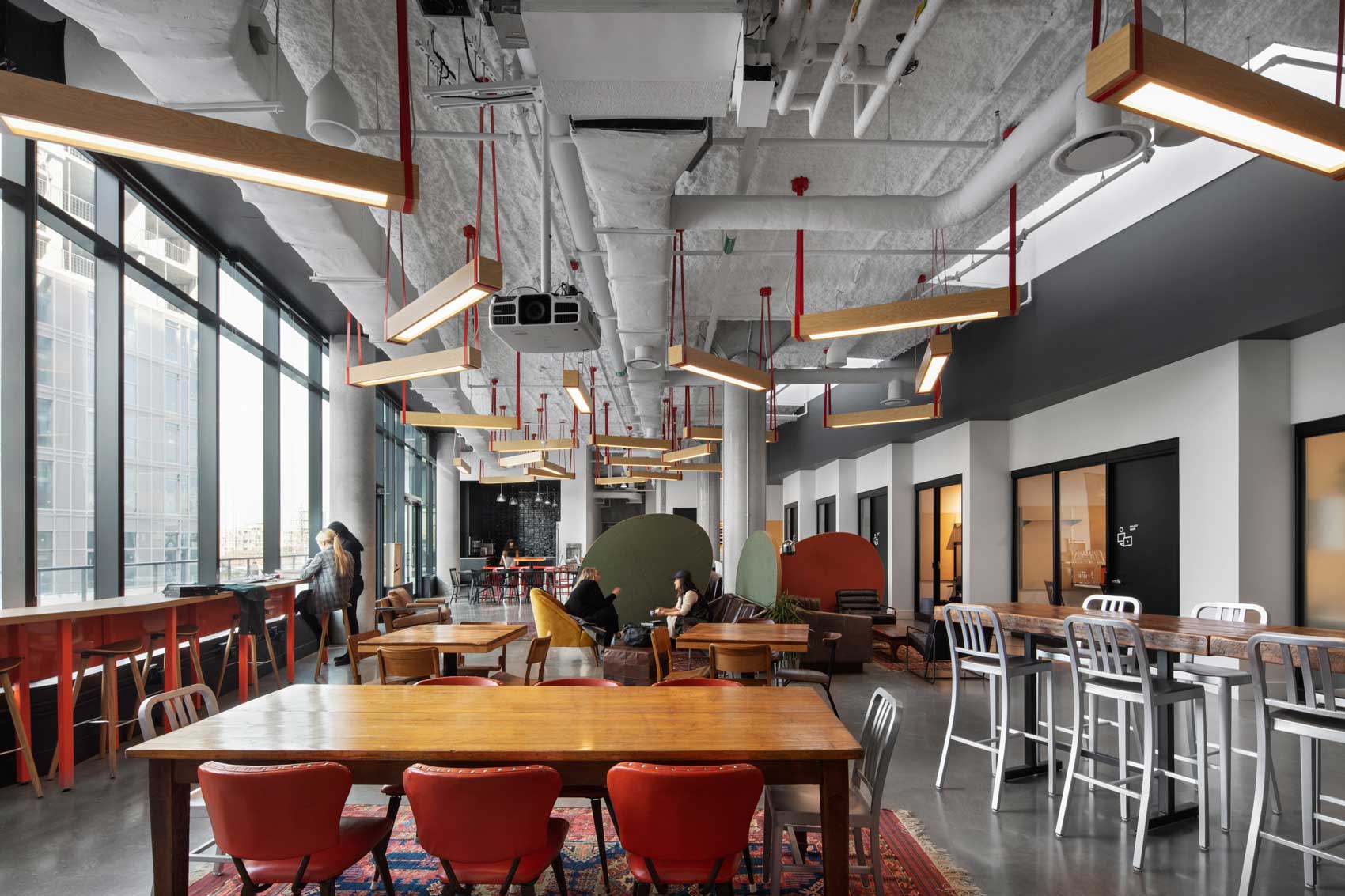 A space for creative ideas to thrive
Artscape Daniels Launchpad is a not-for-profit space for creatives, a marketplace of ideas, and resources where members may build connections, and launch their practices in an inspiring and dynamic environment. Having purchased a 33,000-square-foot commercial condominium space within the new Daniels City of the Arts complex on Toronto's waterfront, Artscape tasked the design team with creating a facility that would inspire both creativity and professionalism in equal measure. This project was completed in 2019.
Interior Designer(s): Caroline Robbie, ARIDO
Design Team: Tor McGlade, ARIDO, Stephanie Wiebe, ARIDO
Design Firm: BDP Quadrangle
Photographer: Adrien Williams, Bob Gundu, Catherine Ryan
The design team began developing a plan to coherently organize over ninety unique rooms, suited to an array of wildly different functional and aesthetic needs of Artscape. Accommodating workshops for jewellery, textiles, woodworking, digital prototyping, and black-box studios for photography, audio, video recording, VFX, and editing suites, the commercial condominium would also house meeting rooms and classrooms, a social commons, an event space, and Artscape's workplace headquarters.
Tackling the complex program within an awkwardly shaped interior, the designers strategically situated the sound and vision spaces at the centre of the floor plate to support black-box and acoustical separation, thereby establishing a central spine or 'street' which formed a clear north-south connection for organizing services such as data cabling, power, lighting, and air. The street links all workshops, workplaces, and event spaces together, bookending them by the Artscape offices and commons at one end, and the Sugar Hall event space at the other. Along its length, the design team distributed maker spaces with cold-rolled steel-framed glass storefronts at the entrances, drawing light into the heart of the floor plate, and offering views of the variety of items being made as open 'house' booths activate the street and encourage easy connectivity between members.  
Minimalistic, yet purposeful, interventions leveraged the industrial concrete and lighting to lend a raw tabula-rasa effect while mixing in pops of colour and pattern. As seen in the salvaged gymnasium flooring repurposed in the 'boardroom', and warm natural materials where one comes into contact with surfaces such as the hand-painted porcelain kitchen tile.
With such a variety of requirements, the designers clustered spaces around function and imbued each with a distinct sense of personality and character. Light-filled studios boast professional quality equipment, as witty and colourful meeting rooms support networking, professional integrity, and calm simple spaces that are interjected for quiet, focused work.
Glazed meeting rooms have unique personalities as well, with a huge wall of flowers, a luxurious cork and brass cocoon, a crisp black and white design for Launchpad's partners, HXOUSE. The Commons is comfy, filled with an eclectic mix of modern and reclaimed furniture, even including a mobile faux fireplace, all of which can be easily reconfigured for different purposes, helping the users to feel at home.
With an understanding that oftentimes artists and creative entrepreneurs are accustomed to working in older, repurposed spaces that may not ideally support their practices, the designers acted to elevate the design through a familiar eclecticism within the newly constructed space. Deliberately establishing an environment that blends ideal working conditions with seemingly ad-hoc and playful elements, as splashes of colour and reclaimed furniture economically create memorable interior focal points that make the creative community feel relaxed and at home without distracting from their work.
Related
ARIDO Award: School of Continuing Studies

Interior and exterior are in dialogue at York University's new School of Continuing Studies building. The interiors respond to and compliment the unique exterior geometry of the building. This strat ...

ARIDO Award: CIBC Conference and Learning Centre

A people focused approach was the starting point for this new three floor conference and learning centre in Toronto. The client needed a space where they could host executive and employee training, as ...