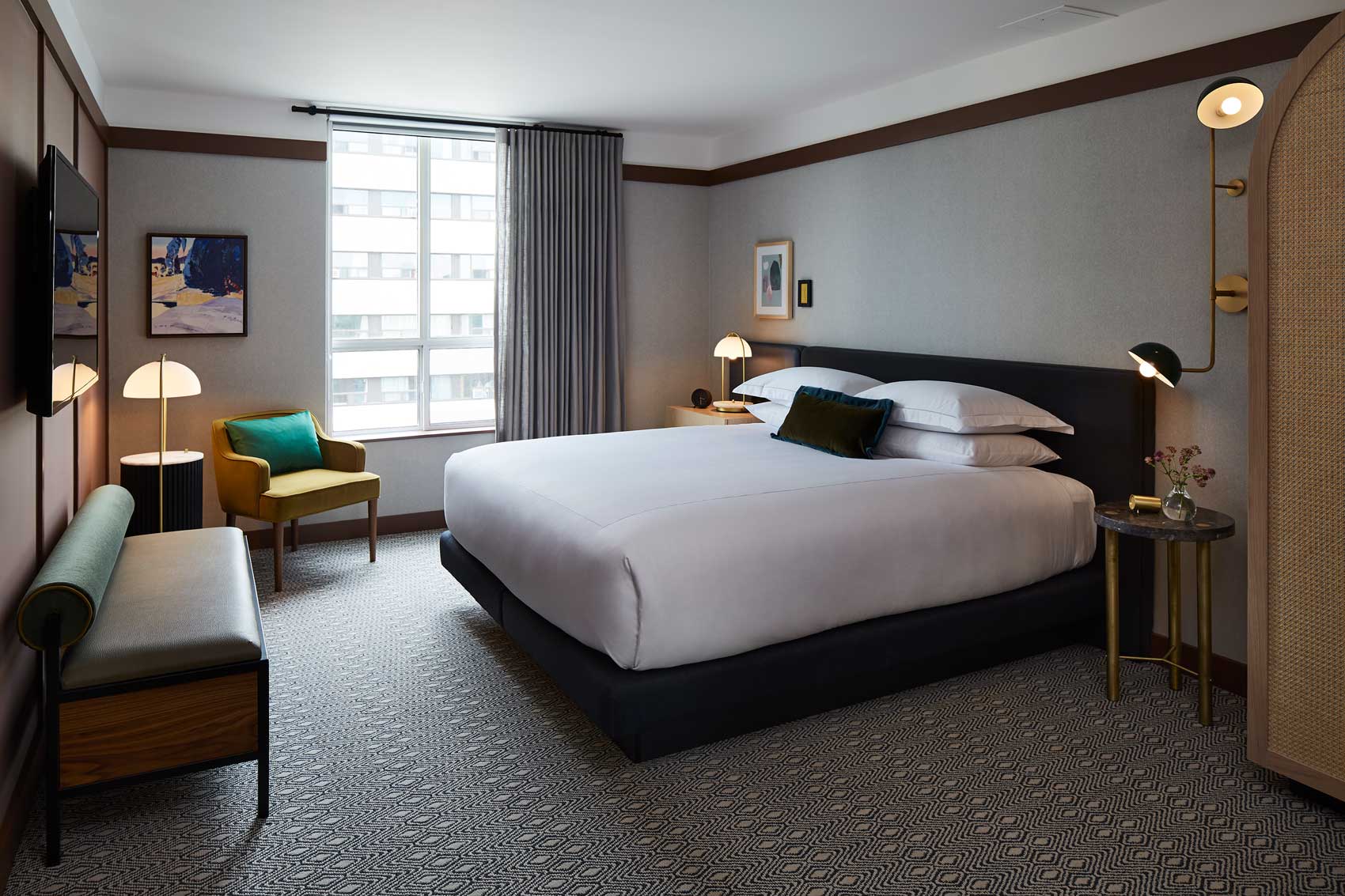 Bringing Home to Hotel Design at the Kimpton Saint George Hotel
188 guest rooms, fourteen stories, and one common goal: to integrate elements of Toronto's culture and personality and provide guests with a distinct sense of place. Our team responded to this vision with a design that communicated a narrative of local pride, diverse heritage, and contemporary culture to create the Kimpton Saint George Hotel.  The boutique hotel brand, Kimpton Hotels & Restaurants is renowned for individually designed boutique hotels positioned to reflect the cities they inhabit. Completed in 2018, the Saint George Hotel, Kimpton's only hotel operating in Canada, is situated in the heart of Toronto's Annex neighbourhood. 
Interior Designer: Stanley Sun, ARIDO; Ashley Rumsey, ARIDO
Design Firm: Mason Studio
Design Team: Marti Hawkins, Intern, ARIDO
Project Photographer: Naomi Finlay
Its design celebrates Toronto's layered history and sensibilities. An investigative approach was taken to dissect and analyze the city's vernacular to better understand key materials,  patterns, and nuances that would resonate as indicators of local culture and significance. The diversity of the city's heritage and culture with its distinct neighbourhoods is explored through locally designed furniture, original artwork, natural materials, and strong interior architectural forms that pay homage to Toronto's varied architectural style and eras. The design concept is expressed in every facet of the hotel, beginning at the street level with an exterior black wood awning punctuated with small pin-like lights, spelling "Kimpton" in Braille lettering. This lighting feature is a subtle nod to the iconic marquee signs that once occupied the neighbourhood.
Upon entry, the reception area features a marble desk framed with wooden arches, backdropped by a hand-painted mural of a misty Toronto-inspired scene. Adjacent to reception is a guest lounge, designed to feel like a living room. The space is occupied by a collection of bespoke furniture, artwork, lighting, and objects, many crafted by local makers that continue to tell the story of local culture and design. A 400-square foot lounge situated on the main floor is realized in darker, more saturated tones to convey a feeling of warmth and intimacy. The adjacent 1,100-square-foot meeting space, named the Peregrine Room, is, by contrast, bright and spacious. The change in mood between the lounge and the meeting room reinforces the concept of distinct neighbourhoods within the city. 
The guestrooms, suites, and generous presidential suite are a continuation of the nostalgic nod to the layered heritage of the neighbourhood. The rooms were designed with a residential approach including a collection of art, custom-designed furniture and lighting, seemingly collected over time. Every element in the suites is carefully designed to provide guests with an experience parallel to a well-appointed apartment in the neighbourhood, offering guests a warm alternative to more traditional hotel accommodations.
This project was also awarded an ARIDO Award of Excellence in 2019.
Related