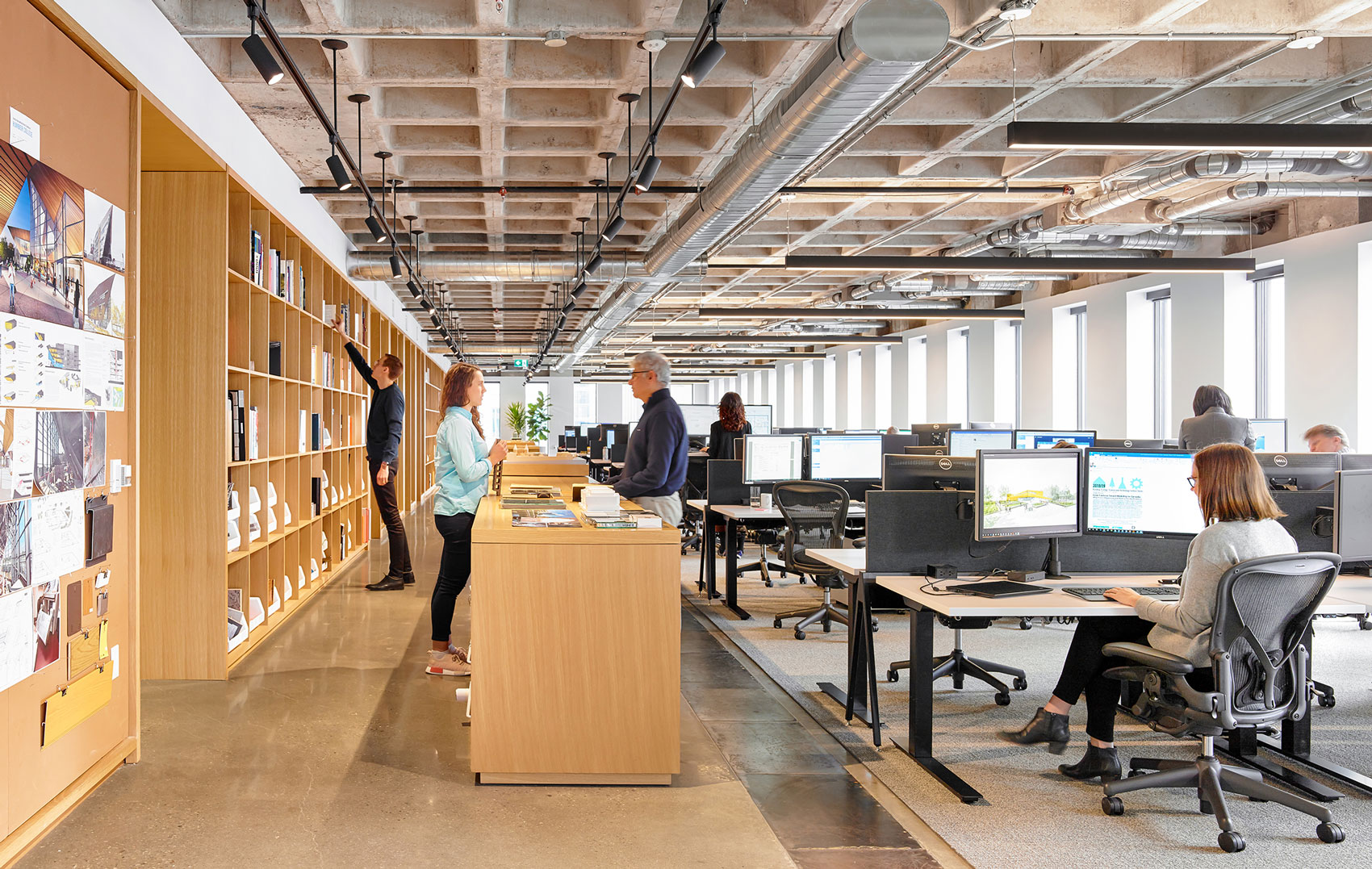 A data-driven approach provides a fresh path for this design studio
Developed for an interdisciplinary design studio that leads the industry in sustainability and healthy environments, this project was conceived as a transformation not only of a workplace, but of a design environment and culture.
Interior Designer: Janine Grossmann, ARIDO
Design Firm: Perkins and Will
Design Team: Martha Del Junco, ARIDO; Joanne D'Silva, ARIDO; Preethi Sreedhara, Intern, ARIDO; Tsvetelina Rabashki, ARIDO; Diana Smiciklas, ARIDO
Project Photographer: Scott Norsworthy
The client's move from a previous midtown location was driven by three goals: to improve access and opportunities for active transport for employees, prospective employees, and clients; to strengthen the studio's connection to the design culture of the city; and to 'walk the talk' within a physical environment that embodied sustainable, forward-thinking design excellence.
While occupying a generous footprint, the firm's existing studio was compromised in form and function. One-size-fits-all workstations didn't support the full range of behaviours required for an interdisciplinary and creative team, a lack of break-out and meeting spaces limited collaboration, and the character of the space didn't reflect the brand and culture of the growing firm.
A data-driven approach allowed us to re-imagine the vision, program, and design of the studio while also increasing efficiency. A comprehensive usage analysis of the existing studio showed that less than 60% of workstations were occupied at peak times, more than 80% of meetings involved four people or fewer, and the most common size of meeting was two people. This data, in conjunction with visioning sessions, staff interviews, pilot programs, and prototyping, allowed our design team to guide the client to a radical new program that reduced floor area by almost 25% while dramatically expanding the range of spaces and program offerings.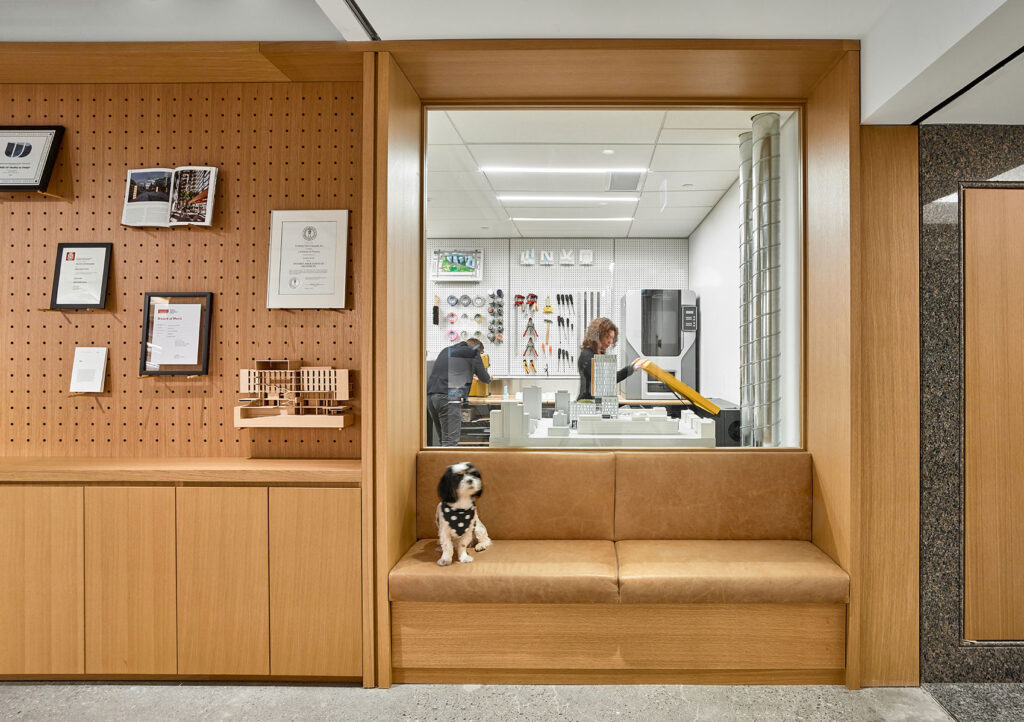 The design leverages the raw qualities of the base building to create an inspiring new environment. The existing space was stripped back to celebrate its robust concrete structure and distinctive waffle slab ceilings, connecting the studio to the city's modern architectural heritage. Within this shell, a finely-crafted millwork chassis defines three flexible spaces, organizes cellular programming, and provides a refined contrast to the underlying architecture. Integrating glazing, display, storage and pin-up space, the chassis acts as both spatial threshold and showcase for the firm's process and work.
The open studio is a "ME" space of 54 free-address workstations supported by focus rooms and collaborative space. The Salon is a reconfigurable "WE" space for charrettes, design reviews, and events. The Lounge is the office's "US" space: a welcoming entry and the social heart of the office. Overall, while the studio's footprint decreased, the number of seats increased by almost 50% – providing a greater range of supportive environments that allow staff to choose where, when, and how they work.
A timeless and natural material palette reflects the client's commitment to sustainability and material health: every material used was screened for ingredients with known health impacts, and the project is certified LEED® v4 Gold and Fitwel 2 Star rated. Lush plants and abundant daylight bring nature into a dense downtown location.
The resulting studio is a living laboratory that fuels design innovation and excellence while prioritizing wellness, inclusivity, and sustainability - meeting the client's programmatic needs while embodying their most important ideas and values.
This project was awarded an ARIDO Award of Merit in 2019.
Related
ARIDO Award: Elevator Cabs

The challenge of this elevator cab redesign was to create a mobile portal between a well-aged ground floor lobby that would seamlessly integrate with each of the floors above. Category: DISTINCT Inter ...

ARIDO Award: The Hive

The first of its kind in Canada, this 3D printed masonry wall is the result of a collaboration between design professionals, students, and faculty at an Ontario university. Category: CRAFT Interior De ...