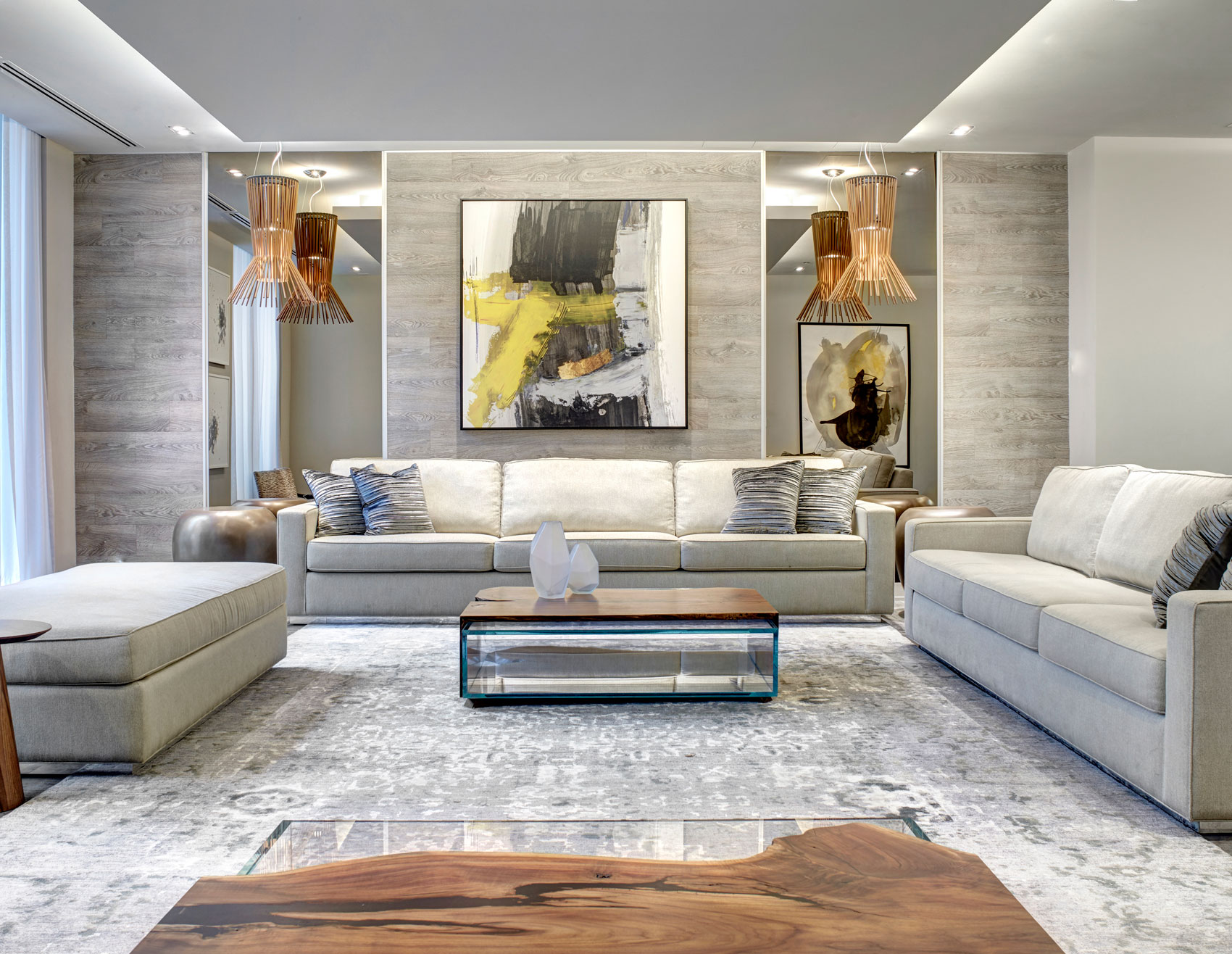 Inspiration was locally-sourced for this luxurious downtown Toronto condominium
Situated at the intersection of Toronto's landmark financial and heritage St. Lawrence Market districts, 88 Scott was an opportunity to create a standout, luxury downtown residence.
Interior Designer: Kelly Cray, ARIDO
Design Team: Neil Jonsohn, ARIDO; Christianne Barbuto, Intern, ARIDO
Design Firm: U31
Photographer: Jac Jacobson
Standing proud at 58-storeys, this condominium is anything but meek. The towering neoclassical-style structure demanded an interior as impressive as its presence at the corner of Scott and Wellington. The design was largely guided by our client's directive to take a 'Canadian Moderne' approach which involved looking to Canada's natural landscape for inspiration. The result is an urban oasis that's rooted in references to nature.
The experience begins in the 1,500 square foot hotel-style lobby where dark and light coexist to create a dramatic statement. We established a warm and engaging entrance by combining textured and polished stone backgrounds with walnut-paneled walls and screens. Guests are welcomed by Euro-inspired seating that encourages lounging and a double-sided "Ocean Black" slate fireplace that provides a cozy spot for escaping the cold. The fireplace serves as the focal point of the space and overall, contributes to the grand, sophisticated flavour of the lobby.
With the executive demographic target purchaser in mind, we designed a 1,800 square foot business area adjacent to the lobby. This zone contains private workstations, a boardroom, and a lounge for the convenience of residents.
An extensive amenity program was the key to cultivating a luxury lifestyle for 88 Scott's residents. The amenities are located across the building's sixth and 46th and 47th split levels (spanning 10,400 square feet total) and include everything from wellness-oriented offerings to entertainment-geared experiences. The sixth floor consists of a fitness centre and a social area featuring a sophisticated party room complete with a kitchen and bar. Unique art pieces animate key areas of the party room: a geometric wood 'stack' installation emphasizes the grand fireplace while hand-crafted coffee tables complement lounge seating arrangements.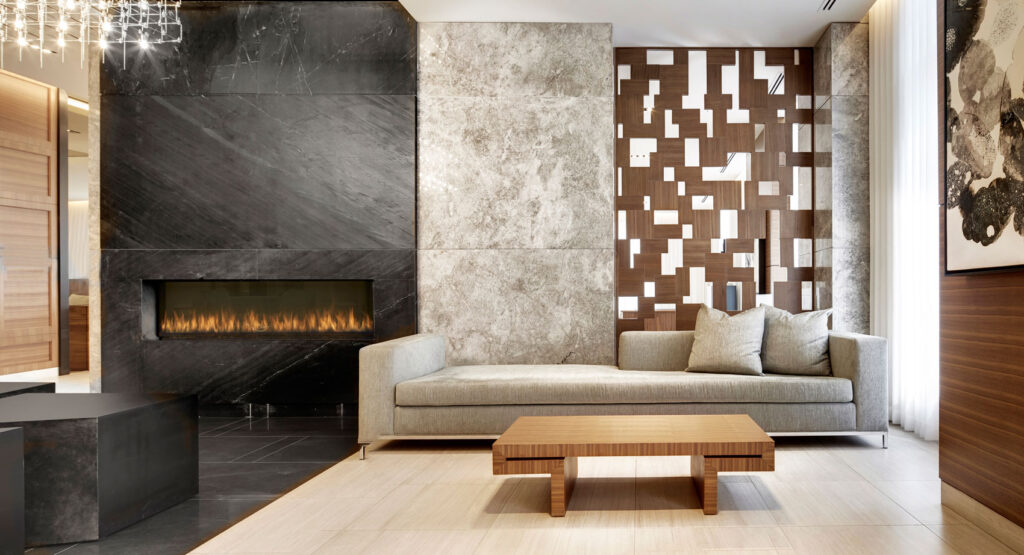 In the 46th and 47th split level 'Sky Lounge' and private dining room, we created a vibrant urban atmosphere by incorporating large windows that frame views of Toronto. By day, the space is bright and airy, while by night, a moodier atmosphere emerges as skyscrapers and Lake Ontario glimmer in the distance. The 'Sky Lounge' interior features a combination of raw textures (seen in the wood floors and stone fireplace surround) against more glamorous, fabricated finishes (seen in the mirrored ceiling and lush upholstery fabrics).
One of the main challenges of designing 88 Scott was delivering a high-end yet cost-effective result. For instance, the lobby chandelier, which was originally quoted from a European manufacturer, had to be substituted by a local supplier to accommodate budgetary constraints. Fortunately, the final result achieved the sumptuousness we had envisioned.
Challenges continued as the building's heritage designation required us to leave architectural elements, like windows, untouched. Since we couldn't alter the imperfect window openings and sill heights, we added white sheer drapery throughout the lobby to disguise the irregularities.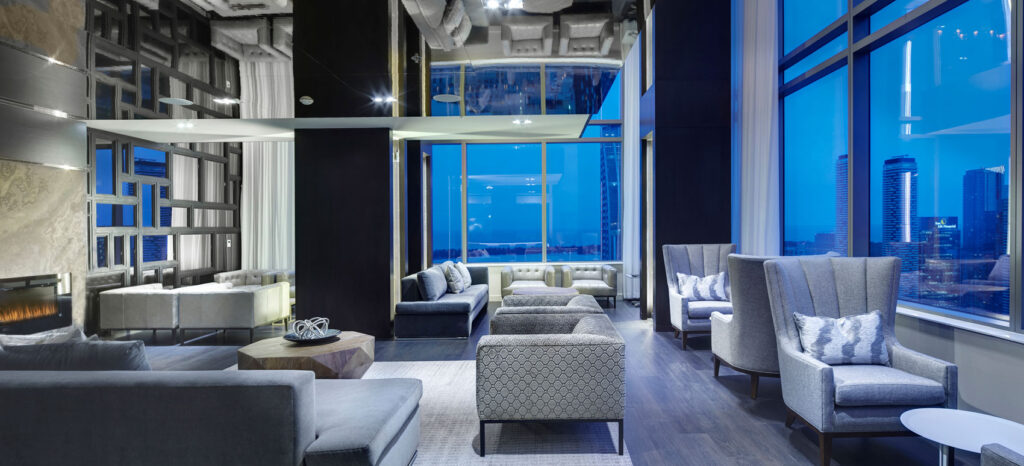 Since the project's completion, residents have been taking full advantage of the condominium's many offerings. The building's lobby is much more than a spot to wait for an Uber: residents regularly spend time in this space catching up on emails and meeting up with friends before they head out on the town.
This project was awarded an ARIDO Award of Merit in 2019.
Related
ARIDO Award: Cavana Ridge Spa

Cavana Ridge Spa is a lofty hospitality project that presents a beautiful balance of design challenges and inspiring potential. Our team's mandate was to transform a run down, vacant water testing f ...

ARIDO Award: York Condos

York Condos is a three-building complex in Markham, Ontario. The buildings line an above-grade parking structure crowned by an extensive landscape and amenity terrace providing a shared community spac ...