9 tips for Resilient Restaurants
2020 has taught us all a lot of tough lessons—even ones we couldn't have possibly prepared for. When it comes to restaurant owners, one of the biggest takeaways from 2020 is the importance of having the flexibility to adapt to situations as they arise. Many restaurants throughout the industry have shown a great ability to do exactly this by incorporating resilient design into their restaurant layouts. During a time that has made it tough for even the most stable businesses to stay afloat, restaurants have surprised us all with their creativity and drive. And in return, communities have come together to help support these businesses.
Over the past year we've seen restaurants adapt in order to succeed, by doing things like:
Switching to a delivery/takeout-centric model.
Creating outdoor dining spaces
Making changes to their interior design to meet guidelines and promote safety
Finding creative ways to sustain their revenues and business
In this post, we outline some restaurant interior design tips that will help you create a beautiful space, while still giving the flexibility to adapt and change depending on what's thrown your way.
1) Create flexible seating & displays
This one is pretty standard, so it's likely you're already doing this if your restaurant layout allows for it! A great way to create a resilient interior design for your restaurant is to incorporate flexible seating and displays. The need for this flexibility has been highlighted more than usual with social distancing being a requirement in restaurants and commercial spaces for the foreseeable future, however, it's important to make sure this is a part of your restaurant's design at all times.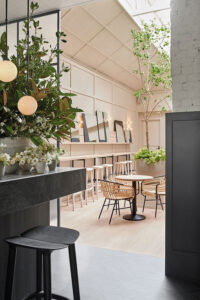 When design is done well it should have the flexibility to change and adapt to accommodate whatever new situations arise.
2) Make designated areas for takeout and delivery
With takeout and delivery currently on the rise, the restaurant industry is seeing the importance of having a designated area for the pickup of these types of orders. Yes, this will help with the current need for social distancing, but that's not all—this is a form of resilient design that is applicable at all times. It can help to reduce crowding at the front of your restaurant while people wait for their orders, and it also makes for an overall better experience for your patient customers.
If your restaurant layout allows for it, one of the best options is creating an actual take-out window like the one pictured. Turn a regular window into a space where people can easily pick up their online orders or make a quick purchase as they're passing by. It can even be used by outdoor diners as a spot to place orders to speed up the ordering process.
3) Make use of moveable partitions or moveable glass dividers
The use of moveable glass dividers is a great way to ensure social distancing and give peace of mind to both customers and employees of the restaurant. They give a clear separation between diners without making them feel boxed in. The ability to move these glass walls /partitions is key as it will allow for flexibility—if tables need to be pushed together to seat a large family, the barriers can be moved to fit around the new seating arrangement. A great way to achieve this flexibility is to install tracks or wheels at the bottom of the glass dividers for ease of movement.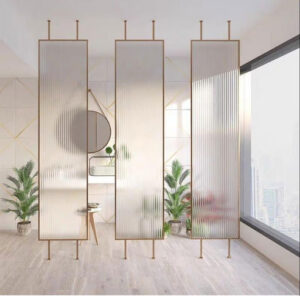 And who says partitions or dividers need to be boring? For example, you can be creative by using fluted or reeded glass to create more of an architectural statement. In addition to being beautiful, these glass partitions create privacy for diners while still giving a more open feeling by allowing light in.
4) Be creative with your restaurant's empty space
Implementing social distancing in your restaurant doesn't have to be boring. Try doing something interesting instead of simply having six feet of empty space between tables. This can be as simple as putting a plant or a prop in between tables, or something more out of the box such as having mannequins seated in between. If you're looking for more creative ideas and strategies for your space, hiring an interior designer will definitely help! Just look at this fun and super cute example of restaurant Maison Saigon and their stuffed pandas.
5) Add a display for impulse buy items at the entrance/waiting area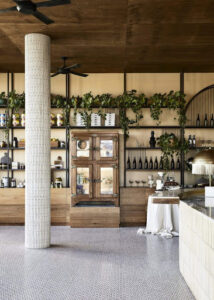 With limitations on the amount of people allowed in a restaurant at a given time, along with the increasing amount of people resorting to takeout, it's likely that people will be waiting at the entrance of your restaurant for longer than usual. Why not take advantage of this by creating a display to show impulse items such as take home meal kits or sauces, gift cards, branded merchandise, home and kitchen goods, snacks or treats.
If you're looking for more creative ideas and strategies for your space, hiring an interior designer will definitely help! The ideas are endless and you can really have fun with this one.
6) Hand out free samples or coffee for those waiting in line
We've all experienced this before—the waiting game for one of our favourite restaurants. With capacity restrictions and social distancing in place, many restaurants, coffee shops, boulangeries and alike are experiencing long wait times. One way to keep those loyal customers in line is to hand out free samples.
Heck, you can even offer your restaurant guests a cup of coffee or tea while they wait outside—this will be especially appreciated during Toronto's cold winters! Not only does this help them enjoy their time in line, but it also may assist in line drop off (keeping people around for longer than they'd usually like to wait).
7) Utilize social media to get traffic to your store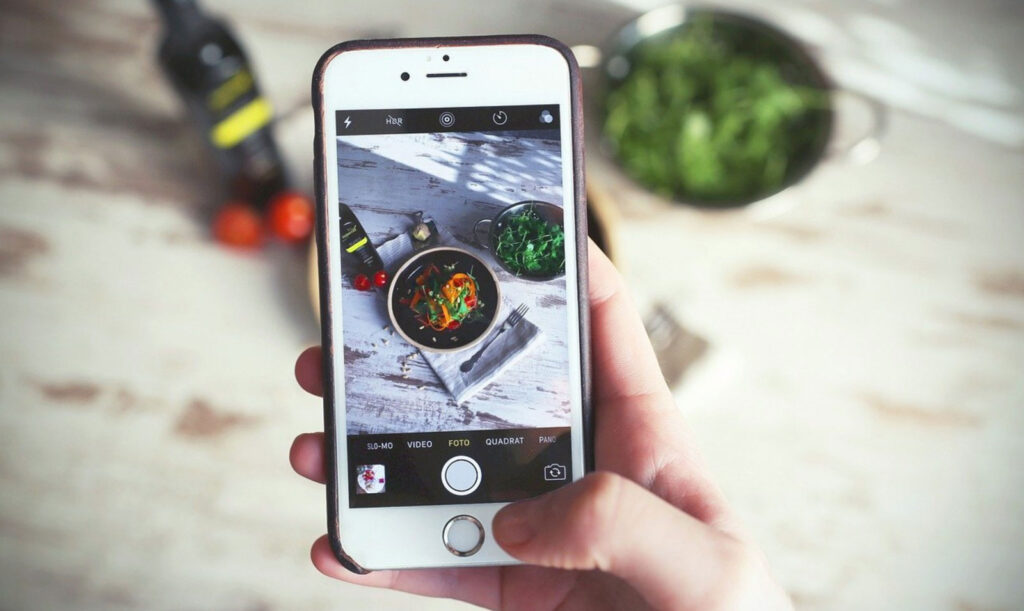 Social media is often where people go to learn more about your business. Well, that, and Google. One way to draw more foot traffic to your restaurant is by hosting flash deals, giveaways, and even fun window display shows or activities. For example, you can say the first 15 people at your restaurant on a given day will get something free. This can also help to spread the word about your business, grow your social media presence, and in turn increase your profits.
8) Infuse touches of the story around the store
Unless you're a local mom and pop shop that has already grown roots in your community, most restaurants need to stand out with their interior design. This doesn't mean every restaurant needs to have wacky colors on the walls, but it does mean that your interior design should be intentional and reflect your unique brand.
Remember, the design of your restaurant has to tell a compelling story. The best way to improve your restaurant's interior is by infusing your story into the various elements, finishes, spaces and create moments of awe.
9) Provide pods or dedicated zones for "private" nooks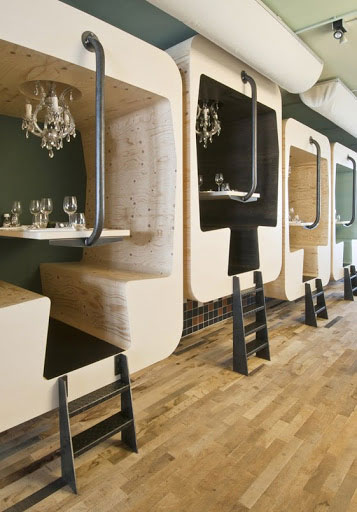 A great solution for implementing social distancing in a restaurant setting is to provide pods, or create "private" nooks for diners to eat. Not only will this separate diners from one another to help stop the spread but it will also provide a more intimate dining experience for them to enjoy. Yes, creating pods, or "private" nooks can help with the current need for social distancing, but this type of resilient design is beneficial in many other ways as well. This type of seating is a great way to create some privacy, and promote a more intimate dining experience. Below is obviously an exaggerated example of what pods can look like in a restaurant, but you can still have fun with your layout to make it feel more safe and cozy for your visitors.
2020 has been a tough year for everyone, but Covid-19 has been especially difficult on the restaurant industry. Through all this, one thing that has been amazing to see is the resiliency that restaurant owners and workers have shown, and their ability to adapt to a difficult situation.
By incorporating some of the above tips into your restaurant's interior design, you'll be able to safely welcome restaurant-goers in style, no matter what life throws at you. If you're based in the Toronto GTA and are looking for some restaurant design assistance, we're here to help!
Sansa Interiors was born out of a passion to create spaces that are comfortable, functional, and inspiring. We take a holistic approach, which enables us to study and explore each interior space differently. Every client is unique, and every design should be unique, too. If you're interested in learning more, send me a message, and let's find a way to help improve your space.
Related