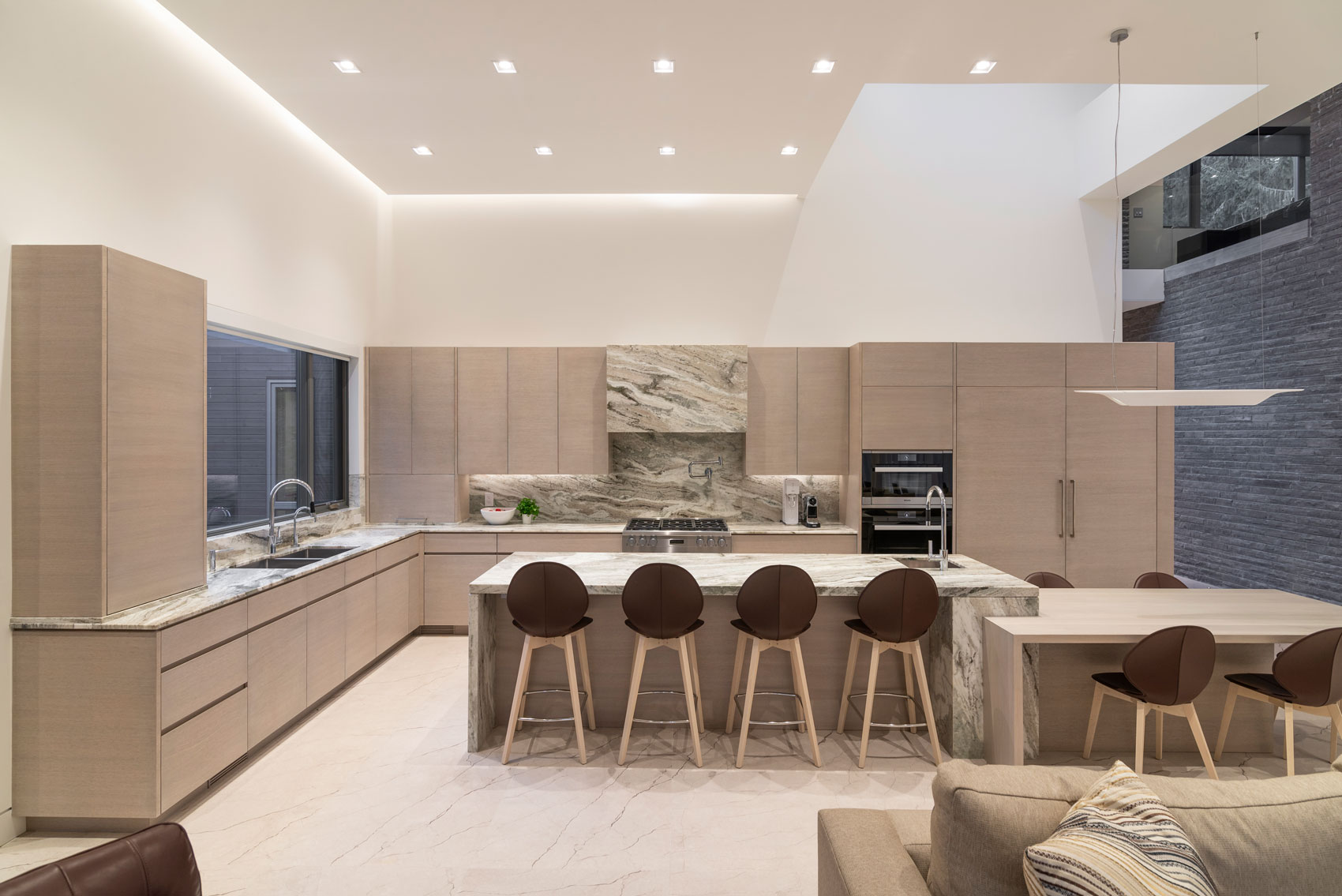 This home is a marriage of minimalism and tradition
An elegant residence located in Mississauga made for an interesting project for our design team. Our clients had different views about how their home should look and feel, one wanted a modern and minimalist space, while the other was set on more traditional styles that reflected their current home. Our clients needed to feel at home in their new space, so we aimed to find the common ground between their different styles as it was paramount to the success of this project.
Interior Designer: Dana Kosich, ARIDO
Design Firm: Hiatus Design Ltd
Design Team: Kelly Breiter, Intern, ARIDO 
Photographer: Dana Kosich, Eric Malinski
The overall design for the project was influenced by the minimal exterior created by the architect and setting the tone for the design vocabulary in the interior. This compelled us to keep ornamentation to a minimum and respect the architecture while maintaining a warm and inviting atmosphere. In an effort to appease the client's differing views, it was important to strike a balance between minimalism and tradition.
A significant interior element included a staircase located in a prominent area by the architect. We needed the stair to be sculptural and worthy of its position in the home. Following, the lighting had to be handled with the utmost care to acknowledge the minimal design approach. Decorative lighting was kept to a minimum and one of the goals was to have the surfaces glow so that the effect of the light was appreciated without seeing the fixture itself.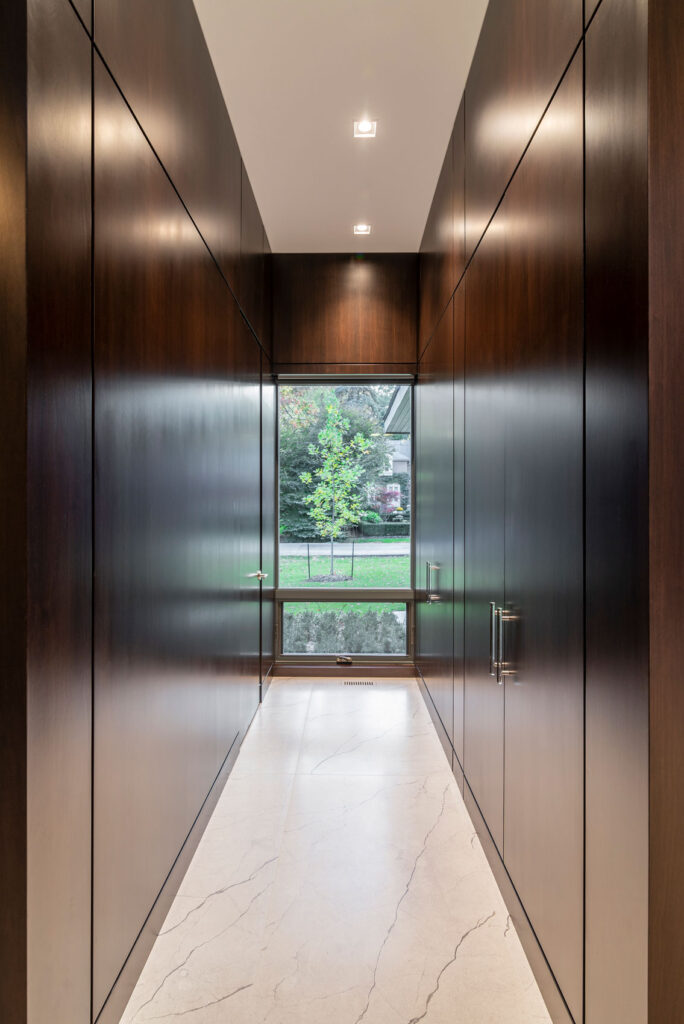 Basic functional requirements like the front hall closet, elevator, and powder room door were elevated to an artful experience. The foyer amenities were completely concealed within walls paneled with warm wood. A floating stair provided a sense of weightlessness and became a focal point, while our use of ceiling coves and recesses concealed the sources of illumination, so surfaces appeared to glow.
We designed a welcoming, open kitchen with a long island and integrated table for large gatherings. This was accompanied by a balanced use of wood and stone that created a sense of warmth. Large expanses of windows and lack of wall surfaces made it difficult to find a TV location, so a custom automated TV cabinet was designed using a motorized lift. We reworked the plans to include separate bedrooms, closets, and en-suites as this was important to the clients. This created smaller spaces which made detailing even more important to the success of the project.
To allow for large parties, the lower-level recreation/theatre room was outfitted with another kitchen. A dual-sided fireplace separates the games room from the home theatre, which reinforces a sense of coziness. The retractable movie screen was carefully situated between the mechanized fold-away doors.
This clever placement allowed the screen to serve the room and retract when not in use, preserving the views. The projector along with dinnerware was strategically hidden in a wall of sculptural millwork. Custom-designed furniture provides ample seating for guests while the wine room invites you in behind a glass wall and a showcased wine display.
Lastly, in a home of mostly glass and very little wall, it was difficult to locate basic necessities, so our challenge was to pull it all together thoughtfully. This magnificent residence started with separated views, but we pulled together a beautiful marriage of minimalism and tradition.
This project was also recognized with an ARIDO Award of Merit in 2019.
Related
Luxury with a view

Sometimes the shape of a room dictates the furniture and millwork layout. In the case of our Esplanade project, the open living, kitchen, and dining room had an unbelievable view of Toronto with the w ...

ARIDO Award: Elevator Cabs

The challenge of this elevator cab redesign was to create a mobile portal between a well-aged ground floor lobby that would seamlessly integrate with each of the floors above. Category: DISTINCT Inter ...