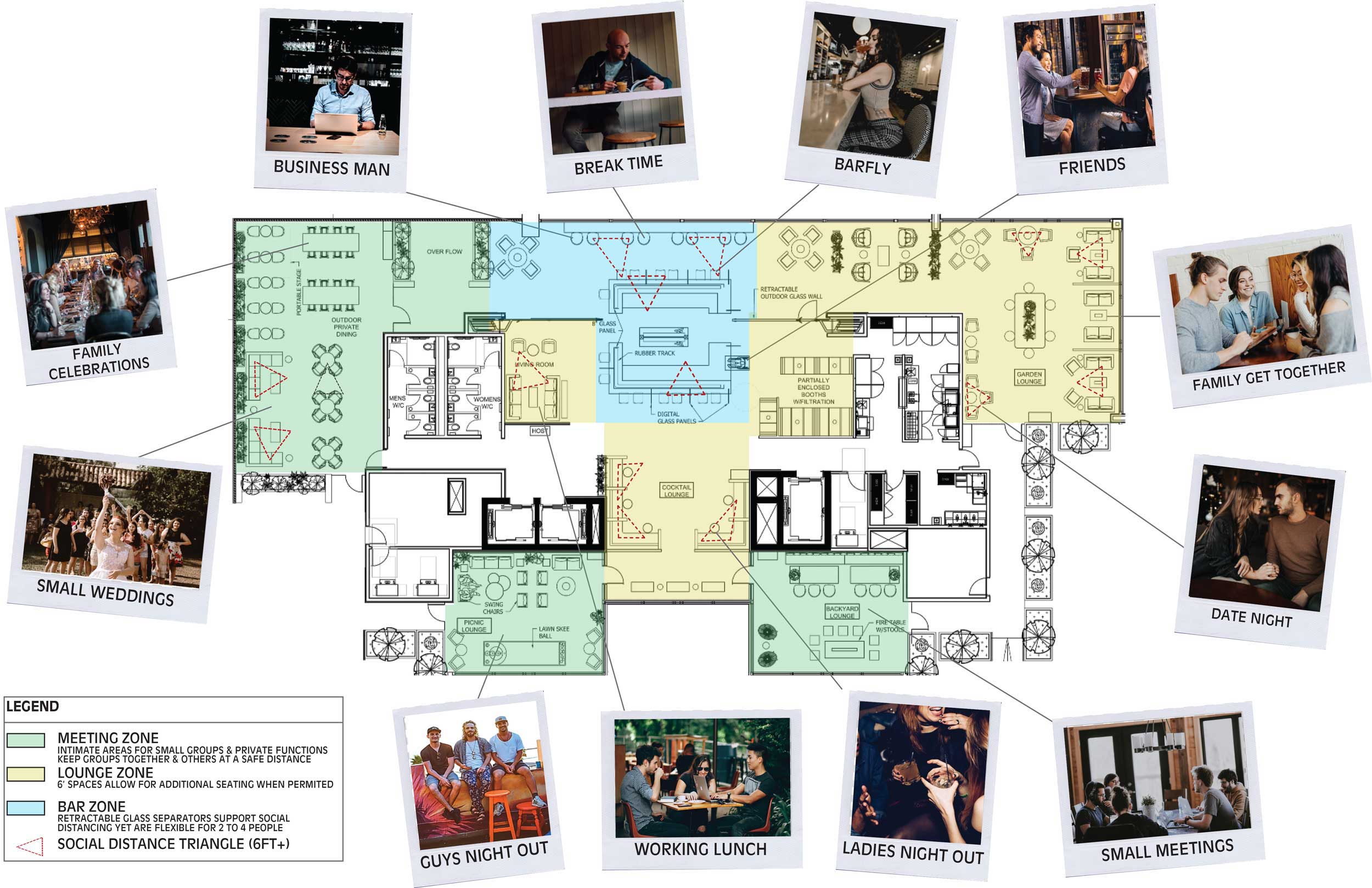 Beyond COVID-19: How the pandemic will shape restaurant design
As the pandemic continues, there is a change in how we live our lives in all aspects. It is commonly referred to as the "new-normal".  With this restaurant/bar concept we focus on a rooftop design, as outdoor spaces are proven to be safer in preventing virus spread. Could this be the "new-normal" in restaurant design?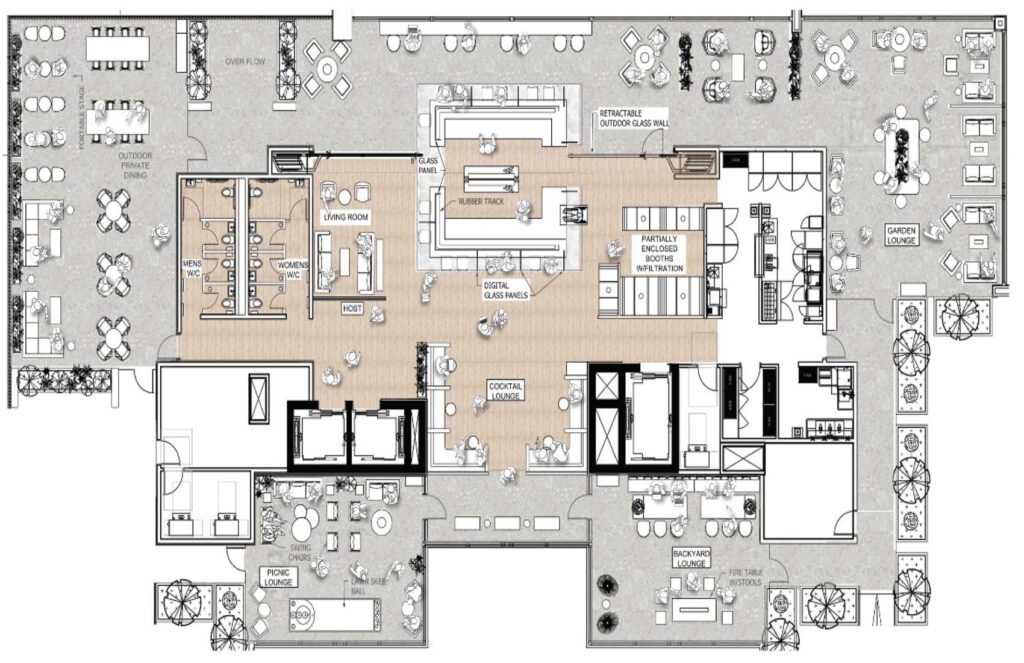 RESTAURANT / BAR
This floor plan depicts our Room-within-a-Room™ philosophy, which is critical today, not only for social distancing but for the security and safety of the guests and staff. As you walk through the space, you can see the fiancée meeting the parents of the bride for the first time; a group of guys getting together in a room to play games and watch sports; the book club that meets every month; family gatherings; the couple out for a date; the single business travelers wanting a drink while catching up on emails and the happy bar fly wanting to socialize with others.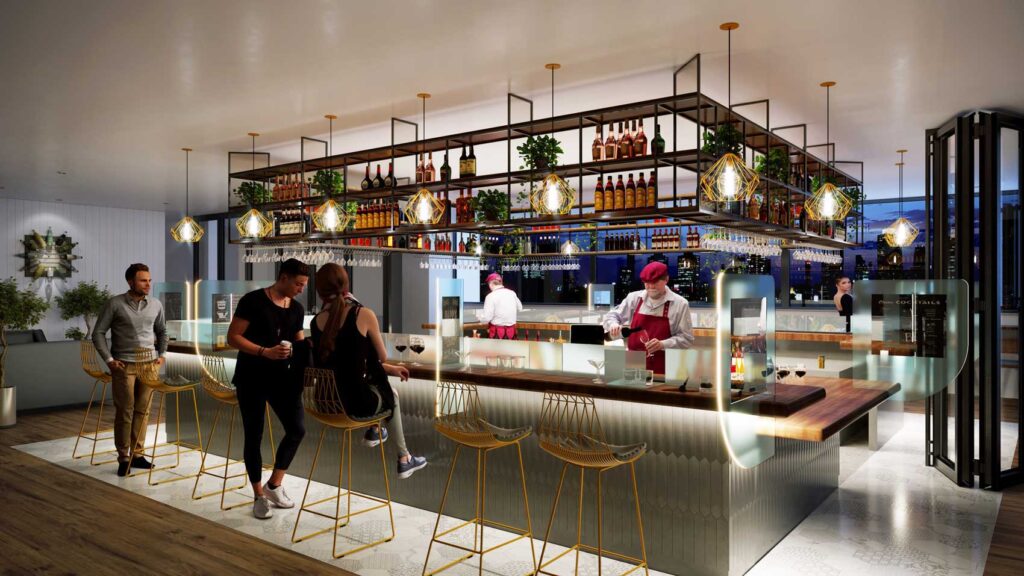 The bar limits direct contact between the bartender and patron with a deeper counter surface and a conveyor system behind Plexiglas. When the drink arrives at the allocated seat, the small glass panel will retract into the bar and redeploy once the drink is safely in the hands of the thirsty customer. To separate the bar guests, there is a glass divider panel between each grouping of two people. The dividers can be lowered to allow groups of three to four to sit together. In addition, the glass will be digitally interactive where menu items can be ordered, and where weather, sports and the latest news can be viewed.
Throughout the restaurant, individual booths give off a sense of being ensconced in a comfortable cocoon with full wall surrounds, a Hepa filter cleaning the air inside. These booths are popular as they add privacy and an air of exclusivity.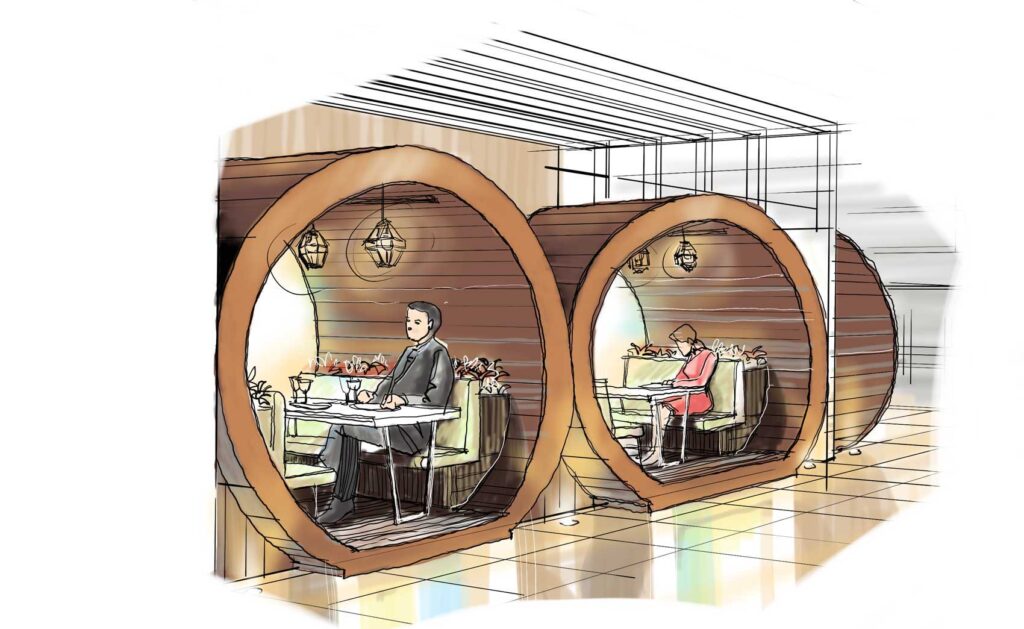 The Room-within-a-Room™ concept works well as the world slowly transitions to the "new normal". It offers customers the comfort and security needed to enjoy a night or day out from isolation. Also it provides instant recognition by the guest that these individual spaces distance them from other guests, making it feel safe to enter. To top it off, it has multiple unique pockets of interest that creates a fun roof top bar drawing people to this hot spot.
Related