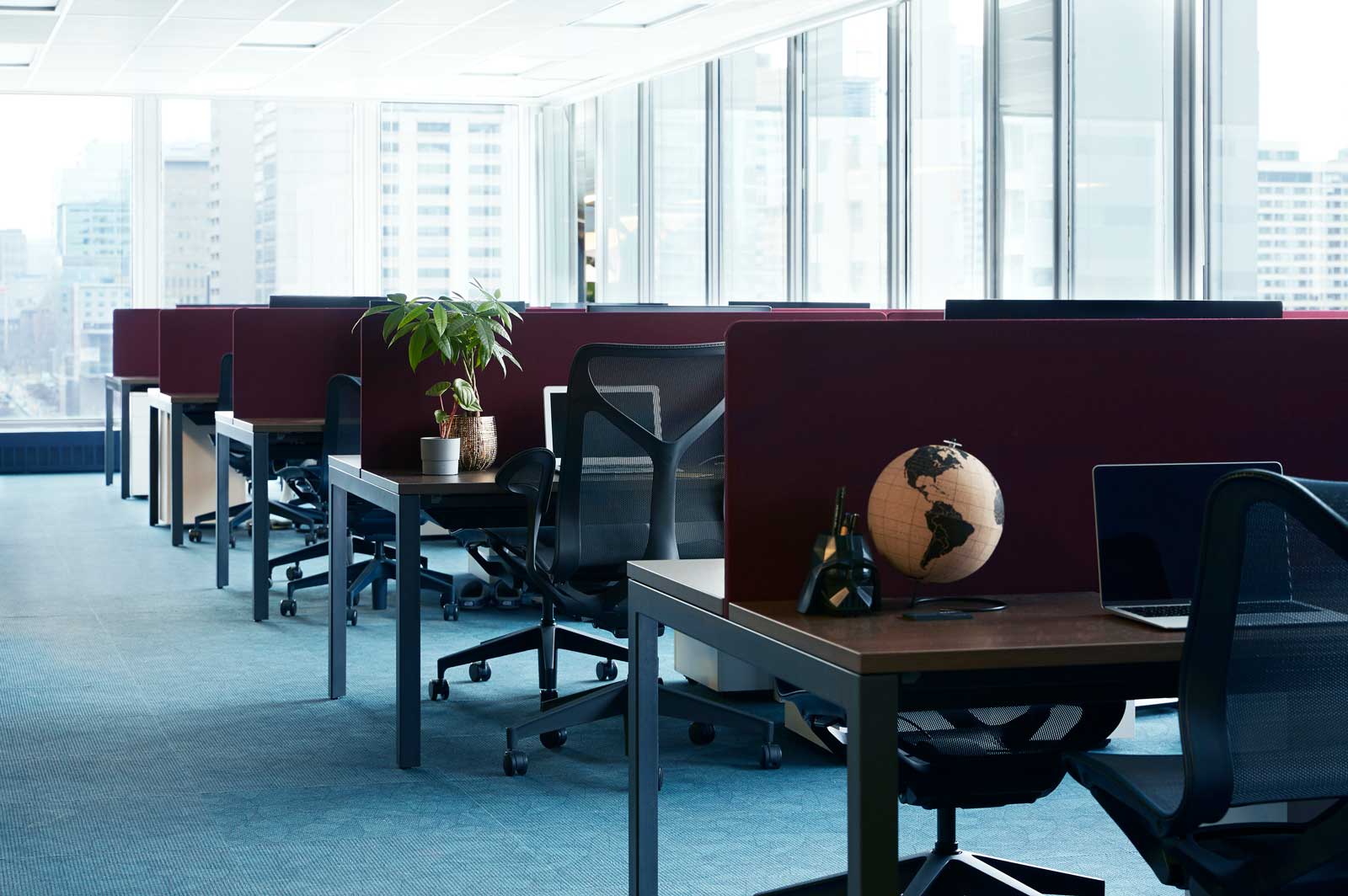 A new startup model in a tired industry deserves a unique workspace
Clearbanc is making waves in the investment industry, disrupting the standard model of a traditional firm by providing cash for ads in exchange for revenue share. A much more appealing option for e-commerce start-ups than the typical path of pursuing a venture capitalist and giving up equity. A new business model in a tired industry deserves a workspace that is just as unique. And thus the moniker "Not your average tech office" was born.
Interior Designer: Dyonne Fashina
Design Firm: Denizens of Design
Project Photographer: Naomi Finlay
Co-founders Andrew D'Souza and Michele Romanow (of CBC's Dragon's Den) wanted the space to feel comfortable for staff while remaining ambiguous in design by avoiding the brand specific approach we have come to expect in tech office culture. Instead, the project aims to provide a setting that has the team excited to head into work each day.
The project has the typical programmatic requirements of a workspace. With a relaxed team of client's the opportunity was left open for the design direction to come to life through the process.
What started out as a joke in the initial concept meeting developed into something celebratory and relatable for the, mostly millennial, staff. Michele, a bonafide Khaleesi inside the Dragon's Den, inspired an image of Daenerys Targaryen (Mother of Dragons from HBO's Game of Thrones) in the design package. While Andrew plays the part of Dothraki Chieftain Khal Drago; we couldn't resist the reference. The team had a good laugh and then continued on with the design without a second thought about it.
In present day culture, social media memes, buzzworthy spaces, and iconic series' have somehow earned divine status. So when we realized the design had inadvertently taken on unscripted nods to Game of Thrones in the midst of its final season, we decided to run with it and poke a little fun at these notions.
Bold jewel tones transition across the workspace to define zones as a source of wayfinding; colour blocked and angled along the walls to mimic the dramatic shadows and light – typical of most scenes in the show. In the northern end of the space, emerald green prevails in the form of a textile composite flooring and a misty forest mural. A calming setting for the fast pace work environment, leaves you hoping to catch a glimpse of Jon Snow on route to the castle of Winterfell.
While in the south, ruby red velvet draperies in archways add visual and acoustic privacy while modern cabinetry in old worldly dark walnut coupled with flashy brass fittings provide the ultimate setting fit to serve
Her Grace. Each area is defined by a shift in colour, feeling, and quality of light; playing well into the essence of the Seven Kingdoms of Westeros. The result is fun, tongue-in-cheek and moderately referential of the series.
Clearbanc is growing at a rapid pace, making this design suitable for a short term space as they look for a permanent home. The majority of the furniture and custom items are modular and can be taken on to their next space, fitting well into any design setting.
Related