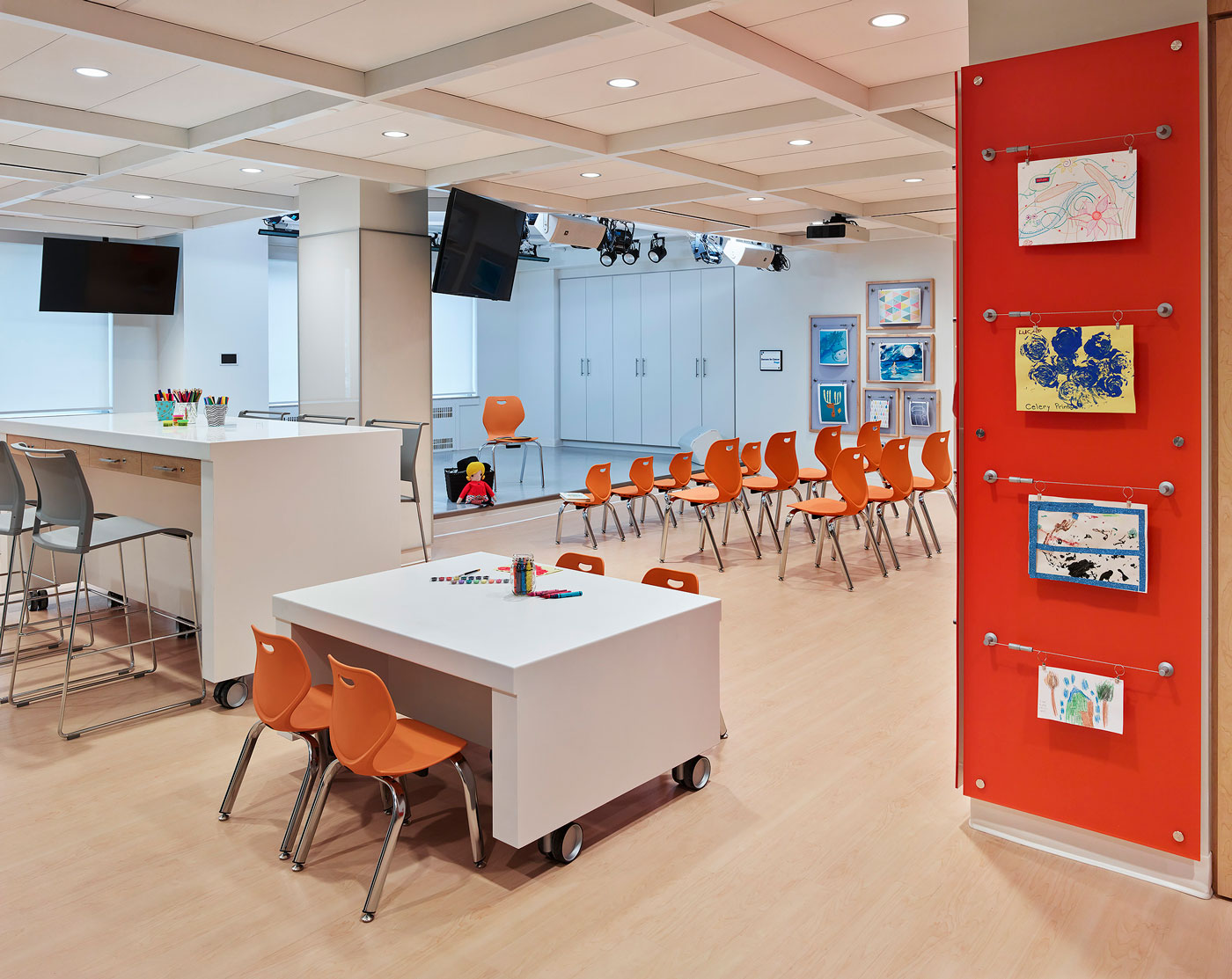 Creativity is a healing force at Marnie's Studio, SickKids
The Marnie's Studio project at Sick Kids Hospital transformed the existing Bear Theater into a multi-purpose art and performance space. The original theatre space resembled a forest with dark colours, murals of forest scenes, and heavy dark drapes that kept daylight out.
Interior Designer: Andrea Langham, ARIDO
Design Firm: Parkin Architects Limited
Project Photographer: Richard Johnson
With this redesign, the client and the kids wanted a clean and contemporary space, light-filled, and flexible to accommodate different activities and children, ages 4 to 18 with varying levels of mobility. Because the hospital couldn't accommodate a serious renovation, existing walls, doors, and window frames were reused and repainted, while the HVAC system was maintained.
The space now includes a media centre for film/music, complete with a recording studio, a stage for live performances, and a creative arts area, and room for dance practices. The corridor leading to the studio needed to reflect its overall design, and the existing large and dimly lit alcove at the end of the corridor was to receive new seating, graphic art, and new lighting.
The tight budget and space constraints placed on the project required the designers to keep the existing general layout of the room and the existing ceiling grid and be creative with how the room could support all these activities.
A new colour palette uses neutral paints with fresh white walls and light wood-look flooring. Bright colours and patterns were injected into the space through custom vinyl graphics, floor patterns and magnetic, writable glass panels which provide kids with additional surfaces to express their creativity. To save space in the media centre, the designers opted to install a resin sliding door which was designed in collaboration with artisans in Senegal who used scraps of colourful fabrics embedded into the resin.
The overall result is a cheerful, multi-functional space which provides a place for creative expression for kids of all ages.
Related