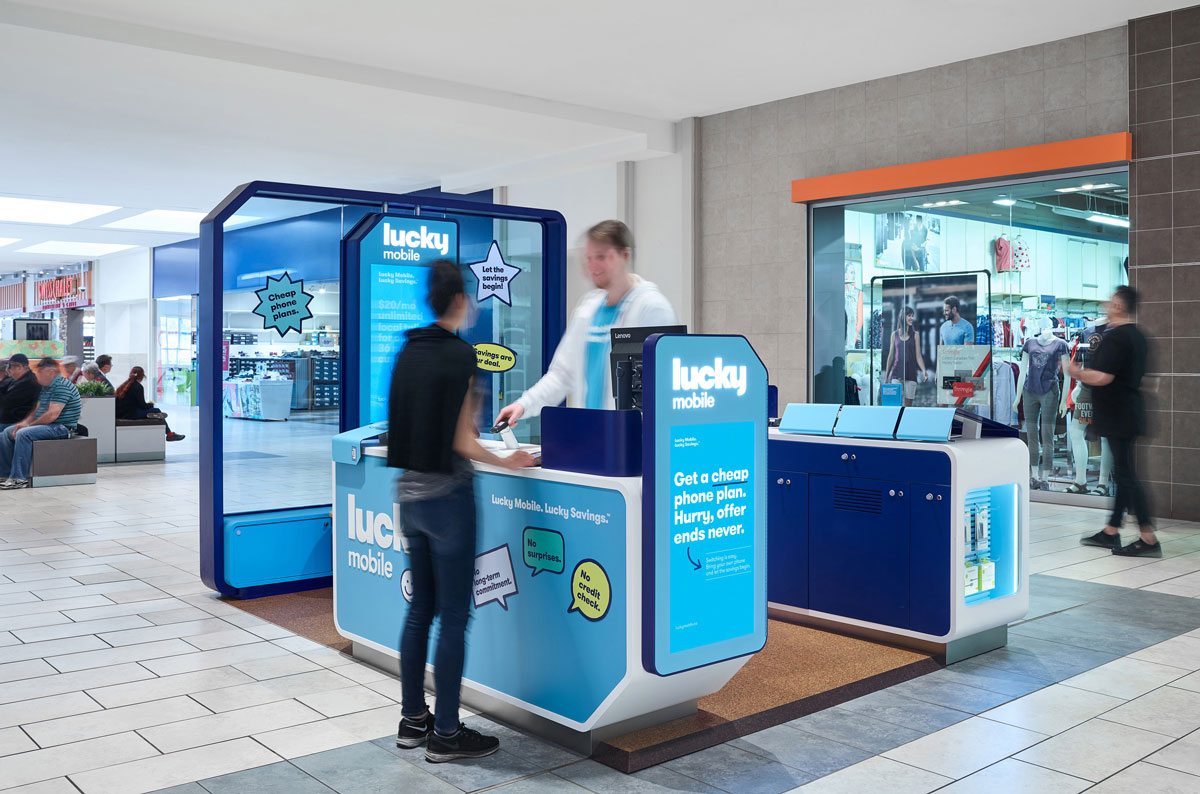 A clear understanding of concept eliminates the need for luck
Bell Mobility Inc. wanted a dynamic design for the launch of their new brand into the Canadian mobile phone market. The innovative Lucky Mobile kiosk focuses on the simplicity of service and their core offering of pre-paid SIM cards to new Canadians, seniors, and students.
Design Team: Allan Guinan, ARIDO; Nicole Hoppe, ARIDO; Suzanne Wilkinson, ARIDO
Design Firm: figure3
Photographer: Steve Tsai
The brand presents a straightforward offering: targeting a value-focused customer, with the design challenge of standing out in a vastly competitive market. Education was at the forefront of the strategy, as the kiosk needed to demystify what is often a complicated and frustrating process.
The big idea embedded within the design is the instantly recognizable 'SIM' card shape as a visual signal, instantly communicating Lucky Mobile's focus. The approach was critical to differentiate this offering from their competitors while removing language barriers and increasing accessibility to those new to Canada. Clients can interact directly with phones while simple and engaging infographics throughout the kiosk help direct and inform customers.
The 8'x10' kiosk design naturally guides customers through a step-by-step journey of discovery to selection, with every square inch being maximized for storage, technology, product, and security all within a specific per-kiosk budget.
The kiosk breaks the mould of traditional intercepts, with an open and social floorplan, removing barriers and allowing customers to interact more easily with the sales team. The space even incorporates customer seating which supports the employee's ability to engage in a deeper, more meaningful dialogue, which is a necessary component of the sales process for clients not yet familiar with Canadian mobility programs. The kiosk also offers a place for families often shopping together or arriving at an airport (where some kiosks are located), the ability to wait and rest during the interaction.
The entire experience represents a new opportunity to engage with people looking for simple connectivity in what is often a complicated and frustrating market. The booth can be customized with ease, using interchangeable magnetized and window cling graphics. This allows marketing messages to inexpensively change position, languages, and styles to support the diversity that is a hallmark of Canadian culture.
The results are clear, the Lucky Mobile kiosk has exceeded expected sales targets, resulting in a new sales and real estate strategy. The brand is now expanding their network beyond the expected targeted of malls into premium malls.
Related