History and progress are the inspiration for these university spaces
Ryerson University's Podium Building, built in the 1970s, houses both the Archives - the university's institutional memory, with records spanning 200 years - and Special Collections, a treasury of photography, film and cultural history objects. These precious collections formed a single administrative unit, but the spaces were windowless, poorly lit, haphazardly organized, and split between two floors. Similarly, the Library's Information Technology Services (LITS) group occupied several small, outdated offices.
Interior Designer: Valerie Gow, ARIDO
Design Firm: Gow Hastings
Photographer: Tom Arban
To realize the potential of these collections and services, Ryerson sought bright, dynamic spaces that would invite people in and facilitate research and engagement. For the Archives and Special Collections, they wanted an integrated space with a 'storefront' opening, showcasing these previously hidden resources to the community. Some existing finishes and furniture, such as Egerton Ryerson's original desk, were to be retained.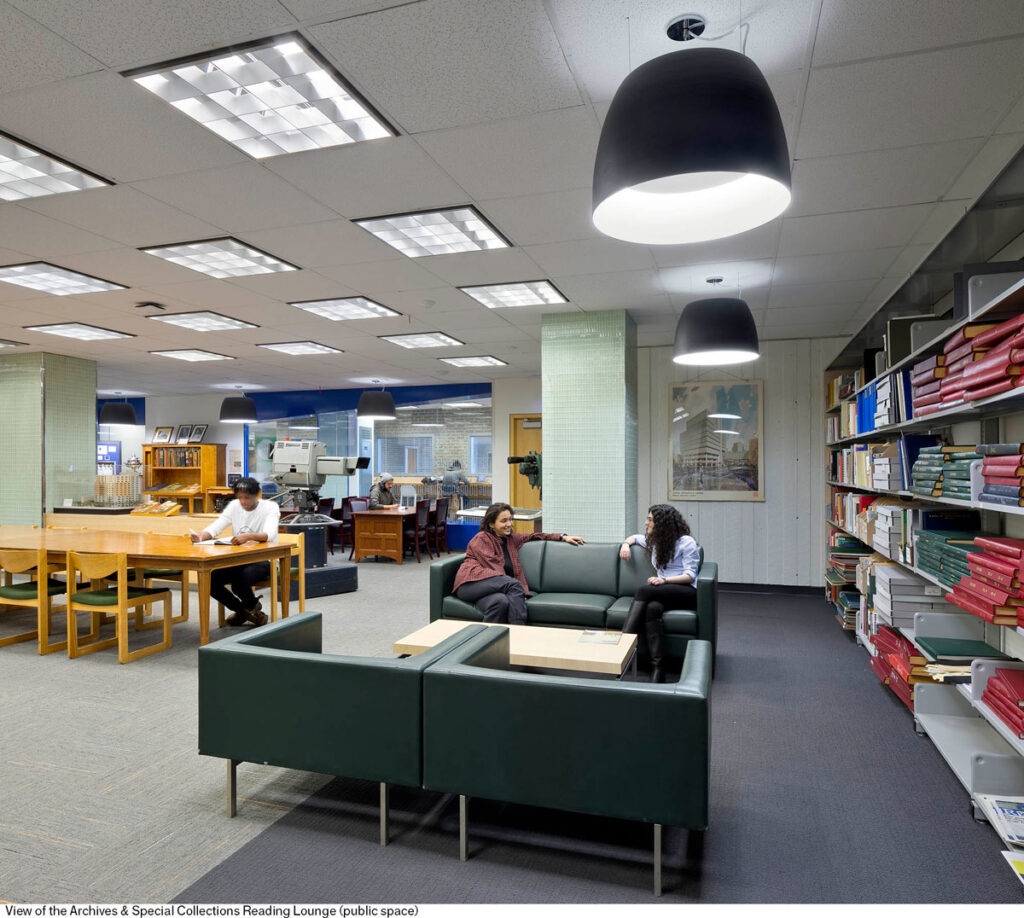 LITS's activities were also to be concentrated in a single large location, linked by a bridge and a new entry to Ryerson's Digital Media Experience in the Student Learning Centre (SLC) and enhanced with new state-of-the-art equipment.

The design team created a bold and coherent visual identity for these facilities, consistent both with Ryerson's branding (yellow and blue school colours), and with the sense of historical continuity appropriate for a major archive. We created an integrated work and display space for the Archives and Special Collections, providing room for growth and space for experiential learning activities, and the Collaboratory, a flexible work space, maker-space, and staff work area facilitating research and experimentation.
To counter the scarcity of natural light, we used a vibrant colour palette throughout -highlighting Ryerson's brand colours of yellow and blue. Extensive patterned glazing encloses interior spaces and provides a solution to the project's limited budget.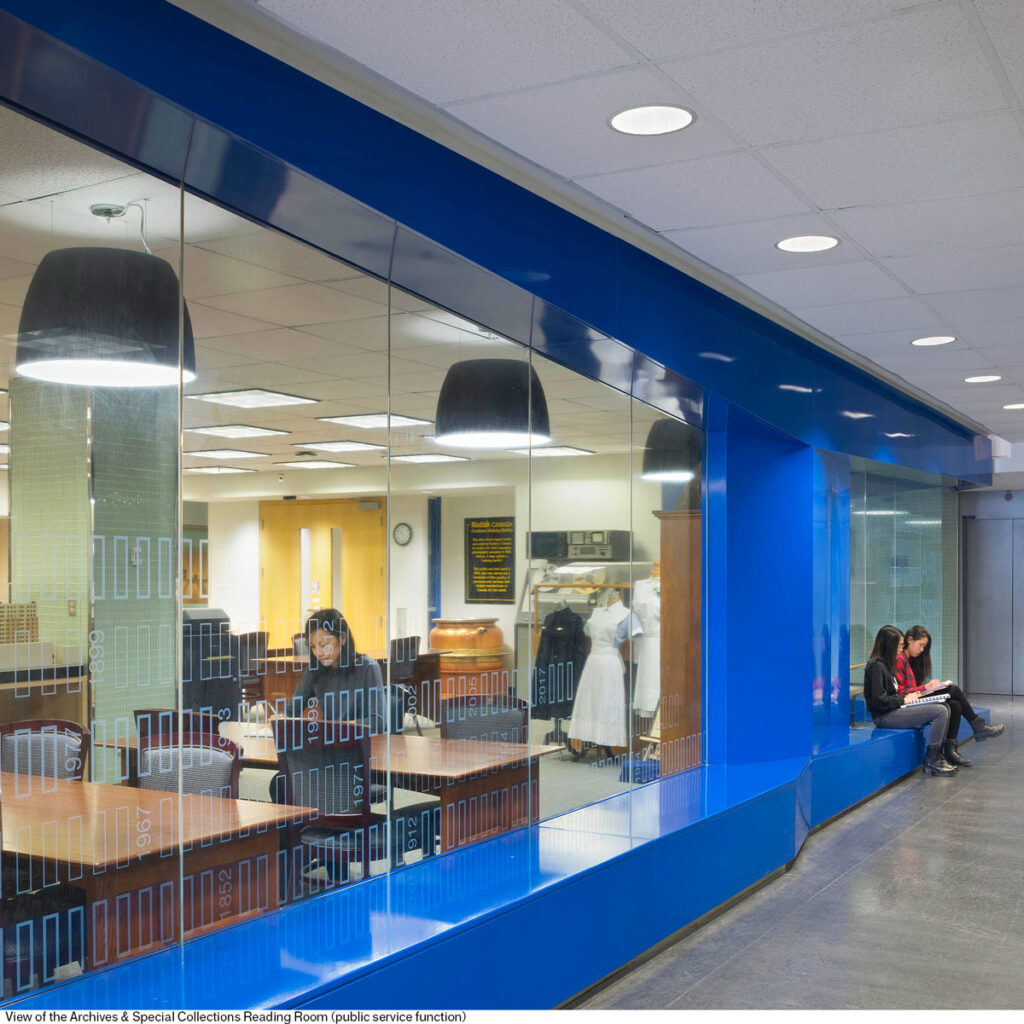 Passersby approaching the Archive and Special Collections are greeted by a blue metal panel 'storefront' design, with angular geometry framing a view of the displays and activities inside and provides a place to sit. Graphic film on the windows references archival coding systems and the dates of significant historic Ryerson events. Inside, heritage furnishings and finishes, including exposed brick walls, were integrated into a clean, efficient layout. An open area was subdivided to create a quiet study area with black LED pendant lighting, multipurpose teaching/event space, a staff work area, and a customized storage vault.
The Collaboratory - the Library's newest interactive maker space, with state-of-the-art technology and equipment, facilitates experimental graduate media projects and events. The future-forward facility is designed with sustainable materials and strategies, and boasts the latest presentation technology, mobile whiteboards and tables with writable surfaces, workbenches, and storage lockers for use by research teams.
Related
ARIDO Award: School of Continuing Studies

Interior and exterior are in dialogue at York University's new School of Continuing Studies building. The interiors respond to and compliment the unique exterior geometry of the building. This strat ...

ARIDO Award: CIBC Conference and Learning Centre

A people focused approach was the starting point for this new three floor conference and learning centre in Toronto. The client needed a space where they could host executive and employee training, as ...