Nothing strange about the design for this java joint
Strange Love Coffee is a growing Toronto-based coffee shop focusing on providing a unique coffee experience by utilizing specialized treated water and one of a kind roasts which are hand picked by a Coffee Sommelier. The intent was to create a space that communicates Strange Love's obsession with quality coffee experiences in a setting that helps drive revenue. Our client leased a humble corner in a busy section of Toronto's PATH Network, off the main corridor sandwiched between dental offices.
Interior Designer: Tatiana Soldatova, ARIDO
Design Firm: Syllable Inc.
Photographer: Revelateur Studio
The site was awkwardly shaped and hidden from view to the people passing by during their busy commutes to and from work. The two key challenges were to fit a complex coffee production program within a triangular 275 square foot space, as well as drive passerby attention to an easily overlooked spot. We were required to integrate a 26' counter space into an 8' storefront where five staff would seamlessly produce 1,500 coffees per week. We chose not to fight the existing site and insert a traditional linear counter. Instead, the team used the shape of the site to inform the design.
The counter follows the main feature wall and bends inward to extend counter space –this approach maximizes linear workspace and, functionally, breaks apart the baristas from cashiers while creating additional space for patrons to order. The cafe's production line was carefully studied and barista equipment was arranged to minimize travel and movement for all staff. This counter was also mounted on hidden wheels to allow easy access for workers.
The second challenge was drawing customers, corporate professionals with stressful jobs, to the cafe. Located below a main staircase with a staid wall, it's easy for potential patrons to miss.
Our team diligently built a positive relationship with the landlord to convince them to permit a floor-to-ceiling sign by the staircase wall to entice patrons. A loud and inviting custom wallpaper adorned with tropical plants introduced a biophilic experience into a small space with a restricted budget, and Strange Love Coffee became a tropical retreat within the PATH.
As a sophisticated re-engineered mineral water is one of the secret ingredients behind Strange Love Coffee's award winning recipe, we celebrated the filtration system by creating an illuminated display that showcases the raw industrial beauty of the system itself.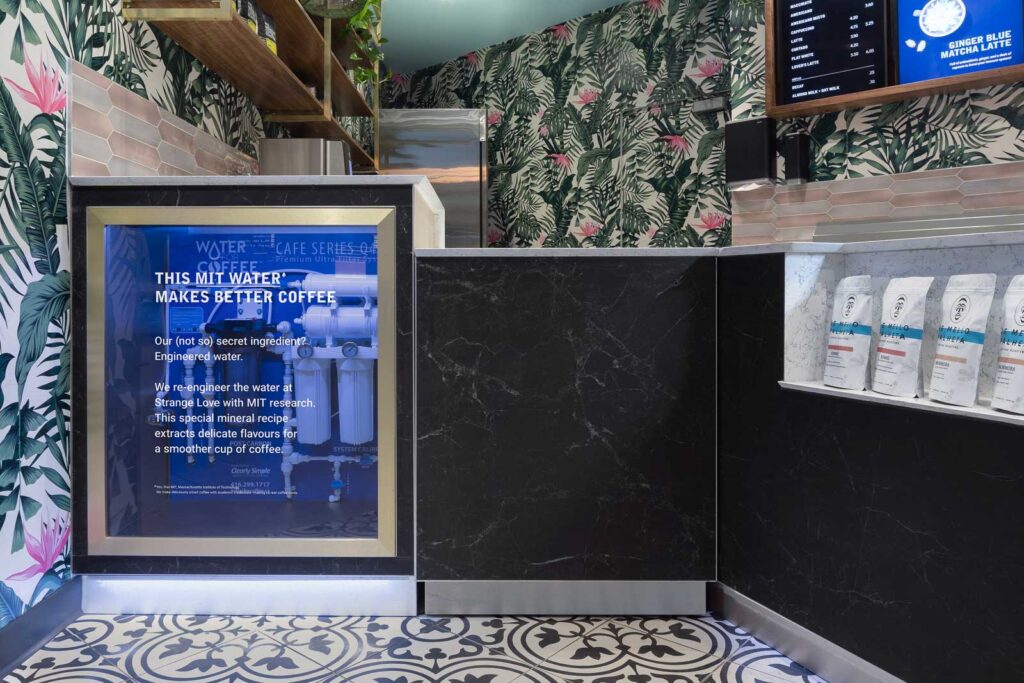 The shop has a weekly rotation of custom roasted coffee, which is placed at the front counter where the Baristas can proudly introduce the different roasts. Additional products on open display atop custom wood shelving with brass hardware are available for purchase.
From the bold material finishes, a flexible counter which snakes through the awkward site, water filtration and produce showcases, we created a space that puts the client's story on display and entices passersby to stop and smell the roasts.
Related