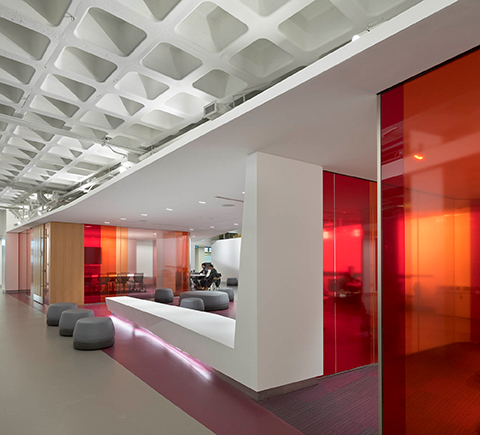 Quantum mechanics inspires the redesign of this U of T Lab
The first and second floors of the McLennan Physical Laboratories were alienating, institutional spaces, harshly lit with overhead fluorescents. In the classrooms, students sat crowded along long tables; the setup was so inefficient the department was turning away 100 students from a popular course each term, due to lack of space. The space needed to introduce the greater university population to the physics community and showcase science education in the best possible way.
Interior Designer: Valerie Gow, ARIDO
Design Firm: Gow Hastings Architects
Photographer: Tom Arban
The interior design team responded with a complete reimagining of the space, incorporating the latest in collaborative technologies, styled in a sleek new visual identity that, topically, draws from quantum physics. In crafting its visual identity, the design team was inspired by the Davisson-Germer's experiment, which confirmed that particles of matter can have wave-like properties - a major advancement in the development of quantum mechanics.
In its new form, the McLennan Physical Laboratories project becomes a hive of activity, and a site for greater student engagement. Visually, the vivid colour palette, in a previously monochromatic environment, has become strong brand marker for the department.
At the heart of the new space is the Physics Cafe - a vibrant work/study area with a multi-use video wall, full-height writable wall surfaces, and a felt-wrapped column for posting notices. A feature ceiling below the existing exposed concrete gives the space a more intimate feel. Oversized ottomans can be moved into clusters or rolled away for breakout discussions. Acoustic drywall, rubber flooring, and plaster ceiling tiles all dampen sound for a quieter study environment. Vertical bands of transparent coloured film add a liveliness to the space, while providing privacy for students at work; and are inspired by the particle wave interference of the Davisson-Germer experiment.
New teaching labs facilitate collaborative learning with informal breakout spaces, smart boards, and writable wall surfaces - all encouraging student interaction. A foldable partition allows a classroom to expand and contract as needed, while Corian surfaces ensure durability. The waiting and study spaces that line the corridors now feature seating alcoves for individual students or small groups. Plug-in points for charging devices help make this a good spot to stay and work; pin boards and well-lit chalkboards encourage the sharing of ideas and information.
Related
ARIDO Award: School of Continuing Studies

Interior and exterior are in dialogue at York University's new School of Continuing Studies building. The interiors respond to and compliment the unique exterior geometry of the building. This strat ...

ARIDO Award: CIBC Conference and Learning Centre

A people focused approach was the starting point for this new three floor conference and learning centre in Toronto. The client needed a space where they could host executive and employee training, as ...