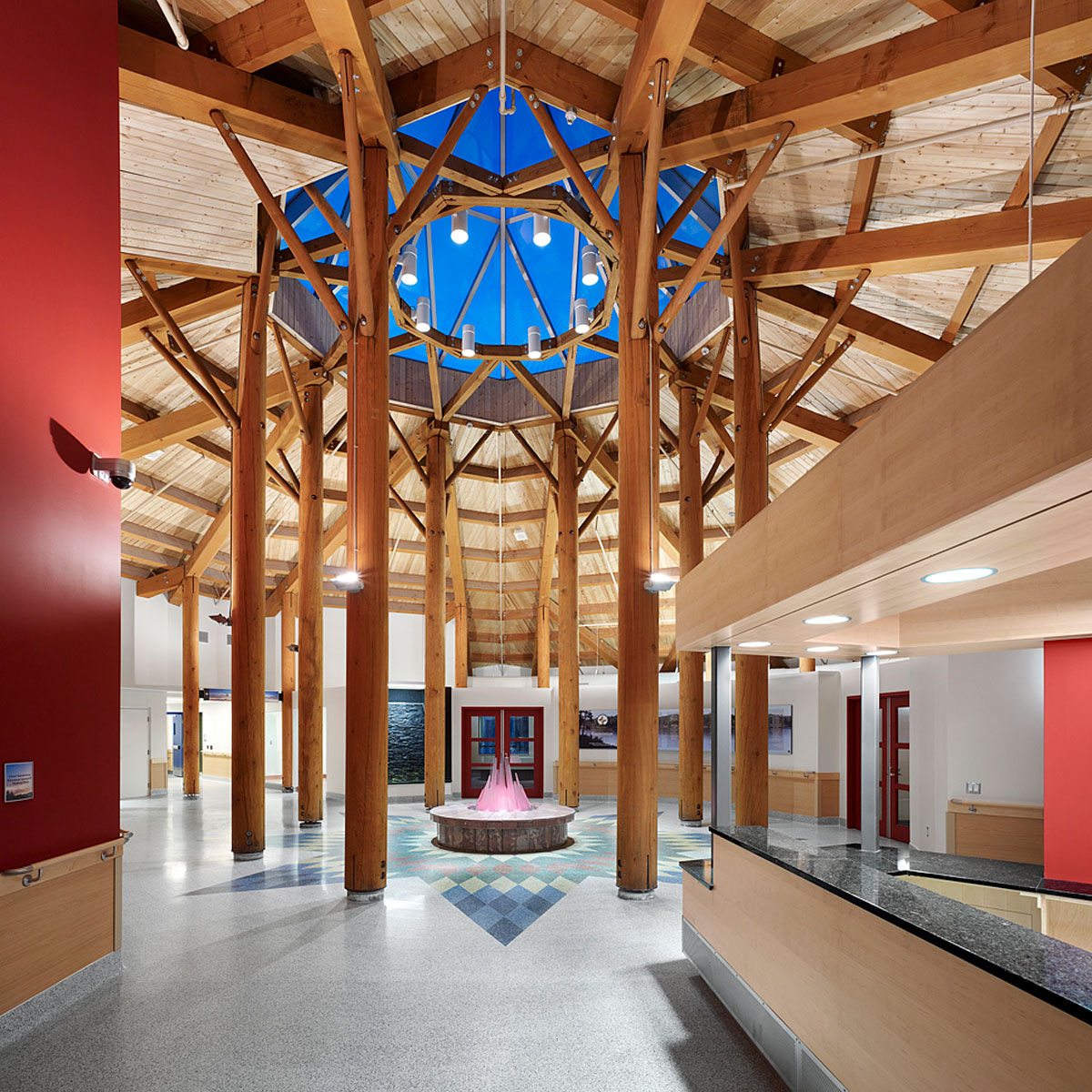 The medicine wheel is a motif in the design of this Health Centre
The Sioux Lookout Meno Ya Win Health Centre is a hospital built in Sioux Lookout in 2012, and serves a population spread over a large geographical area. Health Centre clients come from 29 First Nations communities spread across Northern Ontario, as well as Sioux Lookout, where there is a non‐Indigenous population with its own rich culture.
Sioux Lookout Meno Ya Win Health Centre
Interior Designer: Taeko Rhodes, ARIDO
Design Team: Ena Kenny, ARIDO
Design Firm: Stantec Architecture
Project Joint Venture: Douglas Cardinal, Douglas Cardinal Architect Inc
Project Photographer: Richard Johnson
Menoyawin is an Anishinaabe word that connotes health, wellness, well-being and individual spiritual, mental, emotional and physical wholeness.
With a First Nations associate architect guiding the design team, many important aspects of Indigenous culture were incorporated in the planning and design of the facility. The principal concept behind the master plan was a circular path, 350 meters in diameter, cut through the forest and providing access to each building on the campus.
This path is a representation of the Medicine Wheel, a concept shared by many Indigenous cultures, that signifies the importance of appreciation and respecting the interconnectedness and interrelatedness of all things.
Within that framework, the objective of the interior design of the facility was to create an integrated healing environment, that would blend First Nations culture with the surrounding environment. Symbols of the primordial elements, earth, fire, air and water, are represented throughout the whole centre.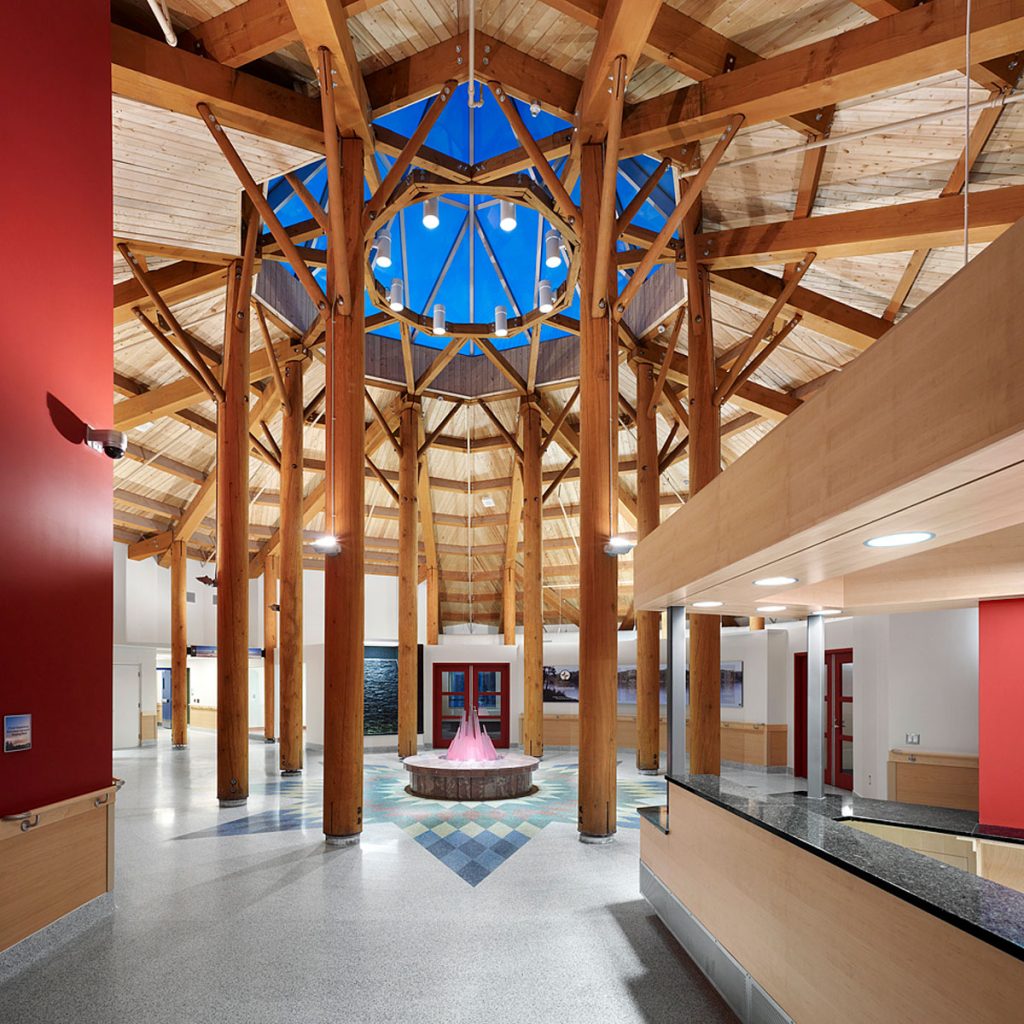 The main gathering space is a heavy timber structure, oriented east, towards sunrise. Sunlight fills the space through a large octagonal skylight, and below, a central 'fireplace' built in tempered glass, lit with LEDs, and circled by red pipestone. A traditional sunburst pattern, created in epoxy terrazzo circles the pipestone on the ground, while a black granite waterfall next to the recalls an element that is vital to all living things, and provides a soft burbling sound.
A Ceremonial Room was built for First Nations ceremonies and healing and repeats the important wheel shape, with an actual earth firepit, bordered by natural stone and walls clad in cedar.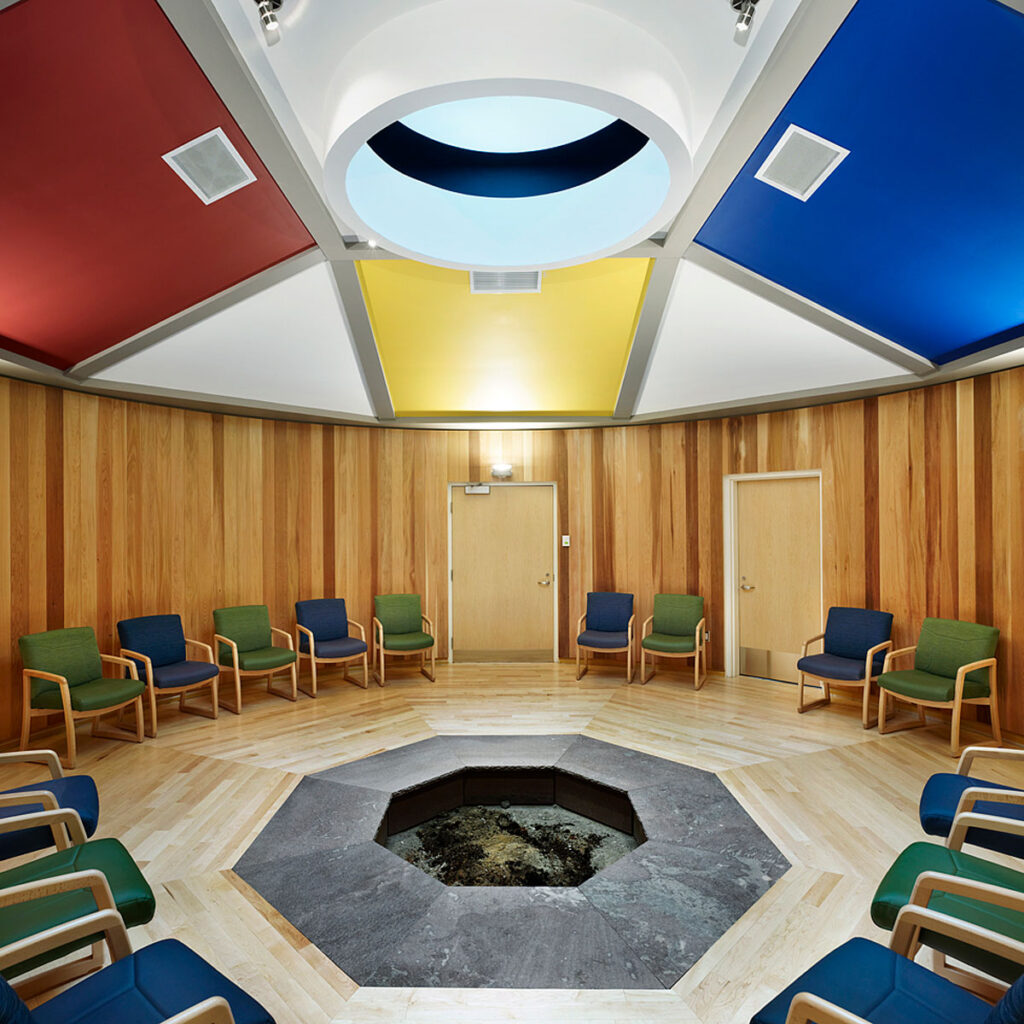 The canoe‐shaped Ambulatory Lobby is built in structural timber with a clerestory window, flooding the space with natural light, while underfoot, a flooring pattern suggests the movement of water.
Throughout the inpatient wing, long walls of windows provide views to a series of landscaped courtyards, further reducing the institutional image. The circular pattern of the Medicine Wheel is also present in the cubicle curtains and floor pattern throughout the hospital as a metaphor of healing.
By incorporating symbols from Indigenous culture like the Medicine Wheel and the four elements into the design, the hospital resonates with patients and the greater community as a healing place. The architecture and the interior design successfully bridge the gaps between Indigenous and non‐native cultures.
1 SLMHC Website
Related