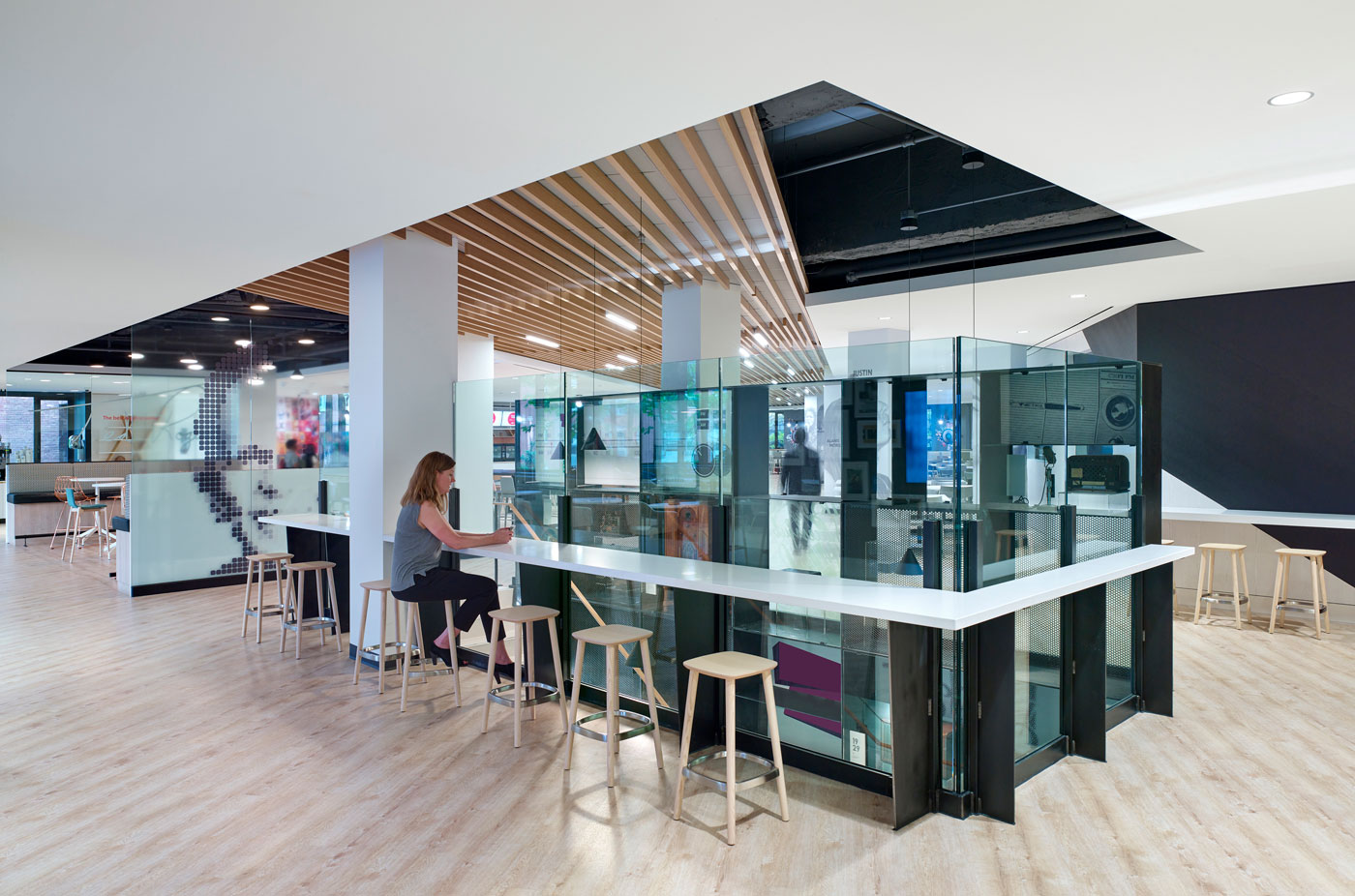 Connectivity, evolution of radio and employee engagement informed the design of this radio floor
With radio and communications innovation being a foundational characteristic of their company, the client continued to think outside the box when relocating their radio studios to the second floor of their Bloor Street location. The space bridges the gap between two campus buildings and combines three functions: radio studios, workspace and an employee cafe.
Interior Designer: Laura Jones, ARIDO
Design Team: Adriana Pietropaolo, ARIDO; Sharon Turner, ARIDO
Design Firm: HOK
Project Photographer: Tom Arban, Karl Hiplolito
The design team created an isolated raised floor system that protects against vibrations from the TTC route located below, and exterior wall and window treatments mute day-to-day sounds of the surrounding urban environment. Two high-tech radio studios are positioned as focal points in the space, inspiring interaction while still providing necessary privacy for radio talent with tinted windows. The adjacent agile workspace is designed to support a 24-hour work day for employees.
The cafe space is designed as a connecting boulevard with the café on one side, and the studios on the other, continuously inviting and engaging its users. With an acoustic operable wall, the centre performance lounge lends itself to performances that can be broadcast via the studios or opened to the cafe for a public performance. Neutral, fresh and contemporary architectural finishes were selected to accentuate the public-facing radio studios and additional acoustic elements were incorporated into this vibrant space.
The new staircase connects the ground floor to the second floor, something the client requested specifically, enhancing and facilitating the user experience through the space while engaging them with a display of the company's radio artifacts. The three spaces are tied together by repeating angular elements inspired by radio waves and the use of copper accents that recall radio batteries.
The space is used throughout the day for planned and spontaneous meetings and the renovation of the studios has provided one of the most technologically advanced radio spaces in Canada. In fulfilling the client's needs, the designers created a lively, dynamic space that has quickly become the most popular spot on campus.
Related
ARIDO Award Winner: Smart City Sandbox

The Sandbox was a result of firm-wide technology pivot that focused on developing new technology platforms to embrace the creation of the Smart City of the Future. This transformation required a rethi ...

ARIDO Award Winner: Red Bull Canada

Creating a space that uniquely brings to life what a brand represents – energy, pushing boundaries, and going beyond the ordinary – without explicit over-branding was our latest challenge with ...