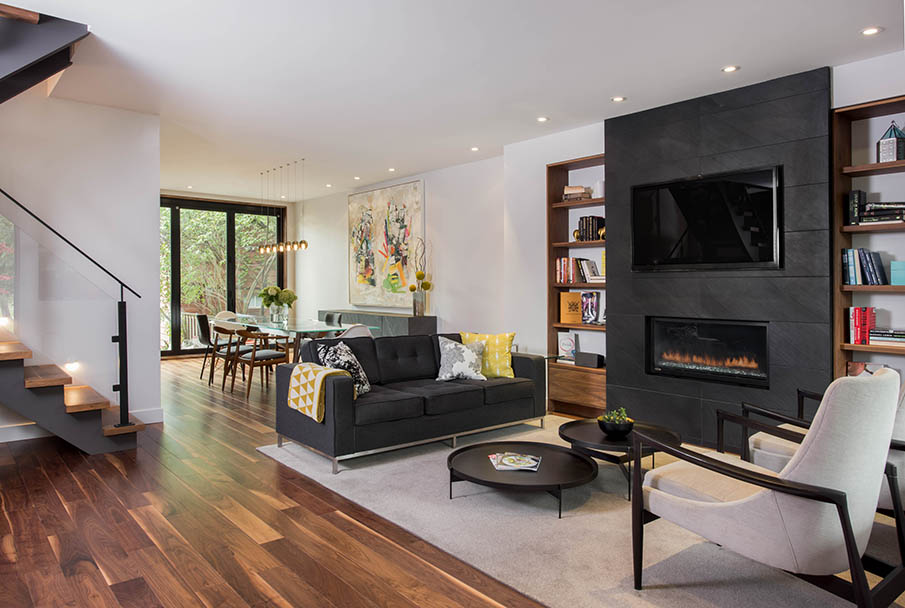 Building a sophisticated design that integrates modern conveniences
For this young family of four, a warm and sophisticated design that integrates modern conveniences was paramount. The formally divided rooms of this traditional home were opened up and functions resolved with detailed custom millwork, which was strategically combined with cost-effective off-the-shelf cabinets, creating a seamless transition of function from space to space.
Project: Logan Residence
Interior Designer: Tanya Yeung, ARIDO
Design Firm: Analogue Design Studio
Photographer: Stephani Buchman
Amenity functions such as the powder room, multiple office spaces, and an abundance of storage opportunities throughout the home are concealed within the carefully detailed cabinetry; the design of which also house a plethora of mechanics such as ductwork, cables, and plumbing lines within. The lack of visible hardware further enhances the seamless aesthetic.
A restrained finish palette of walnut, stone, and high gloss lacquers was used to accentuate fluidity throughout the home. The open concept spaces, enlarged windows, and over-sized dormer also help to facilitate the natural light which permeate every corner. Enhancing this is LED strip lighting flush mounted within the walls to highlight artwork, as well as offering a dramatic graphic element.
Similarly, concealed light troughs provide a wash of light above built-in features to give an overall glow. This fully transformed 3,120 square foot home is bright and airy, spare but not sterile and exudes an effortless simplicity, all the while concealing the necessities of this family's active lifestyle. Design features are seamlessly integrated throughout this home providing functionality and understated style at every turn.
A tight entryway was made multi-functional by treating otherwise disparate amenities as one harmonious unit. The concealed powder room door is seamlessly integrated with adjacent entry closet; the closet itself serving triple duty as a coat closet, office, and storage unit that transitions effortlessly under the open concept stairs.
This multi-functional design is sleek from the outside, yet holds everything the clients could hope for - all within a 70 square foot footprint. The mudroom functions as transition space and also houses the custom wine cellar. Standard issue wine pegs were combined with a structural walnut-clad back panel that sits proud of smoke mirror gables. A wash of lighting is emitted from behind the condenser unit above and the free-floating walnut platform below.
The second-floor kids' area serves a dual purpose as lounge and guest room with custom Murphy bed. By day the glossy automotive lacquer panels appear as a sleek backdrop to an active play area. By night, it opens to a king bed with clothes storage and secondary office nook.
The master loft space features an abundance of built-ins that operate as a design feature and functional furniture in one. A wall-to-wall console, houses all the entertainment necessities and provides display space for artwork in the lounge, which appears to pierce through the dual sided fireplace into the adjacent ensuite, where a 15' long vanity continues uninterrupted towards the over size picture window.
Related
ARIDO Award: York Condos

York Condos is a three-building complex in Markham, Ontario. The buildings line an above-grade parking structure crowned by an extensive landscape and amenity terrace providing a shared community spac ...

ARIDO Award: 411 Church (Amenity Spaces)

411 Church is the first residential condo building signaling a major shift taking place on Church St. in downtown Toronto. Figure3 captured the unique dynamism and modern luxury desired by the movers, ...

 ARIDO Award: Trailside Presentation Centre

Located in the beautiful Town of Oakville, Distrikt Trailside was designed to create an elevated lifestyle imbued with fine dining, world-class shopping, lush surroundings and luxury living. To provid ...