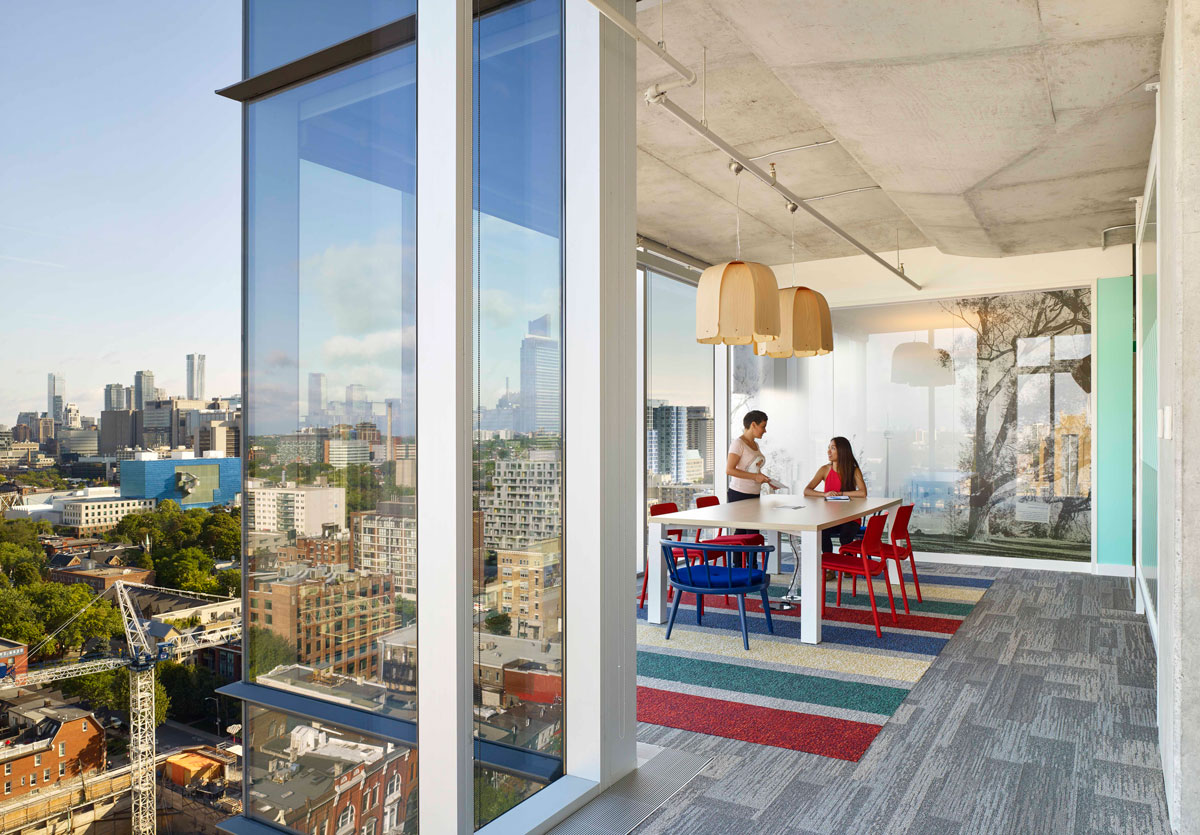 Booking.com's Queen West office reflects their customers and their staff
Regardless of their location, Booking.com's offices incorporate a global, travel theme that pays homage to their country and home city. The eclectic Queen West area houses their new offices with a design that highlights the brand as a destination company with a strong local footprint.
Interior Designer: Annie Bergeron, ARIDO; Jessica Baird, ARIDO
Design Firm: Gensler
Design Team: Filo Costa, ARIDO; Willem Berends, ARIDO
Working within a strict budget, the design team created an arrival area that highlights the brand as a destination company with a strong local understanding. Leveraging the spectacular northeastern views to some of Toronto's best architecture was a clever way to establish a sense of place, without added cost. Along with locally sourced furniture and accessories, the reception area is an immediate success.
The building's LEED raised floors, high ceilings, and existing lighting also minimized fit-out costs. Semi-enclosed areas subtly reference icons of Canadian design, with Hudson's Bay blanket striping and meeting booths using TTC red upholstery. The space was designed to attract the desired workforce: diverse, multi-lingual, well-travelled and hip; also, a true reflection of their customers.
Related
ARIDO Award: The Hive

The first of its kind in Canada, this 3D printed masonry wall is the result of a collaboration between design professionals, students, and faculty at an Ontario university. Category: CRAFT Interior De ...

ARIDO Award: Spadina Workplace

Designing for human behavior and fostering innovation were the two key strategies for this workplace redesign. The design team aimed to inspire a return to the office not from necessity, but a genuine ...