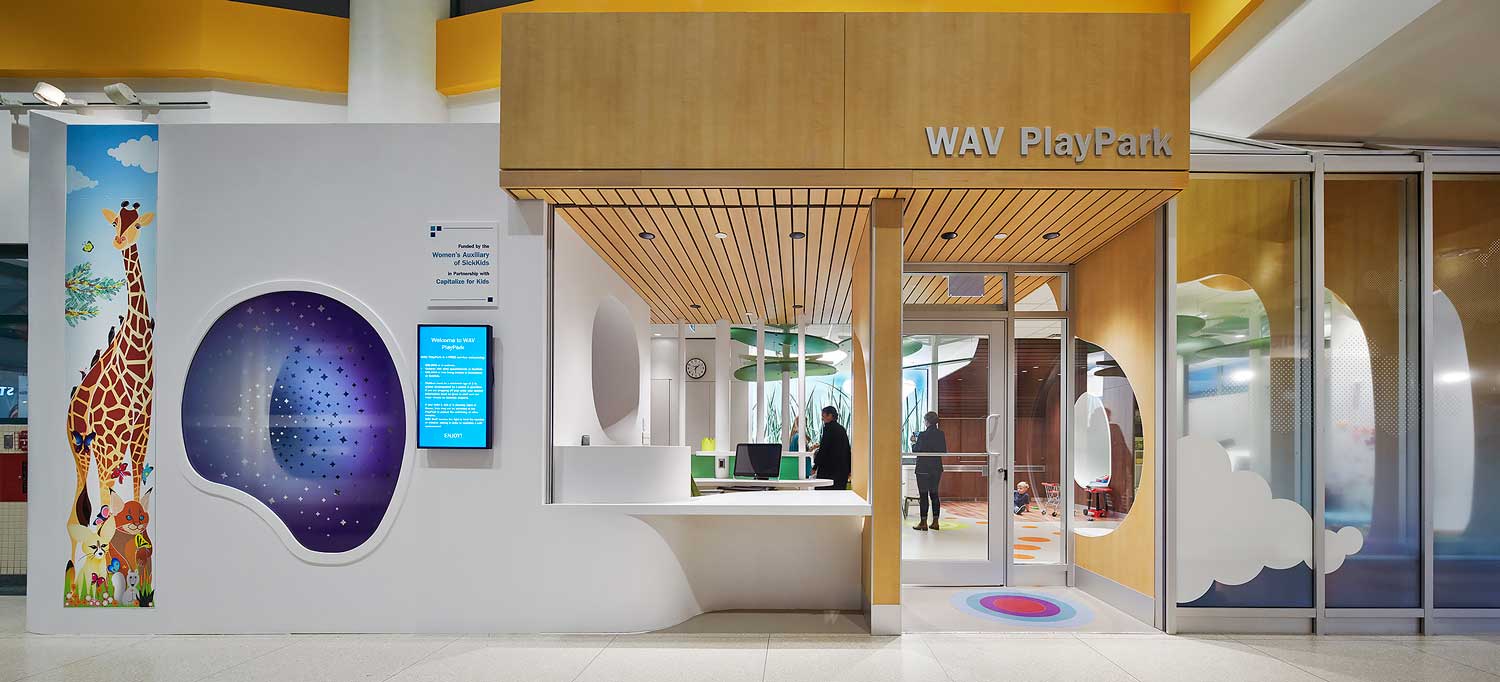 Designing healthcare spaces for kids: Introducing a sense of exploration and curiosity
What's it like to design a healthcare space for children? Is it possible to infuse that space with imagination and whimsy, while simultaneously following the practical rules of a healthcare setting, such as infection control, times of operation, and safety?
Interior Designer: Laurena Clark, ARIDO
Design Firm: Stantec Architecture Ltd.
Photographer: Richard Johnson
These are the questions that inspired Stantec's designers to take a unique approach to the redesign of the Women's Auxiliary Volunteers (WAV) PlayPark at SickKids Hospital in Toronto. The PlayPark is a volunteer-run space for the siblings of young patients who are at the hospital for treatment. Over the years, the much-loved PlayPark had become outdated. Stantec's designers were tasked with not only updating the look but upgrading the space to be more functional and accessible.
Two of members of the PlayPark design team — interior designer Laurena Clark, ARIDO and architect Olivera Sipka — sat down to discuss their approach and provide advice for others designing similar spaces.
What was different about the SickKids PlayPark, compared to other projects that you've worked on?
Laurena: As designers, we always empathize with, and put ourselves in the position of, the people who will use the spaces we design. But with this project, we realized we needed to get to an even deeper level of emotion. SickKids provided us with touching information—like quotes from kids that have loved the space over the years—that made us more emotionally attached. One young man, who is now in his 20s, wrote about how he was so young when his brother began a stay at SickKids, and this young man felt so lost. Both of his parents were busy with his brother's care, and the young man never got to see his friends. But he had the PlayPark. He wrote about what a joy it was to visit the PlayPark at such a gloomy time in his life. So, redesigning a space that makes such an impact on the lives of young people is a tremendous responsibility. And my kids are the same age as typical PlayPark visitors, between the ages of 4 and 9. So, on an emotional level, that also impacted my design approach.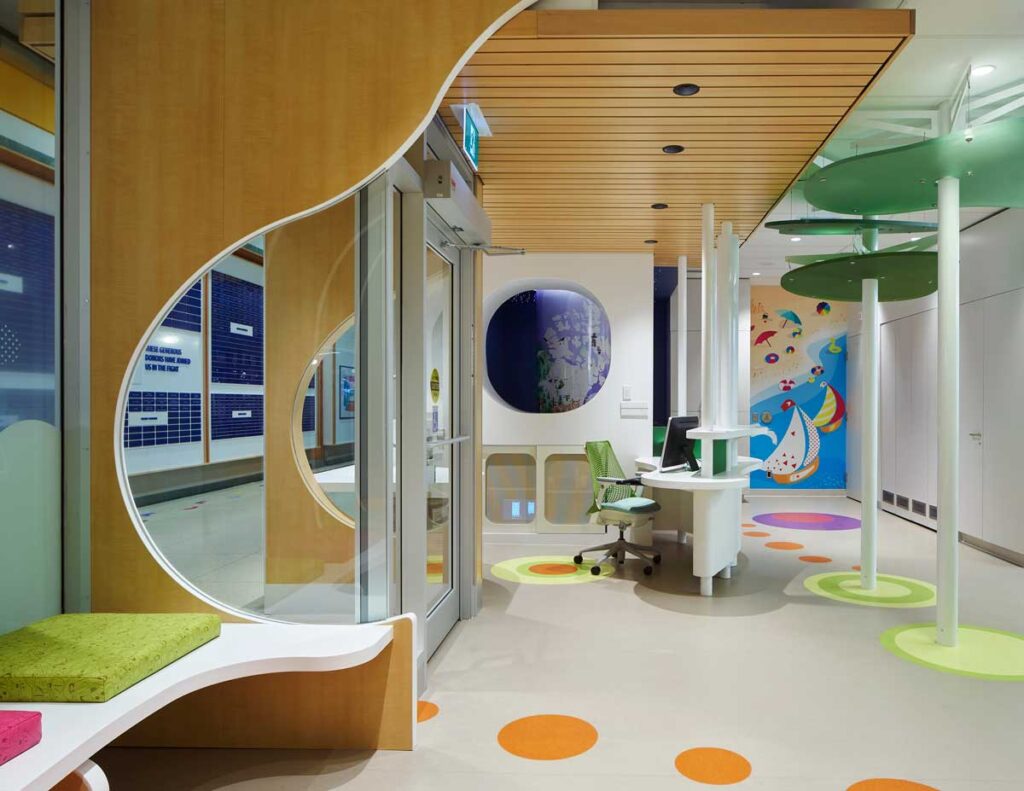 Can you talk more about your specific design approach for this project?
Laurena: We were doing so much more than designing a "space." We were creating an experience for those kids and families. We added zones inspired by nature—like a lake, canyon, and hills—so we could bring a park setting to kids that are inside for long periods of time. Also, the PlayPark isn't just a space that has a certain function. Most of the spaces we design—such as waiting rooms, for example—have specific functions in mind. And, while a waiting room might have some toys and games, those are isolated activities. As soon as you walk into PlayPark, you're intrigued to explore. We also had to include so much more depth in the design and the activities available because many kids come to the PlayPark for extended periods of time—days, months, even years. We had to pack a lot more in than you might find in a typical waiting room where a child may only visit for a few hours at a time.
Can you tell us more about the zones inspired by nature? What does that look like?
Laurena: We created a forest landscape in the central open space, which features trees made of thick resin panels to create a "leafy" canopy. The tree trunks are a perfect place to wind through on a tricycle. We added a quiet "cave nook," with fiber-optic twinkling lights in the ceiling, to create the sense of sitting beneath the stars. This is a space where kids can sit quietly when they might not want to engage. It was important to us that kids have choices as they go through a difficult time. The art studio area features a meadow theme with a giant LED panel of tall grasses with lights overhead that look like fluffy clouds. The performance space is designed with curves to suggest hills, with an organic-shaped seating nook and original illustrations.
What's your advice for others designing a space for children?
Laurena: Open communication. Create an environment of trust and respect so team members feel comfortable throwing ideas out, even if they're not perfect.
Olivera: It's about listening. Make sure you listen to kids' experiences. While working on this project, we listened to children, parents, and even teenagers who used to visit the space when they were younger.
How did you get into the child-like mindset necessary for PlayPark's redesign?
Laurena: I just had to shut everything off. For healthcare projects, we're so used to working within the confines of budget, time, and cleanability. So, I had to stop thinking about all the practical things that block ideas from coming freely.
Can you think of something from your own childhood that you brought to this project?
Laurena: I have lots of memories of exploring freely as a child, such as exploring outside, or looking through my mom's closet and playing dress-up. So, I wanted to bring a feeling of exploration, as well as surprise. During a visit to PlayPark, my kids loved looking through the cupboards and finding the toys that were in there.
Every surface has storage behind it. That alone is an element of exploration. This contrasts with a lot of other pediatric spaces, where you see toys everywhere. It feels busy, and it's almost overstimulation. Whereas at PlayPark, you have a clean, bright, airy space, and you can interact with surfaces in different ways. All the clutter is hidden. And there's that element of surprise, as kids discover what's behind each door.
Do you have any final pieces of advice to offer someone approaching a project like this?
Olivera: Don't just focus on technology. When designing for kids, we often tend to look at new technologies, such as interactive screens. But with this project, the focus was on play. It turned out to be more of a whimsical place, where kids have opportunities to be themselves.
Laurena: It's possible to create a fun space while simultaneously working within the confines of a hospital. We designed PlayPark to hospital standards, in terms of infection control. We used all the same materials that other healthcare spaces use—like rubber floors and solid surfaces—and we considered cleaning, like you would in any other area of the hospital. Everything was wipeable. You can utilize those materials in a way that creates an environment that doesn't look institutional.
This post originally appeared on Stantec.com's Ideas Blog. The PlayPark project also recieved an Award of Merit in the 2018 ARIDO Awards.
Related
ARIDO Award: Elevator Cabs

The challenge of this elevator cab redesign was to create a mobile portal between a well-aged ground floor lobby that would seamlessly integrate with each of the floors above. Category: DISTINCT Inter ...

ARIDO Award: The Hive

The first of its kind in Canada, this 3D printed masonry wall is the result of a collaboration between design professionals, students, and faculty at an Ontario university. Category: CRAFT Interior De ...

ARIDO Award: Florette Restaurant + Bar

While interior designers traditionally aim for perfection in their projects, this design team chose to highlight the imperfect, comforting aspects of this new restaurant space on Toronto's Queen Str ...