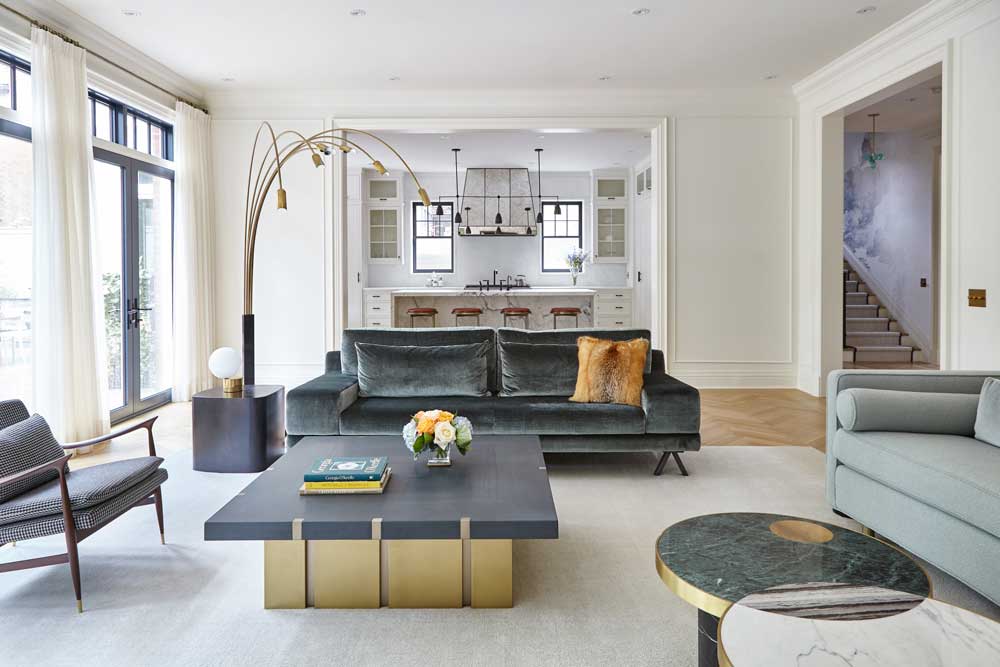 It's all about the details in this heritage home restoration
This private residence, dating back to the 1920's, was built in the English Country style on a ravine property in Toronto's picturesque Rosedale neighbourhood. Over the decades, renovations to the home, including the infilling of a broad covered porch with a garage, had altered the home's character, both inside and out.
Interior Designer: Wayne Swadron, ARIDO
Design Firm: Wayne Swadron Interiors Ltd.
Photographer: Valerie Wilcox
Our mandate was to create a sophisticated, light, and airy home suitable for a young family that enjoys an active lifestyle, reorient the indoor living spaces to embrace the wonderful ravine setting while respecting and restoring the heritage character of the exterior. Of particular importance to the owners was creating unique opportunities to display their collection of artwork, and planned incorporation of 'installation art'.
To achieve these goals, the entire interior structure had to be demolished and rebuilt in an entirely different configuration. Nothing was spared, including floors (both the basement and ground floor levels were dropped), interior walls and most of the roofs.
Several additions were also incorporated to accommodate the special requirements of the family. A new full width terrace was added to the back of the house, onto which continuous walls of glass doors and windows were added. The main living spaces of the house (living room, kitchen, breakfast room and 'conservatory') all look over and lead out to the new expansive terrace, swimming pool and gardens beyond. This had the effect of visually and spatially connecting the indoor with the outdoor space, while reinforcing the interior and architectural features of the original design.
Art, and in particular, installation art, plays a major role in the vision of the interior design. A wonderful example of this is the hand painted wall covering which extends up the four levels of the new stairway. This installation, executed by artist Francesco Simeti, acts to visually connect the levels through its flowing pastoral imagery.
The wall panelling of the dining room provided a perfect opportunity for a three dimensional segmented mirror installation. These unexpected elements add to the depth of the highly curated approach to the interior furnishing, which mixes distinctly mid-century modern pieces within a setting of strong traditional references.
Related
ARIDO Award: York Condos

York Condos is a three-building complex in Markham, Ontario. The buildings line an above-grade parking structure crowned by an extensive landscape and amenity terrace providing a shared community spac ...

ARIDO Award: 411 Church (Amenity Spaces)

411 Church is the first residential condo building signaling a major shift taking place on Church St. in downtown Toronto. Figure3 captured the unique dynamism and modern luxury desired by the movers, ...

 ARIDO Award: Trailside Presentation Centre

Located in the beautiful Town of Oakville, Distrikt Trailside was designed to create an elevated lifestyle imbued with fine dining, world-class shopping, lush surroundings and luxury living. To provid ...