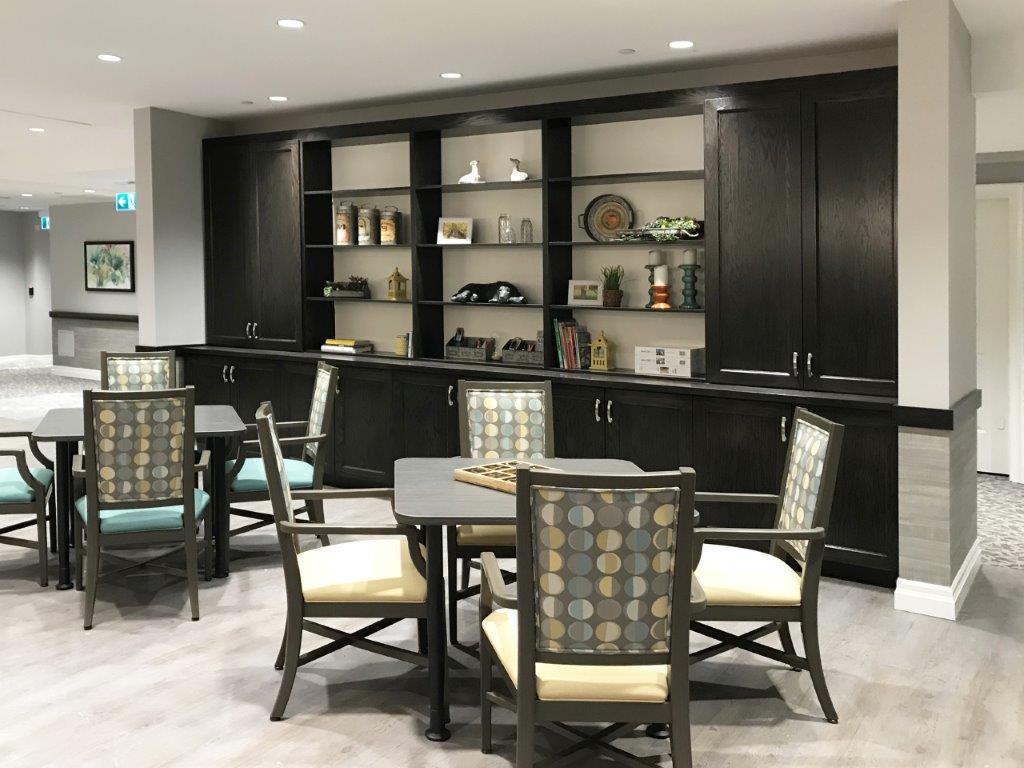 This project is a comfortable and adaptable home for seniors
Seniors lifestyles projects provide unique challenges. How do you take large, open public areas and turn them into attractive and functional, yet comfortable and warm spaces for an elderly population?
Interior Designer: Beverly Redlick, ARIDO
Design Firm: Beverly Redlick Designs
Design Team: Nicola Ansell, Lana Pihut (ARIDO, IDC Intern)
Seasons St. Thomas, completed in December 2019, is a retirement home providing a wide spectrum of care options to seniors, including independent retirement community living, independent supportive living, assisted living and memory care.
The lobby features a stylish yet cozy seating area with custom gear carpet, stacked stone fireplace and large railroad art pieces as a nod to St. Thomas' history as Canada's Railway capital. This theme is continued into the adjacent charming library/computer room with its dark oak custom cabinetry. Similar designs and colours flow easily through all public and amenity spaces, from the bar pictured below, through the large dining area and into the salon, walking track, and theatre.
The Memory Care wing is a secure, self-enclosed area with its own amenity spaces and outdoor courtyard. Furniture layouts and interior finishes and furnishings, while still appealing, reflect the greater space and durability needed for this senior population.
Four model suites were furnished and staged to show prospective residents how they could make a suite their home. Pictured below is a one bedroom with a "tea time country" theme.
Our team provided interesting yet practical design elements, selections and finishes. These combine to make this property a superb place to live and work, while reinforcing its unique connection to St. Thomas, Ontario.
Related
Luxury with a view

Sometimes the shape of a room dictates the furniture and millwork layout. In the case of our Esplanade project, the open living, kitchen, and dining room had an unbelievable view of Toronto with the w ...

ARIDO Award: Elevator Cabs

The challenge of this elevator cab redesign was to create a mobile portal between a well-aged ground floor lobby that would seamlessly integrate with each of the floors above. Category: DISTINCT Inter ...