A hundred and forty year old company gets a 21st century office space
As an insurance company with a long history, HSB BI&I are all about trust, reliability, as well as fair and prompt claims servicing. The design team were engaged to provide workplace strategy and creative leadership to streamline the activity-based workplace and increase inter-department communication.
Interior Designer: Guy Painchaud, ARIDO; Heidi Painchaud, ARIDO
Design Team: Rosemary Ratkaj, ARIDO
Design Firm: iN Studio
Photographer: Ben Rahn, A-Frame
The workplace needed to allow individual work, open workspace, varied sized meeting rooms, as well as a communal kitchen area for staff to come together to enjoy candid conversations.
During preliminary discussions it was determined that enclosed workspaces still need to be accommodated due to in-office meetings between seniors and staff. The planning needed to create harmony among department staff and allow flexibility of staff fluctuations between various departments. Meeting rooms with integrated booking systems were disbursed throughout out the workplace to allow convenient access.
Each floor includes bright, uncluttered conference spaces, distributed evenly for maximum accessibility to all staff. The reception area on the 20th floor was strategically placed to allow focused access to the executive team, as well as Human Resources.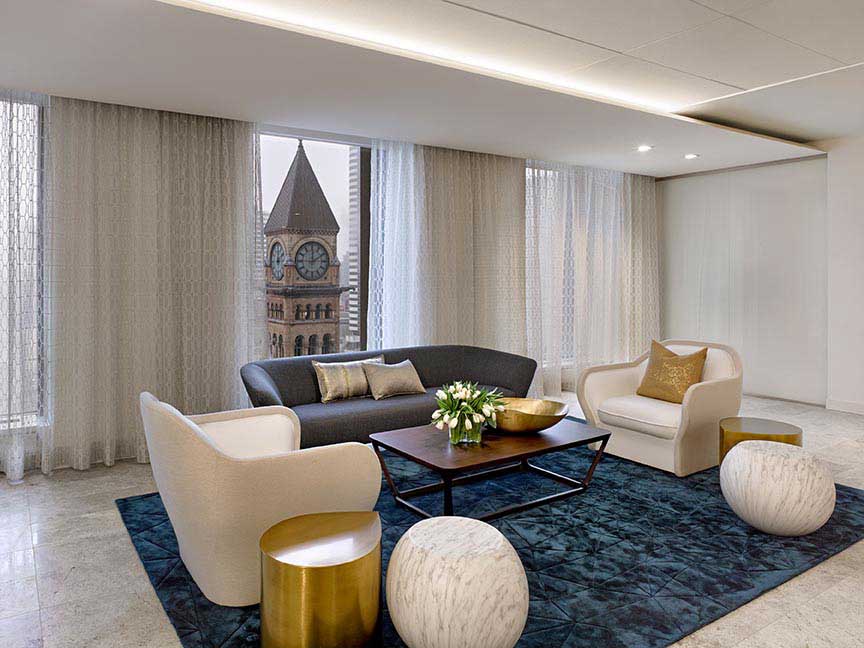 A staircase connects the two floors, for ease of access to the main cafe and pantry on the 19th floor, which will eventually be extended to connect the 18th floor. Vignettes of various boiler parts were commissioned by an artist to celebrate the company's rich history which stretches all the way back to 1875. Arranged with various found objects (including the CEO's hockey stick,) the staircase becomes a monochromatic vertical sculpture, reminding employees and clients they are part of a company that has seen a historic past, creative present, and an incredible future. This message is further emphasized in the executive area where a mural with integrated niches showcases more historic possessions.
The finishes and detailing throughout are thoughtful to the company image: high quality, reserved, and very professional, to reflect the understated elegance of this historic, but dignified organization.
Related
ARIDO Award: The Hive

The first of its kind in Canada, this 3D printed masonry wall is the result of a collaboration between design professionals, students, and faculty at an Ontario university. Category: CRAFT Interior De ...

ARIDO Award: Spadina Workplace

Designing for human behavior and fostering innovation were the two key strategies for this workplace redesign. The design team aimed to inspire a return to the office not from necessity, but a genuine ...