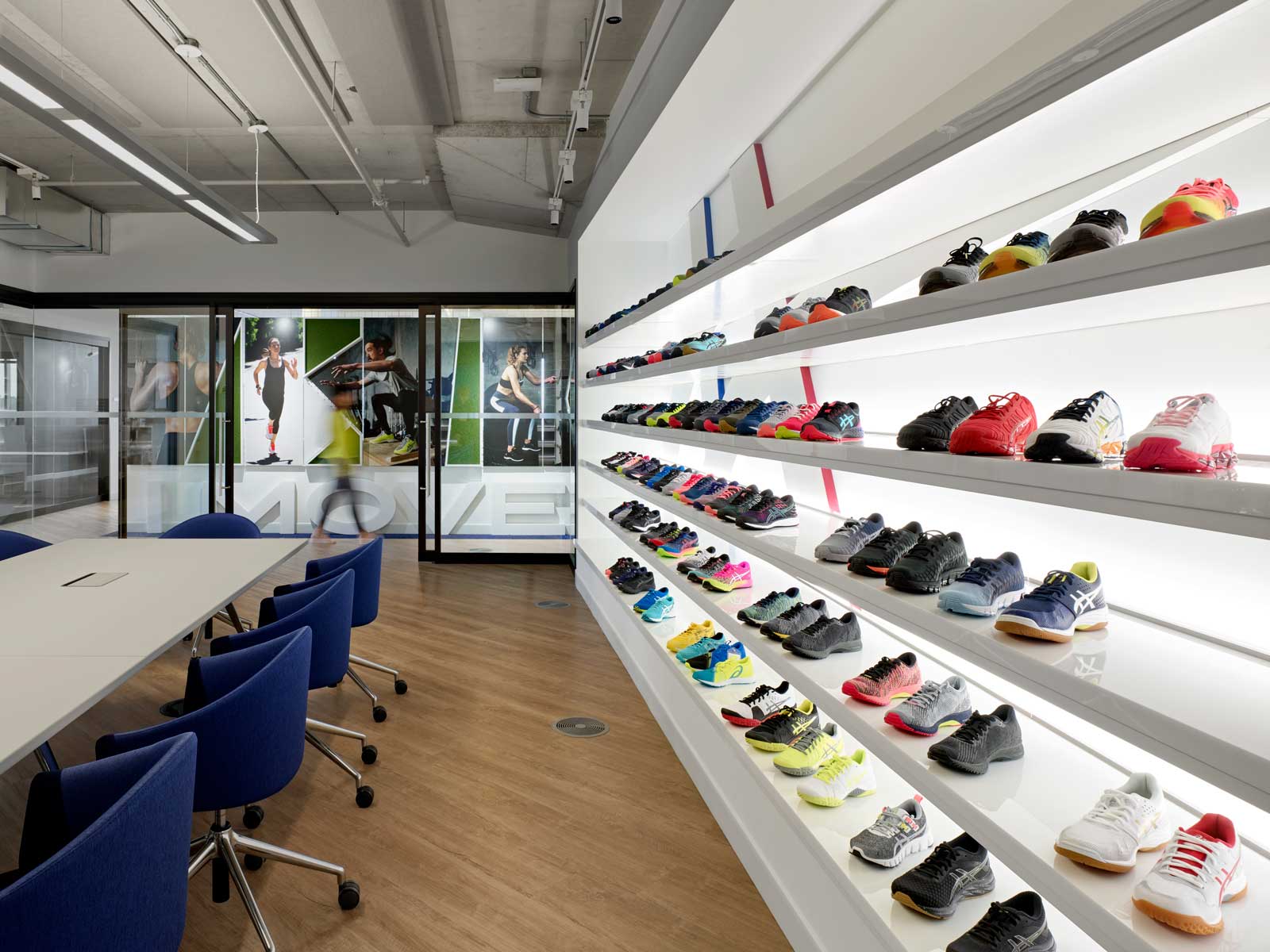 Asics brand steps forward with their first Canadian office
Asics, the global athletics and lifestyle brand, wanted their first Canadian office to highlight the range and constant renewal of their company, while conveying their passion and drive for fearless design, colour, and performance. Looking to create an effortlessly cool and inspiring environment to attract and retain world class talent in the area, Asics maintained the loft-like feel of the existing space, leveraging the already exposed structure and deck and filling it with an abundance of natural light.
Interior Designer: Guy Painchaud, ARIDO
Design Firm: iN Studio
Design Team: Heidi Painchaud, ARIDO; Vince Zhao, Intern, ARIDO; Nawleen Kaur, ARIDO
Photography: A-Frame


It was critical for the office to be outfitted with a variety of showrooms, each one highlighting a different aspect of the brand, so that visitors are able to have the full Asics experience. Asics wanted visitors to see their product first and immediately get a sense of the brand's ethos—an inspirational, forward-thinking, bold company, not afraid to push limits and be future forward. Additional sales spaces clearly highlighting the products were consciously designed to make it easy to change out footwear and apparel at a moment's notice. The entire office's design pays tribute to the brand's prosperous heritage, while still focusing on an illustrious future.
A colour palette of bold dayglo colours and saturated hues, representative of the Asics brand, served as a jumping off point for inspiration, as did the fabrics and finishes used to create Asics' iconic footwear. Finishes throughout the office are striking, clean, and energetic, like the brand itself, and glass has been incorporated wherever possible to bring light in.
In order to accommodate the raised floor specific design elements needed to be implemented to combat the acoustic challenges of the space. To help mitigate noise, materials on the walls and heavily textured greenery were added, turning the challenge into a unique design opportunity. The raised floor also amplifies natural light, bringing as much as possible into the office.
All of the branding and displays were custom-designed for the office. Standout customized elements include the neon Onitsuka Tiger on the ceiling of the café; the lenticular wall at the entrance of the space, featuring a beautiful photograph of Asics footwear in one direction, and Asics' logo on the other; the large graffiti mural in the café; and the green wall in the showroom corridor, emblazoned with the slogan "I Move Me" - a strong callback to Asics' mission of a constant active lifestyle.
Related