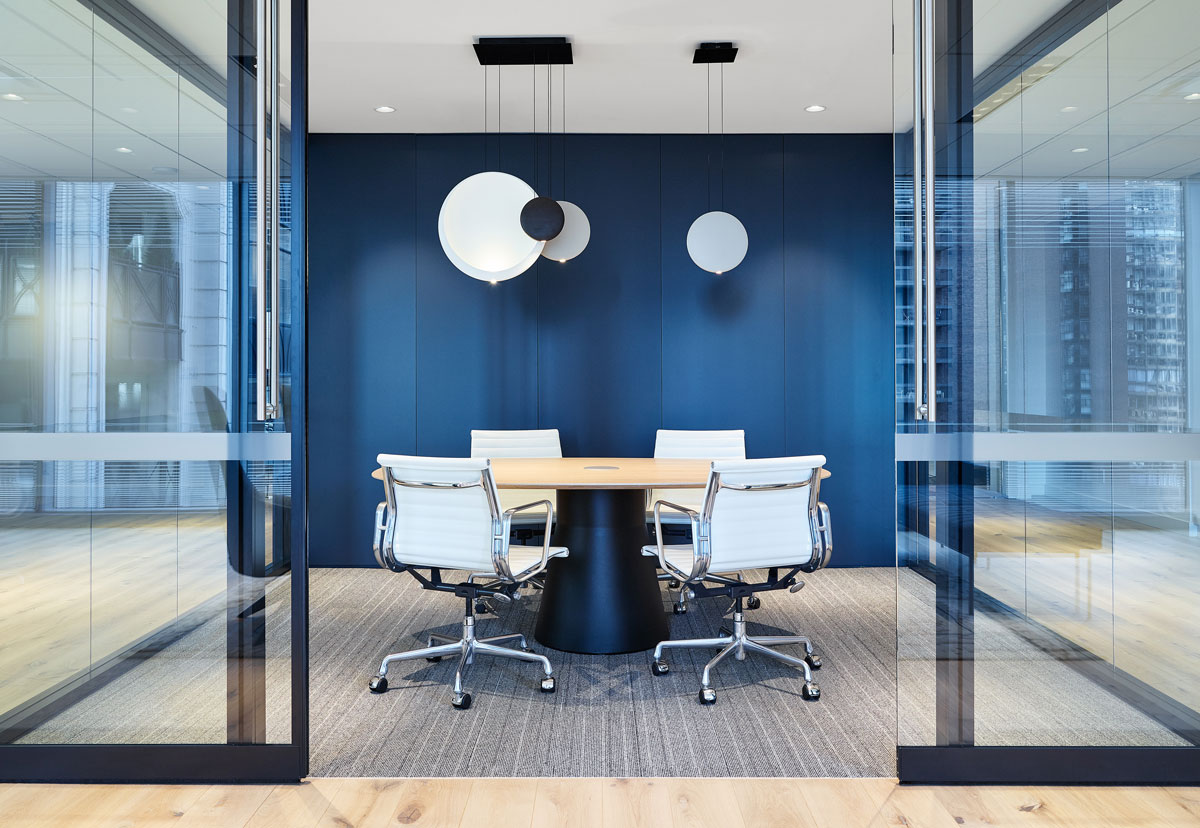 Eschewing convention without ignoring tradition
Several recent projects by members established spaces for businesses in traditional domains, including law and finance. Despite their established fields of expertise, each of the four clients sought spaces that avoided conventional spaces and created modern backdrops for their highly skilled teams.
Project: Axiom Toronto Office
Interior Designer: Stephanie Kamburis, ARIDO
Design Firm: Southside Design
Photographer: Doublespace Photography
Axiom's innovative approach to the practice of law has filtered over to the design of their new Toronto space. Providing legal services remotely, or in client's offices, the international firm slashes overheads while offering an alternative work environment to lawyers. The design team paired rustic elements like the existing timber posts with elegant pale calacatta marble in the reception desk. Coloured resin panels are suspended from the ceiling to add movement and shape to the space. Sustainable white oak flooring, sourced from Quebec, rounds out the maturity of the space, without the usual markers of a traditional law firm.
Project: Rubach Wealth Office
Interior Designer: Olga Evstifeeva, ARIDO
Design Firm: Stoa Design Collective
Photographer: Steve Tsai

A boutique wealth management firm, Rubach Wealth sought a space that challenged traditional notions of how a wealth management firm should look. On the bare concrete shell, the design team fully fit out the space with two free-standing architectural elements, finished in tambour wood panelling which also serve as workstations and storage, and enclose a cozy double sided-fireplace. The space boasts an elegant palette of natural woods and textures, while accents of deep hues balance the luminous interior. A high standard of craftsmanship and custom elements upholds the firm's values and instills confidence and trustworthiness.
Project: Toronto Law Firm
Interior Designer: Inga Kantor, ARIDO
Design Firm: Savills Studley Services Inc.
Photographer: Bob Gundu
A well-established firm with a global reach had several spaces that were underutilized in their Toronto office. In this redesign, they provided a specific list of their requirements to the design team, including meeting rooms, space for their law library, and fifteen offices for partners and associates. The Toronto branch also had amassed a substantial collection of contemporary art throughout the years and wanted to display the office's collection on a modern backdrop, which also conveyed the dignified nature of the firm.
Using full height glass walls lets natural light to filter through the workplace and uphold the clean aesthetic. The majority of finishes and surfaces in the space were chosen in a natural palette, to let the art collection take centre stage, while bright blue punches of upholstered chairs add interest without overwhelming the space with colour.
Related
ARIDO Award: The Hive

The first of its kind in Canada, this 3D printed masonry wall is the result of a collaboration between design professionals, students, and faculty at an Ontario university. Category: CRAFT Interior De ...

ARIDO Award: Spadina Workplace

Designing for human behavior and fostering innovation were the two key strategies for this workplace redesign. The design team aimed to inspire a return to the office not from necessity, but a genuine ...