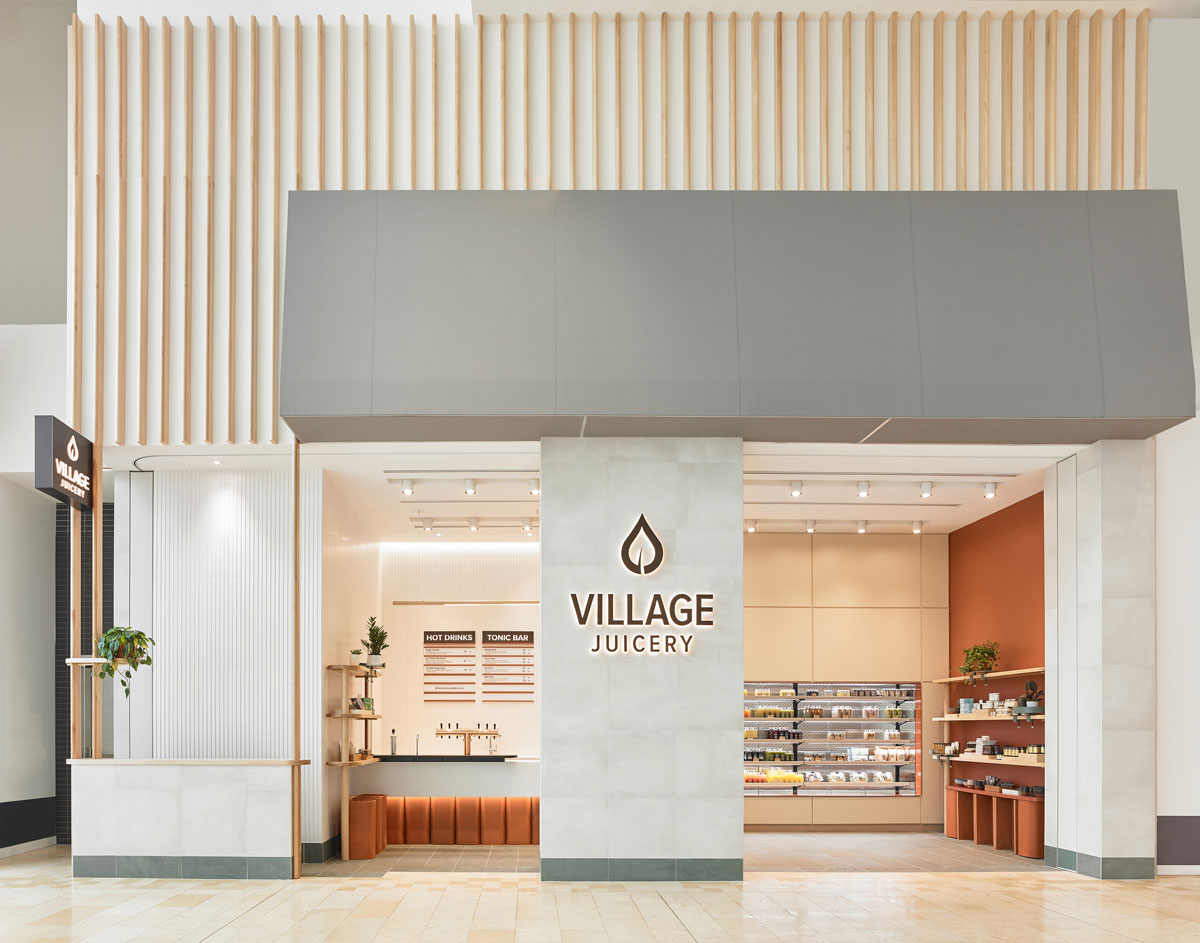 Village markets serve as inspiration for this modern juice shop
Village Juicery is a Toronto-based producer and distributor of raw, 100% organic cold-pressed juice and related plant-based food and beverage products. With five existing street-front locations throughout the city, Village Juicery has established a customer focused and community-driven reputation, with an emphasis on education supported by registered nutritionists.
Interior Designer: Ashley Rumsey, ARIDO; Stanley Sun, ARIDO
Design Firm: Mason Studio
Photographer: Scott Norsworthy
In their new location in Yorkdale Shopping Centre, the first to leave the streetscape, the space required the same atmosphere and brand experience as other locations, while meeting the demands of a high-volume store.
In their previous stores around Toronto, specific finishes and details have become markers of Village Juicery's interior environments. Humble materials including naturally oiled wood, soapstone and repurposed industrial materials reference the raw and unprocessed nature of the products. The design team set out to maintain this established palette while incorporating new materials to meet higher standards for durability and maintenance.
Terracotta chimney flue liners clad the bar face and merchandise shelving, adding warmth and natural tones to the space, while the integrity of solid maple wood and natural soapstone are brought together with thoughtful joinery techniques to reflect the purity of the products.
A textured porcelain tile covers the wall surfaces, emulating corrugated metal and provides the refinement and durability that the site requires. Using village markets and exterior environments as inspiration, the floors are a natural slate stone in moss green to compliment the rich terracotta and maple wood tones. This interior/exterior environment is further emphasized by the awning that clads the exterior facade of the shop front.
Related