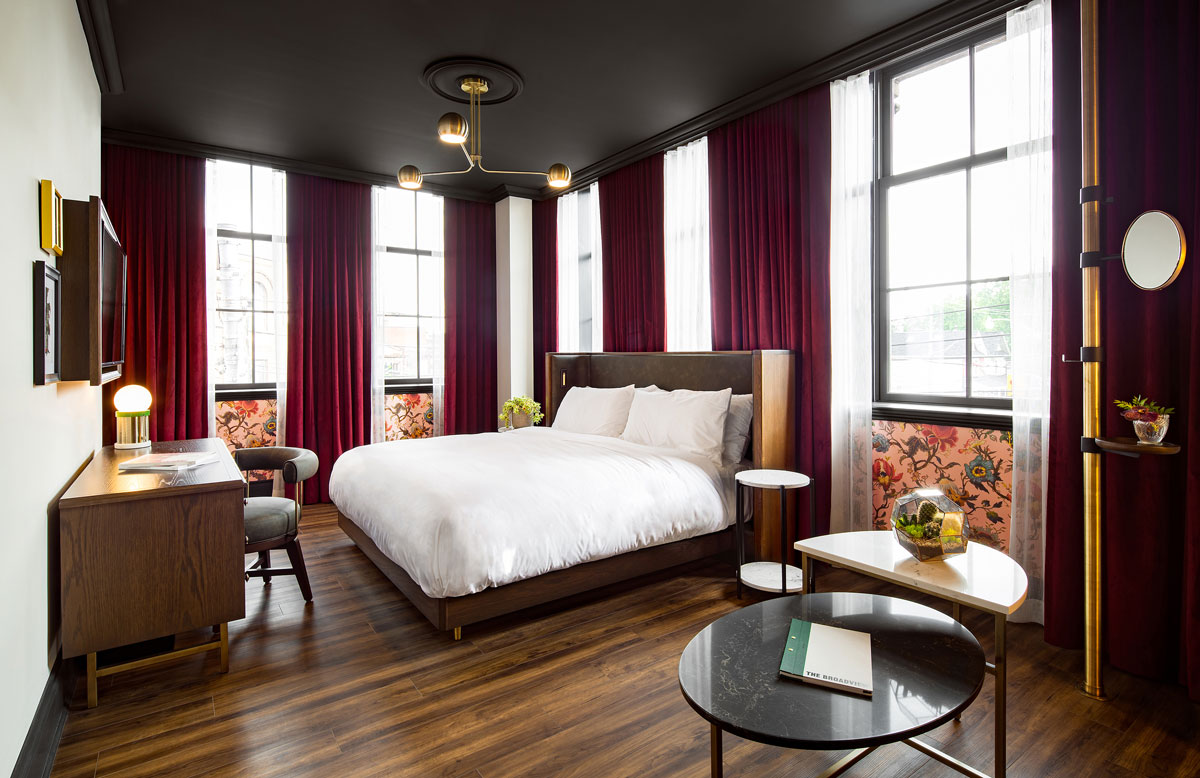 History and place dictated the eclectic redesign of an East End icon
The new Broadview Hotel has come a long way from its former lives as a factory, a boarding house and then "Jilly's" - an infamous seedy nightclub. Now, the landmark in Toronto's east end is a chic 58-room boutique hotel boasting a restaurant, cafe, an indoor/outdoor event space, and a rooftop bar.
Interior Designer: Allen Chan, ARIDO
Design Firm: DesignAgency
Photographer: Worker Bee Supply
The building's historic architecture, its varied uses over time, and the surrounding neighbourhood character inspired the design team to explore and reference its different phases and styles. They mixed styles and periods to reinforce the eclectic layers built up over time, using an array of bespoke finishes, furniture, and lighting, mixed with a pastiche of industrial, vintage and contemporary pieces. Furniture and lighting by Canadian designers including Coolican & Company, Anony, were incorporated along with custom art from a local curator.
A magnet for both guests and neighbours, the airy ground-floor cafe invites guests to sink into leather banquettes or gather at the white marble and brass bar under a halo of pink neon - an installation by the son of the creator of the original Jilly's sign. Custom-designed wallpaper replicates designs found during demolition, and an "eroded" floor mixing wood and tile nod to the building's history. The main-floor restaurant has the richness of a classic tavern, with surprising elements like drapery with lemurs smoking hookah pipes.
The guest rooms, the most spirited spaces of all, mix Victorian-style floral wallpaper and upholstery with deep blue ceilings, red velvet drapery, brass lighting, and even a brass rail to create a playful, modern boudoir ambience.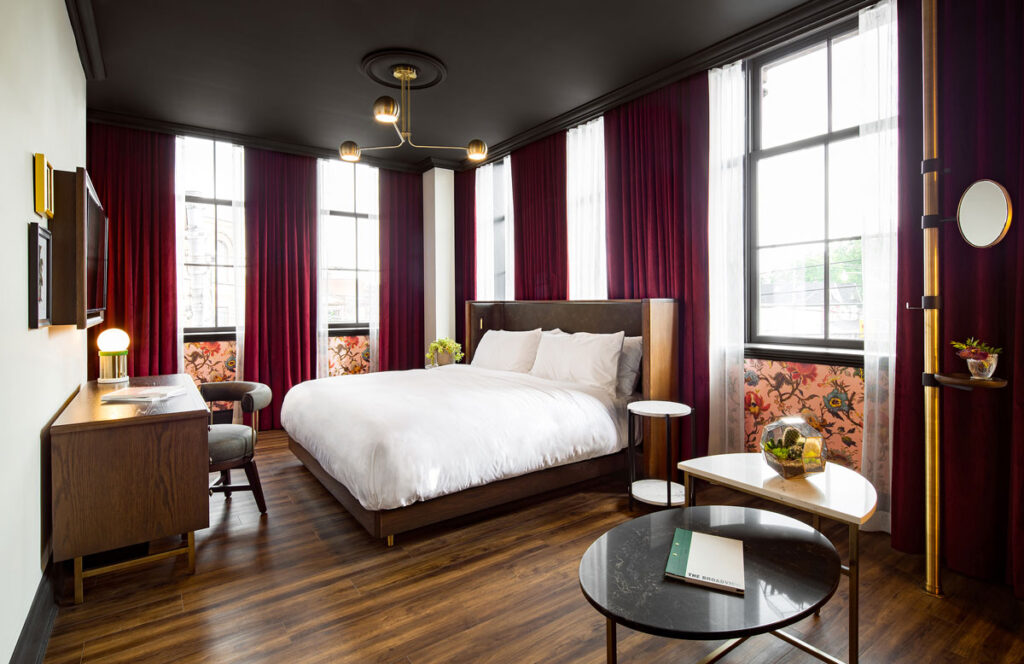 The hotel's treasure is found in the building's tower, where guests find an intimate space for private dinners. The exposed brick and wood beams of the tower's vaulted ceiling contrast with wood dining tables, leather chairs, vintage mirrors and a symphony of chandeliers - a magical space unlike any other in the city.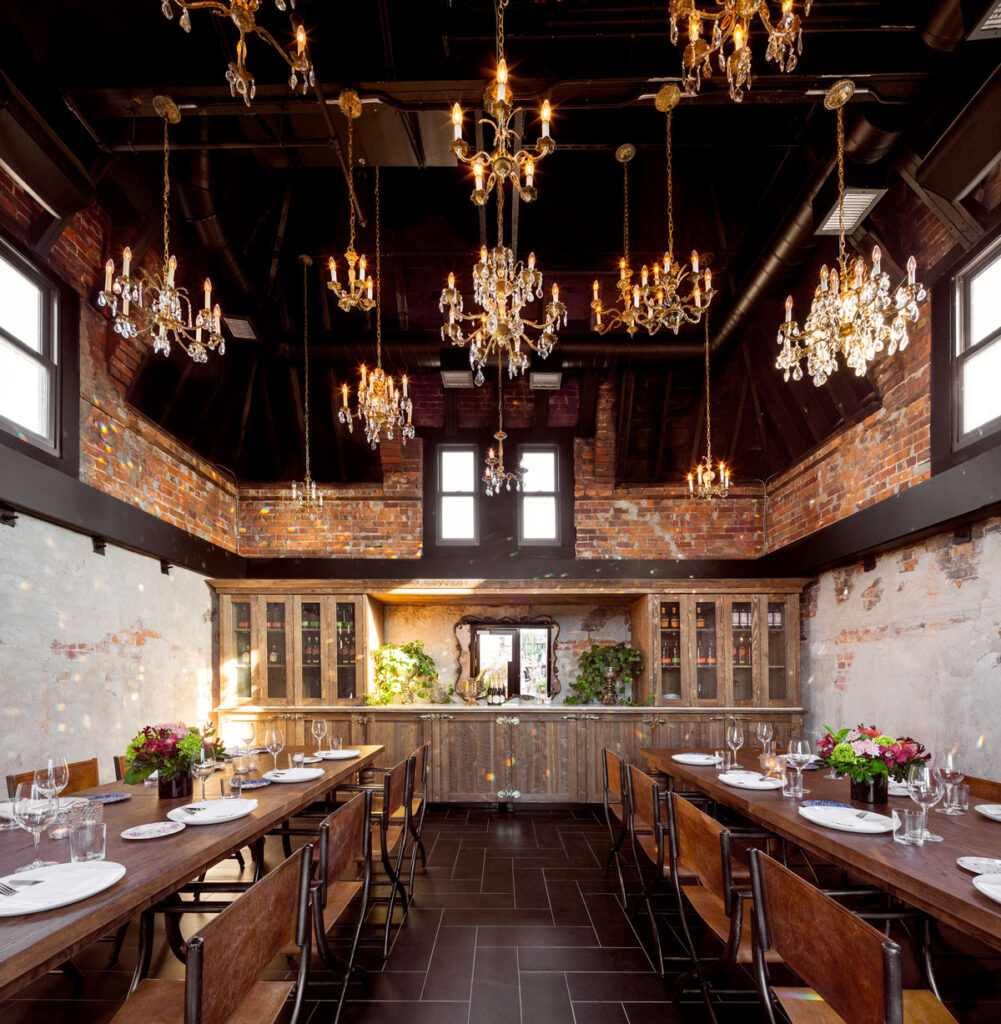 The hotel has won numerous awards and the seventh-floor restaurant/bar has been voted one of the top patios in Canada, delighting guests with its stunning 360-degree views. With the redesign, the hotel is now a key catalyst in Toronto's eastward expansion.
Related
ARIDO Award: Elevator Cabs

The challenge of this elevator cab redesign was to create a mobile portal between a well-aged ground floor lobby that would seamlessly integrate with each of the floors above. Category: DISTINCT Inter ...

ARIDO Award: The Hive

The first of its kind in Canada, this 3D printed masonry wall is the result of a collaboration between design professionals, students, and faculty at an Ontario university. Category: CRAFT Interior De ...

ARIDO Award: Florette Restaurant + Bar

While interior designers traditionally aim for perfection in their projects, this design team chose to highlight the imperfect, comforting aspects of this new restaurant space on Toronto's Queen Str ...